If any cooking fat is worthy of the title "liquid gold", it's gotta be ghee. Ghee is clarified browned butter — which means it has the high smoke point of clarified butter and the nutty flavour of browned butter. In my book, that's as close to perfection as you can get.
Unfortunately, ghee is expensive to buy and surprisingly annoying to make. Homemade ghee recipes typically require hovering over a spitting pan of hot butter to skim the foam, then straining out the solids with a cheesecloth-lined strainer — two of my least favourite culinary techniques.
What I really wanted was to chuck some butter in the microwave and be done with it.
Holiday entertaining is all about wringing maximum impact from minimal effort. It's pretty hard to beat a towering pile of caramel-drizzled profiteroles for drama alone, but the mighty croquembouche isn't a low-effort joint — unless you use your microwave.
Read more
I quickly learned that there's a little more to microwaved ghee than that — but not by much. There are three crucial tricks to ensure success.
First, use the biggest microwave-safe bowl you have, so the butter has plenty of room to bubble up without exploding. (I used a 3.75L glass bowl for 450g of butter.)
Second, don't cover the bowl until you have to. The butter solids contain water, which needs to evaporate before they can brown; leaving the butter uncovered while it melts and foams gives that steam somewhere to go.
The third trick is my favourite: If you let the butter cool long enough, you don't have to strain it at all. As the butter cools down, all the solids sink right to the bottom of the bowl — so all you have to do is pour off the fat.
Photo: A.A. Newton
To make ghee in the microwave, you will need:
110g or more of butter
A large microwave-safe bowl, preferably glass
2 microwave-safe plates that are big enough to totally cover the bowl
Roughly chop butter into small pieces and transfer to the bowl. Place the bowl on top of one of the plates and microwave on high power until the butter melts, one to three minutes or more, depending on the amount of butter and your microwave's strength.
After the butter melts, it'll start to foam up and spit or pop. As soon as you see it foaming — or hear a pop — open the microwave door and leave the butter alone for 30 seconds to release some steam.
Cover the bowl with the second plate and microwave in one-minute increments on high, checking in between, until the milk solids turn deep amber and you smell brown butter when you open the door. This took me about seven or eight minutes, but I was using a huge bowl and a full 450g of butter.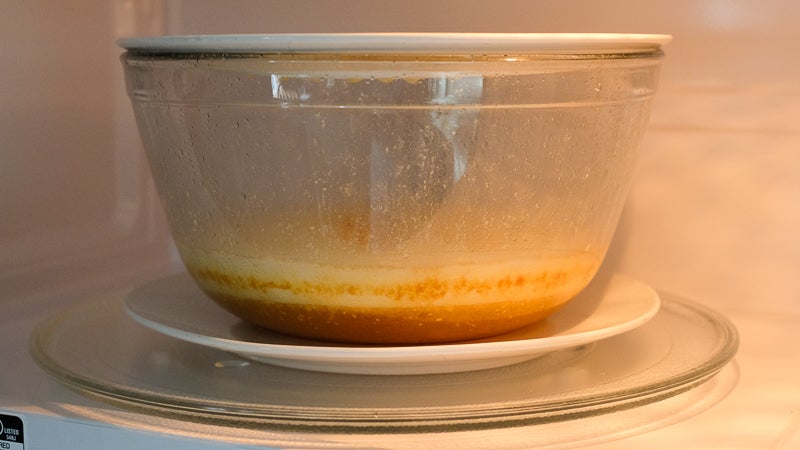 This is 450g butter in a 3.75L bowl. Seriously — use a big bowl. (Photo: A.A. Newton)
There's a lot of hissing, spitting and popping during this step, which is why the size of your bowl is so important. If there isn't enough space between your boiling-hot butter and the top plate, it'll build up enough pressure to blow the plate off — and splatter your entire microwave with butter: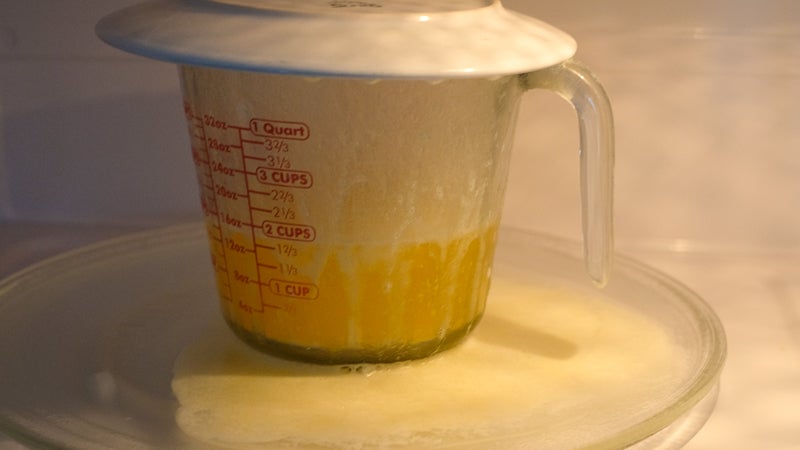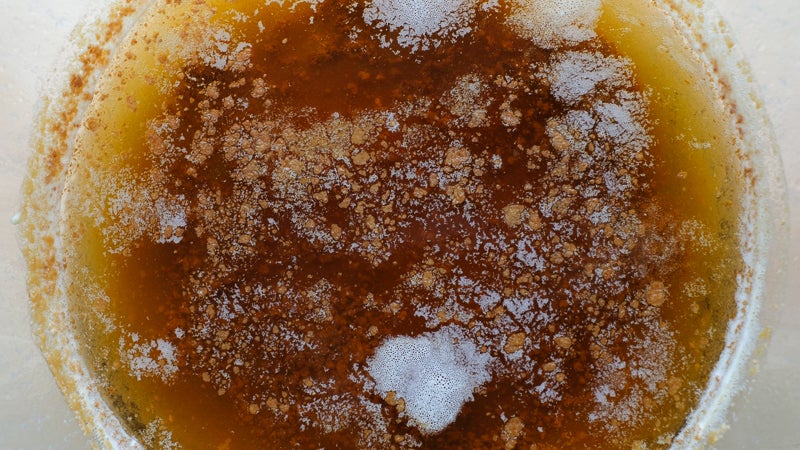 What the ghee-to-be looked like straight out of the microwave… (Photo: A.A. Newton)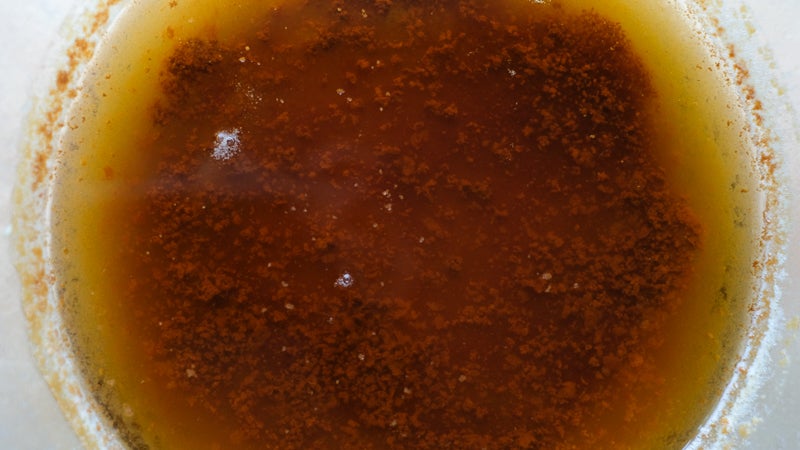 …and after it had cooled for at least 30 minutes. (Photo: A.A. Newton)
Uncover the bowl and let cool for at least 20 minutes, or until you can comfortably handle the bowl with your bare hands. If there are still solids floating on the surface, nudge them gently with a spoon until they sink. Skim off any remaining foam and carefully pour the clear fat into a storage container, leaving the browned solids behind.
Discard the solids, or save them for a future baking project — a little extra brown butter never hurt anything.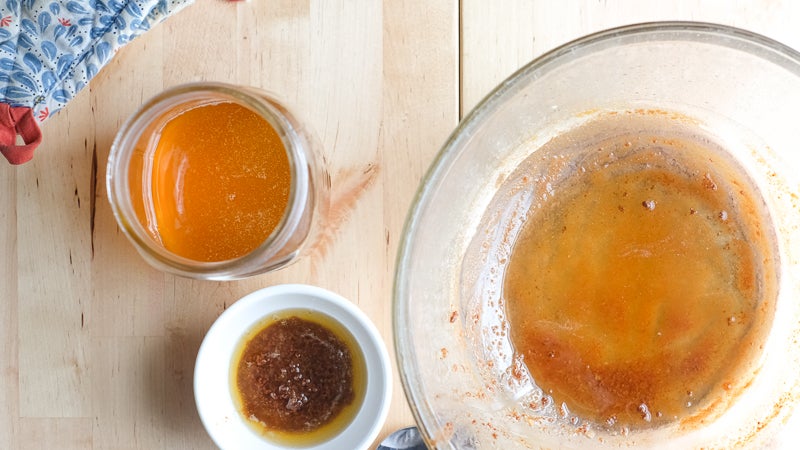 Photo: A.A. Newton
Use the ghee right away or cool until solidified. It will keep almost indefinitely in an airtight container at room temperature, but I think you'll find that it gets used up quickly.