If you're planning a cross-country tour of the US, it pays to know which airports are best avoided.
Some American airports are notorious for causing more delays, cancellations and other travel related mishaps than the national average. Luckily, we now know have a list that proves who the worst offenders are.
This week, InsureMyTrip pulled together data from the Department of Transportation's Bureau of Transportation Statistics to rank US airports based on the number of flight cancellations.
Which airport was the biggest offender last year? For the second year in a row, LaGuardia ranked number one, cancelling some 4.07% of departing flights—which means one in 25 flights never got off the ground. LGA was followed closely by Norfolk International Airport in Virginia, which canceled four per cent of flights, and Charleston International Airport in South Carolina that canceled 3.89 per cent of flights.
Meanwhile, airports like Salt Lake City International and Boise Air Terminal canceled the least amount of flights in 2018 (cancelling just .30 and .43 per cent of flights, respectively)—if you're planning a layover, stopping by Utah or Idaho wouldn't be such a bad idea.
According to InsureMyTrip, severe weather was mostly to blame for last year's cancellations with Hurricane Florence and Winter Storm Grayson affecting East Coast flights. Still, 2019 isn't looking any better, given the grounding of Boeing Max 737 aircrafts and sudden cancellations across airlines (January 2019, the last recorded month, saw 16,726 cancellations alone).
What should you do when your flight's canceled?
While it depends on your airline, you should immediately contact them or speak to an attendant to confirm that you'll be rebooked on another flight (airlines like Delta may automatically do this in the event of a cancellation). Weather presents a particularly annoying problem since this falls outside of airlines' control. In this case, you'll still be re-booked but may be responsible for your own hotel accommodations if you're staying overnight—you can check our guide to handling flight cancellations for more insight.
If you want to find out which airports you should avoid, check out the list of the worst offenders below. For a full list, check InsureMyTrip's press release, so you'll never be left stranded at an airport again.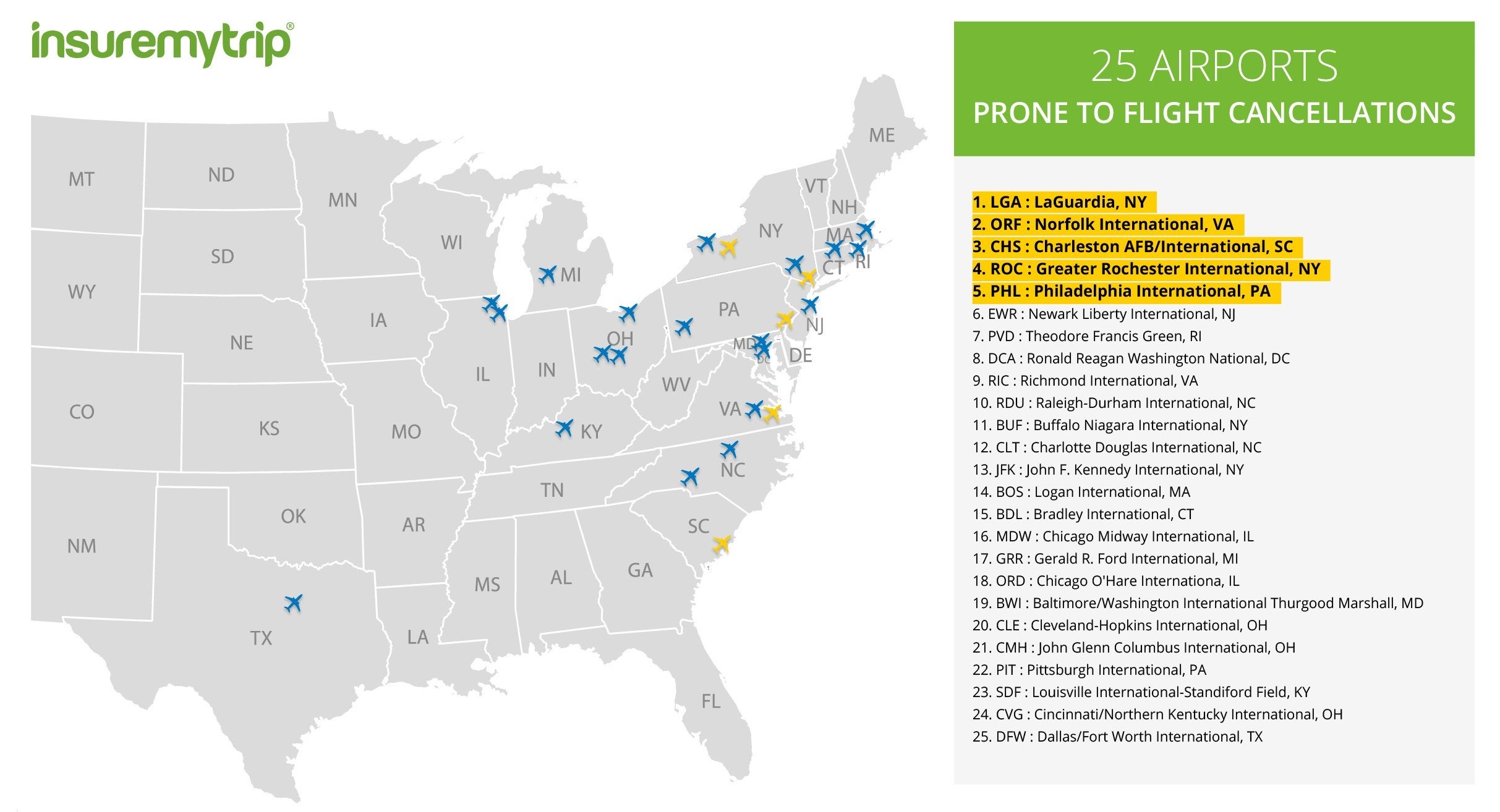 Photo: InsureMyTrip
---