When Sonia Smith-Kang moved to California in the 1980s, it was at "the height of The Valley Girl," she says. All around her, she saw blue eyes and feathered blonde hair.
"I was pretty much the antithesis of that," Smith-Kang tells me. "I was brown with curly, wild hair."
Smith-Kang's mother is Mexican, her father is black, and she was born in Puerto Rico. When she married a Korean man, her experience taught her that it was only a matter of time before her kids were peppered with questions from peers who didn't understand what it meant to be multiracial.
Talking to children about being multiracial can be complex. Because parents might not know what to say, they often avoid bringing up these conversations. And that can be damaging.
"What happens to children is they internalise it as, 'There must be something wrong with me if I'm having these kinds of thoughts,'" Smith-Kang says.
So how do you bring it up? What do you say when your daughter asks, "Why don't you look like me?" Or your son tells you the kids on the playground made a remark about his skin colour?
Start the conversation early
To assure she's being proactive about questions her children might have, Smith-Kang had what she calls The Mash-Up Talk. "It's when we talk about all the awkward questions that other kids (and grownups!) ask us about who and what we are," she writes on Mash Up Americans, a site that helps people navigate hybrid cultures and identities.
It isn't just a one-time talk, she says — it's an ongoing conversation, and it starts early. Children as young as one or two years old understand the differences between colours and can sort and arrange. During their Mash-Up Talk, Smith-Kang's family has discussed dolls, books, music and movies that "reflect our cultural reality".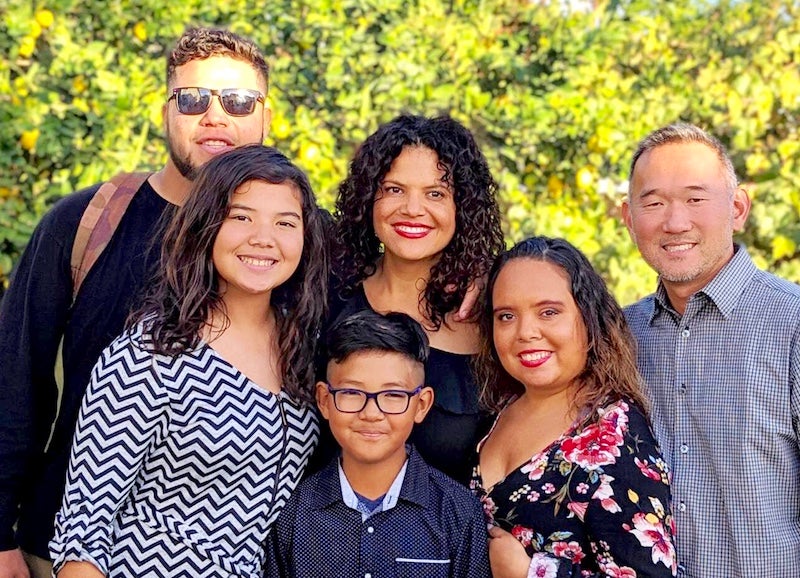 Photo: Sonia Smith-Kang
Find people with shared experiences
Smith-Kang also suggests finding communities — in real life or online — of people with similar experiences. She herself is president of Multiracial Americans of Southern California, a nonprofit that advocates for multiracial and transracial communities. Smith-Kang recommends a few communities that showcase diversity and a multiracial experience:
Culturas, a women-led media and technology site "creating and discovering content that celebrates culture, diversity and inclusion".
InCultureParent, an online magazine "for parents raising little global citizens".
Multicultural Kid Blogs, which focuses on arts, food, language and activities for children.
Read books
To teach her multiracial daughter that there's more to people than skin colour, Lauren Gaines uses books. On Parenting, she recommends five titles to help teach children about their background and how to love themselves, including What I Like About Me! by Allia Zobel Nolan and Miki Sakamoto, which teaches that it's our differences that make us special; and Black, White, and Tan by Nicole C. Mullen, where a little girl named Jazz shares what makes her family special.
Mullen has even recorded an accompanying song, which starts out: "Momma looks like coffee. Daddy looks like cream. Baby is a mocha drop American dream. All the colours of the rainbow are in her family tree, woven all together in a paisley tapestry."
Learn with your kid
Before you can bestow any semblance of identity on your children, you yourself must have a strong sense of self. Parenting expert Samantha Kemp-Jackson tells HuffPost Canada: "This means understanding one's cultural and ethnic history, not only within the context of the country of ethnic origin, but also the socio-political perceptions of that culture within the society in which they live."
You should also learn about all of the cultures your child is a part of, trying to understand the specific complexities and challenges the groups might face in Australia. And stay in the know. You might join Facebook groups such as Are Those Your Kids? Navigating Multiracial Motherhood One Day At A Time, Mixed Race Family Parent Resource Group and Teaching Literacy Skills with Diverse Books.
But also know that it's OK to not have all the answers. Smith-Kang believes you can say, "Let's learn together." One way she does this is by letting her children be the teachers. They're learning three languages — Korean, Spanish and English — and they help her with Korean pronunciation and culture.
"I think that's the beauty in it," she says. "We have an opportunity to learn about more cultures. That helps keep parents from feeling like they're going to say the wrong things. And they might, and that's OK. We learn, and we adapt, and we grow."