With the latest Windows 10 update, Windows 10 1809, Microsoft has changed the default USB drive transfer setting to favour quick removal over better performance.
While "Quick Removal" has been the default policy for some drive formats—such as FAT32—since Windows 7, the Window 10 1809 update now makes it the default for all drive formats, including NTFS and exFAT.
Some formats previously defaulted to "Better Performance", which caches the write operations to the USB drive for better system performance, but these cached transfers have to be completed before the drive is removed to prevent losing data, hence the "Safely Remove" option.
With this change, users will no longer have to select "Safely Remove USB device" before unplugging it from their PC—at least by default.
While there are concerns that making "Quick Removal" the default policy will reduce performance for USB devices, this may actually be a good thing since it will prevent botched transfers when removing the drive too early.
However, if you do experience reduced performance or simply prefer the process of manually selecting to safely remove your hardware, here's how to change a drive back to "Better Performance."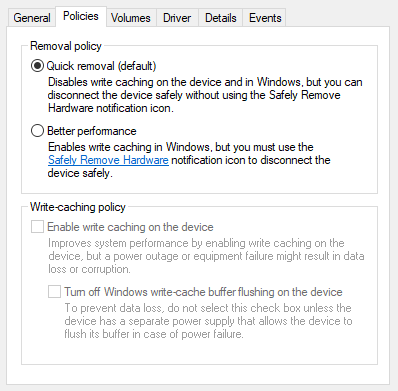 Screenshot: Microsoft
Plug a USB storage device into your Windows PC.

Open File Explorer then go to This PC, and make note of your device's drive letter (such as "USB Drive (C:)").

Open the Start menu, then type "Disk Management" into the search bar, or right-click the Start menu & Disk Management.

Find your drive in the lower section of the Disk Manager window, right-click its name and go to Properties & Policies

Select the policy you wish to change to "Better Performance."

Check the box next to "Enable write caching on this device."