It's a tough week to be a geek, unless you like watching characters you've loved for years, if not decades, bite the big one. Be sure to bring your Mjölnir-sized tissue box to Avengers: Endgame this week (especially if you, like me, have Thanos as your #1. Though he's unlikely to get an Ant-Man up his arse, I somehow suspect everyone's favourite nihilist won't make it through this film).
Oh, and Game of Thrones. Yeah. May the odds be ever in your favour for the "deadpool" you're playing with your friends or coworkers; you're probably going to cross off a lot of squares on your bingo card come Monday's episode.
Of course, nothing will ruin the fun of these huge franchises faster than stumbling across a spoiler for a movie, episode or your favourite character before you've had a chance to see what happens yourself.
While the easiest way to prevent all of this is to stay off the internet this week, that isn't practical for most. However, you have a few options you can use to fight back the spoilers.
Put a pause on your obsessive fan communities
That Game of Thrones subreddit you read every day? The huge Star Wars Facebook group that's always blowing up your news feed? Your Discord channel for all things Avengers? Consider leaving the group (or service) when you're getting close to the debut of whatever it is you're looking forward to. You can always rejoin later.
You'll know when it's the right time to take a breather — especially if you catch wind that there's been a press preview for your favourite show or movie, if said show or movie has already debuted to the masses, or if you start to see news reports that leaks and spoilers are coming out.
The best way to avoid them is to not hang out where someone might post them (before a moderator can delete them).
Mute a lot of words and phrases on Twitter
Twitter is also one of the worst places for catching a drive-by spoiler. However, Twitter has a great system you can use to combat this issue before it ruins your movie: Muting.
Pull up this page; load the Wikipedia entry for your favourite film, TV show, video game or whatever; and give your fingers a good stretch. That's because you'll want to enter any names, authors, places, plot points or other keywords that might appear in a spoiler.
How crazy and thorough you want to get is up to you — and I'm sorry if you're a Game of Thrones fan, as that's a lot of characters and houses to mute — but the more you mute, the less likely you'll be spoiled by a detail you didn't want to know.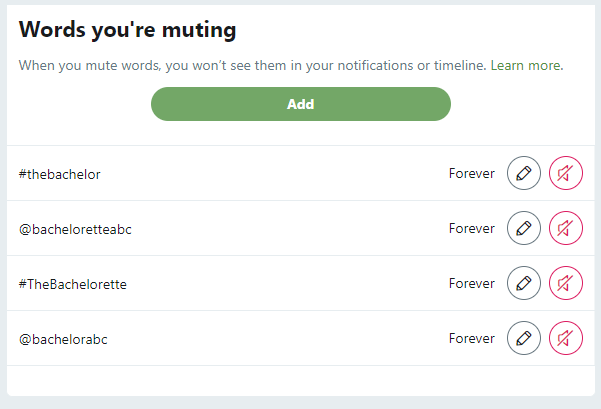 Screenshot: David Murphy
If you want to participate in some lively discussion after you've seen your show or movie, you can always set the mute duration to "24 hours", "7 days" or "30 days" instead of "forever".
If you're a popular person on Twitter, or the subject of regular harassment, you might also want to mute notifications for various types of people (those who don't follow you, for example).
Better still, turn off the ability to receive spoiler-packed direct messages from anyone, and don't let anyone tag you in "HAN DIES" photos.
If you're well-known on some kind social platform — be it Twitter, Facebook, PlayStation, whatever — you might want to look into turning off messaging, notifications, chat and so on to keep people from hitting you with spoilers you don't want to see. It's a cruel world out there.
Clear your YouTube history
While it's pretty easy to avoid a "SPOILERS: [show name]" video on YouTube, what's trickier is when you're watching favourite clips from older episodes and you see a related video that has a spoiler right in the video's title. Here's a spoiler for you: People who do that are jerks.
I'll get to more complicated methods you can use to sanitise your YouTube feed in a bit, but one quick and easy trick is to delete the history of all the videos you've watched. This will help prevent YouTube's algorithm from giving you "related" videos you might not want to know about.
To delete your watch history, visit this website and click on the "Filter by date and product" option toward the top.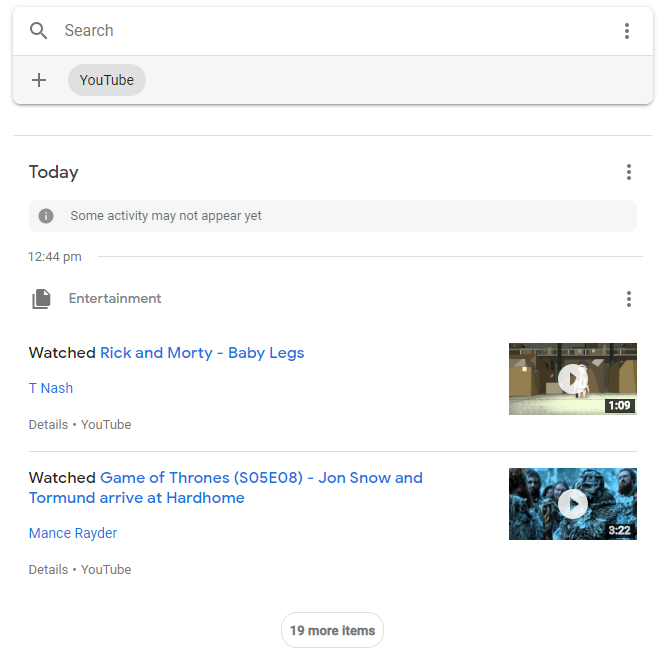 Screenshot: David Murphy
Deselect everything except for YouTube, and then click on the blue magnifying glass. Once your YouTube viewing history populates, click on the triple-dot icon to the right of the search bar and select "Delete results". Click "Delete" in the box that pops up.
Remove your subreddits (for now)
If you're a big Reddit user, you're wading into a spoiler minefield (depending on how good your subreddits' moderators are). You don't have to go on a massive unsubscribing spree to avoid spoilers, however; you can still maintain membership in these communities and come back when it feels right to engage in topical discussion.
Instead, I recommend removing spoiler-packed subreddits from your front-page feed.
To do this, you'll first want to install the ever-helpful Reddit Enhancement Suite extension for Chrome or Firefox.
Pull up Reddit with the extension enabled, click on the gear icon in the upper-right corner, and click on "RES settings console" to load Reddit Enhancement Suite's configuration screen. Click on the "Subreddits" link on the left sidebar and click on "filteReddit".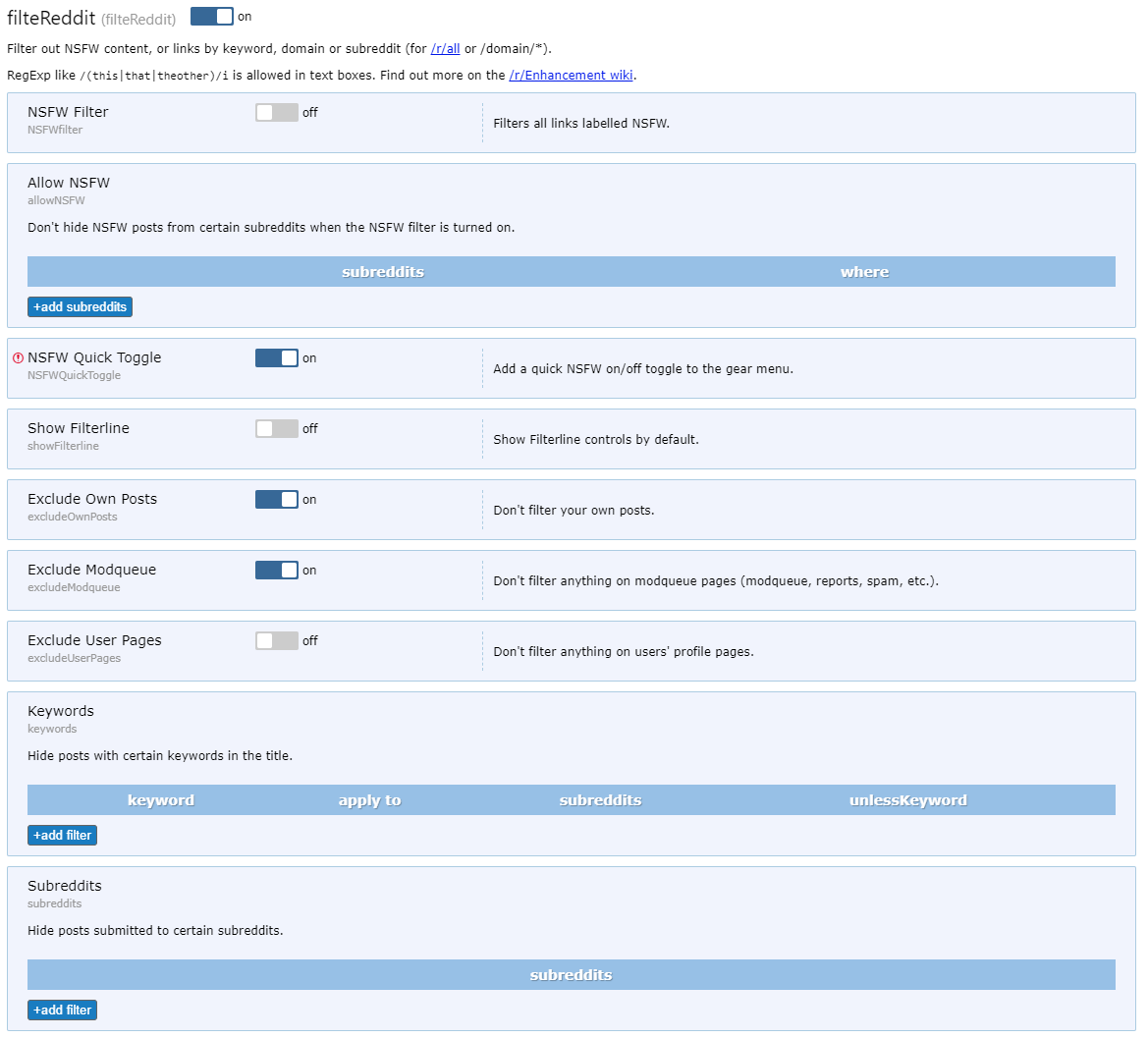 Screenshot: David Murphy
On this configuration screen, you can filter out specific words from Reddit — hiding any posts that have these particular keywords in the title — to help you manage spoilers, much as you did for Twitter. You can also hide subreddits themselves, either across the entire Reddit site, or only on /r/all, /r/popular and domain pages.
Some people love to be terrified. Some more reasonable people dislike being scared, and want to enjoy a classic horror film without worrying about cheap shock tactics. For those people, there is Where's the Jump?, a database of jump scares in horror, thriller, and sci-fi movies.
Read more
Use browser extensions for a spoiler-free experience
If you need more help to create as spoiler-free a web experience as possible, there are a few great browser extensions worth considering. BlockTube, for Chrome and Firefox, lets you hide comments from annoying YouTube users or, more importantly, by keyword — perfect for blocking spoiler-filled chat, as long as you don't mind filling out that keyword list.
You can also block videos by words that appear in their titles, so seeing "DARTH VADER IS LUKE'S FATHER" as a related video doesn't ruin your day.
Finally, the extension can block YouTube's entire trending page, as well as any auto-generated playlists the service creates.
You can also check out the Chrome extension Remove Recommendations Youtube VK Facebook, which does just that — eliminate any and all recommended videos, so you aren't spoiled by something you didn't mean to see (titles included).
For Firefox, try checking out Remove Youtube's Suggestions.
Since browser extensions won't work on your mobile browser (or app), you might want to sign out of YouTube on your smartphone — or not use it at all — until you've seen your TV show or film.
If you're big into Twitch, be sure to use the BetterTTV extension to block certain keywords from chat, in case the trolls try to spoil something there, too. You can also try blocking whispers from people you don't know via Twitch's settings, but odds are good you won't be messaged spoilers if you're lurking about in a stream.
For a more concentrated effort that applies to many more websites than YouTube, check out Spoiler Protection 2.0 for Chrome and Firefox.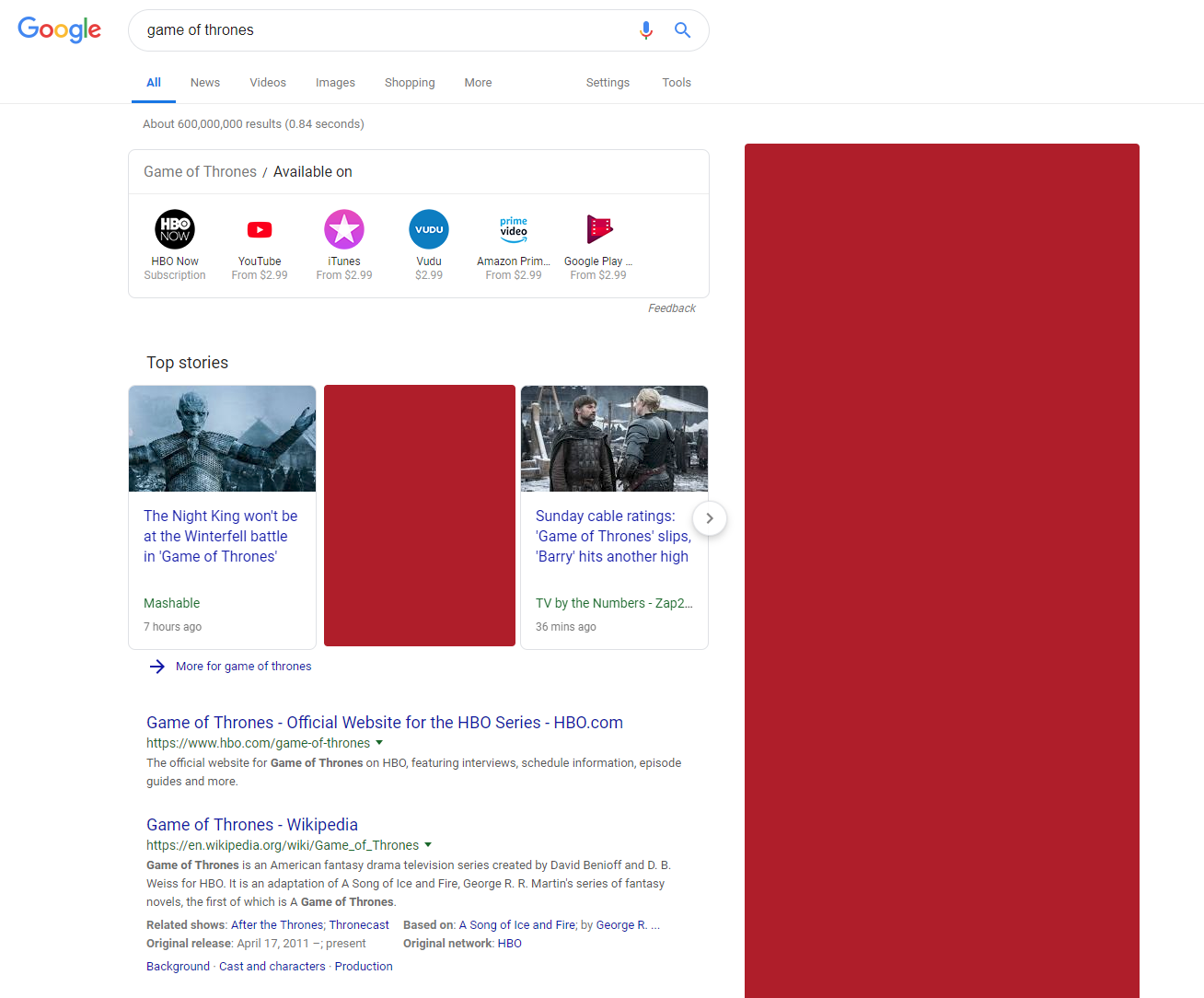 My Google results when I only add "Arya" to my spoiler blacklist in Spoiler Protection 2.0. (Screenshot: David Murphy)
Like before, you'll be adding in keywords of things from your favourite geeky franchises that you don't want to see mentioned around the web.
The beauty of the extension is that it's a nuclear bomb for spoilers. Rather than blotting out that word in a sea of text, Spoiler Protection 2.0 will shield you from entire paragraphs and, in some cases, articles. It's a bit heavy-handed, but it's the best way to save yourself from secrets.