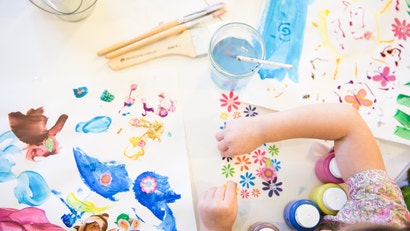 Photo: Heather Deffense / EyeEm, Getty Images
If you have a kid, you have a never-ending supply of kid art. There's a finite amount of wall real estate, so what can you do with all those handprint masterpieces? (Besides toss them into the recycling bin or shove them into a memory box that your child must figure out what to do with when they're 26 and you've decided to turn their old bedroom into a fitness centre.)
Try this idea from reader named Dennis:
We saved up all our little guy's (almost 2) artwork from daycare (he brings something home every single day) and used those as thank you notes for the holiday season. We just wrote a little note on it and stuffed it in an envelope. Paid a little bit more in postage, but we got good responses and took hardly any time.
It's a great solution — we often repurpose old artwork as birthday cards for kids (usually when we're scrambling for one five minutes before we have to leave for the party). The receiver's parents are usually delighted. ("You made this for Billy? This is so thoughtful!") Hey, no one needs to know it was created in Mrs Willow's morning preschool class.