I grew up in a house of caffeine obsessives. My father drinks a whole pot before anyone else even opens their eyes, and my mother and sisters drink much more throughout the day than their tiny bodies should be able to process (at five-foot-four, I am the tall one). When I'm around them, I feel like I too am a coffee person, but once I'm back home alone, the cup or so of coffee I leave to languish in the pot every single day proves otherwise.
Christmas morning is a busy time, particularly if you have children, but it's also a time for a special, indulgent breakfast, that can be consumed in a leisurely fashion while opening many gifts and sipping on mimosas. A big plate (or bowl) of sausages and gravy is exactly that.
Read more
This is obviously not too terrible of a tragedy. Coffee quitters like myself can freeze this leftover coffee into ice cubes or chill it for low-brow iced coffee, but I think that last stale bit is best utilised in the making of red-eye gravy.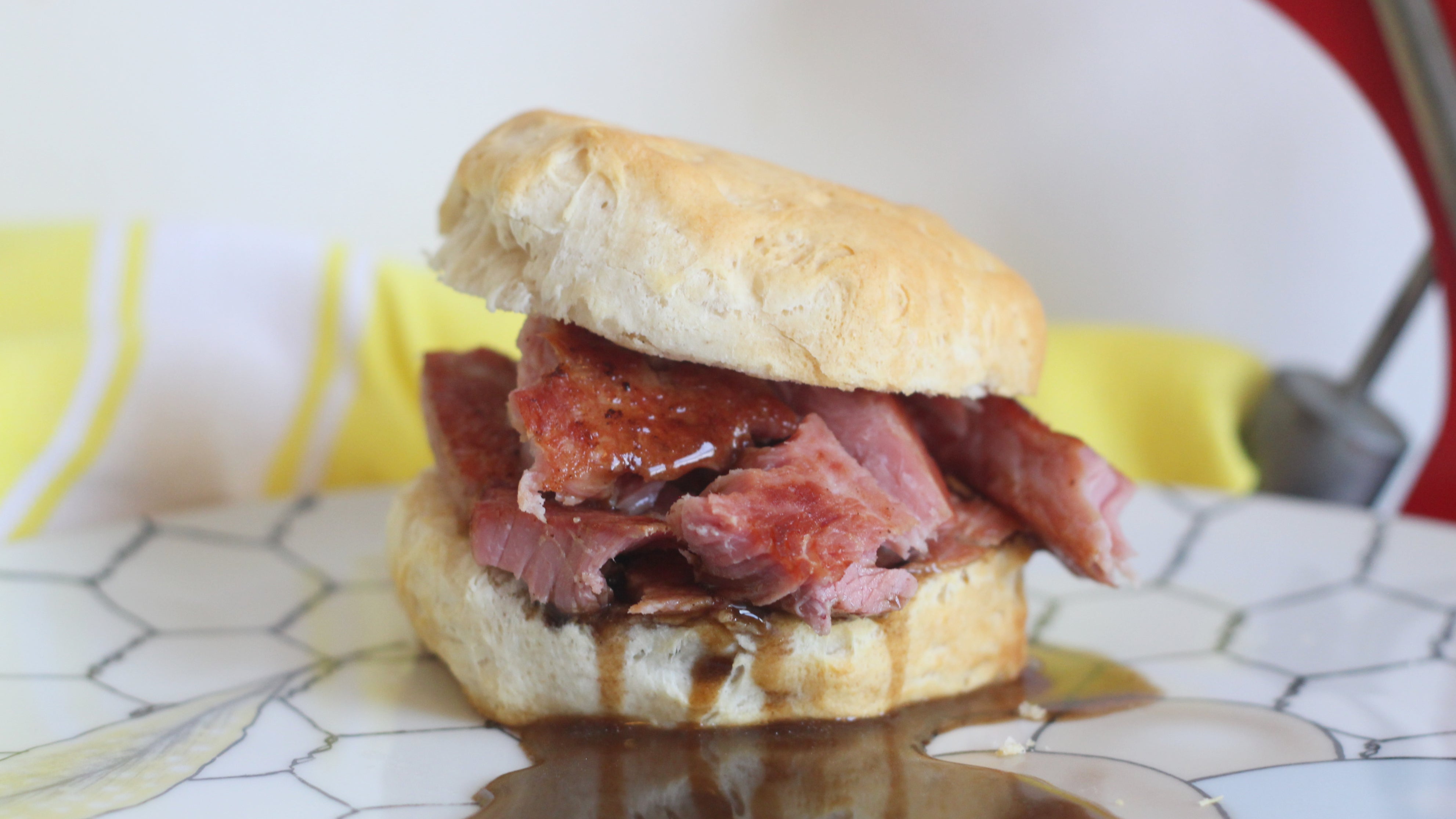 Photo: Claire Lower
Red-eye gravy is quite different from its thick and creamy, sausage studded Southern cousin. It's thin, salty, and (due to the coffee) a bit bitter. It's typically eaten with ham biscuits, though you could also swirl it into grits or drizzle it on top of black beans/heart beans. Unlike most gravy (sausage included) there's no roux, flour, cornstarch, or any real thickening agent to speak of – just butter, coffee, a little stock (or water), and all the glorious browned bits left behind by fried ham.
Like coffee itself, it wakes you up with its assertive flavours, veering dangerously close to "too salty" only to be brought back from the edge by a buttery biscuit. Though it's not traditional, I like to add a drizzle of maple syrup to round everything out. To make it, you will need:
1 ham steak, cut into 4 pieces

2 tablespoons unsalted butter, divided

1/2 cup leftover coffee

1/4 cup stock or water

A drizzle of maple syrup (optional)

Your favourite biscuits for serving
Add the first tablespoon of butter to your frying pan and melt over medium-high heat. Once the butter starts to bubble and sizzle, add the ham, and cook until each side is nice and browned. Set aside on a plate and cover with foil to keep warm.
Reduce the heat to medium, add the coffee and water, and deglaze the pan, scraping up all the browned bits with a wooden spoon or spatula. Let the liquid reduce by about half, then add the remaining butter, and whisk until emulsified, drizzle in the syrup if using, and whisk one more time. (Some separation is OK, in fact, that's how the gravy got its name.)
Split your biscuits, dip one (or both) halves into the gravy, and fill with fried ham (I like to pull my ham into bits before adding it to the biscuits).