We have more details on Apple's forthcoming credit card with Goldman Sachs following this week's Apple event, and if you were hoping for a rewards card that changes the game, well, this isn't it.
Here are the main features of the Apple Card, first reported by the Wall Street Journal well before today's announcement:
Users who use Apple Card with Apple Pay will get two per cent back on all purchases, and three per cent back on all Apple purchases. If you use the physical card, you get one per cent back.

That cash back is available as "Daily Cash," a program that makes your cash back available on your Apple Cash card each day — quicker than your standard card, assuming you use Apple Pay.

It is built into Apple Wallet, meaning you can manage your card on your iPhone, if you're into that kind of thing. You can sign up for it via Apple Wallet.

There are no fees: No annual fee, foreign transactions fees or late fees are charged, plus no penalty interest rate is applied.

It "encourages" customers to pay less interest, which is Apple-speak for "the app shows you how much more money you will owe in interest if you don't pay off your balance."

The physical card is titanium, and will not display a card number, CVV security code, expiration date or signature.
Other features
The Apple card does differentiate itself in a few ways. Because it's integrated into your Apple wallet/smart phone, it can give you a holistic look at your spending, almost like it has Mint or another budgeting app built in.
"Apple Card uses machine learning and Apple Maps to clearly label transactions with merchant names and locations," Apple notes. "Purchases are automatically totaled and organised by colour-coded categories such as Food and Drinks, Shopping and Entertainment." It will also provide spending overviews.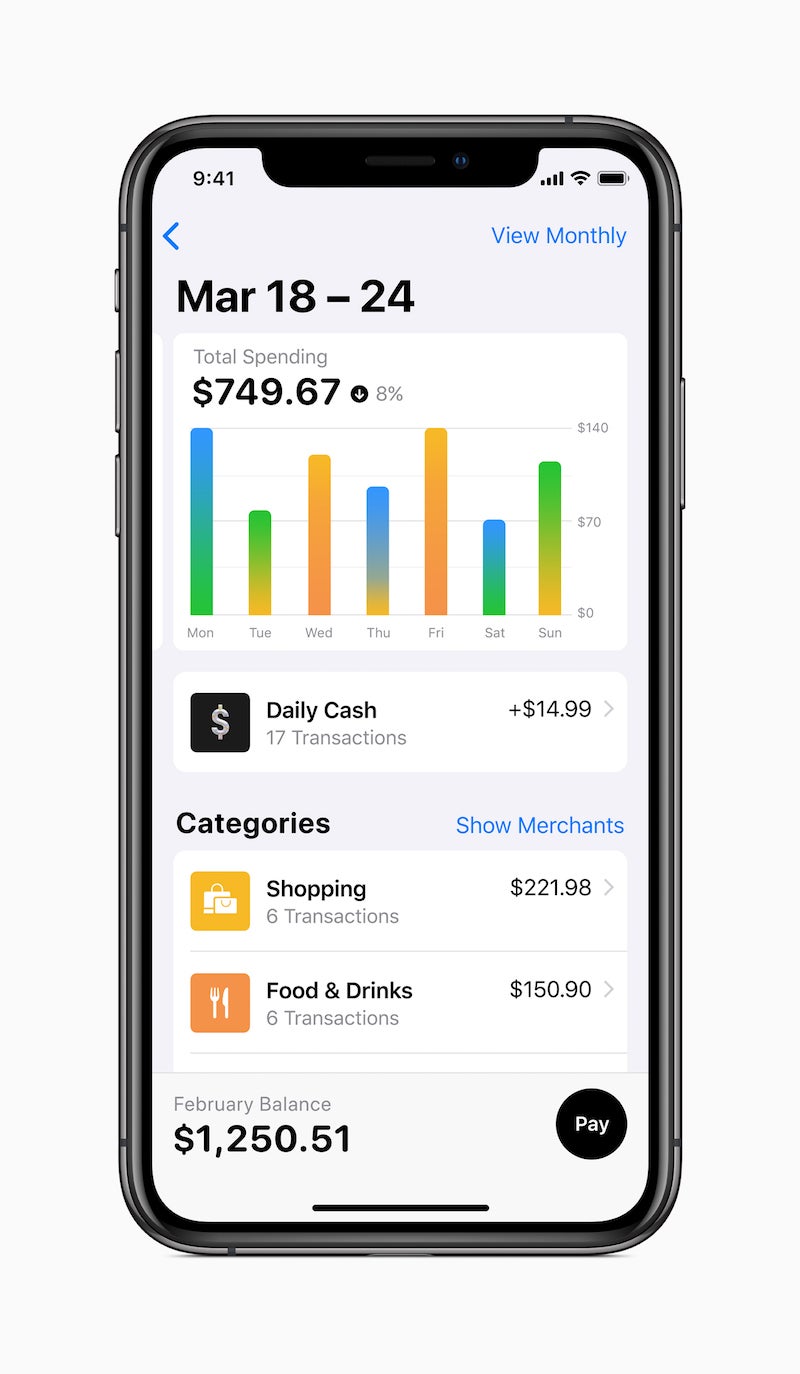 Apple" loading="lazy" > Image:
Apple
And perhaps most importantly, it bills itself as "fee free." From Apple's website:
There are no fees associated with Apple Card: no annual, late, international or over-the-limit fees. Apple Card's goal is to provide interest rates that are among the lowest in the industry and if a customer misses a payment, they will not be charged a penalty rate.
That said, "the 'no fees' pitch isn't as novel as it may sound, though," says Ted Rossman, industry analyst at CreditCards.com. "That angle is also touted by cards like the PenFed Promise Visa and the Citi Simplicity."
I reached out to Apple about interest rates and an estimated credit range to qualify, and will update the post if I hear back.
Drawbacks and other options
Those are some decent perks, but overall the Apple Card is just an OK rewards card. The biggest drawback is that you need to use it with Apple Pay to maximise your rewards.
"For those who routinely shop at local neighbourhood bodegas or other establishments that don't have Apple Pay, you can expect only one per cent back on your purchase," says Sara Rathner, NerdWallet's credit card expert. And you can easily beat that with other no-fee rewards cards, as I wrote before:
There are other rewards cards that currently offer two per cent back on most purchases, including the Citi Double Cash. The Wells Fargo Cash Wise card gives cardholders 1.5 per cent back on all purchases, while the Capital One Savour card* offers three per cent back on dining, two per cent back on groceries and one per cent back on everything else.
To emphasise the Citi Double Cash card, you'll get two per cent back on all purchases, not just Apple Pay purchases, though you get one per cent when you swipe and one per cent when you pay, not all at once.
"Frankly, I'm underwhelmed. This card will get a lot of headlines, but its bark is greater than its bite," says Rossman. "People will sign up for it, but that will be mostly because they love Apple, not because this card is better than anything that already exists."
As Rossman notes, it's not actually even the best card for Apple Pay rewards. "If you want to maximise Apple Pay, the U.S. Bank Altitude Reserve Visa Infinite card gives three points per dollar on mobile wallet spending—worth three per cent cash back or 4.5 per cent off travel," he says.