After two deadly plane crashes involving Boeing's 737 Max 8 jet over the past six months, many airline passengers and airlines have starting to consider whether or not the planes are safe to fly. Here's what you need to know.
The good news is that Australia has already banned the planes from its skies. If you're flying to or from Australia, it won't be on a 737 Max 8.
However, the same safety measures do not necessarily apply when you're flying between other countries or overseas cities. Specifically, the United States and Canada have opted not to ground the planes.
The FAA is still allowing the planes to fly, as it did after the Lion Air crash in November, and has instead said that it will mandate "design changes" to the Max 8 as well as the Max 9 "no later than April 2019," CNN reports. However, the announcement also indicated that it had not yet determined the cause of the most recent Ethiopian Airlines crash.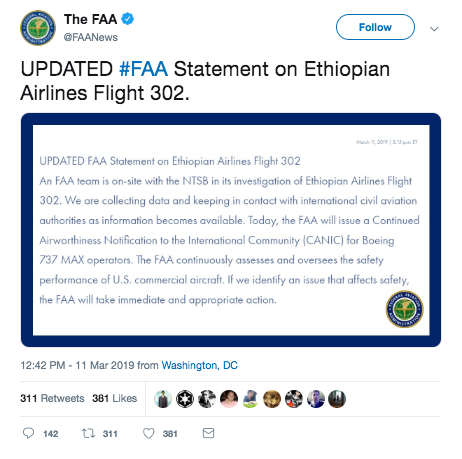 Boeing, on the other hand, maintains that the planes are safe to fly, and has said that it has been working to develop an enhancement to the plane's flight control software to "make an already safe aircraft safer" and is currently working on the planning and certification of that software with the FAA. It's expected to be deployed in the coming weeks.
What airlines are currently flying Boeing's 737 Max 8?
There are only 350 Boeing Max's in operation around the world, across 54 different operators. The vast majority of those planes have been grounded either by the airline or the government of their country in the wake of the Ethiopian Airlines crash.
The U.S. and Canada are currently the only two countries where a substantial number of the planes are operating. As far as U.S. carriers go, Southwest Airlines has 34 Max 8's in its fleet and American Airlines has 24. In Canada, the planes are only being flown by Air Canada and Westjet.
How can I find out if I'm flying on a 737 Max 8?
In many cases, the type of plane a flight is on will be listed right where you're booking the ticket.
If you've already booked your plane ticket, the type of plane you're flying on should be printed on the ticket itself. For instance, on the ticket for a flight I'm taking on Friday I was able to see that the plane will be part of the Airbus series.

If you don't see it or want more info, then SeatGuru can make finding that info easy. There, you enter in your airline, date or flight, and flight number and you'll get info about the aircraft as well as the amenities on board and a seat map telling you where the best spots are to sit.
A SeatGuru search for my upcoming flight, for instance, went a little further than my ticket to tell me I'm flying on an Airbus A320

What can you do if you don't want to fly on one?
If you've already booked a ticket on a 737 Max 8, the unfortunate answer is "not much." Most airlines will let you rebook your fares or tickets, but that rebooking can come at a cost.
In addition some airlines have reportedly decided to not allow customers to switch flights between the 737 Max and regular 737. Some airlines also don't allow Basic Economy ticket holders to change their flight at all, making your only solution if you don't want to fly on a 737 Max to simply buy a new plane ticket.
If you're travelling in the US, United is the only airline offering to help switch customers' flights for free, and it doesn't even own any of the Max 8 planes. It does have 14 Max 9's in its fleet and has said that it will "do what is best in our capabilities to find alternative travel arrangements," for any passengers that are uncomfortable flying on one.