Phones are starting to get weird again, finally moving away from the standard iPhone-like silhouette to experiment with (somewhat) new shapes and forms. Last week, the world's biggest Android manufacturers gathered together in Barcelona for Mobile World Congress, the largest mobile-focused tech fair there is, and their various new devices are refreshingly diverse.
The biggest spectacle of course was Huawei's Mate X foldable smartphone, which follows Samsung's own similar Galaxy Fold device, hastily unveiled just days ahead of the conference. Both companies have been hesitant to let too many people get their hands on the new flexible devices, which can be used as standard phones or unfurled to act as small tablets, but differences between the two approaches are clear.
2019 will be the year of the folding smartphone and Samsung has revealed a revolutionary device. The Galaxy Fold has the potential to completely redefine the smartphone experience in the same way the iPad changed what we thought a tablet could be.
Read more
Samsung keeps the larger display tucked inside the fold of the device, presumably to keep its plastic surface safe from scratches. But this approach means it has had to put a much less impressive small screen on one of the outside covers, and dot cameras on all three surfaces to make sure the device is useable open or closed.
By contrast Huawei folds the other way so that when closed you get a phone with screens on both sides, and a vertical hand grip with cameras on it makes the same lenses accessible no matter how you hold it (you just can't take selfies in tablet mode). It's certainly more impressive to look at, but time will tell if the screens hold up to scuffing. Both companies use mechanical hinges to stop the phones flopping around.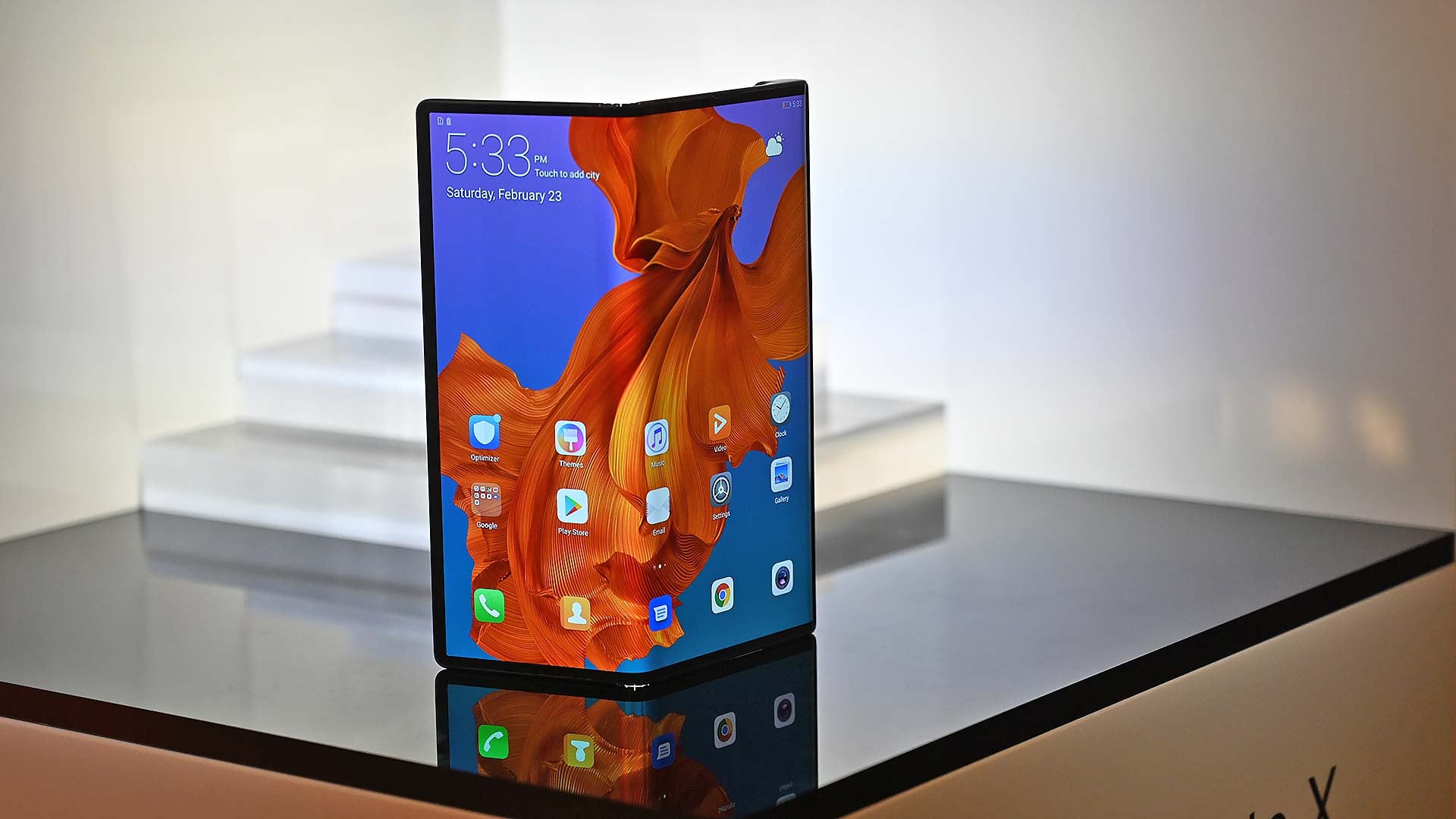 It's only taken a few days but the Samsung Fold's leadership in the folding phablet business is already under threat. The Huawei Mate X was unveiled at Mobile World Congress today and while it's slightly larger than its Korean competitor, most reports suggest that it's easier to grasp. And, unlike the Galaxy Fold, Huawei's approach gives you two external displays that open into 8-inches of viewing goodness.
Read more
One area in which Samsung will undoubtedly have an advantage is price. With OLED panels of this size both will be expensive, but the Mate X includes a 5G modem for next-gen network speeds, which also necessitates a massive 4500mAh battery. Australian prices are not yet announced, but based on international prices I'd suggest Huawei will struggle to keep it under $4000, which Samsung should be able to undercut by at least $500.
Also packing 5G functionality is LG's V50 ThinQ. Like previous LG flagships this phone looks like a dream for anyone who gets their movie or music fix on the go, with support for Dolby Vision and HDR10, plus DTS:X surround sound and various high-res audio formats.
LG has taken a different approach to the big-screen challenge. Rather than going for a folding display, like Samsung, Huawei and Oppo, LG has decided to go for two separate displays that work in tandem. The dual-screen LG V50 is actually a single-screen handset with an optional secondary display that works via a helper case. The display data is transmitted from the main phone to the second display using a very short-range wireless communication method supplied by Keyssa.
Read more
But, besides 5G, what really sets the V50 apart from its predecessors is a crazy optional accessory called Dual Screen. This is case for the V50 that also has an entire second HD OLED attached on a hinge. The Dual Screen works in both portrait and landscape modes to greatly expand your multitasking abilities, or give you separate controls for mobile gaming.
As with the Mate X, you'll be paying a 5G premium on the V50. It will be a $2000 phone in Australia, making it around $700 more expensive than 2018's very similar V40.
If you're more into creating movies than watching them, you might be interested in Sony's Xperia 1. This is a striking device with a crazy tall screen, mirroring the wide 21:9 aspect commonly used in cinema. Sony's leaned on its various companies to to craft a creative powerhouse here, with a 4K HDR OLED powered by Bravia, support for professional colour space standards thanks to CineAlta and still photography technology from Alpha mirrorless cameras.
At 167mm tall this is probably a smartphone your thumb will not reach the top of, but Sony's created an innovative menu you can swipe in from the side of the screen in order to pin apps like maps or video up top while you work underneath. No Australian availability has been announced yet.
Finally, HMD Global opted out of the weird screen technology race to focus on cameras, delivering the Nokia 9 PureView with an arachnoid rear array featuring five cameras. It might sound like overkill, but HMD says the lenses and sensors can work together for more complex and editable bokeh shots or to take a nonsensically large 240MP exposure.
Nokia has never been shy about talking up the capacity of their smartphones to take great pics. But over the last few years, the evolution of multi-camera systems that rely on some clever software has allowed smartphone makers to create camera arrays that can take great photos in almost any conditions. That's led the former mobile phone giant to introduce a five-camera array to the back of their latest flagship model, the Nokia 9.
Read more
As with all recent Nokia flagships the 9 combines interesting new tech with slightly less powerful innards, and software supplied directly by Google, to make for an impressive phone at a lower cost. It's been given a $US699 starting price in the United States, so expect to see it arrive in Australia at $1000 or less.
---
This article originally appeared in Digital Life, The Sydney Morning Herald's home for everything technology. Follow Digital Life on Facebook and Twitter.