For those who have never had it, Buffalo chicken dip is shredded chicken held together with an unholy slop of cream cheese, hot sauce, shredded cheese, and ranch dressing, then baked until hot and bubbly. This cauliflower variant is (slightly) healthier, vegetarian-friendly and just as tasty.
Buffalo dip is high-octane junk food that I love unreservedly in all its forms. That's not to say it's beyond critique, and to that end, I have some notes. For one thing, most recipes have you mix ranch or blue cheese dressing right into the dip and bake it.
Serving anything Buffalo without blue cheese may be a crime, but so is heating mayo-based dressing above room temperature. For another, there's got to be a way to work in celery without resorting to a sad pile of stalks.
Finally, the chicken usually straight-up sucks. Breast meat leans bland and stringy, or worse, watery; thigh meat adds more grease to an already fatty dip. You need something for bulk, but the ubiquitous shredded rotisserie chicken has always felt like a half-hearted formality. That's where cauliflower fits in.
Based on the success of Buffalo cauliflower wings, I figured roasted florets would be as good a chicken replacement as any. There's just one problem: cauliflower's water content makes it difficult to crisp up. Hopeful that it would work the same magic it does on crispy baked chicken wings, I added baking powder to my seasonings and roasted the cauliflower at high heat.
It worked even better than I'd hoped. Baking powder is basically cornstarch mixed with a mixture of powdered acids and bases; when it comes in contact with liquid, it fizzes and bubbles like crazy, creating a craggy, super-crisp surface. The florets emerged from the oven crunchy, beautifully browned, and not even slightly soggy.
With the cauliflower handled, all that was left was a few minor tweaks to the classic formula. I swapped mild shredded cheese for the standard blue crumbles and left out the dressing, drizzling some on top before serving instead. The finishing touch is a shower of quick-pickled celery-and-shallot relish that perks things up considerably, adding freshness and crunch without being, you know, a stick of celery. Distributing the Big Three flavours — Buffalo wing sauce, blue cheese, celery — over three distinct layers means you can actually taste and appreciate each one, which is always a winning strategy.
I've eaten a lot of Buffalo dip in my life, and this meatless version is the best one by a mile. It's got a hell of a lot more flavour than any chicken-based dip, and the texture is thicker, richer, and way more dip-able. Layering the accoutrements on top provides welcome textural contrast and prevents a one-note flavour situation. Nobody's stopping you from using chicken, but even if you eat meat, I honestly can't see why you would.
Three-Layer Buffalo Cauliflower Dip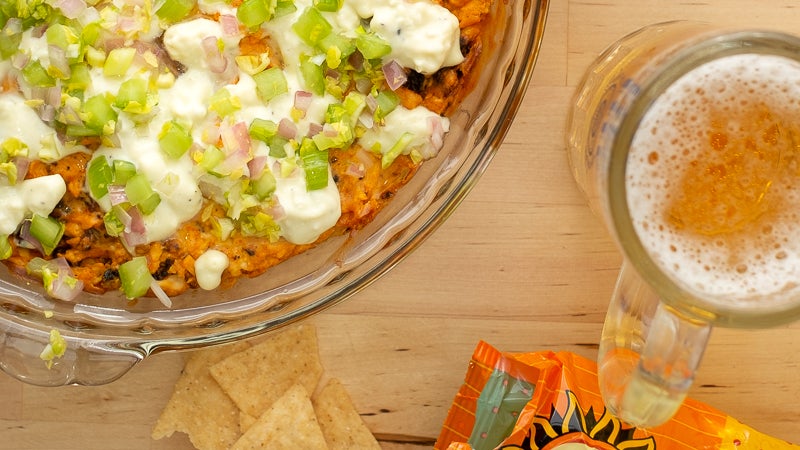 Photo: A.A. Newton
Don't skip the baking powder on the cauliflower: it creates that all-important crispy exterior. As for the blue cheese dressing, you can either use your favourite pre-made brand or whip up a quick batch of your own. The rest of this recipe comes from the back of the Frank's bottle, though I omit the ranch. One should never mess with a classic unless, of course, it involves hot ranch dressing.
Ingredients:
For the roasted cauliflower:
About 500 grams of cauliflower florets broken into small clusters and stems sliced crosswise 1/2 an inch thick

4 tablespoons neutral oil

1/2 teaspoon baking powder

1 teaspoon adobo seasoning, garlic salt, or any seasoning blend with salt and MSG

1/2 teaspoon paprika, smoked or regular
For the celery relish:
3 ribs celery and any attached leaves, finely diced

1/2 large or 1 small shallot, finely diced

Salt and granulated sugar, to taste

3-4 tablespoons vinegar of choice (I used apple cider)
For the dip:
500ml package cream cheese, softened

1/2 – 3/4 cup Frank's RedHot sauce or other vinegary red pepper sauce (use less if you're sensitive to heat)

1/2 cup shredded mild cheddar, mozzarella, or a mix

1/2 cup (or more) of your favourite blue cheese dressing
Instructions:
Place a sheet pan on the middle rack of your oven and preheat to 220 degrees Celsius. While it heats, toss the cauliflower with 2 tablespoons of oil in a large bowl. Add the baking powder, seasoning salt, and paprika and toss until evenly coated.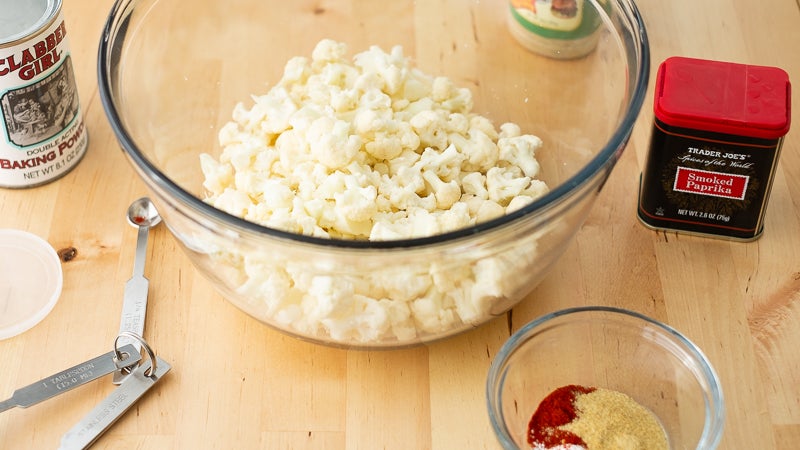 This is how big your florets should be, which is to say, pretty freakin' tiny. (Photo: A.A. Newton)
When the oven finishes preheating, pour the remaining 2 tablespoons of oil onto the hot sheet pan and return to the oven for 2 or 3 minutes. Carefully tilt the pan to evenly coat the surface with hot oil, then transfer the seasoned cauliflower to the pan. Roast for 35-45 minutes, stirring at the halfway mark and as needed towards the end, until the cauliflower is crispy and deeply browned. Drain on paper towels and set aside.
Check out that ridiculous browning, courtesy of baking powder. (Photo: A.A. Newton)
Make the celery relish while the cauliflower roasts. Combine the diced celery and shallot in a small bowl and sprinkle with 1/4 teaspoon each of salt and sugar. Use your hands to squeeze and massage the vegetables until they soften and release their liquids. Stir in 2 or 3 tablespoons of vinegar, then taste the brine and a bite of veg; add more salt, sugar, and vinegar as needed. Cover tightly with plastic and refrigerate until serving time.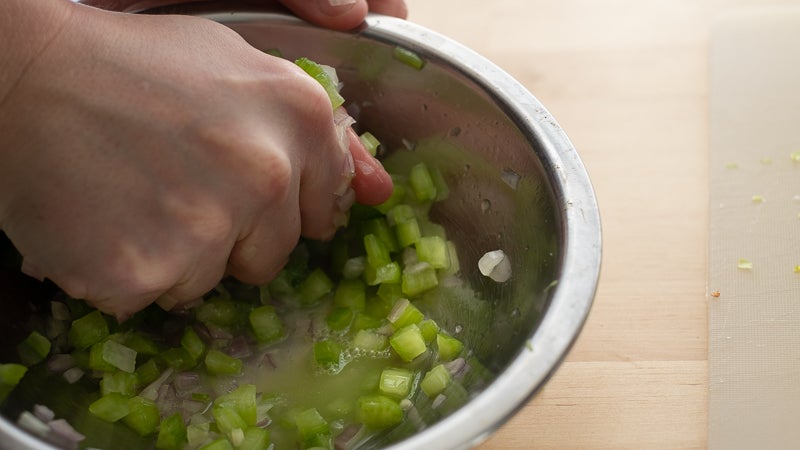 Thomas Lawn)" loading="lazy" > Really get in there—this step breaks down the fibres and releases some liquid, which makes all the difference in a quick pickle. (Photo:
Thomas Lawn
)
To make the dip, first reduce your oven temperature to 180 degrees. Thoroughly mix the cream cheese and hot sauce together in a 4-cup measuring cup or mixing bowl, then fold in the roasted cauliflower and shredded cheese. Scrape into a baking dish or smallish oven-safe pan and bake until bubbling hot, 20-30 minutes.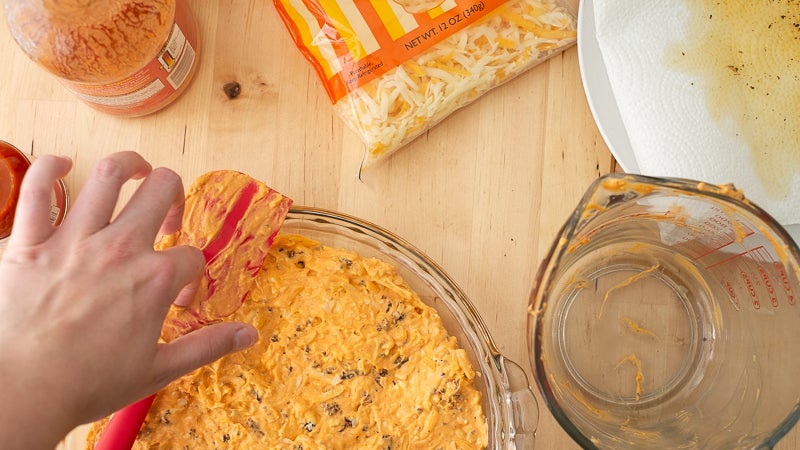 What? If you're not tasting, you're not cooking. (Photo: A.A. Newton)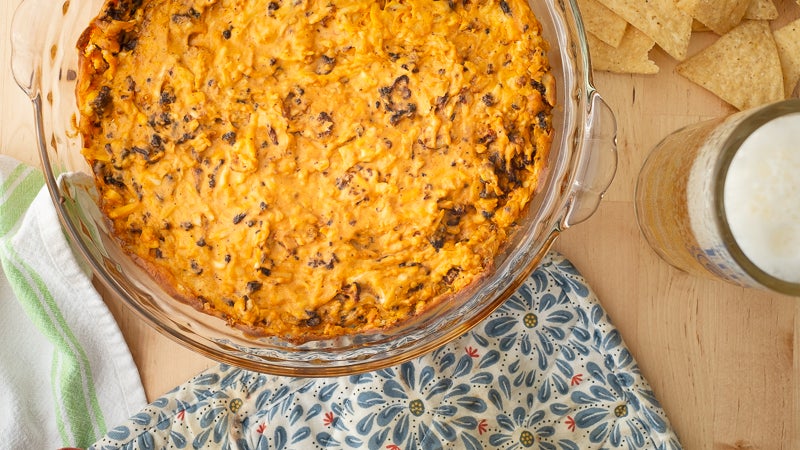 Fresh from the oven and ready for toppings. (Photo: A.A. Newton)
Drizzle the dip generously with blue cheese dressing and top with the celery relish. Serve hot, with chips, bread, a spoon, or — if you absolutely must — celery sticks. Should you find yourself with leftovers, slap 'em between two pieces of buttered bread for the most ridiculous grilled cheese of your life. You're welcome.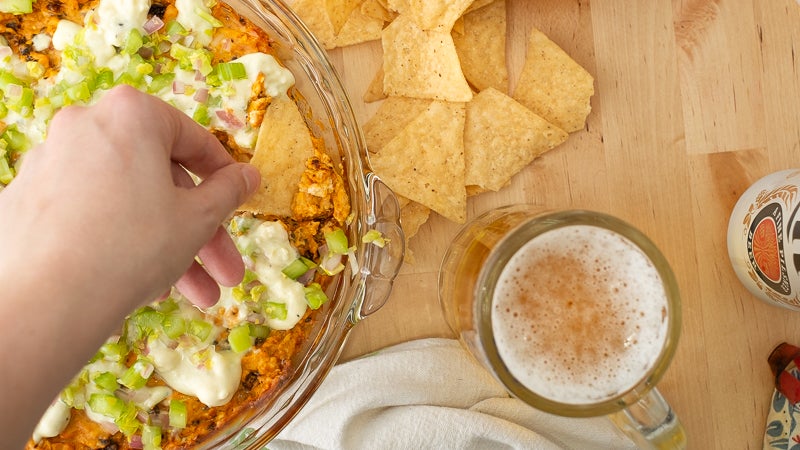 Do I even need to tell you that it's perfect with a cold beer? (Photo: A.A. Newton)