Typos happen. Now when they happen on Facebook Messenger, you have the option to delete them. Facebook finally started rolling out the ability to delete Messenger messages this week.
Facebook is kind of a mess right now. And there are plenty of equally messy reaction pieces cajoling you and everyone you know, to delete your account in a massive middle finger to the web's prevailing social network. That's the easy take and, honestly, we've experienced this mob response before. Did you #DeleteFacebook then? Me neither.
Read more
The feature won't work for forever — you have to catch that messaging fail within 10 minutes of pressing "send — but it does at least give you the option to walk back that incoherent sentence or profession of love that you immediately regret sending.
To delete a message, tap on the message you'd like to delete. When you do, you'll get two options at the bottom of the screen: "Remove for Everyone" and "Remove for You."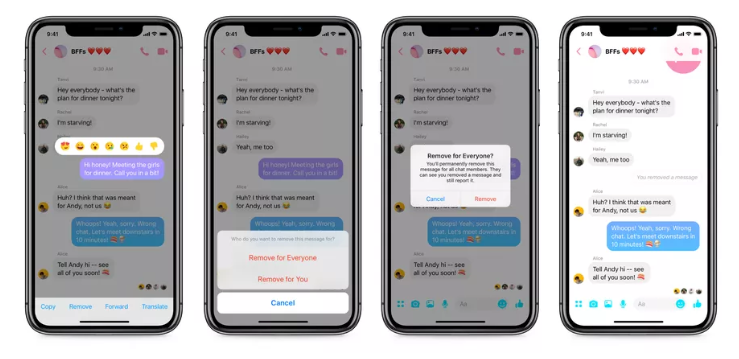 That "Remove for Everyone" option will delete the message from everyone in the thread. That said, you won't go totally undetected. Everyone in the thread will also see, in its place, a note saying that a message has been removed by you.
Worth noting: The feature is slowly rolling out, so you might not have it yet.
And if you're looking to delete your entire account rather than just a message or two, we have a step-by-step guide on how to make that happen.