This week, Instagram rolled out a new feature that allows you to post an image across multiple accounts, or even post an image on more than one account at the same time. Though that sounds like a niche feature created to help power users, there are plenty of people who juggle multiple Instagram feeds: Users who keep public and private feeds, side accounts for their pets, and other photography side projects.
And yes, in the age of influencer culture, the number of people who use Instagram for both business and pleasure is only rising.
Setting aside the larger question of what it takes to come up with enough great posts to fill two accounts, managing multiple Instagram accounts is not nearly as difficult as it sounds. Here's what you need to know:
Getting Started
Signing up and logging into multiple Instagram accounts on the same app is simple as pie. Simply open the side menu by clicking the three rows on the top-right of the screen, pressing "settings" button at the bottom of the menu, then scroll down and tap "add account." You'll be prompted with the login screen where you can either log in to a second account or press sign up to create a new one. Once you've logged in, the app stays connected to all the accounts on which you've logged in.
Once you have multiple accounts set up on your phone, you can switch among them by going to your profile and tapping the text version of your handle at the top of the screen.
(If you're signed into multiple accounts, there will be a small down-facing carrot next to it).
Luckily, thanks to the new crossing-posting feature on iOS, you don't have to swap accounts every time you want to create a new post. When you add a photo and reach the caption menu, you'll find a new section just below the "add location" row that called "post to other accounts", with a list of your connected accounts.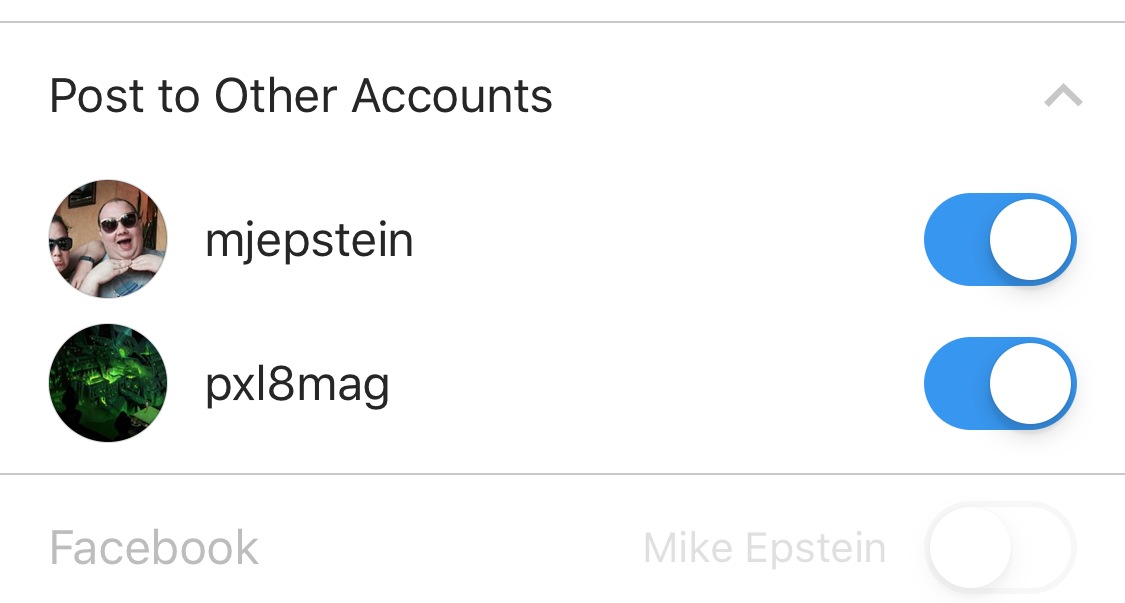 I don't post really on the blog Instagram, but I guess I should start now that you know about it. (Screenshot: Instagram)
The account you're logged into is automatically toggled to post, but if you want to post to a different account, just switch it off. You can also switch all on to post a photo on all your accounts, though that's a bit of a social media faux pas most of the time, unless your accounts have completely separate audiences.
In terms of technically managing your accounts, that's all there is to it. Depending on what you plan to use your accounts for, you may want to tweak your settings for each individual account, such as setting it to private, switching off comments, and preferences for push notifications. All of these features work exactly the same regardless of how many accounts you have. Just make sure you're set to the correct profile before changing your settings.
Go 'Pro' Using a Social Media Manager
Unless you are a very active daily user, though, the real challenge in maintaining multiple accounts is in making sure they all feel active and fresh. As with most projects where you split your attention, it's very easy to get caught up maintaining one to the point where you leave the other(s) to languish.
(If you don't believe me, ask any professional writer about their personal blog. Except me! I… don't want to talk about it).
Instagram doesn't offer a lot of common sense features that power users may find themselves craving, like the ability to schedule posts in advance and post to Instagram from a laptop or desktop. If you're ready to take the plunge, there are third-party social media management platforms that offer these tools and give you more control.
I call it a plunge because there is a catch you should know about before signing up: Third-party apps can only post directly to Instagram business accounts, so many of these tools require you to swap over to get the most out of using them. Also, while they all have free trials, very few are worth your time, and will not let you manage multiple accounts until pay for a subscription.
Switching a personal account to a business account is quick and painless — go to settings, then account, and tap "Switch to Business Account" — but doing so requires you to connect your Instagram to a Facebook business page and publicly share at least one means of direct communication; an email address, phone number or physical business address.
You also lose the ability to set your account to private (Though you can get it back by reverting to a "personal" account if you need a break). None of this is a huge concern for people using Instagram to promote an actual business, but for the average person this move effectively means trading a little privacy for better features. It's important to be aware of that going in.
To be completely transparent here, the recommendations we're laying out here are for people who want to manage multiple accounts for fun. There are definitely more marketing-driven tools made for professional account managers and influencers, but they're often expensive and have features that make them a bit obtuse, so we're sticking to the apps that are keeping things fun.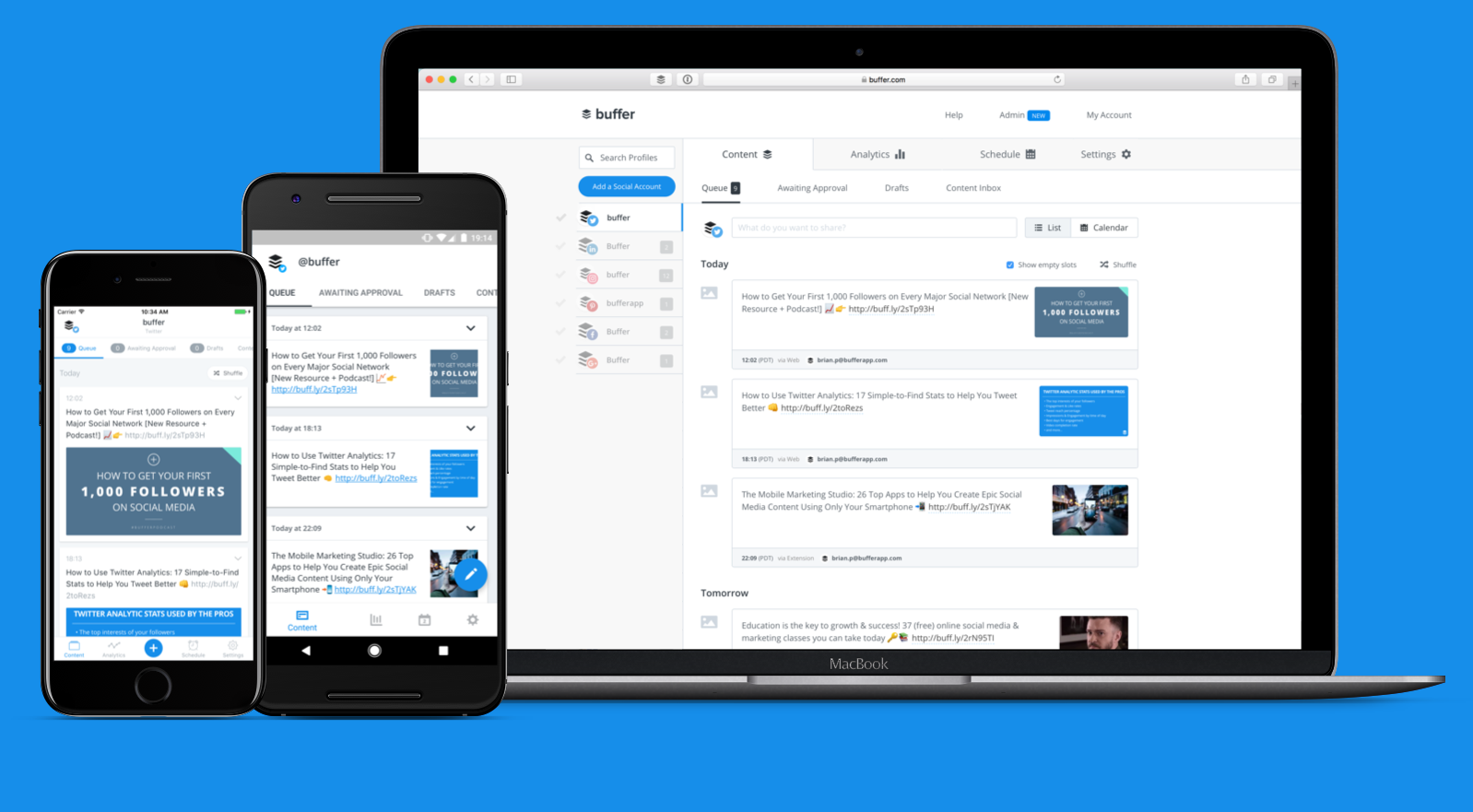 Photo: Buffer
Buffer allows you to schedule posts to your feed in advance and frees you up to post from any web-enabled device. It also lets you manage multiple social media accounts in one place, which can definitely save time if you plan to post multiple versions of the same link or photo. There's a trial version that lets you sync three social media accounts and schedule 10 posts per account per month.
That probably isn't going to be enough to satisfy most users, so there's a paid version for about $20 per month that bumps the cap up to eight social profiles and 100 posts per account.
Buffer is a good fit if you're trying a social media manager for the first time for your own personal use. The navigation is easy to use, and it has one of the only free trials that will let you manage multiple accounts. While it's annoying (and archaic) that the paid tier caps the number of posts you can schedule, it goes a long way towards simplifying your social media workflow.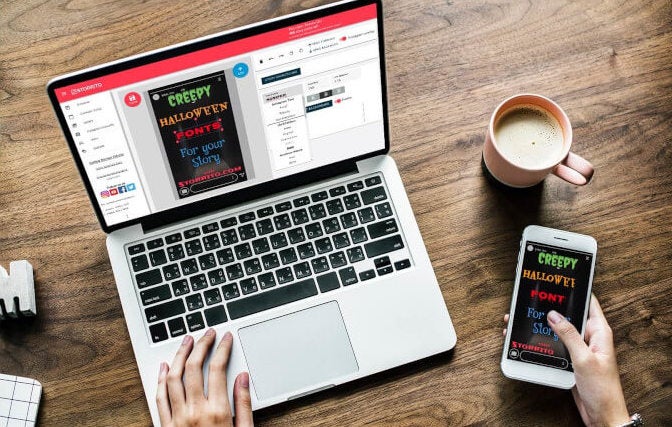 Storrito" loading="lazy" > Photo:
Storrito
Most of the social media managers I saw, on this list and off, help you curate your feed, but very few give you similar support for Instagram Stories. So regardless of what manager you use, you should supplement it with Storrito, a powerful, Stories-only Instagram scheduler. Storrito not only allows you to upload images and post them to your Instagram accounts, but you can edit, add filters, geotags — the whole nine yards. Oh and you can add videos as well, which also seems pretty rare among third-party tools.
Storrito has a free trial, which lets you post 10 images or videos per month across as many accounts as you want. Again, if you really want to take advantage of the service, so you have to pay for it. The premium pricing scales from $7 per month for up to 30 posts to $85 per month for 500 posts.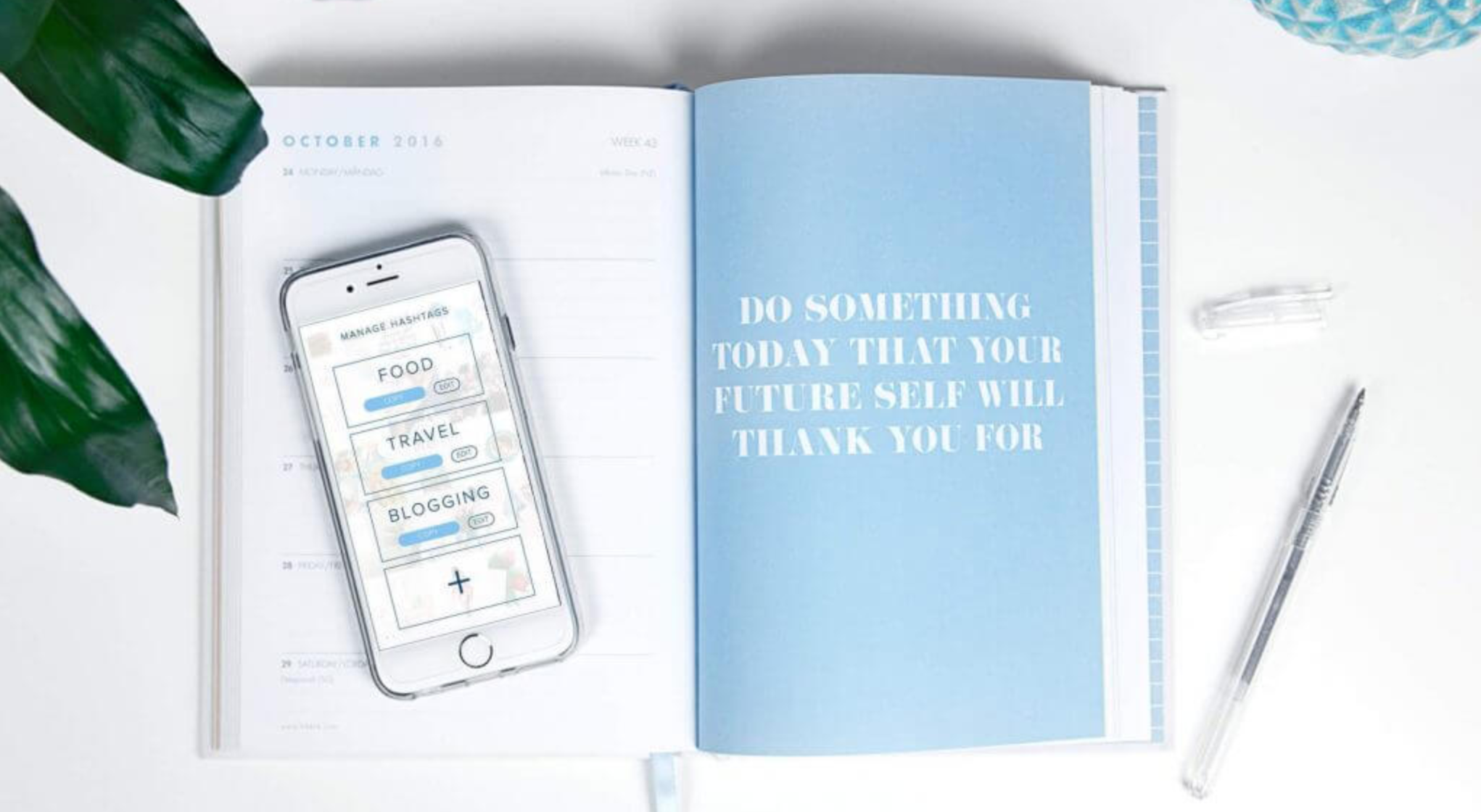 Plann" loading="lazy" > Screenshot:
Plann
Plann, an Instagram-only management app, is also a solid pick if you if want a platform custom-made to work alongside Instagram. It's stylish, provides both scheduling and creative tools, and (unlike Buffer) doesn't cap the number of posts you can make. It's also one of the only tools I found that supports both the Instagram feed and Instagram Stories, which makes it one of the few tools that comes close to offering a full-service complement to the platform.
Though the free version does not allow you to manage multiple accounts, Plann seems relatively affordable. It costs $23 per month to connect 2-3 accounts, or $41 per month for an unlimited number.
It does have a few drawbacks, though. For better or worse, Plann does not post directly to Instagram, which means you can use its full functionality with a personal account, but at the expense of one its core features—the ability to save time by automating your social media plan.
It is also limited to your phone. If Instagram is your primary social platform, that may not seem like a hindrance, but as someone whose world revolves around a laptop, a web app is a must-have feature for me. Plann does have a web app in the works, though, so that may not be a problem for much longer.