Italian food is, for me, the final word in comfort. Even my foulest moods are no match for cheesy, red sauce-laden carbs, but I rarely have six hours to spend on a pot of Sunday gravy. Thankfully, I haven't met a low-and-slow dish my Instant Pot couldn't handle — so when a craving for spaghetti and meatballs hit, I knew just what to do.
Tomatoes have a window of ripeness rivaled only by avocados, which is problematic if you tend to buy in bulk. It helps to have a "use 'em all up real quick" backup plan - which is where this recipe comes in.
Read more
Well, sort of. Sometimes, finding reliable new Instant Pot recipe is more work than the dish itself. When I started researching Instant Pot spaghetti and meatballs, I expected a lot of variance, but nowhere near what I got. The biggest point of contention was, naturally, the one thing that's easy to fuck up: how much water is added to the pot. Too much makes a goopy mess; too little and the pot won't come to pressure. Even worse, most recipes don't tell you to add salt along with the water, which sounds like a great way to make a bland pot of pasta. Utterly scandalised, I got to work.
Pressure cooker pasta needs to build pressure faster than it browns on the bottom, so I devised a simple way to ensure that the pot would pressurise correctly: a test run. Rather than tossing everything in, firing up the machine, and praying, I double-check my ratios by bringing just the pasta up to pressure with water and some of the sauce. This leaves room for troubleshooting before the fragile raw meatballs get involved.
Once I know I've got enough water to cook the pasta — and enough salt to flavour it — I can layer the meatballs and remaining sauce on top and smash that function button with confidence. My way may be more effort than dumping stuff in a pot and pushing a button, but it's also a foolproof route to spaghetti and meatballs inside of an hour—a compromise I'm more than willing to make.
Perfect Instant Pot Spaghetti and Meatballs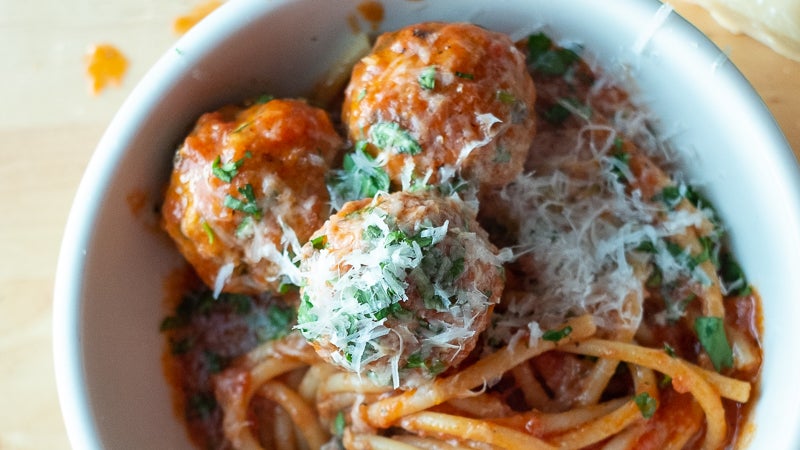 Photo: A.A. Newton
The secret to this recipe is all technique: As long as you pressurize the pasta before adding the meatballs, you're golden. I went almost fully homemade here, but you can use pre-made meatballs and your favourite jarred pasta sauce for an even quicker meal. If you'd like to brown the meatballs, do it in a skillet on the stove while the sauce simmers; the Instant Pot lacks the heat control and surface area you need for even browning.
Ingredients
For the meatballs:
1 cup plain breadcrumbs or stale bread cubes

Up to 1 cup whole milk

700-900g of ground meat, at least some of which is pork (I used a beef, pork, and veal blend)

1 cup grated Parmesan or pecorino romano cheese

2 cloves garlic, grated or very finely minced

2 large eggs

1/4 cup chopped fresh parsley

1/2 teaspoon crushed red pepper flakes (optional)

1/2 teaspoon table salt
For the sauce:
1 800ml can of tomatoes, any variety

1/4 cup olive oil

2 cloves garlic, thinly sliced

1/4 – 1/2 teaspoon crushed red pepper flakes (optional)

Salt and sugar, to taste
For the pasta:
300-350g long dried pasta, like spaghetti, linguine, or bucatini (use less for a saucier dish and more if you're noodle-motivated)

Water to cover

Salt to taste (I needed a full teaspoon of table salt)

Freshly-grated Parmesan and extra virgin olive oil, to serve
Instructions
First, make the meatballs. Measure the breadcrumbs into a small bowl and add enough milk to completely soak them. The exact amount of milk you need will depend on the variety of breadcrumbs you're using, but you don't want breadcrumbs floating in milk; you want milk-soaked breadcrumbs.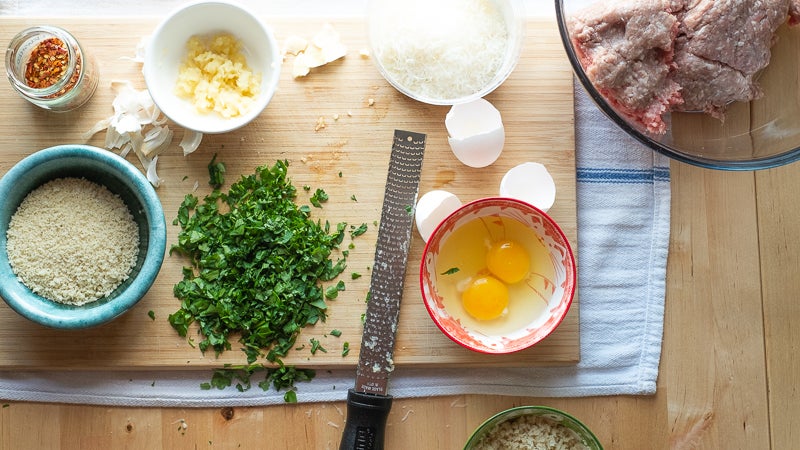 Everything that goes into a delicious meatball. (Photo: A.A. Newton)
While that's soaking, line a baking sheet with parchment paper and gather the rest of your meatball ingredients. Place the ground meat(s) in a large mixing bowl, then dump everything else—including those breadcrumbs—right in. Using your hands, massage the mixture together until it's evenly mixed and the mixture holds its shape when rolled into a ball. Pinch off 2-3 tablespoon portions of meat and roll them into smooth balls roughly 3cm in diameter, transferring them to the parchment-lined pan as you go. In the end, you should have 20 to 25 meatballs. Transfer to the fridge to chill while you make the sauce.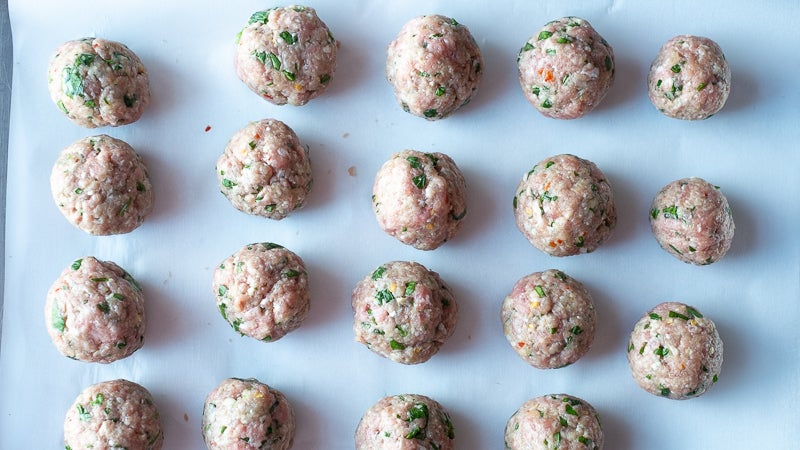 These are my sons, and they are all beautiful. (Photo: A.A. Newton)
If you're using whole tomatoes, take a moment to roughly purée them with a stick blender. Set your Instant Pot to the "Normal" Sauté setting and pour in the olive oil. When the oil is hot, add the sliced garlic and cook, stirring constantly, until it barely browns at the edges. Stir in the red pepper flakes, if using, then carefully stir in the tomatoes and a couple generous pinches of salt. Reduce the heat to "Less," bring to a simmer, and cook until the oil emulsifies and the sauce thickens, stirring occasionally. This will take ten to thirty minutes depending on the tomatoes; crushed or puréed need less simmering time than diced or whole.
With the exception of cherry tomatoes - which are good pretty much all year - I try to avoid buying tomatoes until at least mid-summer, as purchasing them outside their season usually leads to disappointment. But I'm not perfect, and the other day I slipped up and bought (quite) a few on the vine. They were, as one would expect, a little lacklustre in the flavour department.
Read more
When you're happy with the consistency of the sauce, season to taste with salt and a bit of sugar. (Sugar balances the tinny or overly acidic flavours you can get with canned tomatoes—don't be shy.) Scoop half the sauce into a separate bowl and reserve: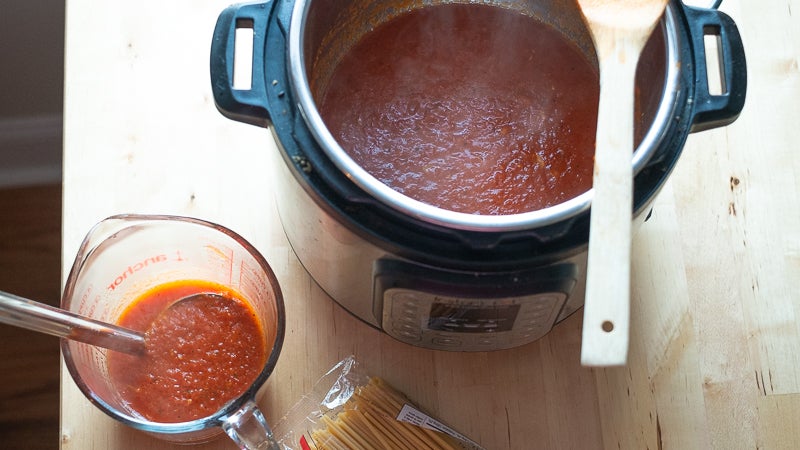 Photo: A.A. Newton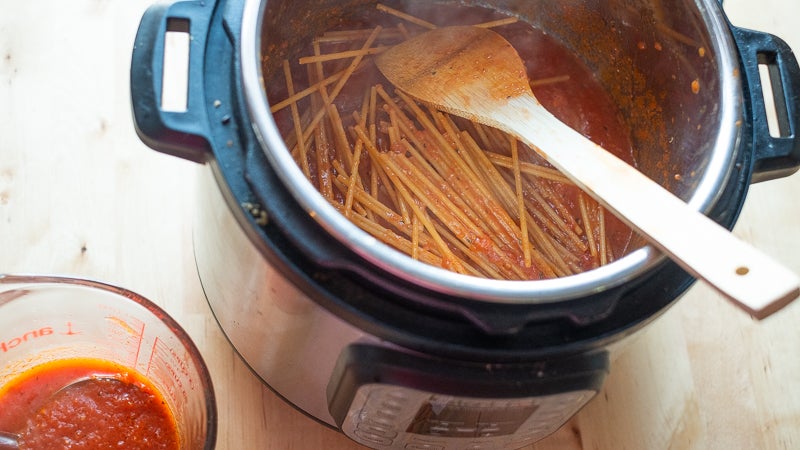 Stir the pasta into the pot, cover with an inch of water, and add plenty of salt to taste. (Photo: A.A. Newton)
Break the pasta in half and add it to the pot, stirring to distribute as evenly as possible. Pour in enough water to cover the noodles by an inch, season generously with salt, stir again, and lock the lid in place. Adjust the "Manual" setting to five minutes at high pressure and wait. If the pot pressurises within five minutes, perfect; if it doesn't, you need more water. Release any pressure immediately — remember, this step is just a test—and remove the lid so you can add the other ingredients.
If the noodles didn't pressurise fast enough, add another cup of water before arranging the meatballs on top. Pour the other half of the sauce on top of the meatballs, add one last splash of water for good luck, and lock the lid in place. This time, cook for the full five minutes at high pressure with a manual release.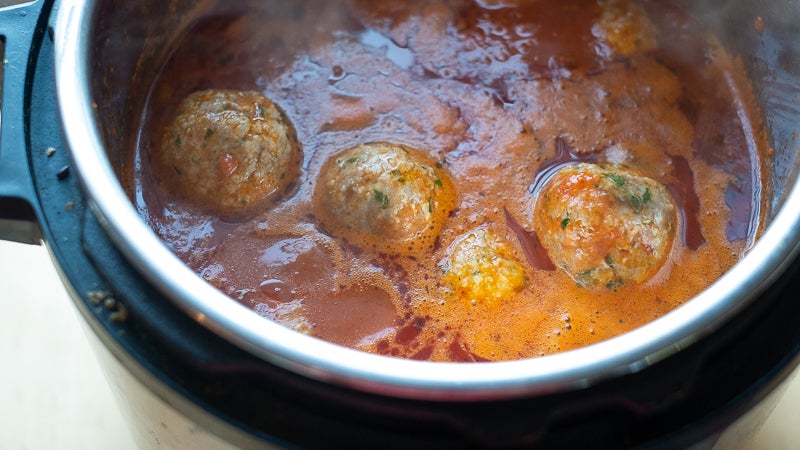 After five minutes at high pressure, you should have something like this. (Photo: A.A. Newton)
I like to serve the meatballs and the spaghetti separately, with the meatballs and any extra sauce in their own serving dish. You could also toss the whole mess together right in the pot and serve it as-is, but be gentle—you don't want to smush the meatballs. Either way, I think you should serve this as God intended: with a drizzle of olive oil, plenty of grated parm, and extremely potent garlic bread.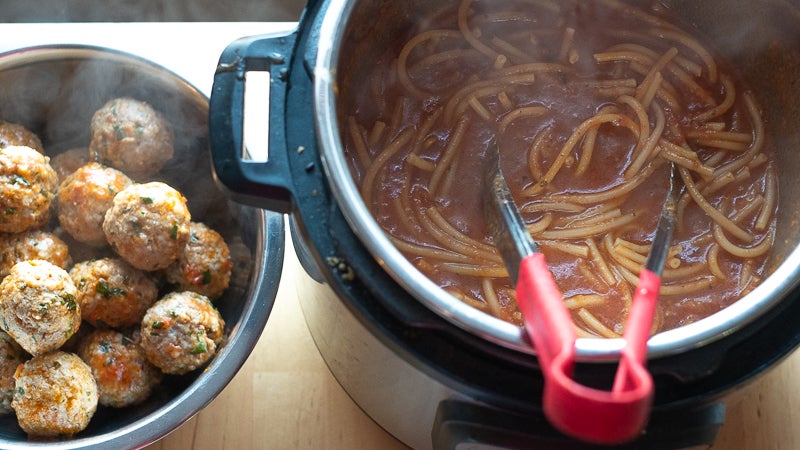 Photo: A.A. Newton