As I've written previously, iCloud can be a little confusing. It's not meant to be — at least, I don't think Apple intended it to be — but a number of people seem to get caught up by iCloud's synchronisation setup. While it's wonderfully convenient to have the same photos appear across all of your iCloud-using Apple devices, removing photos on one device removes them everywhere else.
Got it? Good. On to this week's iCloud-themed question, emailed in by Lifehacker reader Bryan:
"I was wondering if you could help me with my iPhone… I got a new iPhone after my last one was stolen and upon signing into my iCloud, my photos were all restored with white clouds at the bottom. Eventually, they all disappeared and I am only left with certain photos and some new photos. Let me know if you can help please."
Not to rehash the intro, but when you surrender your photographic life to iCloud, you're basically telling Apple that you want it to store all of your photos. Anything you then do on your devices — taking new photos, editing photos, or deleting photos — synchronises back up to the cloud and, as a result, should appear the same on all of your iCloud-connected devices.
In other words, there's no reason why you shouldn't see all of your iCloud photos on your brand-new iPhone. They (obviously) wouldn't be there if you never uploaded them to iCloud in the first place, but you did; they appeared, at first, with the little cloud icon indicating that they're not physically on your device, but they still exist in the cloud.
My first thought is that you should go check icloud.com — yes, the website — to confirm that all of your old photos exist. If you can't find them, make sure to check the Recently Deleted folder. I'm not sure why they would have just been magically removed like that, but it never hurts to look.
If your photos aren't in iCloud, nor the Recently Deleted folder, you have a big problem. Here's hoping you made a backup of your pictures elsewhere, or previously downloaded your photos to other iCloud-using devices you own (like your Mac, an iPad, and so on). If so, I'd recommend synchronising them to another service for the time being — like Google Photos — while you get this all sorted out. (It never hurts to have too many backups of your photos.)
Assuming your photos are in iCloud and, for whatever reason, you can't pull them up on your iPhone's Photos app, let's try some more troubleshooting. First, try disabling and re-enabling iCloud on your new iPhone — the software version of a reset switch. Pull up Settings, tap on your name at the top, tap on iCloud, tap on Photos, and turn iCloud Photos off. Wait a few minutes. Turn it back on. See if your photos appear.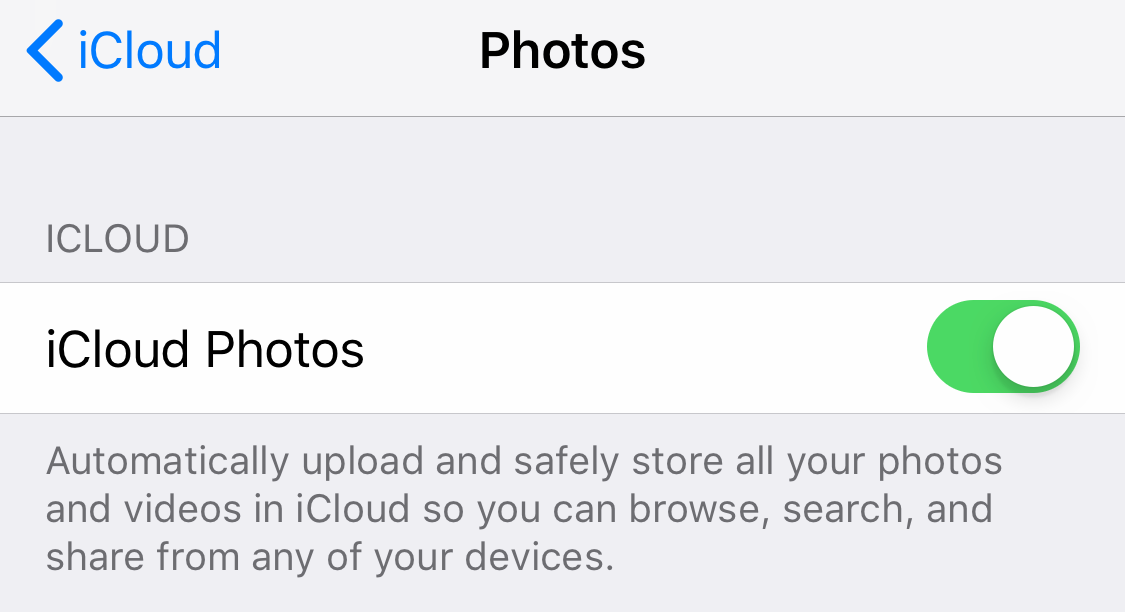 Screenshot: David Murphy
If not, you can try signing out of iCloud entirely, via the big red "Sign Out" link at the bottom of your Apple ID page, and signing back in. That should hopefully cause your photos to appear. You can also try switching to "Download and Keep Originals" within the Photos section of your iCloud settings, if it isn't already checked. Make sure you're on a Wi-Fi connection and give your device some time to synchronise your stuff — possibly even a few days.
Should you still find yourself photo-less, you could always try wiping your new device and restoring from your older device's backup (assuming it's still in iCloud, or wherever it is you kept them). Before signing back into iCloud again, don't forget to back up your photos to another service, just in case.
Setting up your iPhone as a brand-new device, and then linking it to your iCloud via the same email address you previously used, might also help get your iCloud synchronisation working correctly, but it's a more drastic step that will require more of your time.
Finally, if none of these suggestions help out, it might be time to chat with an Apple Specialist. (If you go this route, please report back what they say; I'm curious what their fix was — if any!)