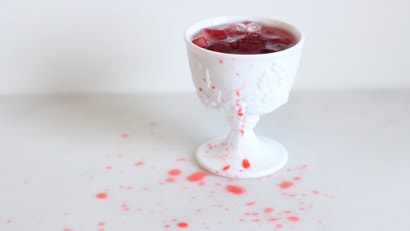 Photo: Claire Lower
Service journalism is all about writing for other people, but sometimes I use this platform of mine to write 250-to-1000-word jokes to myself. This is one of those times. I don't know if you are up on all the dank memes of 2018, but none have tickled my boobs quite like "They Did Surgery on a Grape."
https://instagram.com/p/BqYN9tvgKKa
If you don't get the appeal, I cannot explain it to you, but I wish I could. I have already alienated a few loved ones with my grape surgery enthusiasm. (Though, surprisingly, my father was unfazed, and tried to one up me with tales of PEACH surgery.)
Anyway. This cocktail allows me to combine my love of this perfect meme and my love of Concord grape juice, a childhood staple that brings me great comfort and makes my mouth happy.
Rather than try to find a spirit that complements or enhances the juice, I decided to use vodka, a neutral-tasting spirit, because grape juice needs no enhancement. There's also a bit of grenadine — use the homemade stuff if you can — to add some slight tartness, but mainly because it looks like blood, which is usually part of surgery.
To make it, you will need:
30mL vodka

60mL Concord grape juice

1 bar spoon of grenadine, plus more for splashing on the glass to mimic a gruesome surgery scene
Combine the juice and vodka in a glass filled with ice and stir it. I mean, I guess you could shake it, but let's be real — there's no need to get that precious. Add a spoonful of grenadine and stir again. Pour out a little more grenadine into a small shot glass, and splash it on the glass.
Exclaim "THEY DID SURGERY ON A GRAPE!" and toast to The Meme of 2018.