Australia is about to hit barbeque season – which hopefully means there will be plenty of ribs in your immediate future. If you want to give your BBQ ribs some extra pizzazz this year, avoid cheap BBQ sauce. Instead, make your own badass 'Blue-B-Q sauce' from blueberries and whack those ribs in the oven. Here's the recipe!
Photos by Sam Bithoney
Look, I know that some of you will chastise me for suggesting that you cook ribs in the oven. I know that they can be "better" by using another cooking apparatus. But not everyone has charcoal, or pellet, or a smoker, or even gas grill access.
On the flip side, almost everyone reading this has an oven. I like doing ribs in the oven because it frees up space on the grill and I can be sure that everything is served at the same time. (Nothing ruins a barbecue faster than having to wait for a hot dog.)
We're looking for 120 degrees Celsius for about two hours in a foil wrap, then another 50 minutes, basting every ten minutes with our lovely, lovely sauce.
For the ribs and the rub:
2 racks of baby back ribs, about 1kg each, membranes removed (if you've never removed a membrane from ribs, check out this technique from Amazing Ribs.)
1/2 cup brown sugar, packed
1 1/2 teaspoons paprika
1 tablespoon + ¾ teaspoon coarse salt.
1 1/2 teaspoons freshly ground black pepper
1/2 teaspoon cayenne pepper
1 teaspoon garlic powder
1 teaspoon onion powder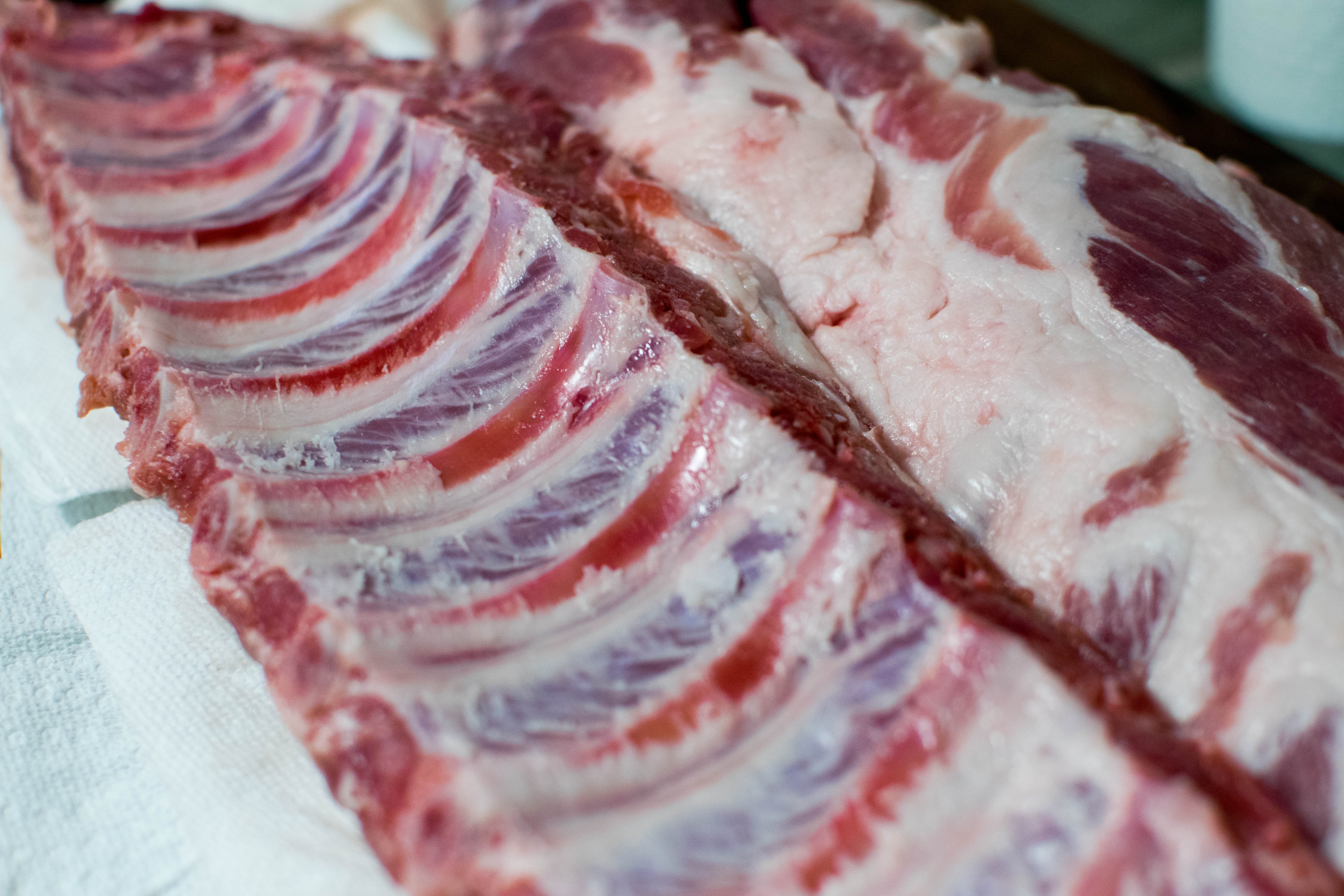 Be gone, foul membrane!
If you leave the membrane on, with such a short cooking time the membrane will still be tough and ruin a good experience. If you're not confident with cleaning it up, you can ask your butcher or local grocer to remove it for you. Either way, pat your ribs dry and set them aside for a moment.
In a small bowl, combine all of the rub ingredients and really, really rub it into the ribs. Don't be stingy – use all of the rub and work it in. There's a reason it's called a "rub", and not a "tickle".
The brown sugar will caramelize and turn into a crust, but more importantly it will become sticky. And oh boy, do we want sticky. The liquid hot sugar magma will help bond our sauce to the ribs later on, sort of like molten Velcro.
If you have the time, place the ribs on a cooling rack over a sheet pan and refrigerate them, for up to 24 hours. Leaving them uncovered will allow for more air to circulate and give the salt some time to pull moisture from the meat. This is just a really quick "dry brine" and will help to pull some of the moisture from the ribs.
Preheat your oven and line a baking sheet with foil. Wrap the ribs, separately, in foil, place them on the pan and get them in the oven, If you opted for the dry brine, check the ribs after an hour. The salt-extracted moisture will lead to a faster cook time.
Now that we've got some free time, we should talk about barbecue sauce. There are some great sauces available at stores across the country, the internet, and the world. I do not discount those sauces. But you should try making your own at least once. It's shockingly simple, and you probably have most of the ingredients already.
For the Blue-B-Q Sauce
2 cups fresh or frozen blueberries
¾ cup tomato sauce
½ cup cider vinegar
½ cup packed light brown sugar
1 tablespoon light molasses
1 teaspoon chilli powder
1 teaspoon ground black pepper
½ cup water
Get everything into a medium saucepan and stir to combine. I don't know what size medium is – it varies between cookwares – but it's not the small one. It will seem too big at first, but the the extra space will help the sauce to reduce quicker thanks to the larger contact area of the pan.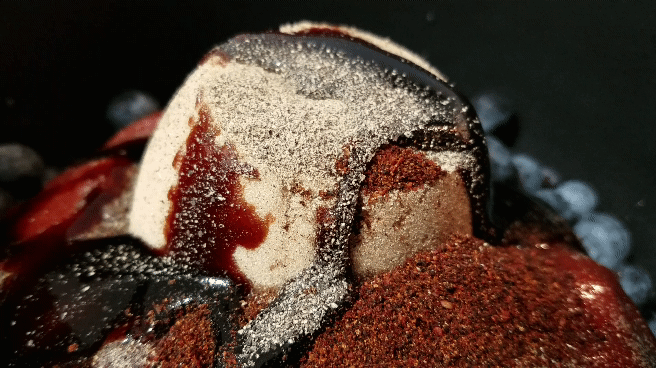 I spent too long making this gif and all I can think of is Ferngully.
Carefully bring the sauce to a boil. We're working with a lot of sugar, bubbles will happen and bubbles will *splut* all over everything. A bad place for bubble shrapnel is skin/eyes – use a splatter shield if you've got one. Once boiling, reduce to a simmer and stir occasionally until reduced to a syrupy consistency – about 30-40 minutes. Remove from the heat and cover with foil. The sauce might seem thin, but it will thicken as it cools.
Once the ribs are "done", remove them from their foil wrappers and drain the pan of any accumulated liquid. Place them back on the foil-lined pan and lightly with the sauce before returning them to the oven for another 50 minutes, brushing them with the sauce every ten minutes. Don't use all of the sauce though – save some for the table.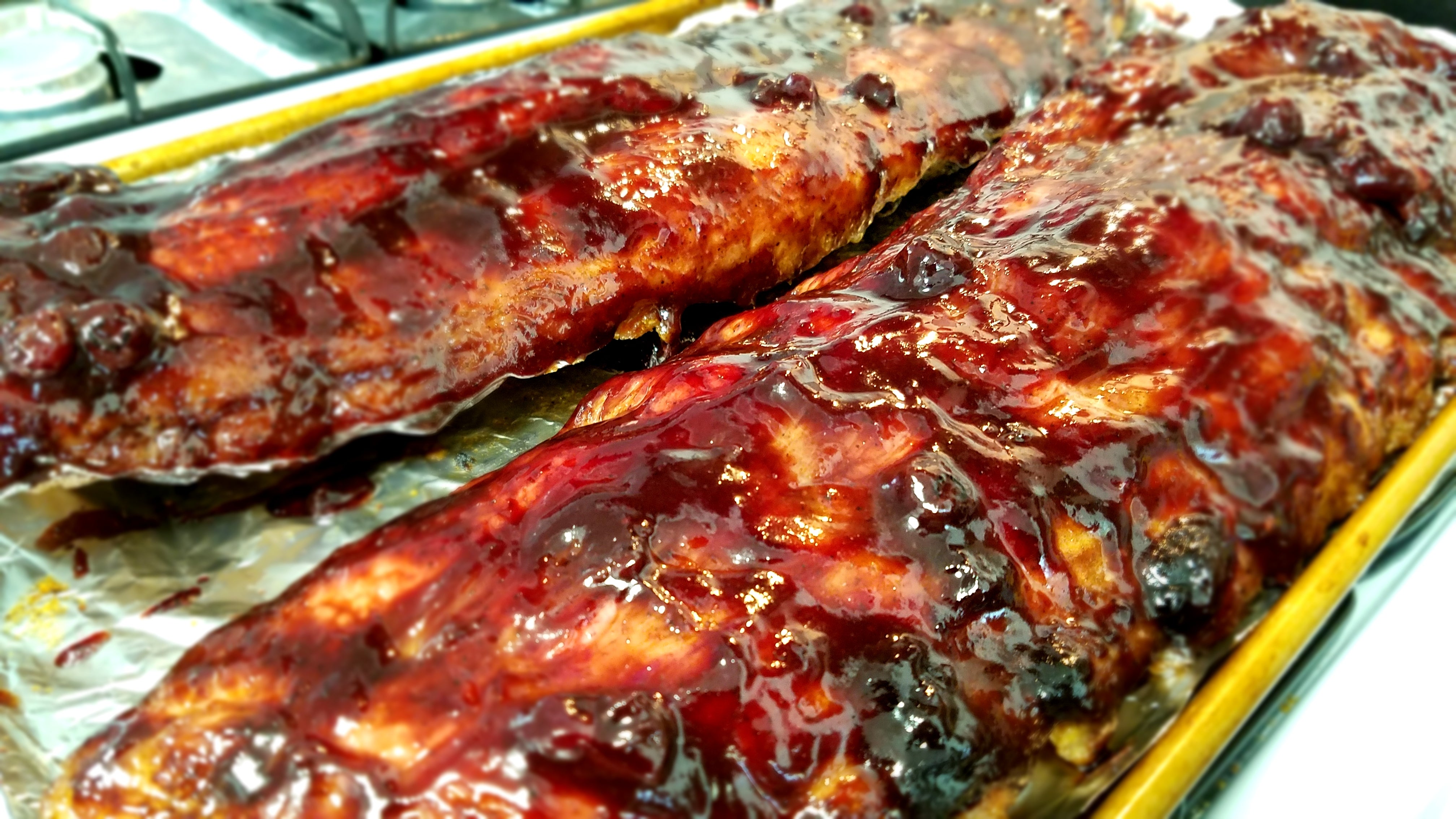 Throw the ribs under the broiler for a few minutes until the sauce just begins to bubble and caramelize. Let them rest for about ten minutes, douse them with the remaining sauce and dig in.
When I was making this sauce (and repeatedly burning my fingers and various mouth parts tasting it), I pondered replacing the blueberries with apricots, peaches or blackberries. I think blueberry gives it a great tart and sweet flavour, but the other fruits would still make great flavour profiles.
That's what I love about making sauces at home: you can tweak one little ingredient and it's a whole new world. Buying this stuff at the store is usually "honey" or "spicy" or "classic", which get pretty boring, and you're not boring.