As the year comes to an end, it's time to reflect on all the technology that made our lives easier in 2018.
It's been a big year for cars and auto tech, with Tesla and Mr. Musk hogging the headlines for most of it, but what releases did we enjoy most?
When it comes to cars, we find ourselves constantly torn between practical innovations that transform everyday driving, and high-end vehicles that cost more than the house we don't even own.
So here is our roundup of the car tech that caught our eye in 2018, from $30 gadgets to luxury vehicles with six-figure price tags.
Brought to you by Savvy, Australia's leading vehicle finance institution. With Savvy, everything is online and there is no messy paperwork, giving people all across Australia great finance options. Head to Savvy and start comparing car loans.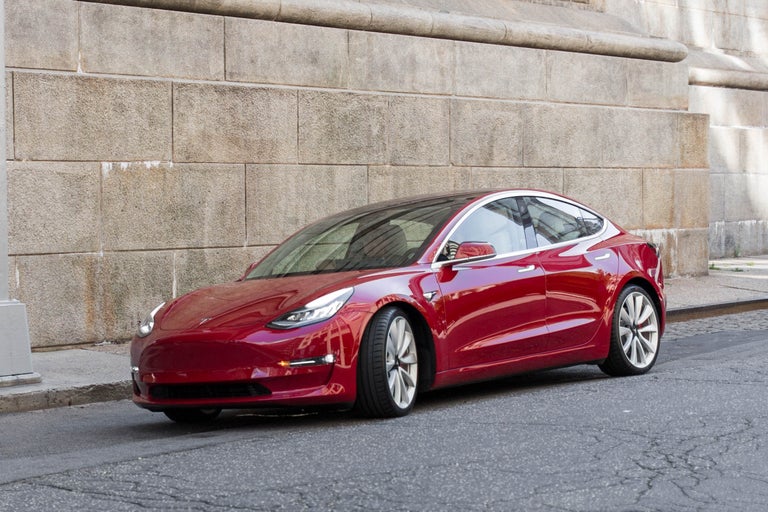 It's no secret the Model 3 is a big deal and has been Tesla's biggest talking point of the year from a product point of view.
The Model 3 Performance in particular has two electric motors for all-wheel drive, a larger 75-kWh battery over the base 50-kWh one, an electric range of 310 miles, and a claimed zero to 60 mph time of just 3.5 seconds.
Reviewer Patrick George said: "It benefits from having a super short nose up front, which makes it easy to just point and shoot wherever you want it to go.
"For me, the Model 3 Performance is the most impressive Tesla I've driven to date, and easily the most fun.
"The way it jumps from about 40 mph to 70 mph is just stunning. No drama, barely any noise but a slight whine, and then it kind of leaps forward, hard and instantly.
"The night after the drive, and even now, I found myself still thinking about what it was like to be behind the wheel. I get to drive a lot of fun cars for my job, so that doesn't happen to me very often anymore."
The Model 3, also noted for its exceptional safety standards, is expected to start Australian deliveries from 2019.
Finally, let's not forget the legend who used Tesla's Summon feature to avoid a parking fine — a highlight in the sea of Tesla stories this year.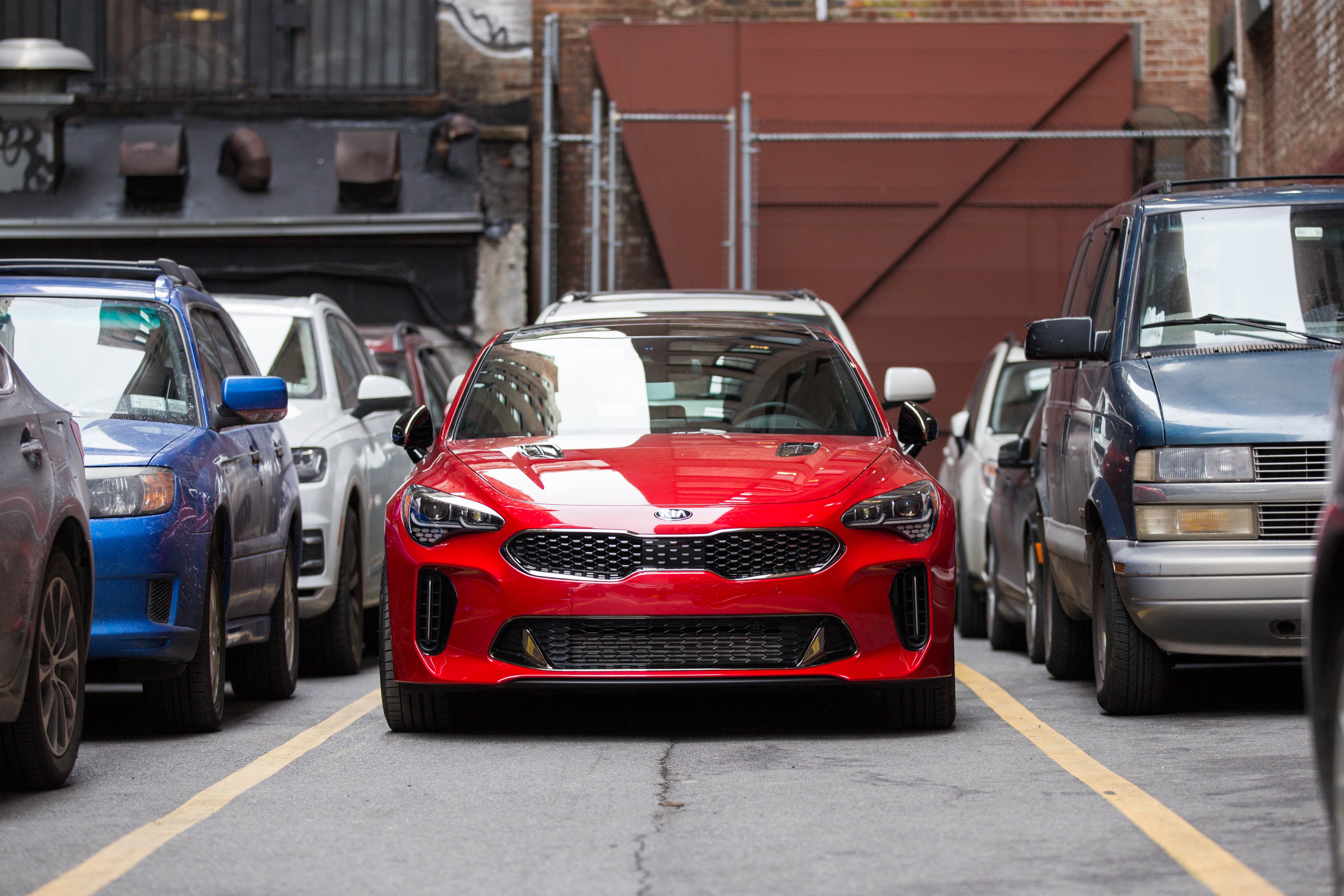 With its sleek design and robust performance, the 2018 Kia Stinger surprised many, including reviewer Patrick George earlier this year.
"The idea of a performance-focused, rear-wheel drive sedan with a 365 horsepower twin-turbo V6 engine, Brembo brakes and an adaptive suspension that does zero to 60 mph in 4.4 seconds, a car that can be had for the fraction of the price of a BMW 340i — all while wearing a Kia badge — is audacious.
"But the Stinger GT pulls it off, and in spite of a few minor flaws, it manages to be both an obvious performance car bargain and one of the great car surprises of this decade. I'll cut to the chase here: the Stinger GT is fast, a superb handler, and most of all, just damn good fun."
There are two engines to choose from — a 2.0-litre turbo four with 255 HP, or the GT, with the 365 HP twin-turbo V6 — with prices starting from around $50,000.
Ultra-luxury with a $210,000 price tag, the Audi A8 blends innovative tech with safety features fit for a president.
Features like the seat massages, Bang & Olufsen 3D Sound System, premium air quality and autonomous potential stood out to reviewer Tegan Jones.
"It truly brings the boardroom to the backseat with its wide range of comfort and inclusions that are designed for those who need to work on the road, or simply love life's creature comforts.
"Besides the sheer luxury that the vehicle has to offer, what we are most excited for is what the future will bring. The A8 is the first production in the world to developed with the capability for Level 3 autonomous driving in the future. Furthermore, the vehicle will include parking and garage pilot functionality at some point."
Add-on packages can also take the luxury even further with features like foot massage functionality (for passengers, of course).
Starting from $47,990, this compact SUV comes with a whole host of useful innovations.
Semi-autonomous driving tech, Qi wireless charging and safety features that identify other vehicles and pedestrians were the stand-outs here for reviewer Tegan Jones.
"My favourite feature here is the Qi wireless phone charging. Located under the dash, it's tucked away neatly and conveniently. I'm a fan of features that future proof vehicles, and this didn't disappoint."
UberPool
Aside from the exceptional cars released this year, we also saw some highly-anticipated launches in the wider tech industry. Uber finally launched its UberPool product in Australia, bringing up to 50 per cent cheaper fares to our shores.
It means walking to a nearby pickup point and sharing your ride with others heading in the same direction. Uber's had its fair share of blunders in recent years, but UberPool put Gizmodo's Tegan Jones back onto the app.
She said: "On a recent trip between my house and an inner city suburb I paid $9.82 on a fare would usually be around the $30 mark. I've also had a good run with the pickup spots, which I originally thought would be the biggest pain point for me.
"As an added bonus, half of my trips have resulted in no other passengers being picked up. This means that I received almost exactly the same experience as being in an UberX but for much cheaper."
Solving the ultimate first-world problem of misplacing your car keys, the Tile Mate got an upgrade in 2018 to increase the Bluetooth range, battery life and volume of its alarm.
We love the smart assistant integration (Siri, Alexa, Google) and replaceable battery (finally!) in this fourth-generation iteration. If you know your keys (or other precious item) are nearby, hit the button on the app and an alarm will start playing to help you locate it.
If it's lost in the wild, the map will help you determine the last known location. Usefully, the alarm also works in reverse to help find a misplaced phone.
Uniden's iGO Dash Cam
Dash cams have really taken off in popularity over the past few years as quality has improved, prices have come down and drivers look to tech for extra reassurance on the road.
One of our favourites to be released this year was the Uniden iGO Cam 80. Compact yet packed with driver assist features, this model comes with 4K recording capabilities, Wide Dynamic Range and an in-built parking sensor.
A win for safety, even better if you manage to capture the weird and wonderful events on Australian roads in 4K.