Starting December 1, you can learn a bit of code for free at your local Apple Store. The retailer's annual 'Hour of Code' event runs from December 1 to December 14 – and most Aussie stores are participating. Here are the details!
In order to take advantage, you'll need to sign up for an hour on Apple's website. The sessions are available for people of all ages, and there are also 'Kids Hour' sessions for children ages six to 12.
What's offered will vary from store to store.
You can see what's available on your local store's page on Apple's website. My store, for instance, is offering a course on how to get started coding as well as one for coding with Swift Playgrounds, and there are also a few options for learning how to code robots. For kids, there's an option to do a Sphere Maze Challenge.
If you find a session you like, you just click on it to start the signup process (you need to sign up to attend).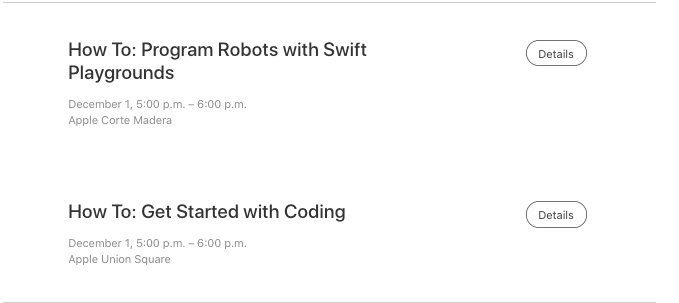 You're definitely not going to walk out of any of these classes ready to start your own app company, but if you've been toying around with giving coding a try, this could be a nice (free) way to get your feet wet.