It feels like every day, I see another person realising how little privacy they have online and saying "enough." Upset about the state of our relationship to tech companies, they're quitting Facebook and Twitter, avoiding Amazon, and giving up Google.
DuckDuckGo, a 10-year-old web privacy company, offers a tracker-free alternative to Google search, and web browsing utilities that minimise the number of sites and companies tracking you across the web.
The site works in tandem with the apps many of us already use, and can be customised to offer different levels of protection. Unlike more intensive web security measures, like using Tor or setting up a VPN, you can get most of the benefits without any impact on your browsing at all. You might call it a "gateway drug" to online security.
So if you're down to experiment, let's walk through everything you need to know about integrating DuckDuckGo into your life.
DuckDuckGo Search: Asking the Internet a Private Question

File under: Searches you'd rather people not know about. (Screenshot: Mike Epstein, DuckDuckGo)
DuckDuckGo's core service, untracked search, is exactly what it sounds like. You use a search bar, either through the bar on the DDG site or your browser's address bar, to search for whatever you need, just as you would with Google. If all goes well you shouldn't notice any substantive difference between the two. (Based on some from recent testing, we found that Google Image search is the only place where you may really notice the difference.)
Despite all the convenience and quality of Google's sprawling ecosystem, some users are fed up with the fishy privacy policies the company has recently implemented in Gmail, Chrome, and other services. To its credit, Google has made good changes in response to user feedback, but that doesn't diminish the company's looming shadow over the internet at large.</p><p>If you're ready to ditch Google, or even just reduce its presence in your digital life, this guide is here to help.
Read more
Switching to DuckDuckGo search is very easy and doesn't require you to change your browsing habits. Every major web browser allows you to swap in DuckDuckGo as your default browser, which allows you to use it when you search using your address bar.
Though the exact path may vary, the process for changing your default browser is essentially the same across them all. Go to your browser's preferences, find the Search Engine section and click on the option described as "default search engine" or "search engine used in the address bar." (Most browsers default to Google search, so you can also just look for a drop-down set to the big G). The drop-down generally features five or so browsers, but in this case, you want to switch to DuckDuckGo.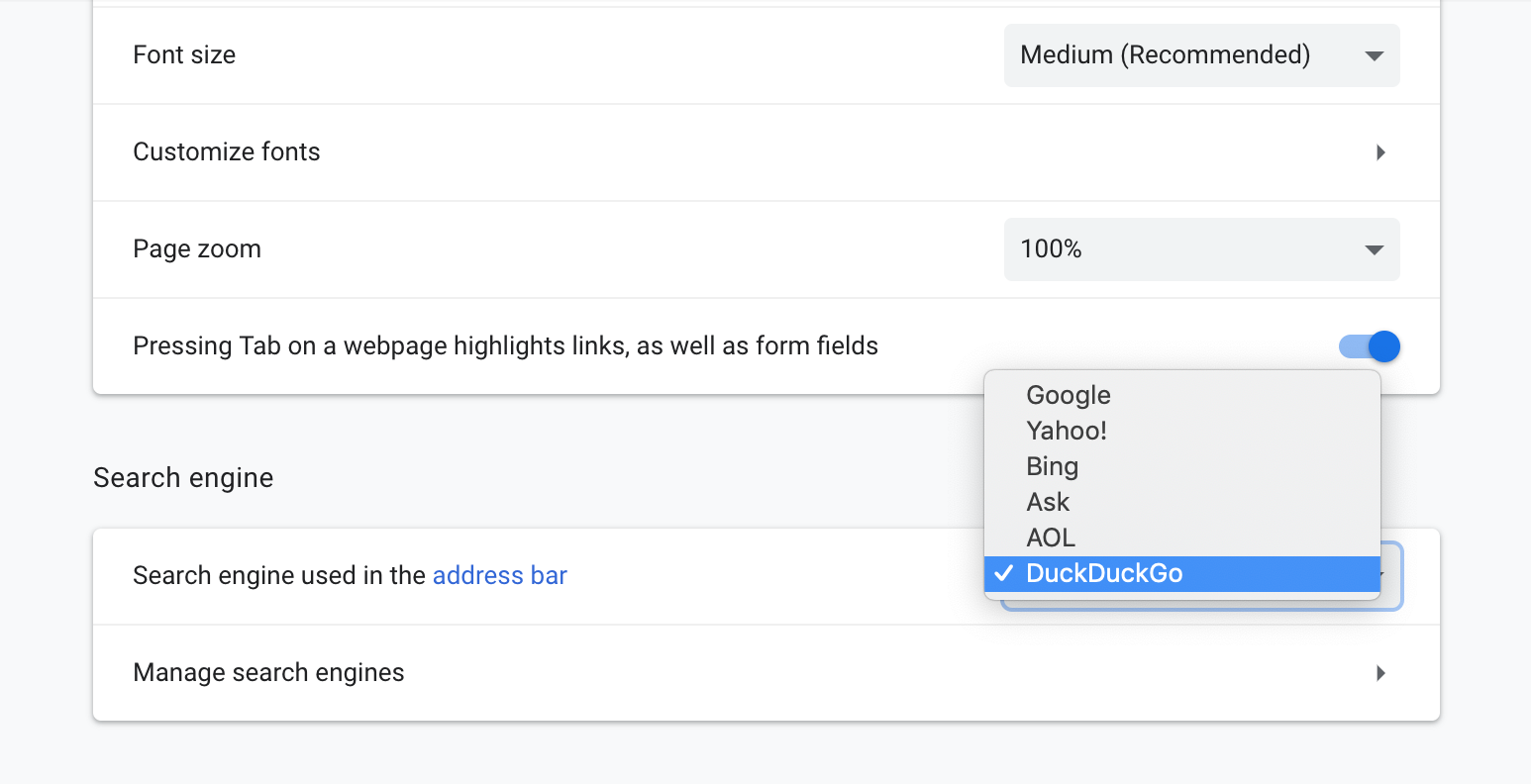 This is what it looks like on Chrome (Screenshot: Mike Epstein)
The DuckDuckGo extensions on Chrome and Firefox will automatically reset your browser to DuckDuckGo when you install them.
The 'Privacy Essentials' Browser Extension: the Educational Ad-Blocker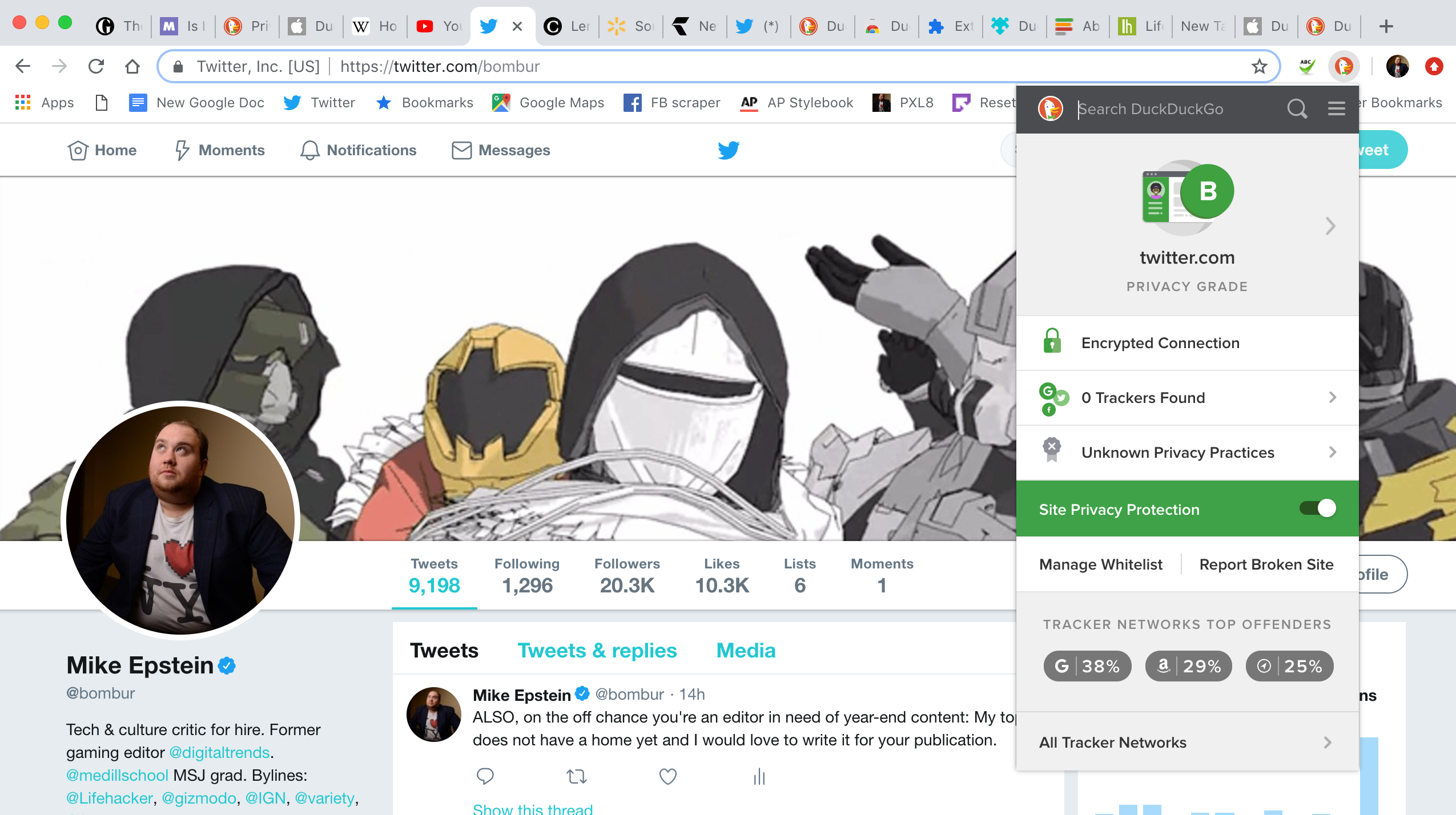 Welcome to my many tabbed browser world. (Screenshot: Mike Epstein)
Speaking of which, DuckDuckGo's "Privacy Essentials" browser extension is, at its core, an ad-blocker. It will prevent sites from showing you banners, pop-ups, and any other ads it finds as you browse the web (except when you decide to "whitelist" a site and give it a free pass). It also blocks third-party web trackers—anything you haven't agreed to through the site's terms of service—and, perhaps most importantly, it actually shows you who's trying to hoard your data.
The extension, which is available on Chrome and Firefox, goes beyond sending "do not track" requests and blocks third-party web trackers. (It also shows a list of the trackers it blocks, so you can see who's trying to get your data). It also helps you stay mindful of digital privacy. Whenever you go to a page, DuckDuckGo generates a privacy grade for the site based on the number of tracking requests it blocks and a review of its terms of service agreement from privacy watchdog site ToS: DR (Terms of Service: Didn't Read). It can also "force" sites to use an encrypted connection, which minimizes the number of companies watching you.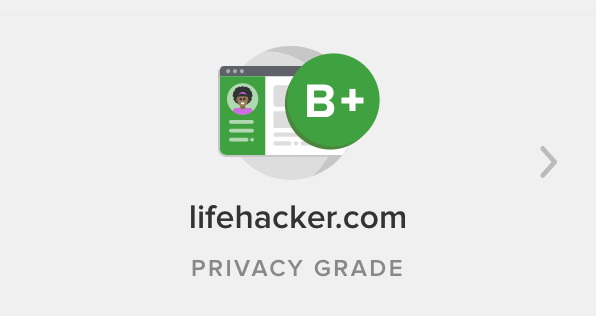 B+ is actually pretty good. The only A-rated site I found was, of course, DuckDuckGo. And hey, at least we made the honour roll, right?
Taking advantage of these features is very easy: Once installed, you can see your current page's letter grade in the extension icon when you navigate to a new site. Clicking on it shows you a breakdown of how the extension calculated the grade.
The "Privacy Browser" Phone App: A Burn Bag for Your Browsing Data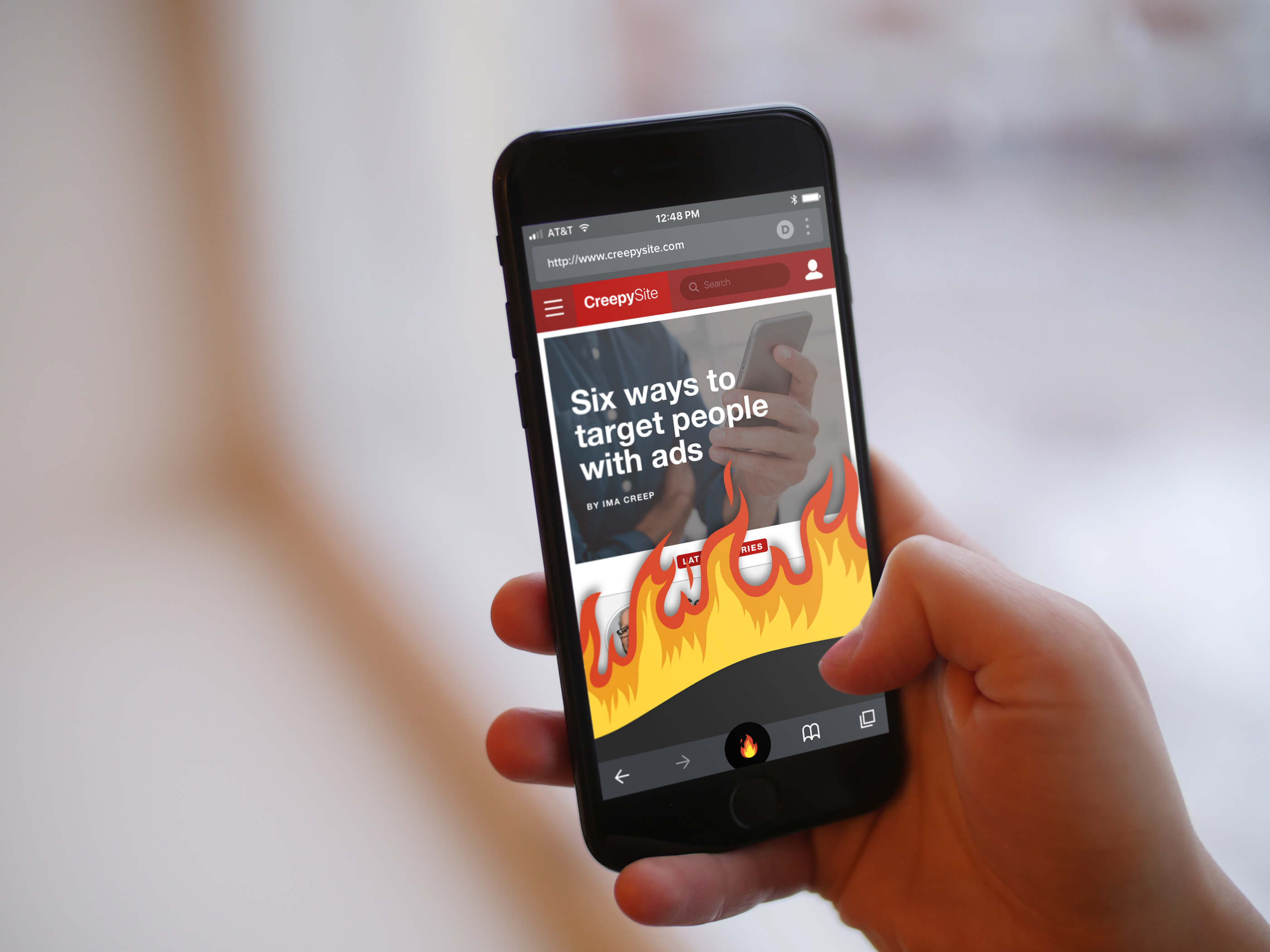 Note: The Burn button does not actually light up like that. But the fire animation is real and looks pretty cool. (Image: DuckDuckGo)
On iOS and Android, DuckDuckGo goes the extra mile. Instead of injecting itself into other apps, you can replace your web browser wholesale with a "Privacy Essentials" app on iOS and Android.
The app is a simplified version of a standard mobile web browser like Chrome or Safari, but with the features of the Privacy Essential extension baked in. The ads companies try to serve you get blocked; the privacy essentials grade shows up prominently in the left corner of the top browser bar; you can feel free to surf the web comfortably.
There is one extra feature just for the app, though. There's a "burn" button on the bottom browser bar, which closes all your tabs and deletes all of your browsing data so you can fully close the loop on a browsing session. While DuckDuckGo doesn't share your data with anyone, the browser does store data internally — it will save data internally as you go for services like autocompleting site addresses you've already visited. The burn button deletes that data and starts over. Because the only truly safe data is dead (deleted) data.
After doing some testing, I found the app can be a bit inconvenient, but it also works even harder to protect your privacy. It's also important to be aware that you can't transfer bookmarks over from another browser, and DuckDuckGo doesn't have some of the convenient-but-invasive hand-offs to other apps that you be used to if you use, let's say, Gmail and Chrome. On the other hand, many sites that default to encrypted connections on a PC web browser do not do the same on their mobile sites.
Ultimately, you get 99 per cent of the privacy benefits of DuckDuckGo just by installing the various apps and extensions. If you've had enough of creepy online ads and the general understanding that companies are taking advantage of your digital existence, there's no downside in giving them a shot.