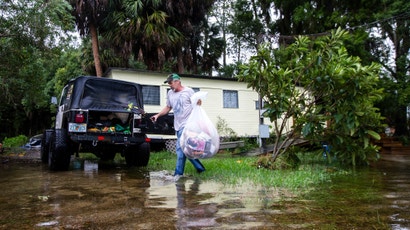 Photo: Mark Wallheiser/Getty Images
With the bush fire season coming up, there are countless things to remember and prepare for: Making a safety plan, packing a "go bag", making sure your pets are taken care of — the list goes on.
One that might have slipped your mind is what to do about your prescriptions, particularly if you've been displaced.
While your course of action will, of course, be dependent on the situation at hand, you might be able to get an emergency early refill of any prescriptions you take.
During the Black Saturday bush fires in early 2009 pharmacies donated a wide range of medical products (such as eye wash, burn cream, dressings and paracetamol) to GPs and the public during the disaster. Prescription medicine was also distributed to those who may have lost their prescription in the fires.
Even in the aftermath of the fires pharmacies remained open to the public, staying open well beyond regular business hours, in order to meet the demand of the region. Pharmacists also treated milk burns and managed wounds.
In Queensland during an emergency situation you GP's prescriptions can be filled by Queensland Health public hospital pharmacies. Do be aware that hospitals may not stock the full range of medicines prescribed by your GP as a hospital usual treats different levels of care.
It's also recommended to keep a list of your prescriptions with you at all times that lists the "drug name, strength, dosage form, and regimen for each medication," and to keep them in their original containers in a Ziploc bag to prevent water damage. Store these in your emergency bag during the lead up and evacuation just in case.
"If you have a medication that requires refrigeration and you're without electrical power, keep it cool with ice packs in a cooler if possible," writes CR. "If you can't keep it cool, it's still better to have the medication with you until you're able to properly store or replace it." Even if it requires refrigeration, your medication might still work for a number of days or weeks without it.