Microsoft's big October update for Windows 10 is here. If Microsoft hasn't rolled it out to your Windows machine yet, you can force a manual update by simply clicking on your Start button, typing in the word "check," and selecting the "check for updates" option. Click on the grey "Check for updates" box under Windows Update, and it should appear.
Update: An apparent bug in the October Windows 10 update has the potential to delete the contents of your Windows 10 user folders. In response to the reports, Microsoft has hit pause on the rollout until further notice. Click here for more info.
(You can also check to see if you already have the October update by pulling up Windows 10's System Information and looking for the "Version" of your operating system. If it's at least "Version10.0.17763 Build 17763," you're good.)
However, you'll still need to do a little more work to make the most of Windows 10's latest features. Here are a few of our favourite features from the update — and how to get started with them.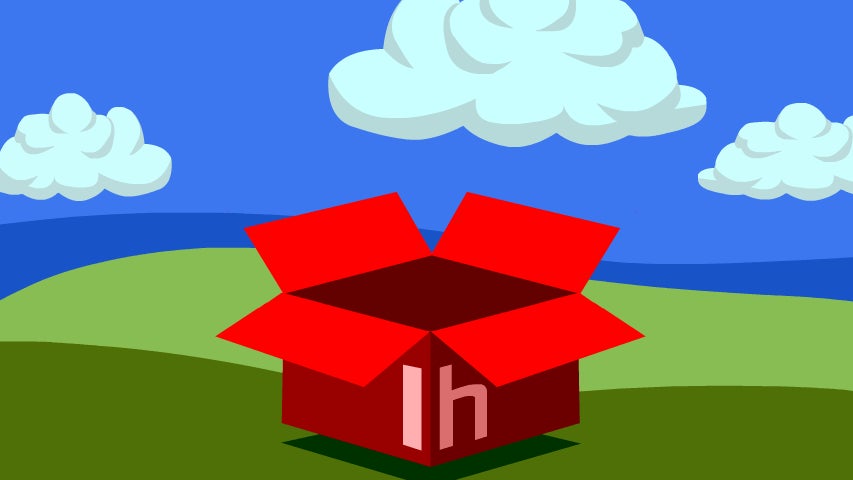 There are so many Windows apps out there, that picking a list of the very best, most must-install software for your desktop or laptop feels daunting. We've pored over pages of recommendations, countless forum posts, and lots of comments to come up with this Lifehacker Pack for Windows.
Read more
Cloud Clipboard
Yes! You'll now be able to share that which you copy to your clipboard with any other Windows 10 device, which is incredibly useful if you're bouncing between a desktop and laptop all the time.
The problem? You can hit CTRL + C and CTRL + V all you want, but it isn't going to automatically paste the very last thing you copied on another machine. First, you'll have to enable the Cloud Clipboard by using its new shortcut, Windows Key + V.
[clear]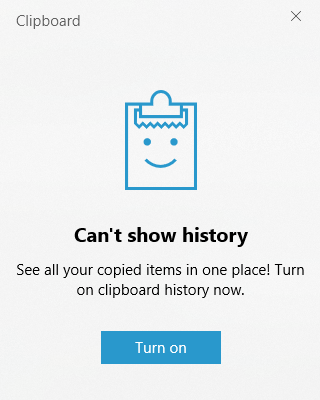 Screenshot: David Murphy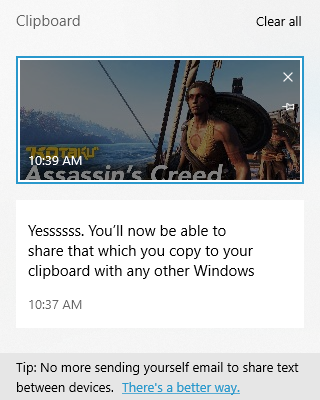 Screenshot: David Murphy
[clear]
Once you've done that, anything you copy to the clipboard — including text and images — should be available by hitting that Windows Key + V combination again.
Whatever you click on will then get pasted into whatever application you're using, as if you performed a regular ol' CTRL + V. (You can also pin frequently pasted items to the Cloud Clipboard, if you prefer.)
Dark Mode
All the cool kids, apps, and services have a dark mode, and Windows 10 is no exception (now). You'll have to do a wee bit of digging to make your operating system "more machine now than man," but it's worth checking out, at least.
Click on your Start button and type in "colours," and select the "Choose Your Accent Colour" option. Scroll down to the very bottom of the Colours screen in Settings, and look for "Choose your default app mode" under "More Options." Pick "Dark."
Say something in a spooky voice. And be prepared to switch back to the Light side if you don't like Microsoft's implementation (and you aren't alone, if so).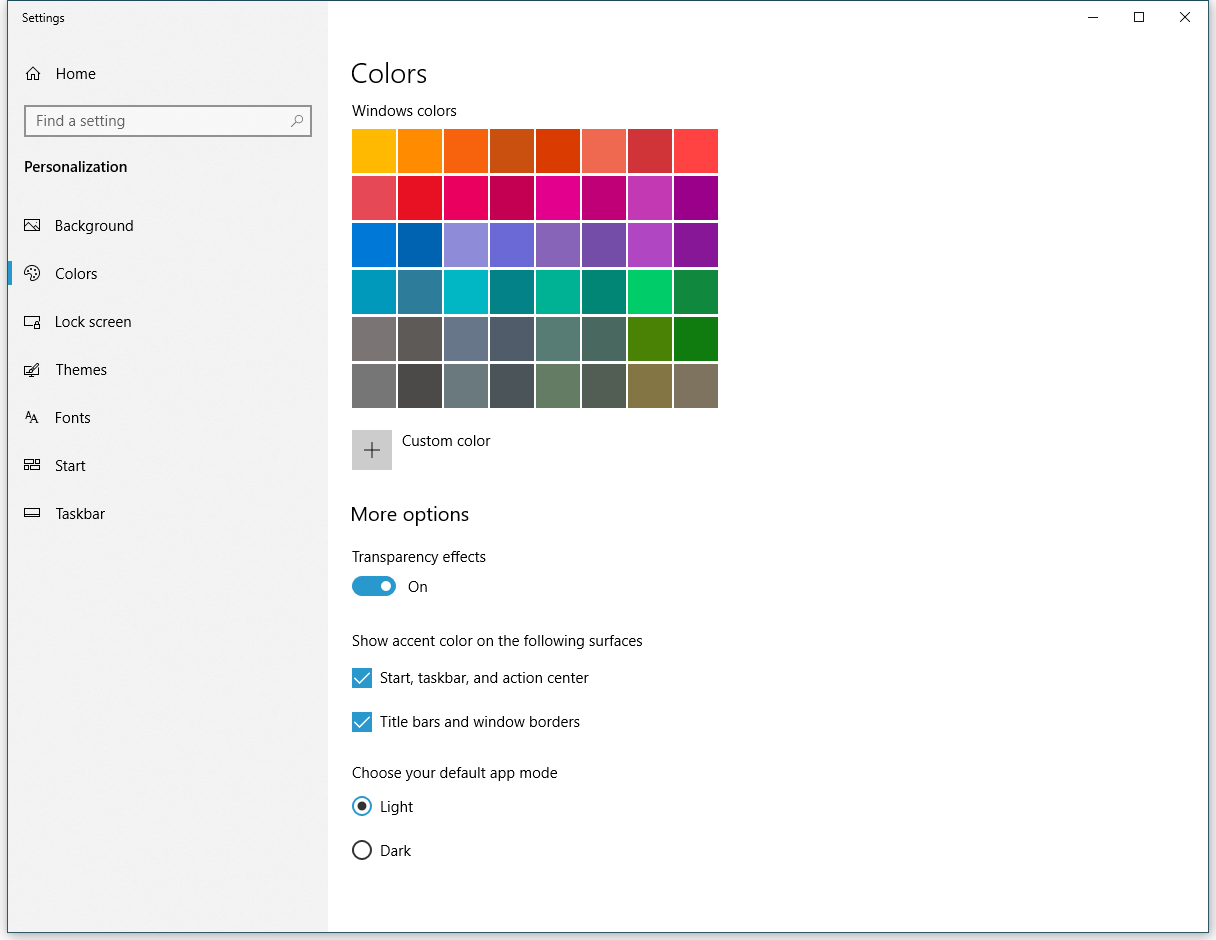 Screenshot: David Murphy
The Light Side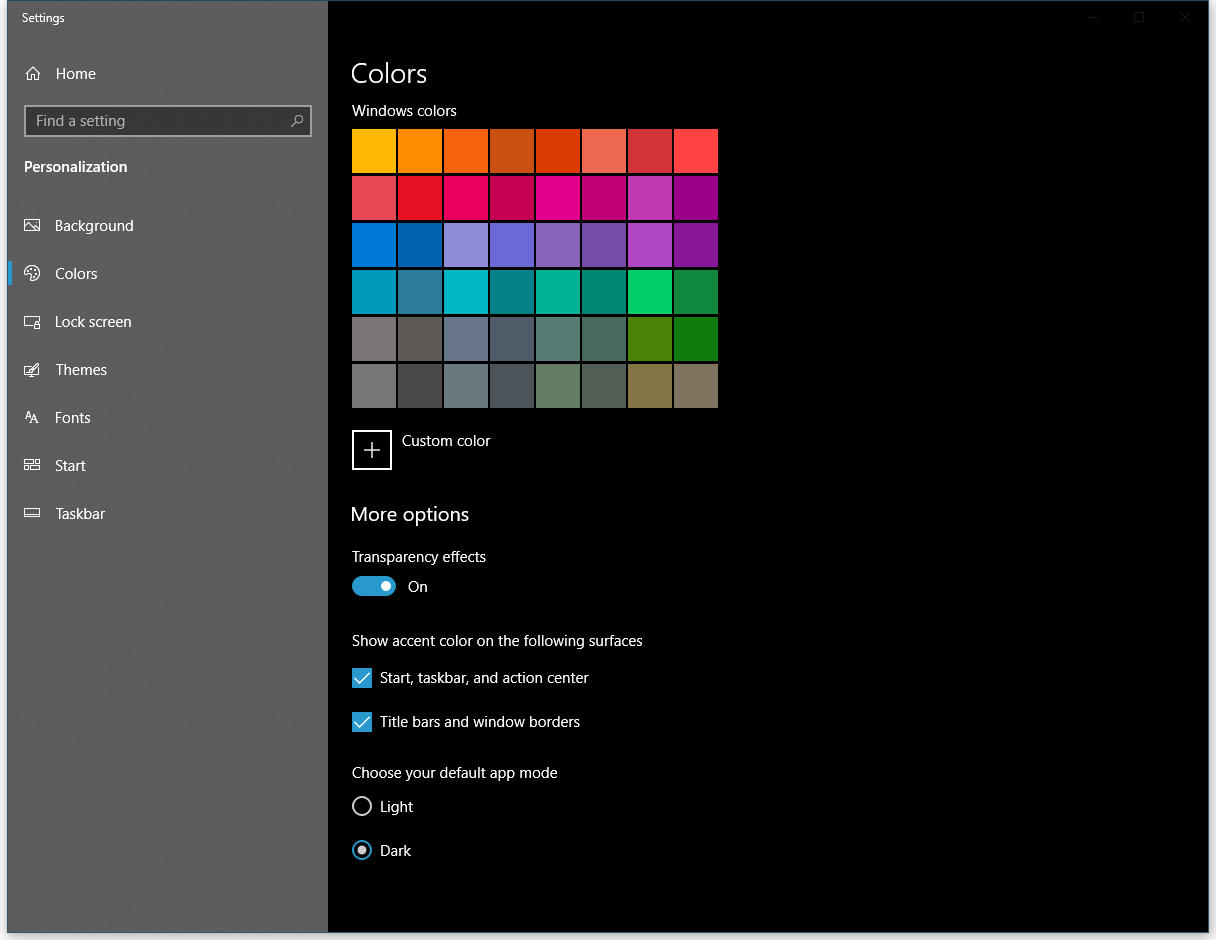 Screenshot: David Murphy
The Dark Side
Switching from Snipping to Snip & Sketch
If you take a lot of screenshots — not using the ol' Print Screen or ALT + Print Screen combinations, but manually — then you're going to have to wave a fond farewell to Microsoft's Snipping Tool. It's been great fun. We've shared so much time together. Pull up the app, however, and you'll see that it's time to move on to something new and "improved," Microsoft's Snip & Sketch: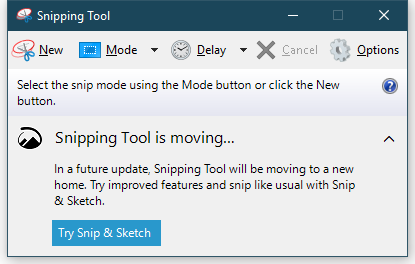 Screenshot: David Murphy
If you installed the October update, Microsoft's new Snip & Sketch app is already ready to go on your Windows 10 system. While you're probably used to mashing the Windows Key, typing in "Snip," and launching the old Snipping Tool that way — since there was no Windows shortcut to pull it up — you'll want to retrain yourself in this weird interim period when both apps exist (since Snip & Sketch will appear in a separate "apps" section, not likely your first, "best match" option).
However, you now have an easy-to-remember keyboard command to pull up Snip & Sketch: Windows Key + Shift + S. When you do, your screen will turn grey and you'll be able to pick from one of three screenshot options at the top. You can freehand it, draw a box, or take a shot of the entire screen.
Hooray. You bought a brand-new Windows laptop and, for whatever reason, the manufacturer was nice enough to let you go through the installation process yourself instead of filling your new system full of crapware for you. Just kidding. It's rare when that happens, and buying a laptop that's full of junk is one -- but certainly not the only -- reason why you might want to reinstall your operating system from scratch.
Read more
Synchronising your Android Device
Here's a fun one. The Windows 10 October Update comes with Microsoft's new "Your Phone" app, which you can use to synchronise an Android device with your Windows operating system. The setup process is pretty easy — you'll give Microsoft your phone number and it'll text you a link to the app you'll need to download on Android, which you can also find right here.
Install it, link it to the Microsoft account you're using with Windows 10, and you'll now be able to view your device's photos directly within the operating system — but not delete them, unfortunately. You'll also be able to read and respond to text messages.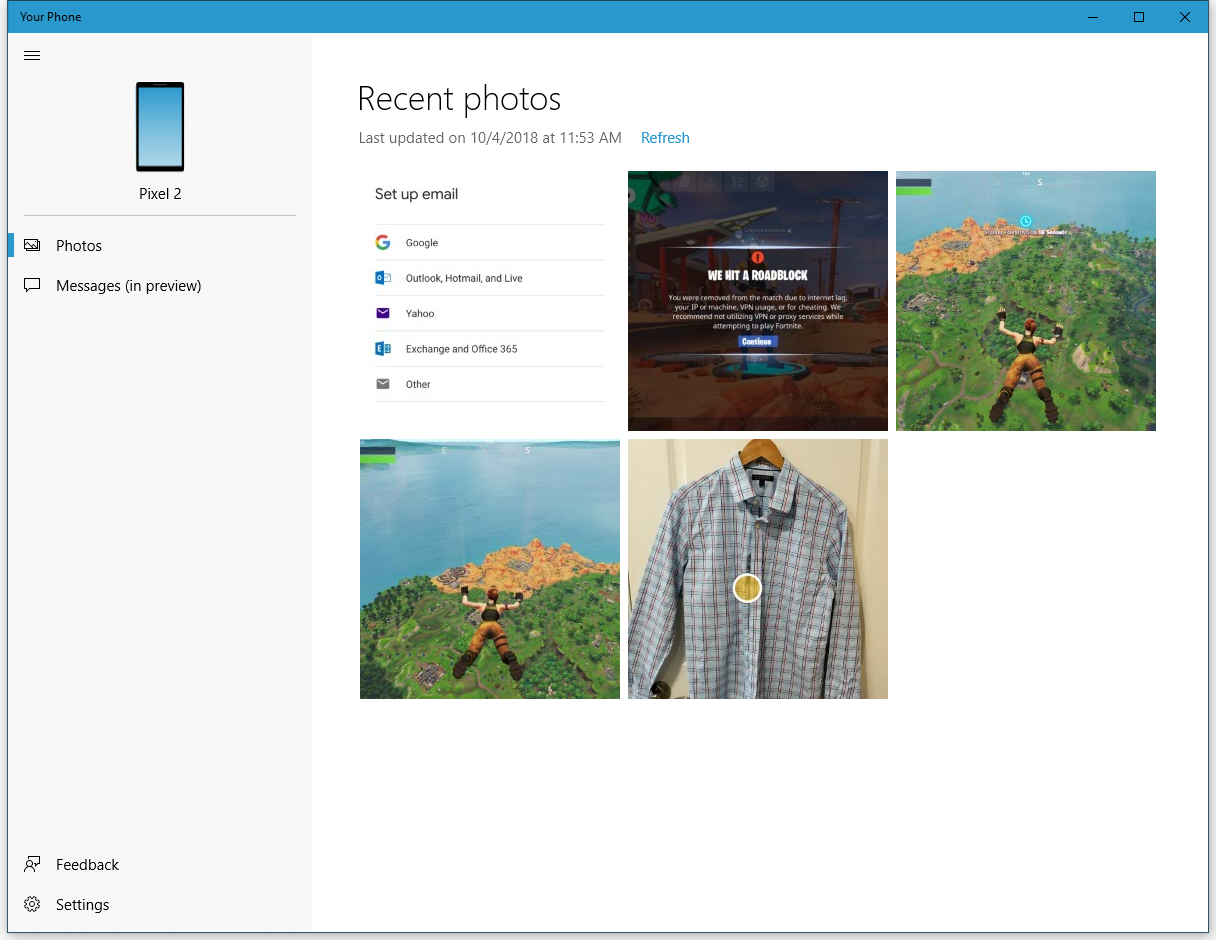 Screenshot: David Murphy
That's it for now, but Microsoft has teased that Your Phone might work with other third-party apps at a future point. Perhaps we'll even get the holy grail someday: The ability to send and receive iOS messages through Windows.
Oh, and while you're at it, Android users, you can also install the Microsoft Launcher to view your Windows 10 timeline on your Android device. That's probably not the biggest selling point, but it is useful if you find yourself with some time to kill and a desire to catch up with whatever you were doing on your Windows 10 computer(s).
Yes, there are more emoji
What would the world be without more emoji? To start dropping all the fun new Unicode 11 emoji into your Windows life, a list that includes a supervillain, a roll of toilet paper, and a cupcake (all unrelated), just tap the Windows Key + period to pull up the emoji finder.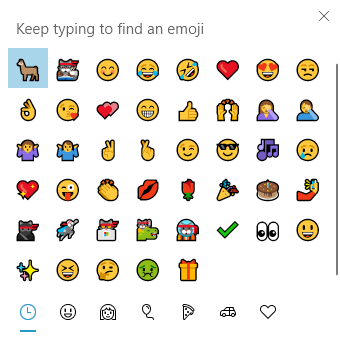 Screenshot: David Murphy