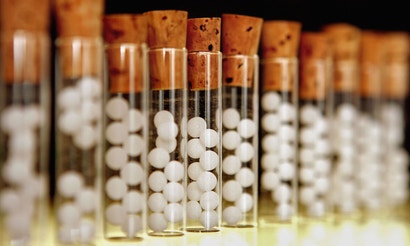 Homeopathic pills, which (if correctly manufactured) do nothing. (Photo: Peter Macdiarmid, Getty Images)
Apple cider vinegar doesn't shine your hair or rev your metabolism. Yoga is good exercise but not a miracle cure. Homeopathy is useless.
On the other hand, light therapy can help seasonal depression. Alternative medicine is kind of a grab bag, and it can be tough to remember what's what.
That's why we like Consumer Reports' Guide to Natural Cures, which gives a one-paragraph summary of the evidence behind (or against) each of 38 different supplements, techniques, foods and therapies. Their conclusions pretty much match what you've read about here, and they've covered a few things we haven't, such as reiki (pointless) and red yeast rice (mixed results). Bookmark it for the next time somebody says "Have you tried...?"
Guide to Natural Cures | Consumer Reports