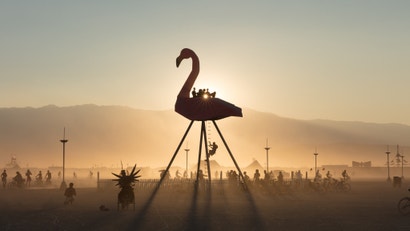 Photo: Duncan Rawlinson,
Flickr
If your weekend didn't involve lugging bottled water and robot-themed art installations into the Nevada desert with seventy thousand other people, don't worry — you can now watch all the action from the comfort of your couch.
During Burning Man 2018, festival organisers streamed footage live from the festival's official YouTube channel. Given this year's art theme was "I, Robot", and Burning Man's growing reputation as a brand-subsidized networking event for obscenely wealthy tech bros, a stream of the event was probably inevitable.
You can watch it below: