Amazon, wanting everything and anything you do to have Alexa integrated into it, announced a smorgasbord of new stuff today. Some of it is interesting; some of it is just an update of the same smart home gear you already have. (Also interesting, don't get me wrong, but you probably aren't likely to buy a new Echo Dot if you're satisfied with your current setup.)
Here's what I found most eye-opening from today's event:
(Note: Some of these products have not been confirmed for Australia yet, but with Amazon making an aggressive push here, it's a safe bet that most of them will appear Down Under eventually.)
The Echo Input is such a no-brainer product. This is what people were using the Echo Dot for … might as well keep it cheap with no speaker at all. Could see these 3M-taped on every stereo. pic.twitter.com/TYmv8sSFSX

— Andrew Martonik (@andrewmartonik) September 20, 2018
If you want to use Alexa with your own speakers, because your sound setup is way better than anything a little Echo Dot can pull of, wire your system up to this flat cylinder and poof! Instant smart speaker. It's like instant oatmeal or instant coffee, but better. The Echo Input comes with its own microphone, and connects to your other speakers via a 3.5mm cable or Bluetooth.
Is @Amazon gunning for @Sonos? Yep. New Echo Link and Echo Link Amp. pic.twitter.com/C5dDG5mDrD

— Andru Edwards (@AndruEdwards) September 20, 2018
Echo Link and Echo Link Amp
If you're a bit more of an audiophile, you'll want to check out the Echo Link or Echo Link Amp. These little amplifiers don't have any microphones built-in, but they'll work alongside other Echo devices you own in your house—the same way you'd use Alexa to send music over to a smart speaker, for example. They come with various inputs and outputs, including traditional speaker wire, RCA cables (for Line in / Line Out, Subwoofers, and Coaxial connections), an Ethernet port, and optical in and out connections. They aren't going to be better than your home entertainment receiver, but they might be a nice stopgap if you aren't looking to set up some crazy 5.1 surround setup in your home office, but want something with more firepower than the Echo Input.
The new Echo Plus has a much better design, improved bass, a built in temperature sensor, and can control smart home devices even when your internet goes down- a big improvement pic.twitter.com/Ql1R69LJI8

— Michael Prospero (@mikeprospero) September 20, 2018
The most interesting thing about the Echo Plus isn't its size or sound quality—nothing wrong with either. Rather, the Echo Plus comes with what Amazon is calling "local voice control," which allows you to control various other smart home devices via Alexa even if your internet connection goes away. This isn't a feature that you'll find very interesting until Comcast goes out for the evening and you're sick of standing up to turn your lights on and off, or whatever else you use Alexa for.
The Echo Plus also comes with a new temperature sensor, which you can use to automatically turn on cooling systems (like a room fan) that you've previously connected to your smart home setup.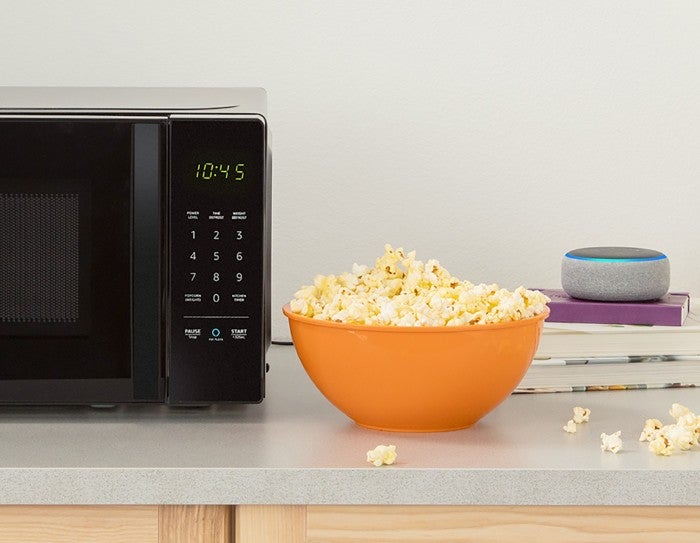 Amazon" loading="lazy" > Photo:
Amazon
It's a microwave. This is only interesting for the simple fact that Amazon has finally taken a page from the Book of Obvious and integrated Alexa functionality into that which you use to reheat your leftovers. And, in true Amazon fashion, you can also use your smart microwave—and I already hate that phrase—to reorder products via Amazon's Dash Replenishment Service. Hey, you can't fault Amazon for trying.
Did you think we were done? We're not, here's a new $29.99 Echo Wall Clock "you never have to worry about daylight savings time" pic.twitter.com/PmQcLJ6ICG

— Karissa Bell (@karissabe) September 20, 2018
And you thought Amazon's crafty consumerism ended with the microwave. Oh, no. You'll soon be able to buy a wall clock that can receive Alexa commands. Just in case it was too much to use your smartphone, or one of your many Echo devices, to set a timer, you'll now be able to visually see the timer count down via a string of LEDs around the clock's rim. That's in addition to the time, which you'll be able to tell by looking at the clock. Since this is basically just a clock—one that auto-corrects for stupid things like "spring forward" and "fall back," mind you—but a clock nevertheless.
Fire TV Recast pulls over the air TV, can record 4 things at once. Steam to anywhere in home, fire tv devices, echos, iOS and Android outside home. Own channel guide that shows what's live and integrated with partners (PlayStation Vue and presumably Hulu since they showed it. pic.twitter.com/3UdG5uCH8W

— Todd Haselton (@robotodd) September 20, 2018
Fire TV Recast
If I were a true cable-cutter, this device would interest me the most of anything I've seen today. This big DVR lets you record free over-the-air programming via a connected antenna—and and will even help you find the best place to stash an antenna in your house so you can get the best signal possible. You can then stream these recordings to any compatible device, like a Fire TV, Echo Show, or various other tablets and smartphones.
Echo Auto for all the cars without smarts. pic.twitter.com/sGVVGnpIOJ

— Todd Haselton (@robotodd) September 20, 2018
Amazon's looking to join the fight for your driving attention, currently a three-way tossup between other cars on the road, Google's Android Auto, and Apple's CarPlay. It'll connect to your smartphone via Bluetooth and use your smartphone's data connection to send and receive information—as in, whatever you tell Alexa to add to a shopping list, for example. It also enables location-based skills, so you can flip on a bunch of devices as you arrive home (if you can't do that already). Turn-based directions currently work with Waze and Apple Maps. Sorry, Google.
Bonus: Alexa Guard and Wifi Simple Setup
This isn't a piece of hardware, but Amazon announced today the launch of a new "Alexa Guard" feature that you'll be able to trigger by saying a phrase like, "Alexa, I'm leaving." When you do, your various Echo devices will send you a notification if they hear certain sounds—an alarm going off, a window shattering, etc. You can also set them to turn your smart lights on and off to mimic someone being home, kind of like that movie with that kid who beat up the house-robbing criminals in the wintertime.
As for WiFi Simple Setup, this one's easy: If one device already has your wifi credential stored, it'll pass them along to other compatible smart devices when you plug them in. This will save you the painstaking step of having to type in your gigantic wifi password whenever you want to connect a new smart switch, for example.