Jay Williams is one hell of a high school basketball coach. In 2003 Williams, a record-breaking player at Duke, cut short a promising career with the Chicago Bulls after a motorcycle accident. In the docuseries Best Shot, which premiered on YouTube in July, Williams (now an ESPN host) becomes an assistant coach for the Newark Central High School boy's basketball team, which involves life guidance as much as it does on-the-court training.
We talked to Williams about his career, how he reinvented himself after his accident, and what he wishes more people knew about sportscasting.
---
Location: En route to Brooklyn from Indiana, driving through the rolling mountains of West Virginia
Current Gig: ESPN host and star of YouTube original docuseries Best Shot
One word that best describes how you work: Awareness
Current mobile device: iPhone 8 Plus
Current computer: MacBook
First of all, tell us a little about your background and how you got to where you are today.
I grew up in an environment conducive to understanding complexities. Between that type of upbringing and dealing with my own complex issues as far as having a career, facing adversity, reinventing myself, and establishing a new career — that has all better helped me empathise with others. This allows me to relate my own complexities to theirs.
Take us through a recent workday.
The beautiful part about what I do is that no day is ever the same, which I'm very thankful for. My work days can change up, whether it's working on Best Shot or going out for other opportunities to do more TV hosting. I'm also often involved in other sporting environments, whether that be college basketball, the NBA, or such.
I don't think I have the same gig on a daily basis, which makes me more appreciative of the job that I have.
What apps, gadgets or tools can't you live without?
I want to take the challenge to live without anything. As long as there's people around me that I love, I don't think I would need technology.
What's your workspace setup like?
I don't have a workspace, it's more a freedom of movement and ongoing experience, which I find I operate the best out of. I don't have a cubicle other than the one I have at home, though that recently was turned into a nursery, so it's no longer my cubicle.
What's your best shortcut or life hack?
I think I am a lot more direct than I ever used to be. I don't have time for dilly-dallying. I have more priorities in my life with my family and my job, so I'm always trying to be more efficient with my time.
Take us through an interesting or unusual process you have in place at work.
With Best Shot, I've learned how to navigate or have a better understanding of how to navigate one-on-one personal relationships. When you're trying to navigate multiple relationships at once, while also trying to learn how to inspire and push individuals both individually and collectively, that's a challenge. You want everyone to achieve their own, individual success, but do it within the team prism.
On top of that, you're dealing with the static of outside factors — family members, girlfriends, living situations, drugs, issues with behaviour — and trying to make one entity feel like a family even though everyone comes from their separate spaces and outlooks.
What do you wish more people knew about sportscasting?
Sportscasting is like being a point guard. As a point guard, you have to manage so many things while you're on the fly. It's understanding if there's four cameras, which camera you're talking into.
Do you want to look directly at the camera if you're making a point directly to the viewer? Or do you want to feel more conversational? Do you want it to be both? How are you navigating that and the conversation you're having with the three other people on your set? Are you making valid points? Are you making them within eight seconds or less, to be more to the point depending on how much time you have to talk?
Beyond that, you have an IFB [interruptible foldback] in your ear, so you have a stage manager who is directing you to which camera you're talking to even if you're not paying attention to them. You have your producer in your ear who is giving you a countdown to the commercial break or telling you what the next topic is that you're about to discuss.
You have all this stuff going on and that's if you're just being an analyst. If you're the host, you're engaged in the conversation while also planning for what the next conversation will be or how to segue the last line of what someone just said into the next conversation.
It's almost like The Matrix as you're seeing all these things happening at once. As with anything in life, the more you do it, the more the matrix slows down.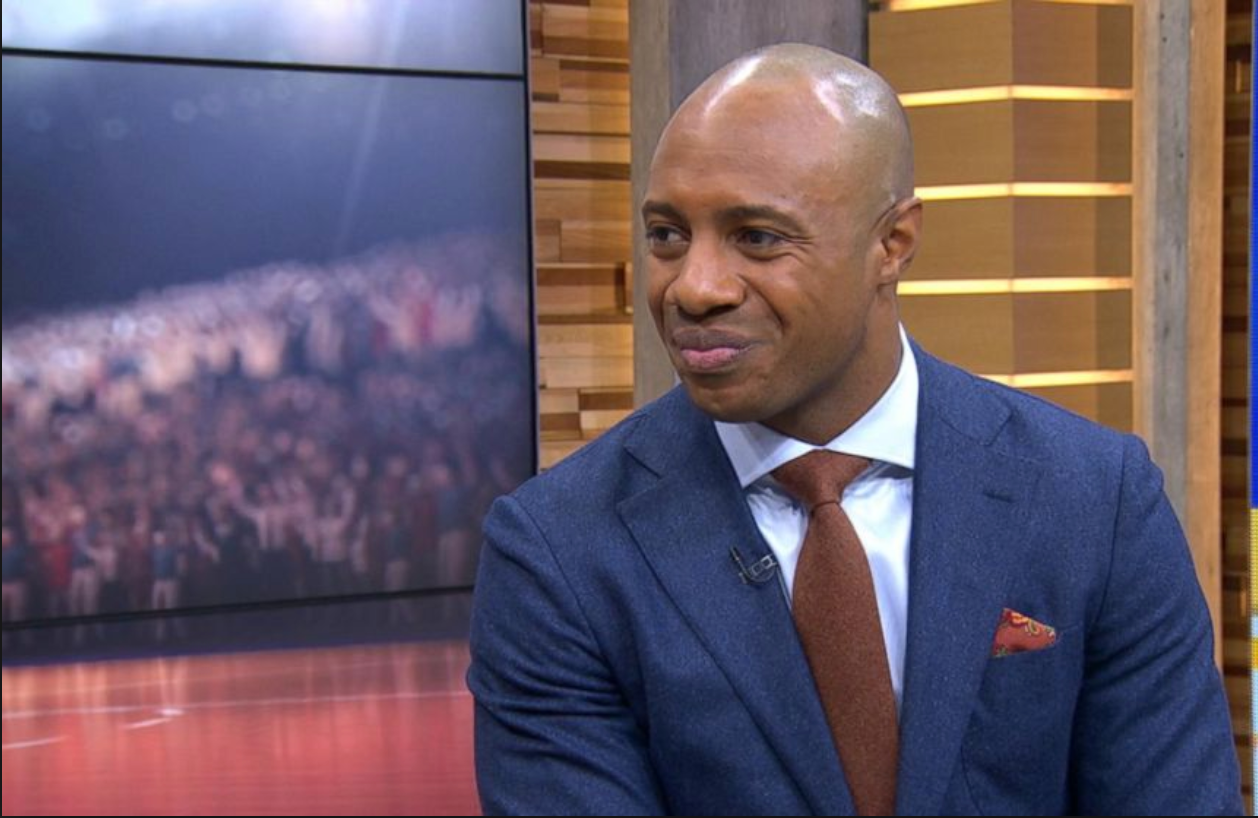 Photo: ABC
Who are the people who help you get things done, and how do you rely on them?
My wife: In the grand scheme of things, she is the boss, and I recognise that and am OK with that. She runs the show and I do as directed, though we split the responsibilities to some degree.
My mother: She helps me with anything and everything. She is great to have in my life.
My manager Karen Kinney: She has challenged me, helped me recognise I can do things I didn't think I could do, and continues to push me on a daily basis.
Ricci: She's my day-to-day person who keeps everything on track as far as my schedule. She helps me allocate family time and organises calls or sets up meetings.
They are the "holy four".
How do you keep track of what you have to do?
Ricci is a big component as I'm not always the best. At times I can get overwhelmed with some of the responsibilities and travel that I have to do on top of calls.
However, I'm in the process of trying to learn how to say "no" more and recognising that I can't be everywhere for everyone. A recent trip to visit family has served as a reminder that it's important to take time to self reflect and spend time with my wife as we prepare for the baby.
How do you recharge or take a break?
I love spending down time with my wife. She's been a moral compass for me as of late. We've been diving deep into prepping for our baby on the way. I'm reading a book about being a father and some of things I'll need to do for my little girl. These are the things that refresh and rejuvenate me.
What's your favourite side project?
My social media. I try to use my channel more for the thoughts I'm trying to convey and how I can do so in a visual way. In today's climate, it's easy to name-call or yell at something, so instead of raising the decibel of my voice, I try to raise the substance of it. It's important to me that I aim to send messages that make people think or provide perspective.
What are you currently reading, or what do you recommend?
I'm currently reading Strong Fathers, Strong Daughters by Meg Meeker.
This is my first child and I'm the only child in my family. I was raised by a lot of strong women — my mother is a very strong woman — but I've never had to deal with the influence a male has over his daughter. This book is preparing me for the things I'll need to talk to her about and make her aware of, in addition to how to convey the message and the tonality of the conversations.
Who else would you like to see answer these questions?
I would love to see my wife answer these questions as she's very introspective.
Additionally, I've been watching Dwayne Johnson for a while. I like to work, I don't consider it work when you're passionate about what you do. He does the same thing, but family is also very important to him. There really isn't work life balance, you have to learn how to bring it all together as one. I think he does an incredible job with that.
What's the best advice you've ever received?
One of the things my mother told me a while ago is that you can't be everything to everybody. I know I'm a pleaser and like to make the people around me happy. As I've gotten older, I've recognised more and more that there's always going to be someone who will walk away disgruntled about a situation or frustrated about circumstances happening in their own life.
I can only try to control my own emotions and what kind of energy I want to live with or who I want to be. If that positively bounces off somebody, then that's great. If it can't resonate with everybody, that's OK too. I'm not going to let their anger or frustrations dictate the kind of energy that I want to live my life with.
What's a problem you're still trying to solve?
I'm so lucky to be here on this earth; I almost passed away when I was 21 years old. I don't know if I would call them problems, I would call them life. My knee isn't in great shape, I go through pain every day. How do I better deal with that to be able to run around with my daughter and stay engaged in sports? I may need to get knee replacements soon.
I am blessed to have things that I have to continue to work through. I'm happy to have those things because I am still here today to continue to work through them.
We've asked heroes, experts and flat-out productive people to share their shortcuts, workspaces and routines. Want to suggest someone we should feature or questions we should ask? [contact text="Let us know."]