Citymeals on Wheels funds the delivery of over three million meals a year to elderly residents in New York City, filling in gaps like weekends and holidays that government programs leave out.
Since 2011, Beth Shapiro has been the non-profit's executive director, overseeing every step from fundraising to delivery, keeping up with an ageing population and other changing needs. We talked to her about managing an organisation with so much on the line.
---
Location: New York City
Current Gig: Executive Director of Citymeals on Wheels
Current mobile device: iPhone 6/iPad
Current computer: Dell (office)/MacBook (laptop)
One word that best describes how you work: Collaborative
First of all, tell us a little about your background and how you got to where you are today.
I was raised in North Carolina, but both my parents are from Brooklyn. So I think I had New York in my blood. I knew pretty early on that I wanted to make my way here.
Three days after I graduated from the University of North Carolina Chapel Hill, I sold my beat-up car for $500 and used that money to move.
I was lucky to land an entry-level job with Ogilvy & Mather, the marketing and advertising giant. Over my corporate career, both there and elsewhere, I worked on accounts for American Express, Kraft Foods, Dun & Bradstreet and Warner Bros.
After 20 years, I was looking to make a change. I wanted to bring my business skills into the nonprofit sector and do something positive for the city that had become my home. It was quite challenging because many of the organisations I spoke with had no desire to hire someone without nonprofit experience.
But after several months of looking, I found an incredibly good fit in Citymeals on Wheels, which had created a new position for a Director of Marketing and Communications. That was in 2006. After five years in that role, I became Executive Director when Marcia Stein, the Founding Executive Director, retired after 30 years.
Take us through a recent workday.
I get up at 5:00AM to look at emails even before I roll out of bed (just in case anything came in overnight). Then, on my commute, I scan The New York Times and The Wall Street Journal. I like being in the office by 7:30AM to prepare and do the thinking that can sometimes get lost in the day-to-day work.
Yesterday began with a press call, delivering meals to our recipients. I love that because it takes me out of the office and into the homes of the people we serve across New York City. It's critical for me to share the stories of these people who helped build our city, whether it's Frederic, who was a tailor for the NYPD, or Mary, who rode elephants in Ringling Brothers Circus.
Once back, I met with Citymeals senior staff, followed by a committee meeting with our Board of Directors. I was able to grab a quick bite at my desk while following up on emails and phone calls. We have an event coming up, so I'm very focused on reaching out to large donors who may come in last-minute. I left the office by 6:00PM for dinner with a donor and board member.
When I get home, I usually plop in front of the TV for at least 30 minutes to unwind (last night was America's Got Talent). I often finish off the day by signing letters to our donors. It's important for me to thank them personally for their generosity. I'll do another quick email check before I hit the lights — and then turn around to do it all again the next day.
What apps, gadgets or tools can't you live without?
I cannot live without my iPhone and my family will tell you that! I absolutely rely on the MTA Subway Time app to get where I need to go all over the city.
I'm also a bit addicted to social media. On Facebook I'm keeping up with friends and family. Plus I'm following Citymeals on Facebook, Twitter and Instagram as we shed light on what we're doing for the senior population across the city.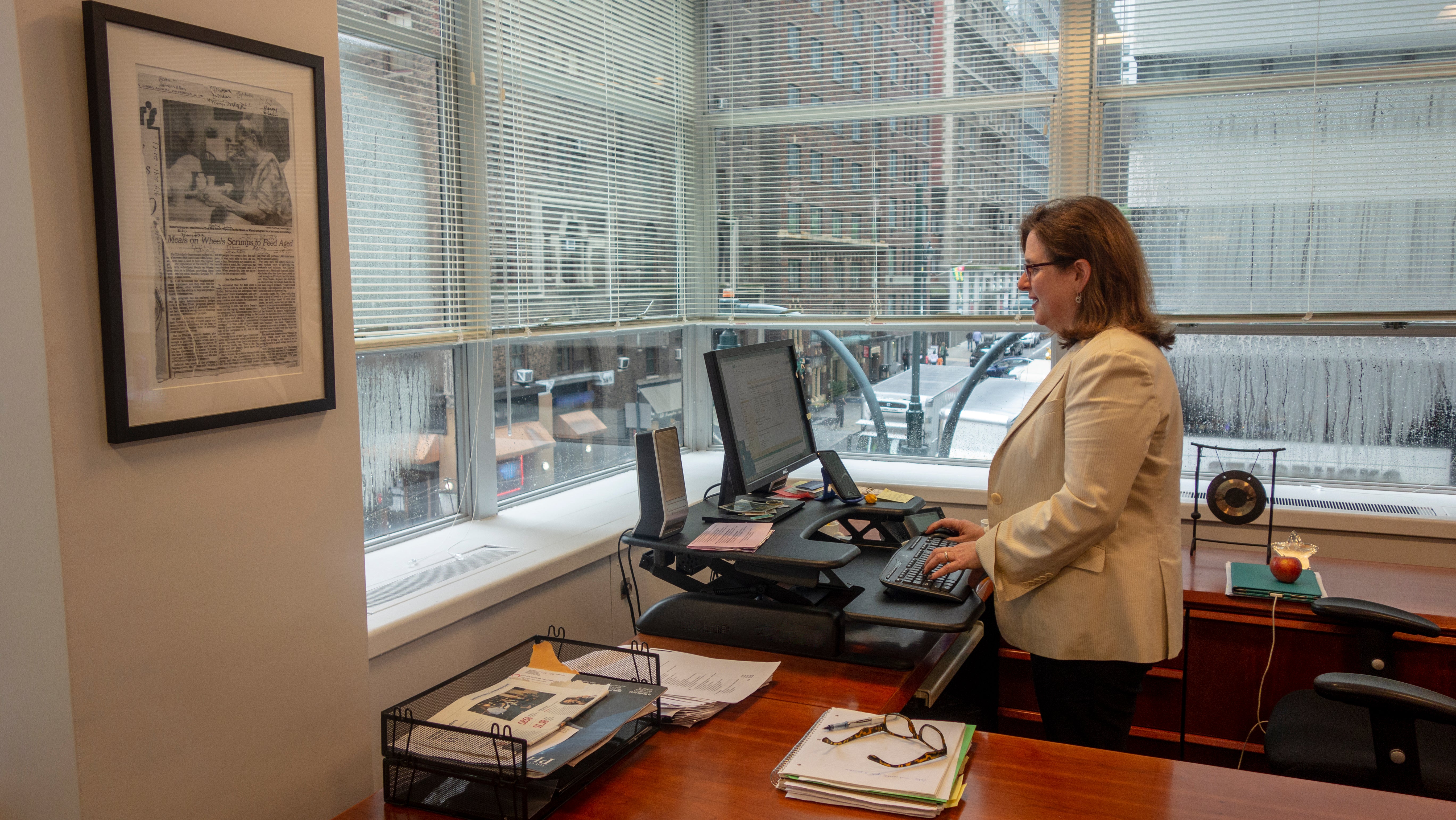 Shapiro at her standing desk
What's your workspace setup like?
I have to admit, it's a bit on the messy side! I have both a conventional desk and a standing desk which allows me to be flexible. Honestly, I'd love to have a walking desk.
There are also three pieces I keep that truly inspire me every day.
The first, which hangs on my wall, is the 1981 New York Times story which spurred Gael Greene, our co-founder, to establish Citymeals.
The article describes the plight of older New Yorkers who would go days without food over the Thanksgiving weekend because the City didn't fund home-delivered meals on weekends and holidays. Filled with Gael's scribbled notes about who she was calling to help, it's a poignant reminder from our earliest days of why we're here.
The second is a picture of Mamie, who is the first meal recipient I ever visited. She lived in Brownsville, Brooklyn, the same neighbourhood where my dad grew up.
There was an immediate connection, but what really keeps her so strong in my memory is her spirit. She lived in a small, dark, cluttered apartment. Her shoes were held together with duct tape. But she lit up when she began talking about her life, her deceased husband, and the dinner parties they used to host. Her eyes twinkled as she cocked her head to one side for that photo. It makes me smile now just thinking of her.
And the last thing that has significant meaning to me is a New York Times article from 2006 about our special meal deliveries over Christmas. It was the biggest piece of press I secured as our Director of Marketing and Communications: A full page headlined "Behind 34 Million Meals, 34 Million Tales to Share".
That really is what we do. We're delivering meals to more than 18,000 of our frail aged neighbours across the city and each one has a story to tell of their lives. More than a decade later, we've now delivered 58 million meals! That makes me so proud of what we've done and serves as a humble reminder of what we still need to accomplish.
A little more than a year ago, our landlord renovated the floor where our offices are located. This provided a real opportunity to think about how we work and interact with each other in relation to the space we inhabit.
Our offices once formed a very long narrow corridor which tended to stifle conversation. Now our work space is primarily lower cubicles, which create a more open and collaborative environment. It has enabled us to break down some of the silos that can divide different departments.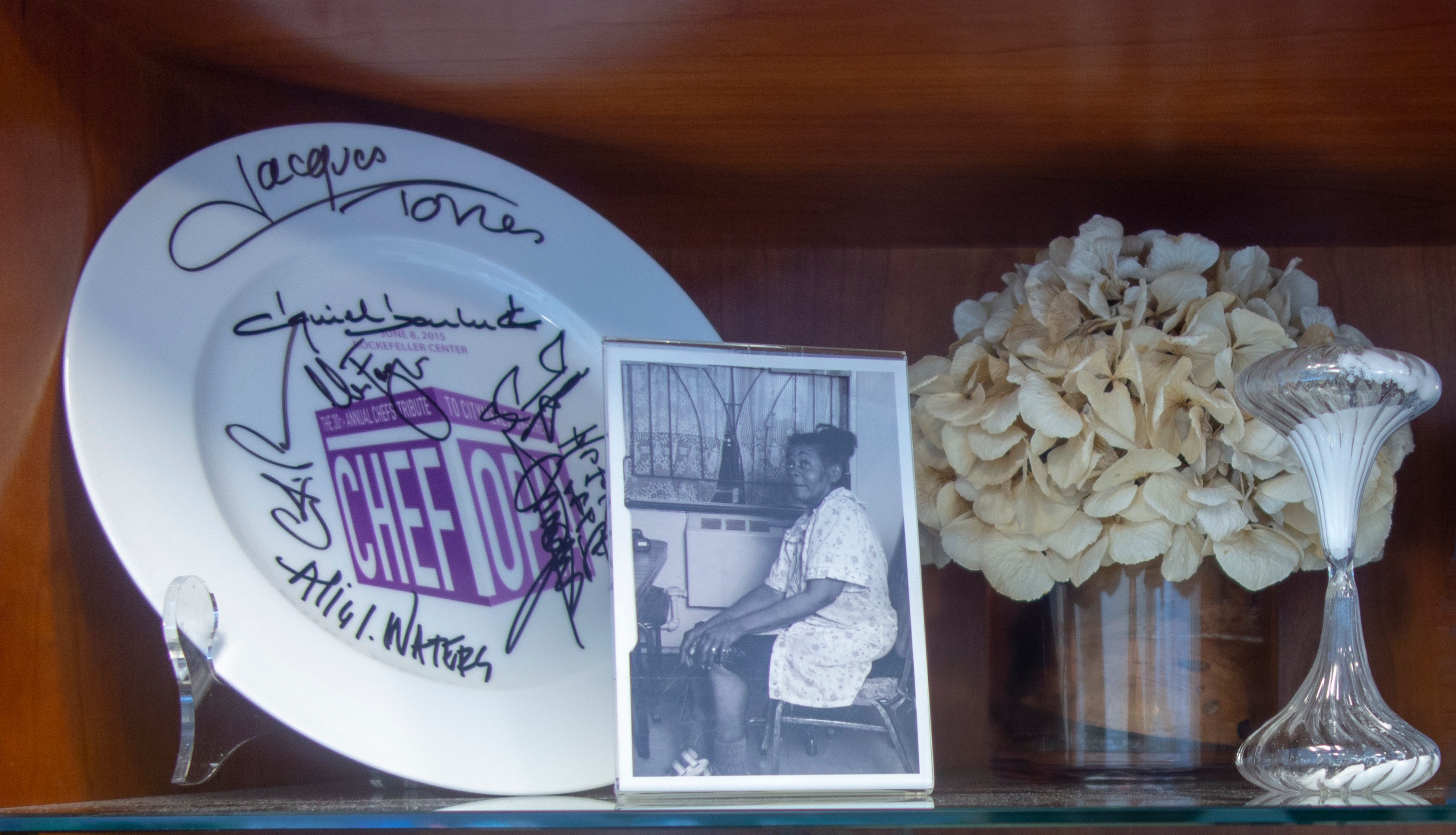 Shapiro's sandglass and photo of Citymeals recipient Mamie
What's your best shortcut or life hack?
Breathing! At least once a day, I take a moment to slow down, breathe and refocus. Short circuiting stress or panic enables me to have a clear picture and move forward. It's why I keep a sandglass near my desk as a reminder.
I also use my commute home each night to plan for the following day.
What are the most effective ways to work with volunteers, and to encourage more to join a project?
Last year Citymeals relied on more than 21,000 volunteers to ensure our lifeline of nourishment and companionship. I always say that once you go on a meal delivery you're hooked. Seeing firsthand the impact that simple visit makes on the life of a homebound elderly New Yorker is all it takes. But it's so important for our volunteers not only to feel engaged and connected to the mission, but also to feel recognised and appreciated.
Take us through an interesting, unusual or finicky process you have in place at work.
Recently, I've started having a lunch date with a different staff member each month. I pick a name randomly out of a jar. I love it because this gives me an opportunity to talk with staff members I don't frequently engage with, especially some of the younger staff members, in a more relaxed setting where new ideas can be brought up and germinate into something impactful for the organisation.
Who are the people who help you get things done, and how do you rely on them?
Everything we do here at Citymeals relies on the incredible generosity of New Yorkers. We have tens of thousands who volunteer and tens of thousands who donate to Citymeals to help us do what we do.
Citymeals also relies on the culinary world — the chefs, restaurants and food community both in the city and beyond — who have supported Citymeals for over 35 years: Cooking meals as part of our Chefs Deliver program, opening their restaurants for fundraisers, and lending their talents to our special events.
I also couldn't do what I do without the support of both my family, who is incredibly respectful and encouraging of my career, and the leadership team at Citymeals, who never waver in their dedication to rolling up their sleeves to do whatever is needed to help older New Yorkers in need. We are a diverse group in our skills and expertise, so seeing everyone come together to focus on the greater good of the organisation is an inspiration.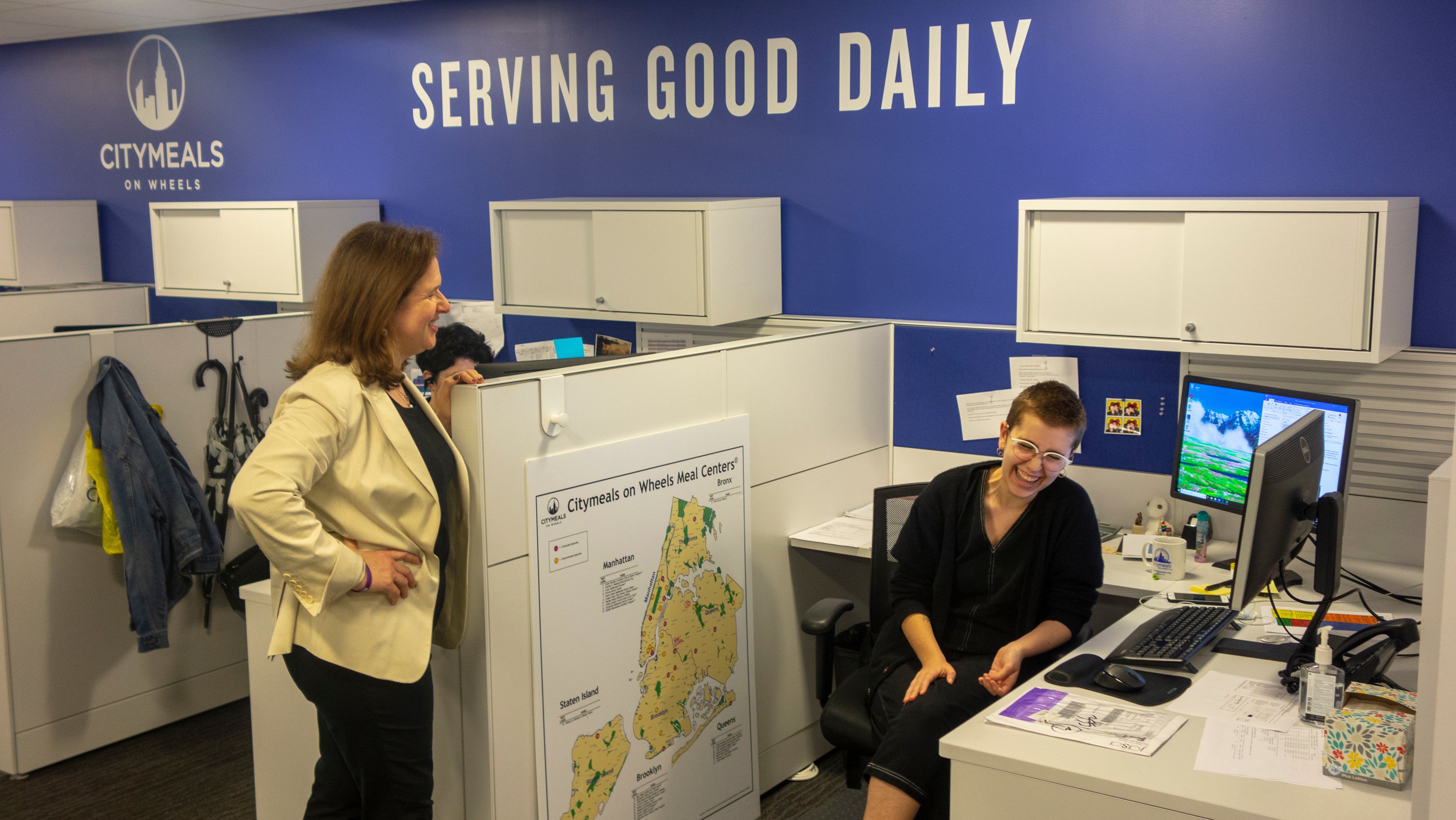 How do you keep track of what you have to do?
My notebook! I was a convert to the world of the Franklin Covey planner in the mid-'90s. I don't have my planner any more, but if I lost my spiral notebook I'd be in big trouble.
How do you recharge or take a break?
I am someone who can sit at my desk for hours and completely lose track of time, which isn't good either physically or mentally. So it's become important for me to get up and walk around every hour or so. On a nice day, I'll even take a walk outside. Outside of work, I like to get on my bike and clear my head or maybe swim (my favourite stress release).
What's your favourite side project?
My current side project is house hunting and it's taking quite a long time. We made the decision to move back into the city, and it really is a full-time job that I am cramming into a few hours each week. I want to find something that's easily accessible to work and is comfortable for my two kids, who are recent university graduates. Although my husband and I are now empty nesters, I still want something warm and welcoming for our children.
My other side project is training for a long-distance bike ride I do this season. I find it hard to allocate the time, but it's incredibly important to me as the 483km ride over three days is in memory of my brother. It has become a bit of a family affair, with my kids, cousins and friends participating as well.
What are you currently reading, or what do you recommend?
I love to read, but can get so engrossed that I'll stay up all night. I need to stop and go to sleep! I just ordered How Hard Can It Be by Allison Pearson, a sequel to her earlier book about trying to be a super mum.
Now the main character, Kate, is in her 50s and entering a different phase of her life. Like me, with kids and ageing parents, she is faced with managing both ends of the life spectrum. My parents live in Florida. My job does give me a better understanding of the ageing process and what's needed to be comfortable. It truly takes commitment, patience and a lot of humour to move forward with some of the tough decisions along the way.
Who else would you like to see answer these questions?
Kirsten Gillibrand, Daniel Boulud and my husband.
What's the best advice you've ever received?
Be true to who you are, keep doing what you're doing, and focus on delivering excellence.
The second best advice I ever received was in Year Four. I was changing schools in the middle of the year and was really nervous about making new friends. I am intrinsically shy and my dad said, "Keep your mouth shut." He told me to listen to other people, find out who they are, and then figure out what you want to say. That advice has helped me throughout my life. I think I'm a very good read of people, and part of that is understanding the importance of listening deeply.
What's a problem you're still trying to solve?
The biggest challenge we have at Citymeals is expanding our annual fundraising to meet the growing need. With a rapidly growing population of seniors across this country, including here in New York City, we must ensure the city's most vulnerable population has nourishing meals so they can age in their own homes and communities, where they have lived for decades and want to remain.
We've asked heroes, experts and flat-out productive people to share their shortcuts, workspaces and routines. Want to suggest someone we should feature or questions we should ask? [contact text="Let us know."]