If you're having problems with your PlayStation 4 and need to get it fixed — or need a replacement — you don't need to lose your game save data. Using cloud backups, you can upload all of your information beforehand, allowing you to quickly download it again and continue playing once you get your system back.
The process is a little tricky, however. And unlike the rival Xbox One, it isn't automatic. There are a few steps you have to set up first, but once you've gotten the hang of it, saving games to the cloud will become second nature. Here's how to upload save data to the cloud on PlayStation 4.
Subscribe to PlayStation Plus
Here's the bad news: Cloud saving on PlayStation 4 requires a PlayStation Plus subscription. There's no getting around that. If you aren't a member of the service, which is also needed for playing most games online, you can try it free for 14 days, after which you'll have to start paying $79.95 per year.
How to Upload Your Data Manually
If you've only been playing one or two games for an extended period of time and want to make sure your save data is backed up, you can manually upload it to the cloud.
Go to your system's settings menu and select "Application Saved Data Management", and then select "Saved Data in System Storage" and "Upload to Online Storage".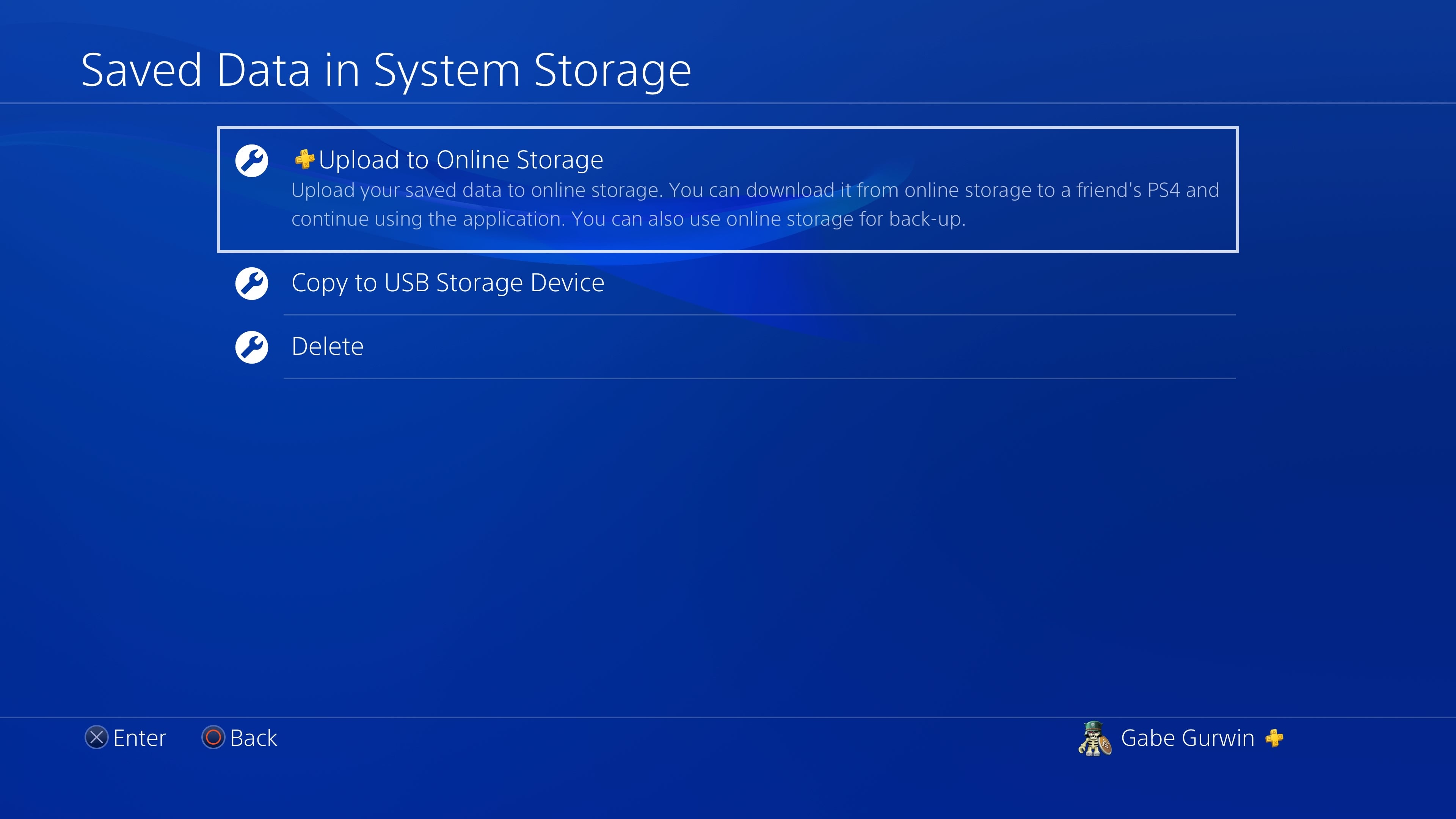 Screenshot: Gabe Gurwin
On the next screen, you'll see a list of your games arranged from recent to oldest. Select the game in question and on the next page hit the "Upload" button in the bottom-right. It's as easy as that.
No matter what your console is, you can add passcode, verification methods and two-factor authentication options and do it either through your web browser or on the console itself. Sorry, but you're out of excuses of why you haven't secured your account from people looking to steal your personal information.
Read more
How to Upload Your Data Automatically
Head back to the "Application Saved Data Management" screen and select "Auto-Upload" at the bottom and enable it. As long as your power settings have "Stay Connected to the Internet" enabled, your system will upload all relevant data whenever it's turned on or in its low-power "Rest Mode".
(Make sure your system is set to maintain its network connection whenever it drops into Rest Mode, which you can set within the "Power Save" menu in your system's Settings.)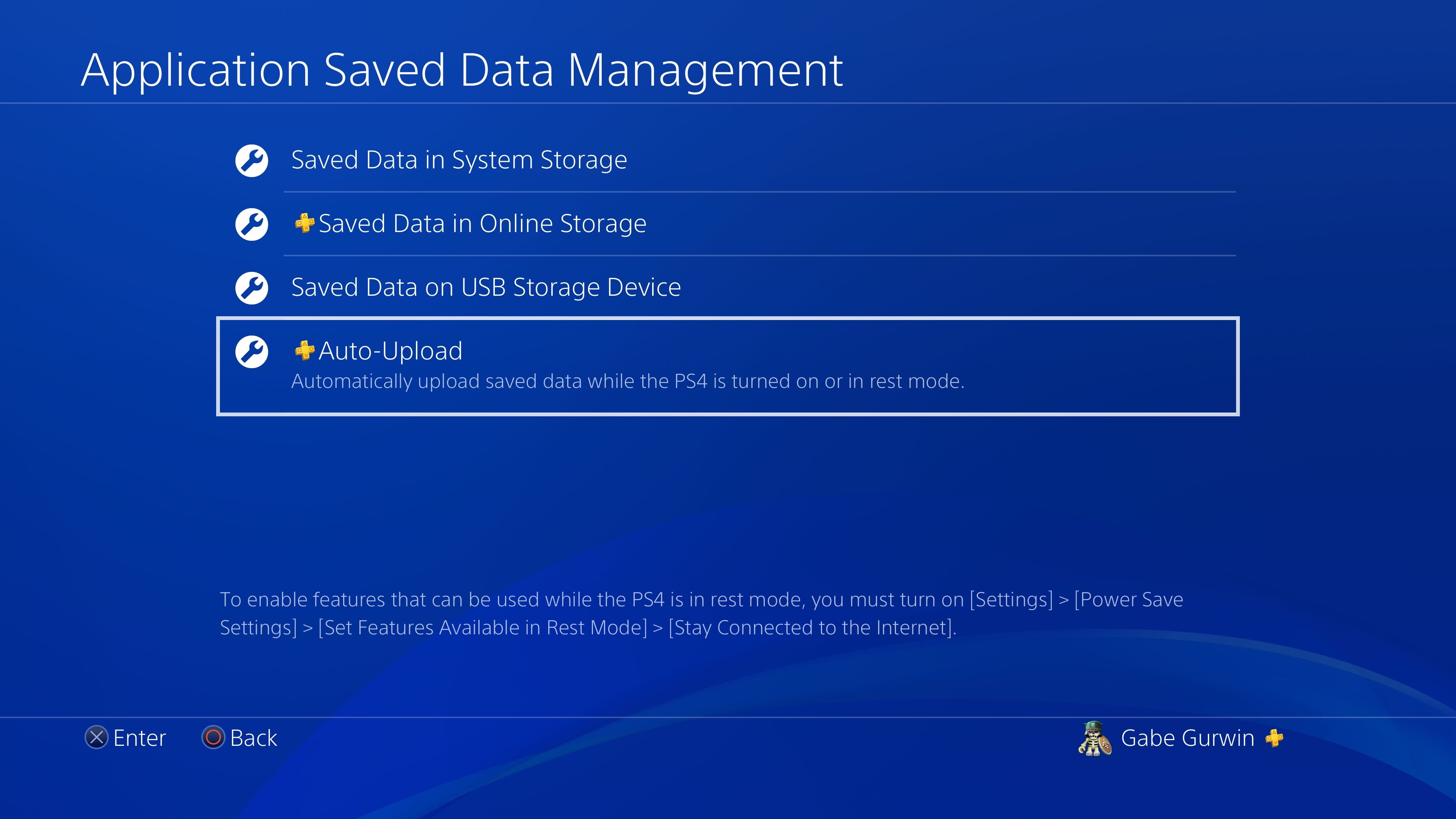 Screenshot: Gabe Gurwin
To put the system in rest mode instead of turning it off, just hold down the home button on your controller, select the power button icon, and select "Enter Rest Mode". The light on the front should turn orange instead of white.
Occasionally, the system can fail to properly upload your data in rest mode. You can check to see if this has happened by selecting the notifications icon on the home screen the next time you start up your system. If that's the case, make sure to manually upload the data to the cloud.
If you still encounter issues uploading data, you may have hit the data limit. PlayStation Plus gives you 10GB of cloud storage space, which should be plenty for most gamers, but you might have to cull some older files in order for new saves to upload.
To see how much space your save games take up, select a game (as if you were manually uploading your save data). You'll see the total available space in the bottom-right corner. If you need to delete anything to save space, go back to "Application Saved Data Management", select "Saved Data in Online Storage" and "Delete".
The nostalgia effect is powerful. If you're still clinging to your old-school Nintendo Entertainment System (however you pronounce it) there's no reason to let it collect dust in a closet or a forgotten corner of your home entertainment system. Your older gaming consoles will still work with your fancy new television, or even your sort-of new television; they just need a little TLC.
Read more
How to Download Data From the Cloud
The process of downloading save data from the cloud is almost identical to uploading it. Head back to "Application Saved Data Management" and select "Saved Data in Online Storage" this time. On the next screen, select "Download to System Storage".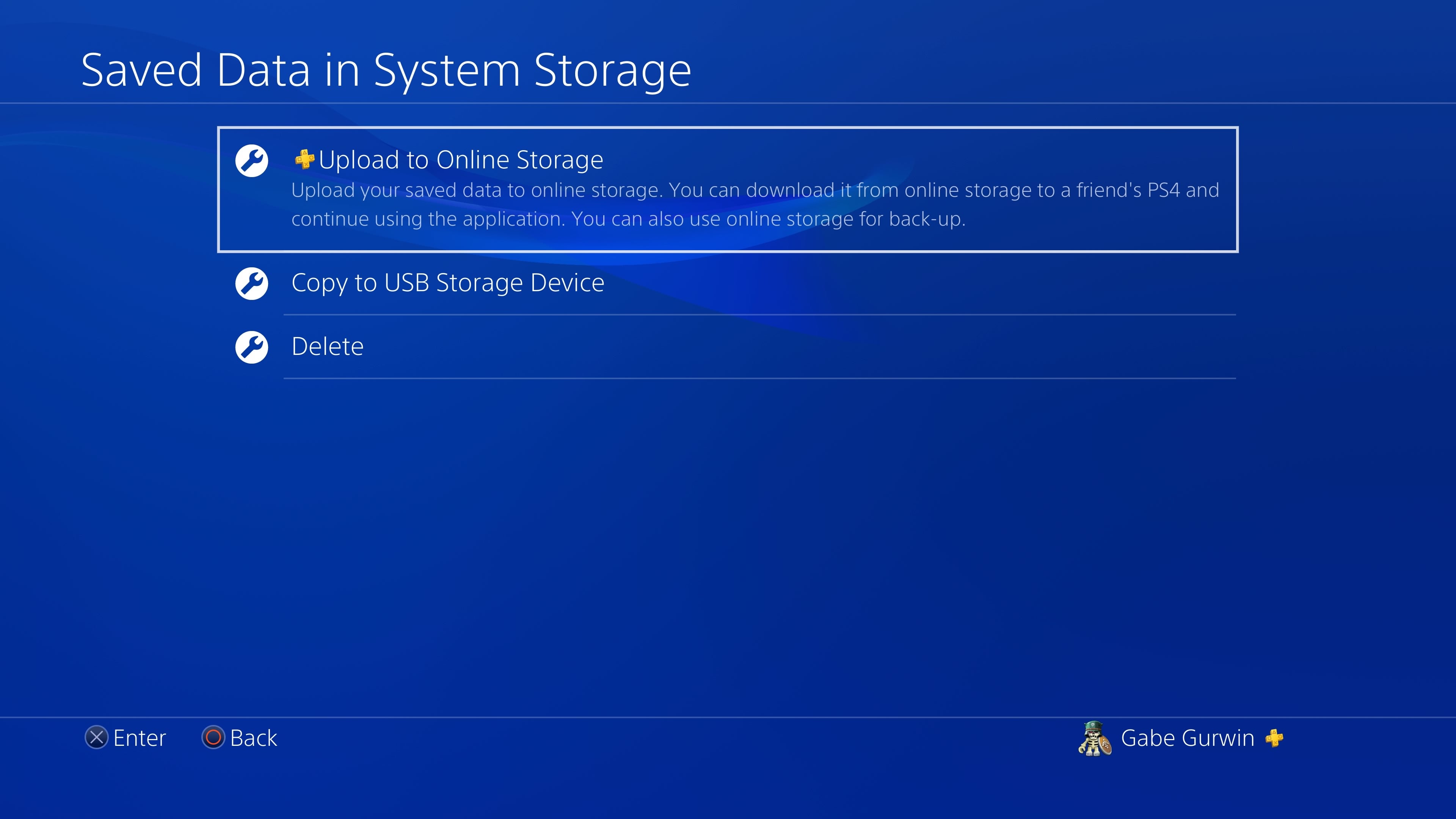 Screenshot: Gabe Gurwin
From here, you can pick save data for any of your games and download it to your system. If you're on a brand new console, the process of redownloading all your data should only take a few minutes.