You may have noticed that the most recent Chrome browser update includes a change to the way Chrome syncs — or, more accurately, doesn't sync — to your Google account. Specifically, if you sign into or out of Gmail, your Google account will be signed into or out of the Google Sync Chrome browser automatically.
If that happens, your bookmarks, saved passwords and other synced data won't be accessible until you sign back in manually, not to mention it forcibly signs you out of every other Google service as well.
It's a bit of an odd change, frankly. In the past, users would remain signed in and synced with Google Chrome even if they signed out of Gmail. However, following the Version 69 Chrome update, some users began reporting the behaviour as a bug.
Unfortunately, as Martin Brinkmann over at Ghacks explains, this is actually confirmed by Google to be their intention: Chrome will now sign out and de-sync your Google account when you sign out of Gmail.
Not everyone is happy with the change (this is the internet, after all), and it's caused confusion for some users who are used to jumping between multiple Gmail accounts.
Making things even more confusing is that despite Google claiming that this was their intention with the recent Chrome update, the browser doesn't behave this way on every device. Here's what to know to get around the issue.
It's frustrating to make a typo when you're trying to visit a website for the first time. Then, because your browser hates you, it will attempt to autocomplete to the wrong website — like netflux or faceboik — whenever you start to type the correct address into your address bar.
Read more
It's fixable, for now
If you've noticed this odd change and you want it fixed, we have some good news… and some potentially bad news.
The good news is, for now, you can turn off this feature if it's giving you trouble. The bad news is, it's possible this fix could only be a temporary plaster, one that Google can undo at any time. It should work for now, though.
Of course, there's also always the potential that Google could just undo the new feature entirely if they get enough negative feedback on it. We'll be quietly hoping for that to be the case.
At any rate, with that quick caveat out of the way, let's turn off that pesky sign-out link.
Disable Google Chrome Sync's Auto-sign out
The following method will work on all desktop versions of the Chrome browser, as well as ChromeOS, and on Android devices.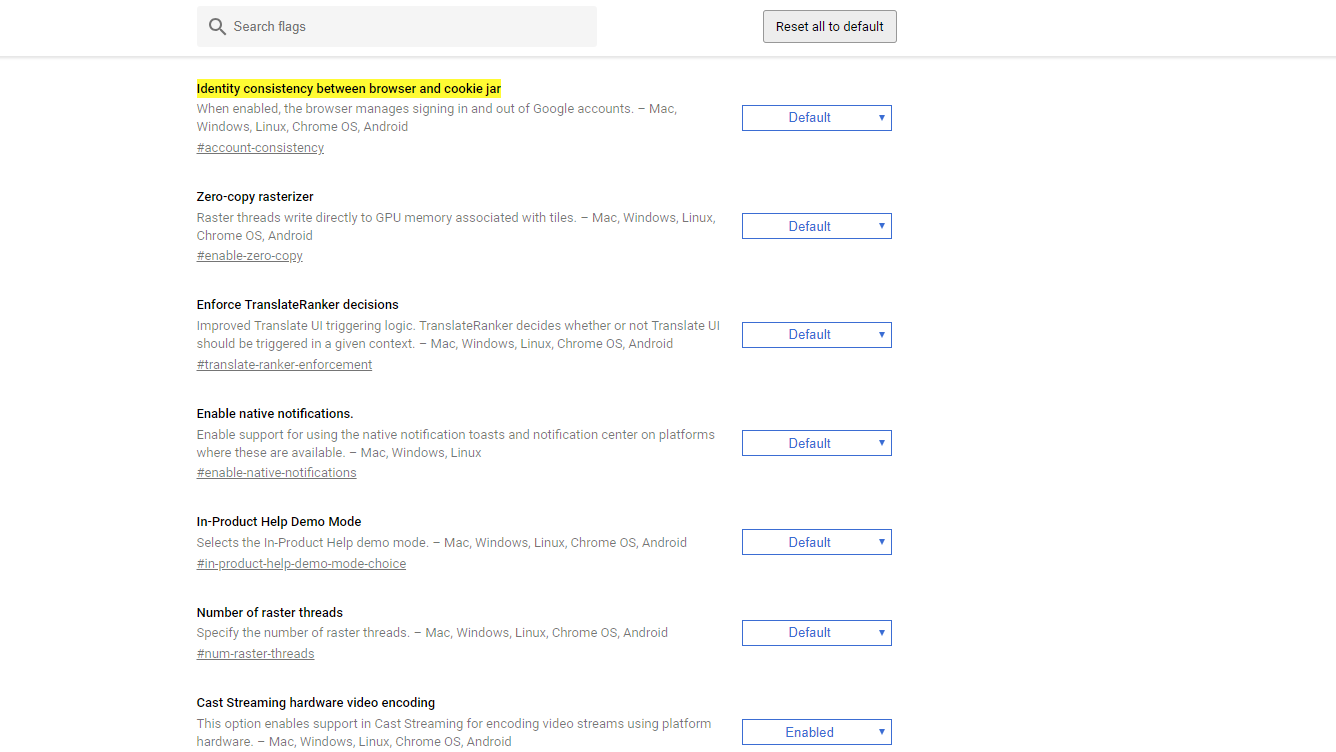 Screenshot: Brendan Hesse
Open a new Chrome browser Window, then type or copy and paste the following address into the address bar: chrome://flags/#account-consistency
This will open a new page containing an item list with drop-down menus next to each. The page should have automatically jumped you down about halfway to the desired item, "Identity consistency between browser and cookie jar", and the menu box next to it should read, "default".
To disable the sign-in link, click the drop-down box, and set it to "disabled". Once that's done, all you need to do is restart Chrome. This will only take effect once Chrome is entirely restarted, so make sure you close all browser windows.
And that should do it — Chrome should go back to acting like it used to.
If you've come across this post and the above address does not work or you can't find the flag, it's possible that it has been removed from Chrome by now. That's potentially a good thing, as it could mean that Google has reversed the auto-signout decision… or it could mean we're now stuck in an automatically de-syncing dystopia with no hope of fixing it.