Windows: While you might be wedded to your desktop wallpaper — be it a picture of your family, your favourite Internet pet, or something else amazing — there's no reason you can't have a little variety each day. All those Apple fans might get macOS Mojave's dynamic wallpaper, but you can do even better in Windows, thanks to a fun little utility called Chameleon.
With Chameleon, you can automatically change your desktop background according to a lot more variables, such as the weather, time of day, or your PC's battery life. That's a lot better than Windows' default treatment for "dynamic" wallpapers: A slideshow that shuffles through different wallpapers at different time intervals. Meh.
When you download Chameleon (which works with 32- and 64-bit versions of Windows all the way back to Vista), download its wallpaper pack, unzip the wallpaper pack into the same folder as the executable, and launch the app.
You'll want to first click on the Settings button in the upper-right corner. Pick your state, province or territory, and then pick a local weather station — likely the closest airport to where you live. Click "OK," and you should get the current weather conditions.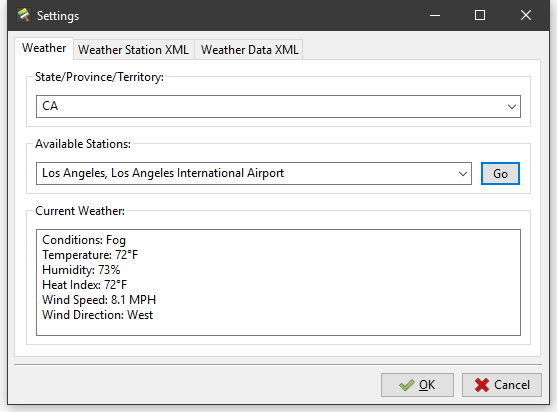 Looks like a lovely day to me. (Screenshot: David Murphy)
When you head back to Chameleon's primary screen, you'll be able to pick one of seven different variables the app should use to change your wallpapers:
Your device's battery life

The time

Local weather conditions (cloudy, clear, smoke, hail, etc.)

Wind speed

Temperature

Humidity

Heat Index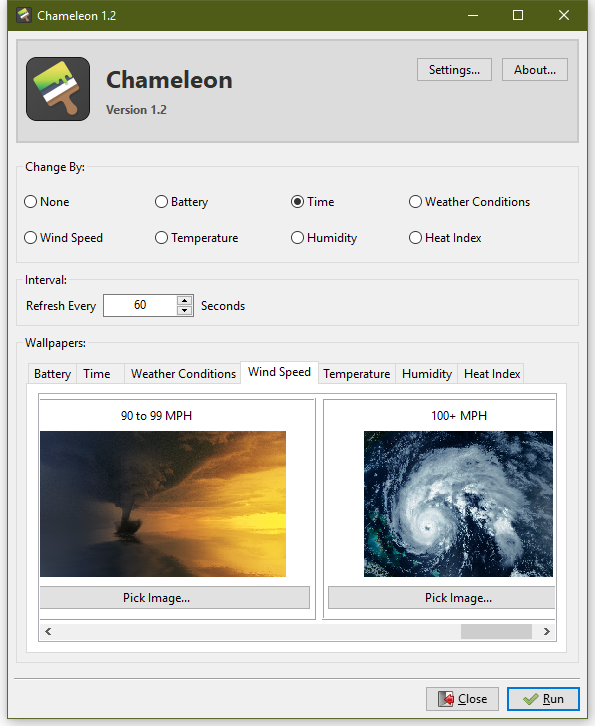 If your wallpaper looks like this, maybe it's time to get off the computer and go seek shelter. (Screenshot: David Murphy)
Since you also downloaded and unzipped the app's wallpaper pack, each variable should already have a number of (4K) wallpaper images associated with it. You can replace any of them simply by clicking on "Pick image" under any condition. Before you hit "Run" to start Chameleon, make sure you pick a reasonable refresh period — how often the app should check conditions and, when needed, change your wallpaper.
The only downside to the app's current implementation is that you can't set it to launch when Windows starts up via the app itself. You'll have to make a shortcut to the app and drop that in your operating system's startup folder.