It feels as though Google has held the market on "point your camera at it to learn more" technology for some time now, first through its Translate app, which let you target signs in foreign languages with your smartphone's camera and receive translations on the fly, and now via Lens, which expands this technology to give you plenty of information about the objects in photos you've taken (or are about to take).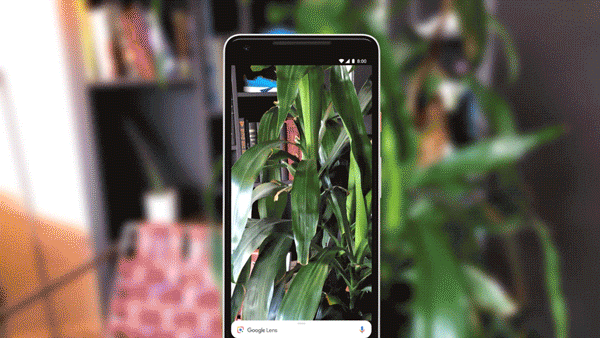 Google" loading="lazy" > Photo:
Google
But Google's imaging AI isn't the only game in town. Microsoft made a big splash in June with its debut of Visual Search for Bing, which you can access via the Bing Search app (iOS, Android), as well as Microsoft Launcher and Edge on Android.
You probably don't want to fill your phone with multiple (or extra) search apps or browsers, so I devised a series of experiments to see how the two visual technologies stack up.
Round One: Everyday Objects
I went around my room, gathered up a random assortment of things, and placed them in a well-lit location on my desk. I then took photos of each object from roughly the same distance and angle — or, at least, from a vantage point that should be good enough for each app to have a pretty good shot at identifying the item.
And no, I didn't use a pig this time. First up, a delicious bottle of Framboise lambic: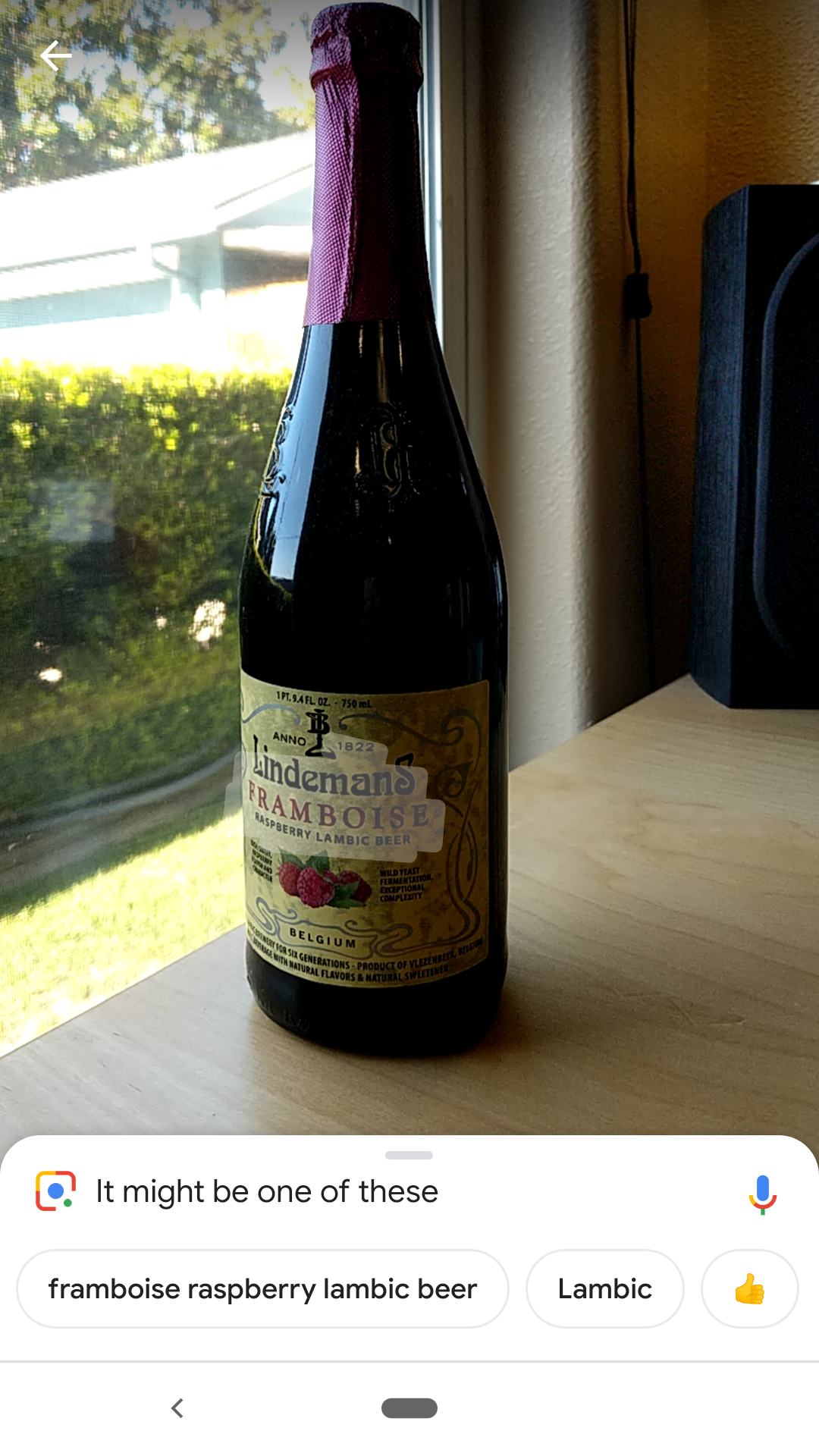 Screenshot: David Murphy
Google correctly identified the bottle and type of beer, thanks to its excellence in all things text-scanning. A tip of the glass to you, Google.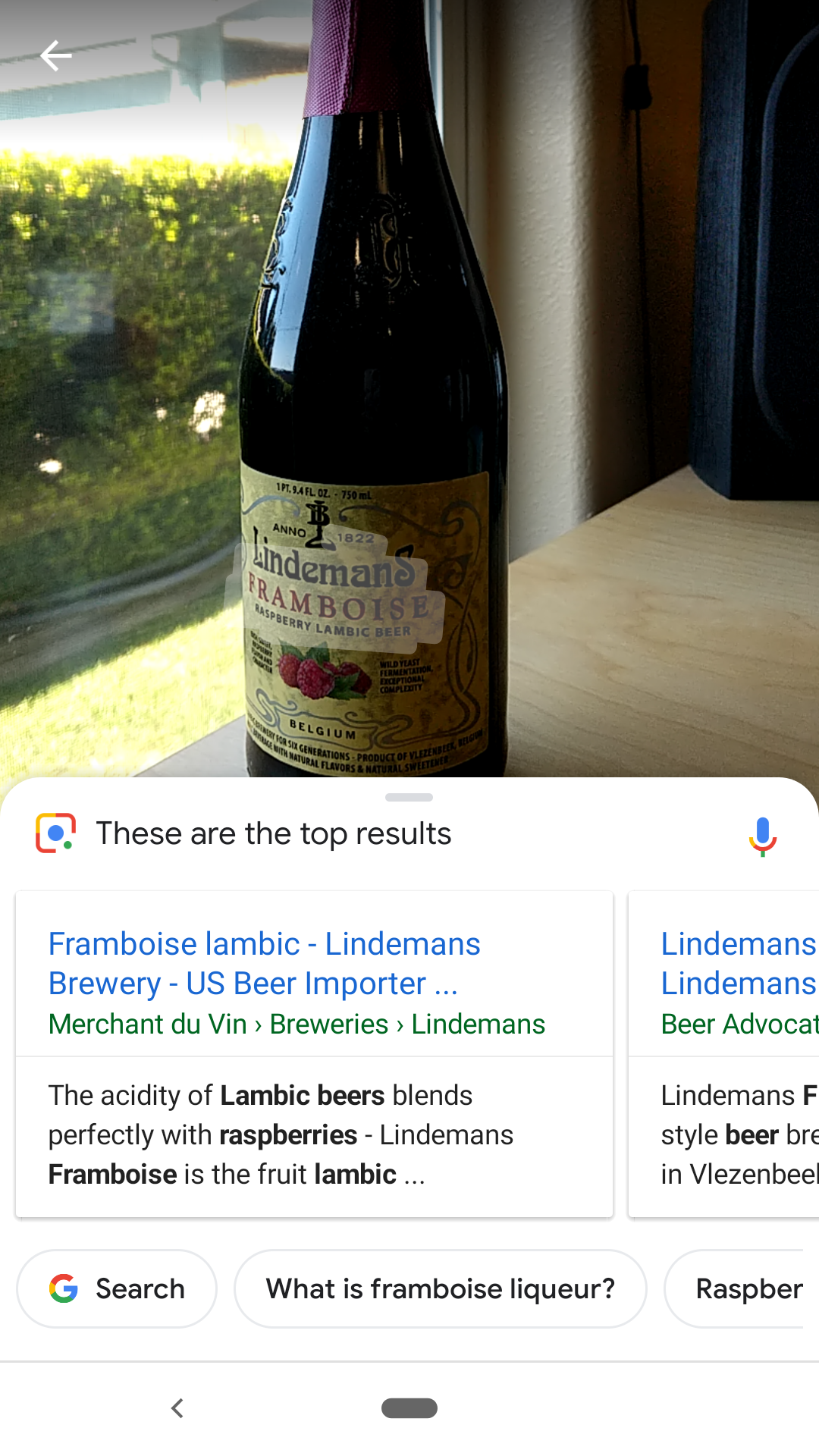 Tapping on that listing provided search results for the beer in question, but no discernible way to place an order from a nearby store and refill my stock. Hmm.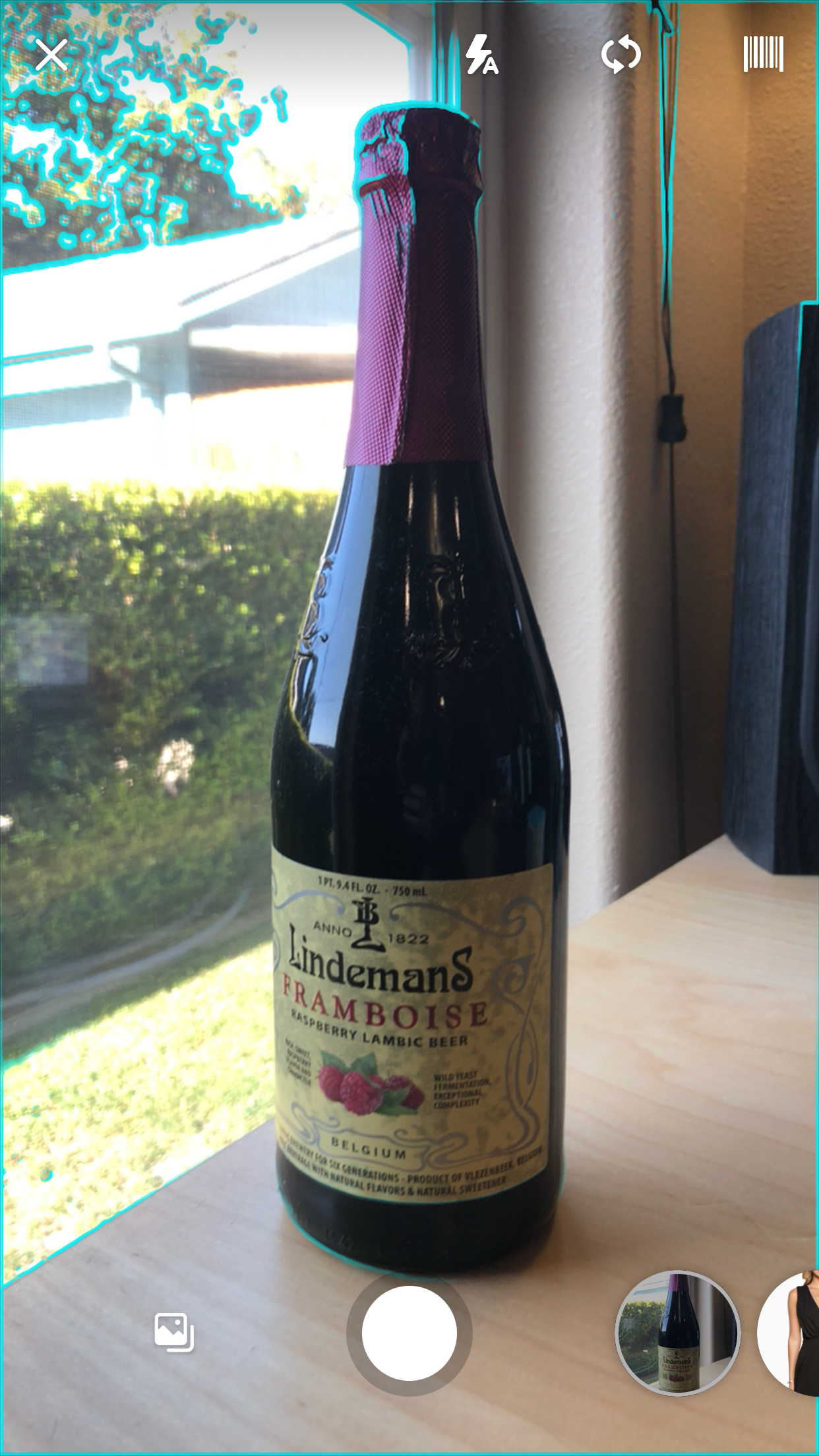 Just for context, here's how the "item-scanning" feature works in the Bing app. You get a neat little aqua overlay running through your camera's image that feels a little Star Trek.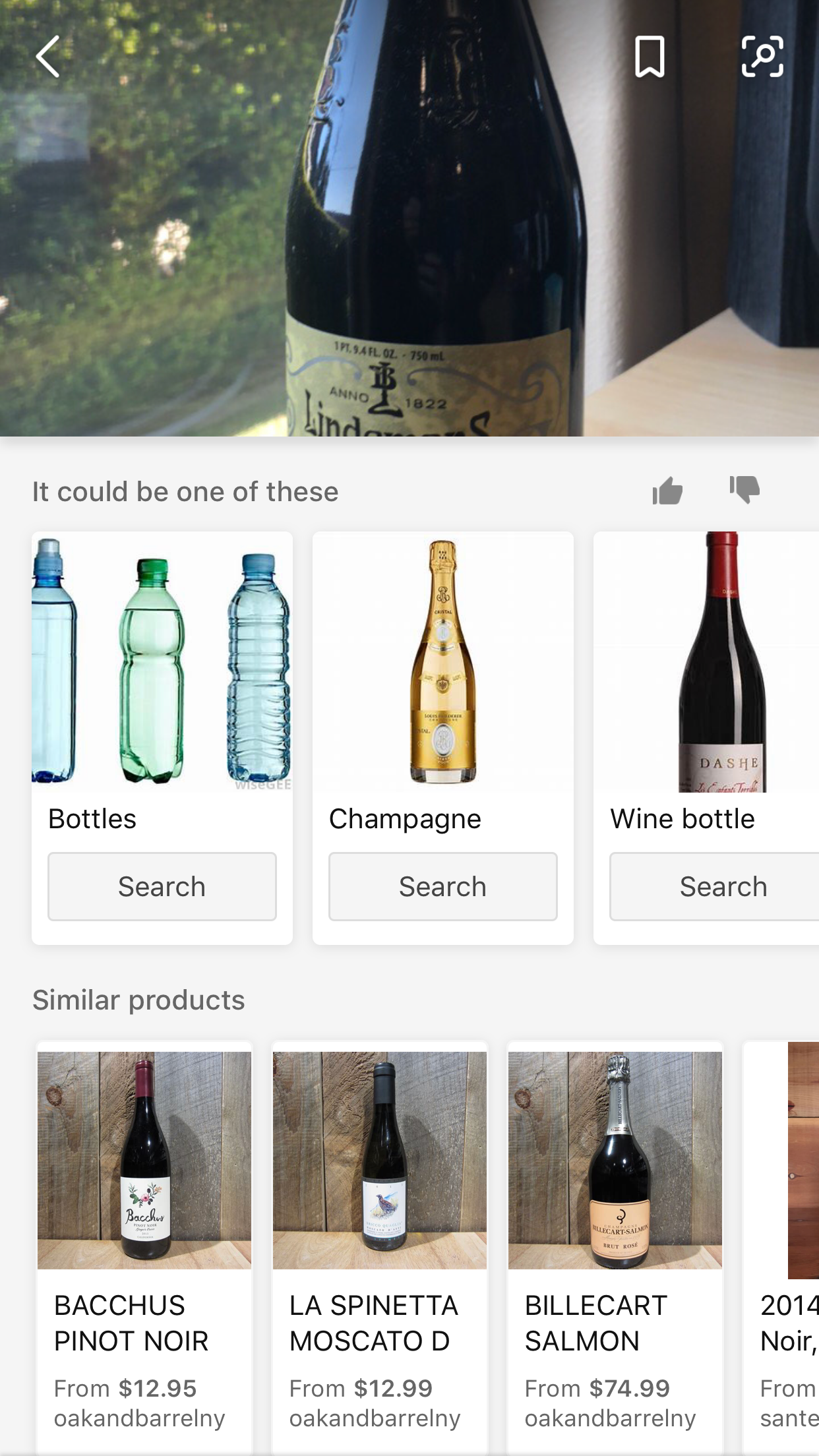 Unfortunately, Bing Visual Search couldn't get anything right about the image, save for the fact that it was indeed a bottle (but not a bottle of wine.)
Next, a Funko Pop: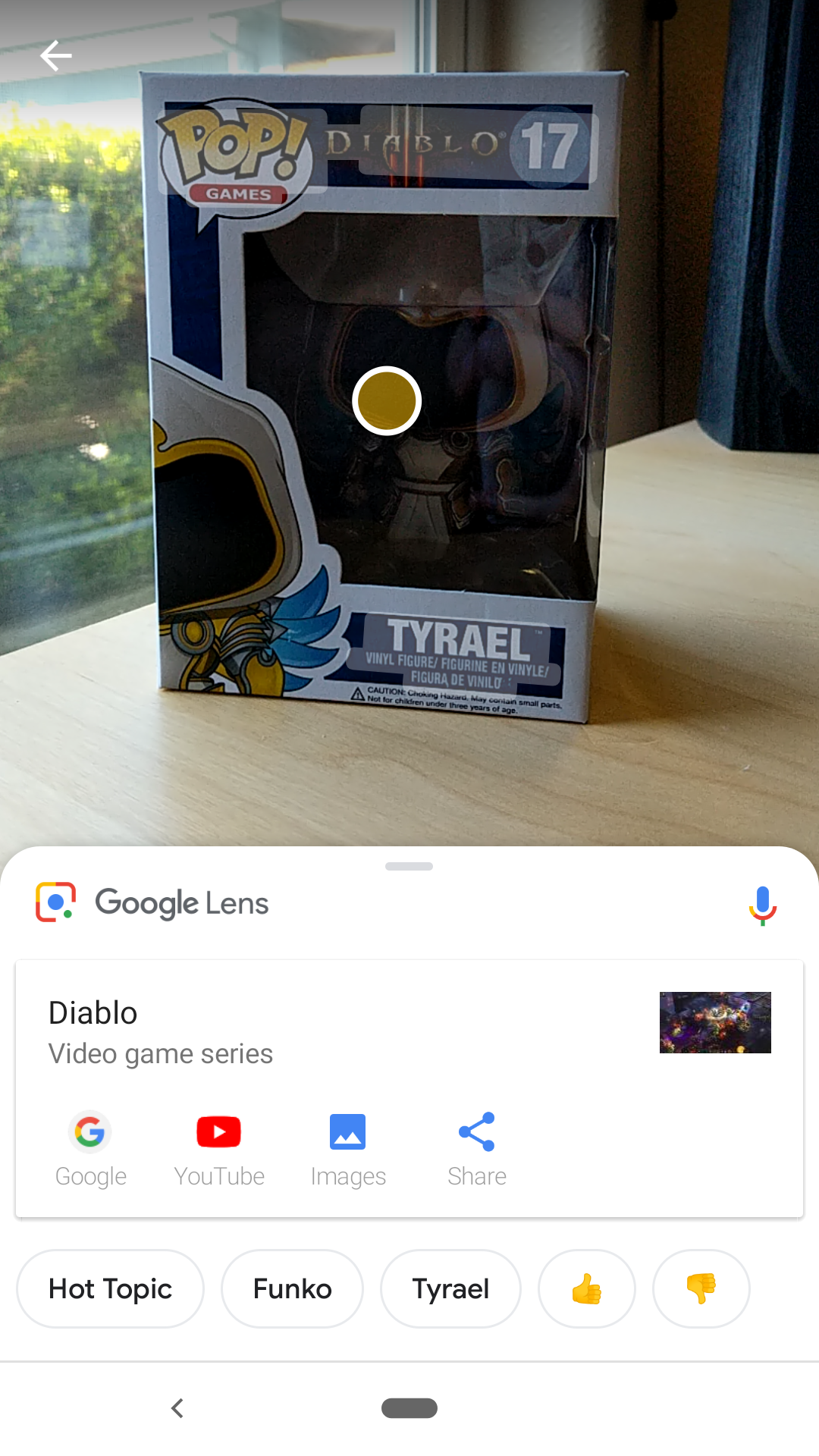 Screenshot: David Murphy
Google Lens correctly identified the Funko Pop's game (Diablo III), the fact that it was a Funko Pop, and even provided a link to where one can typically buy said silly items (Hot Topic). Not too shabby.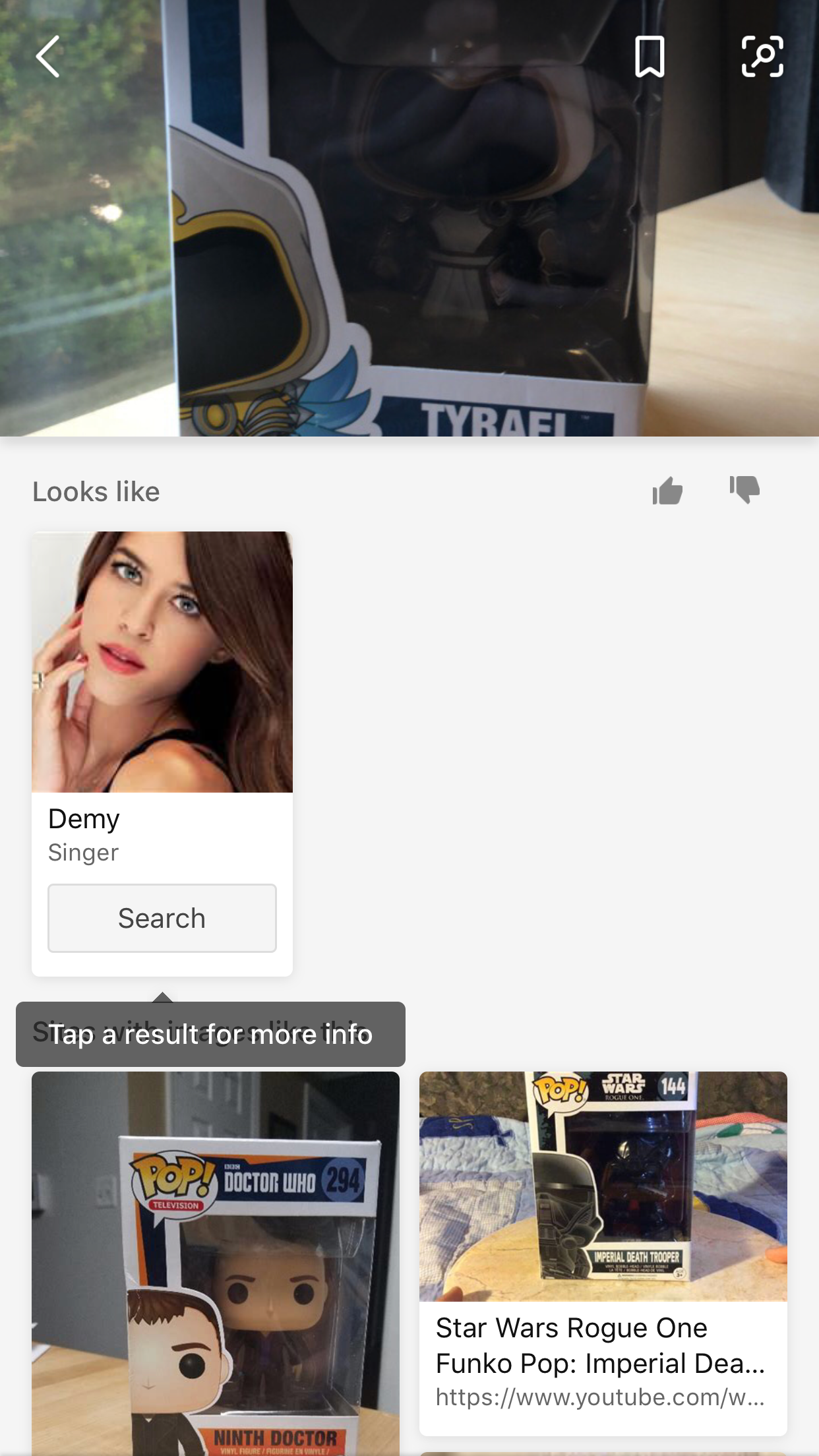 Bing visual search could load up other images from the web of Funko Pops, but mistakenly identified the toy as… Demy. Who is Demy?
How about a classic fantasy novel?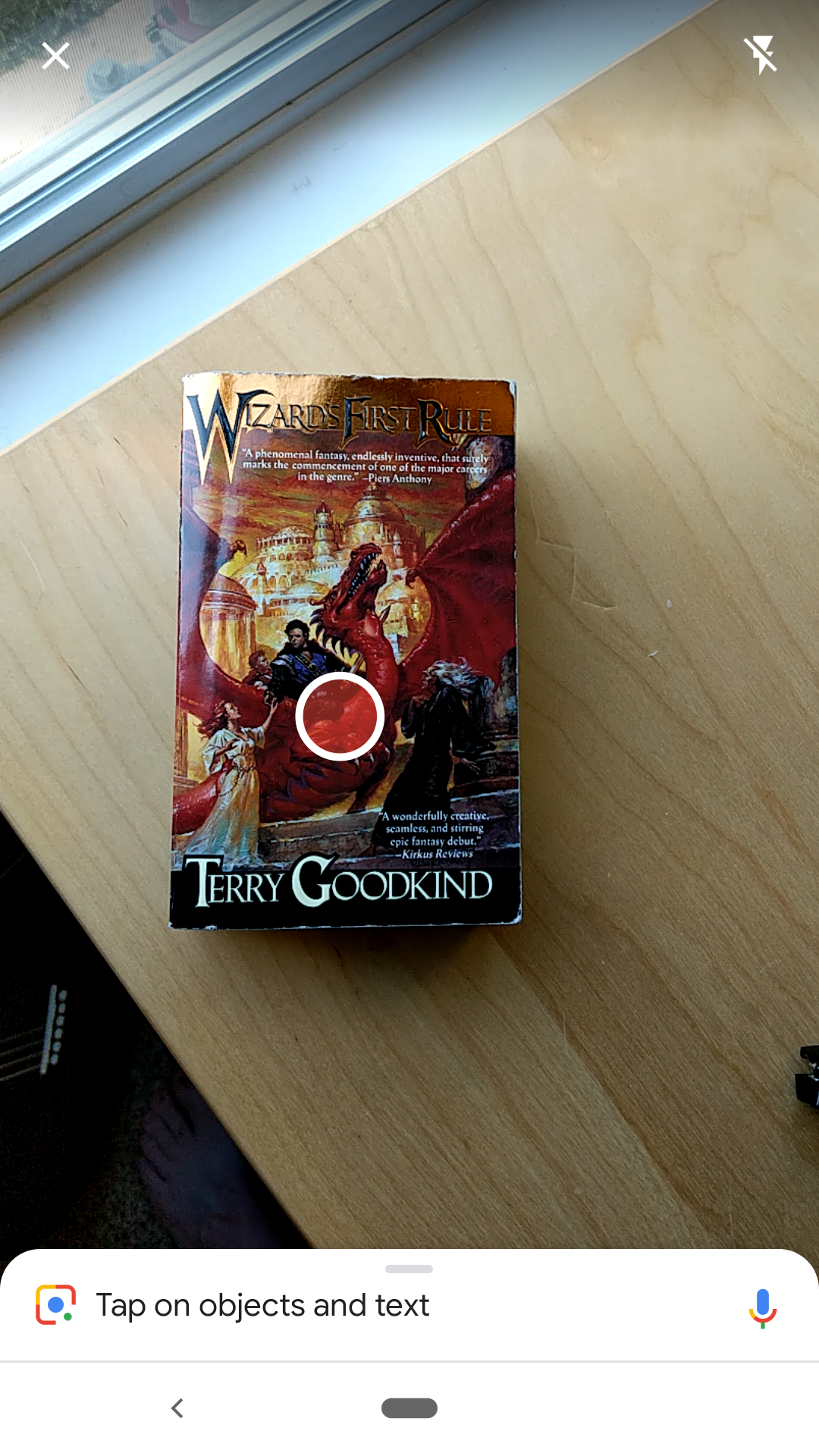 Screenshot: David Murphy
The subject: Terry Goodkind's classic "Wizard's First Rule."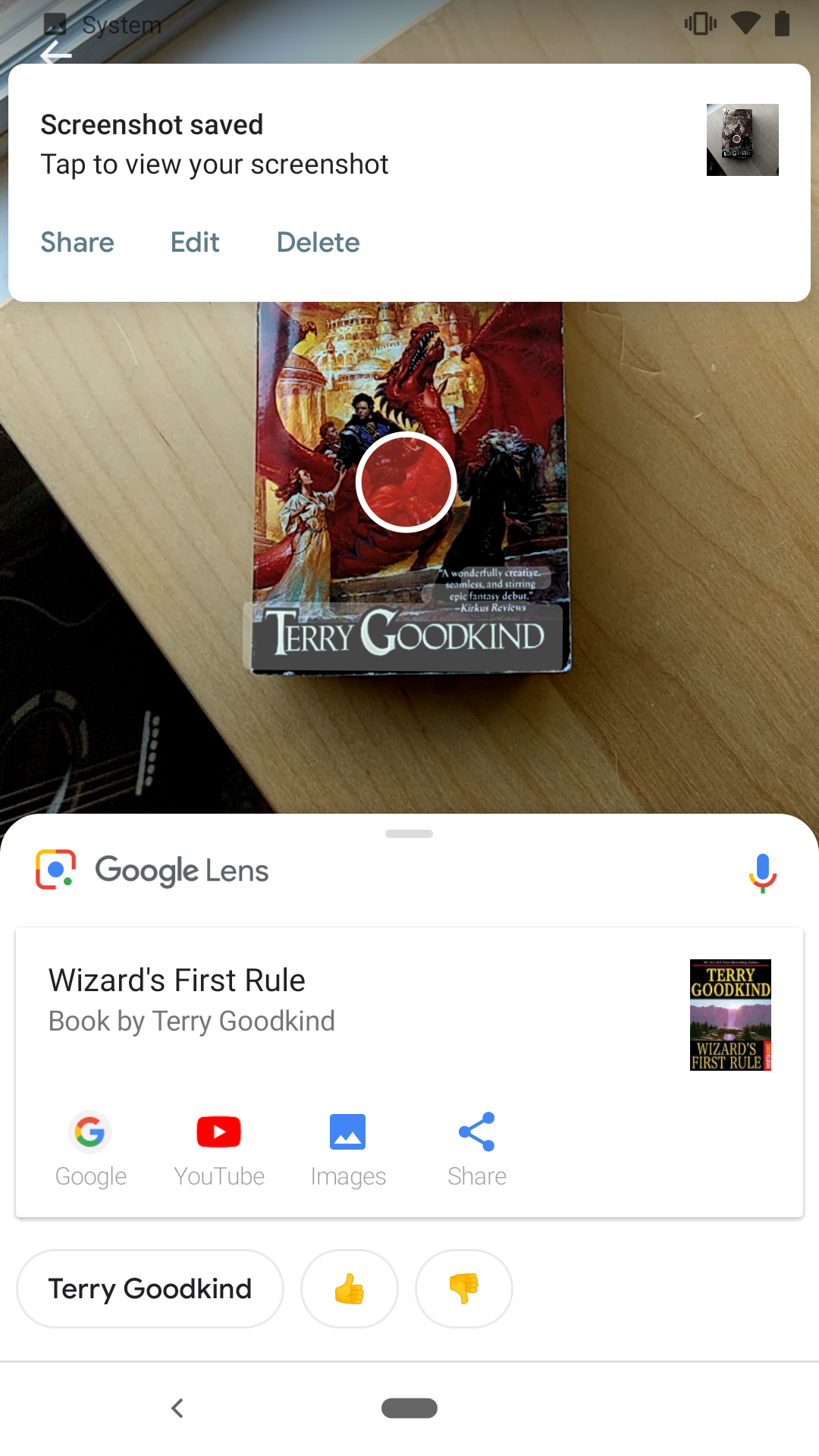 Google Lens nailed it. (Ignore the annoying "Screenshot saved" notification at the top.)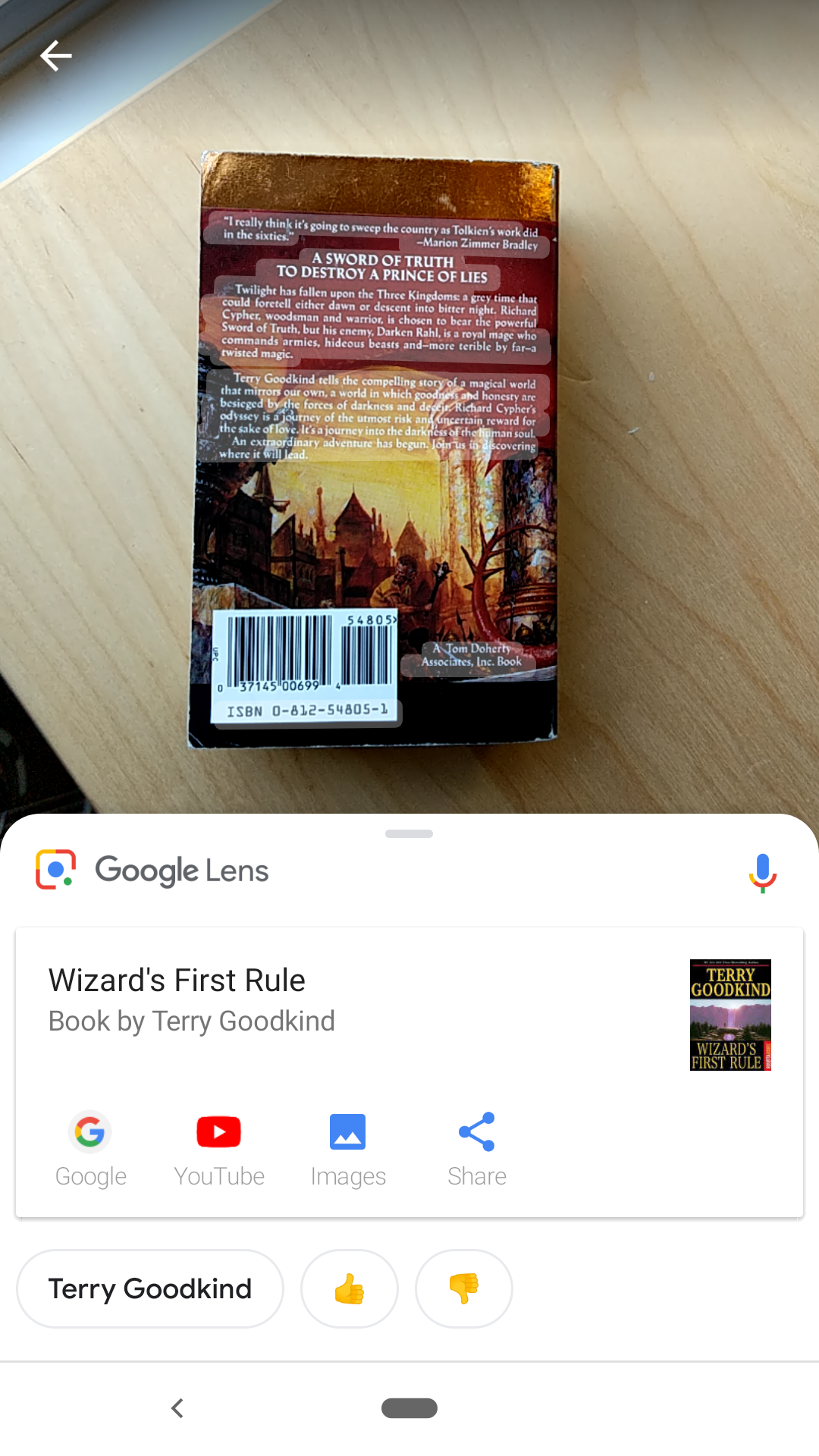 Google Lens could also decipher what the book was if you took a photo of its rear, though I was hoping that having the barcode on there would allow Google to suggest places to purchase a new copy. Alas.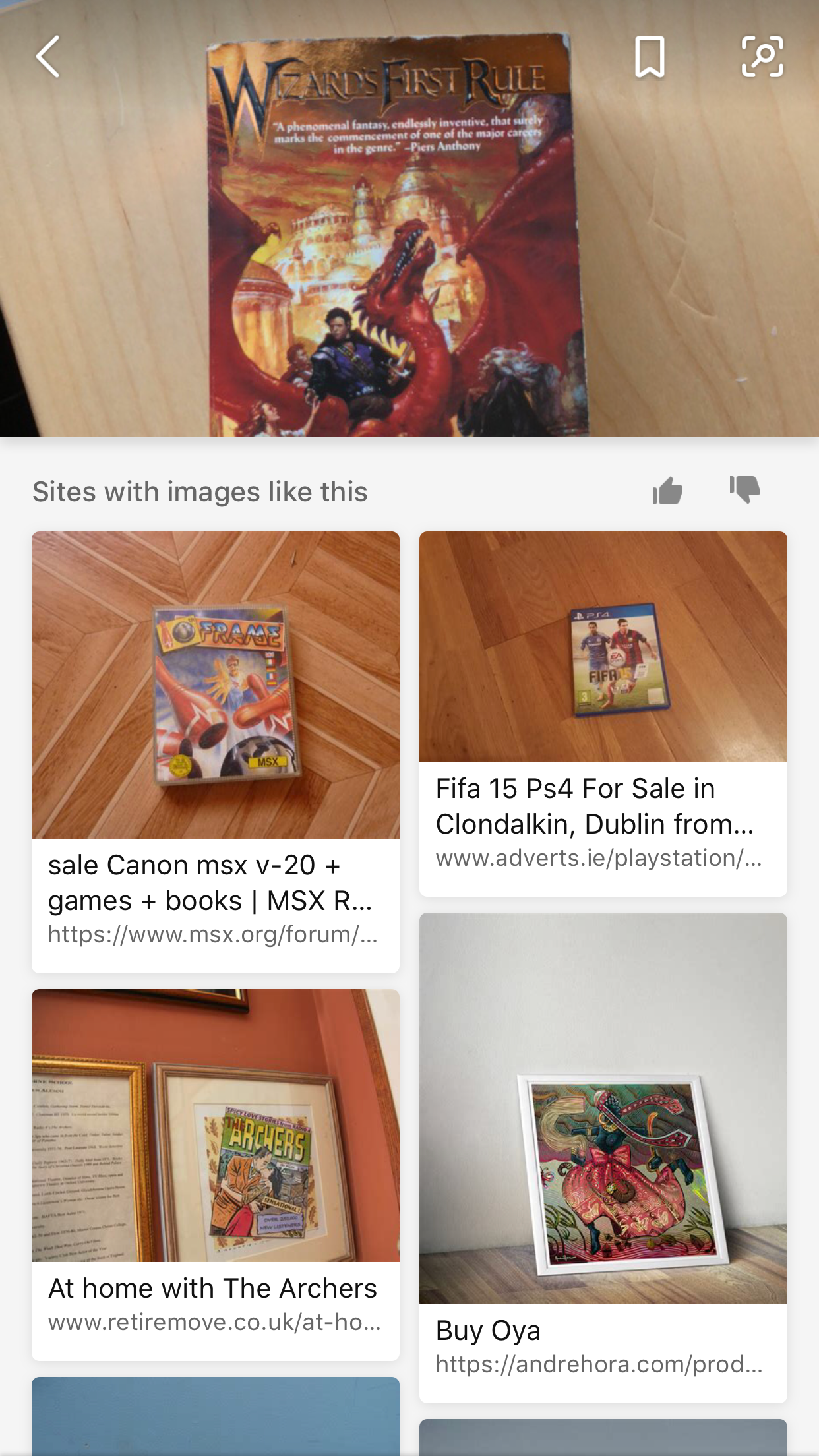 Not even close, Visual Search for Bing.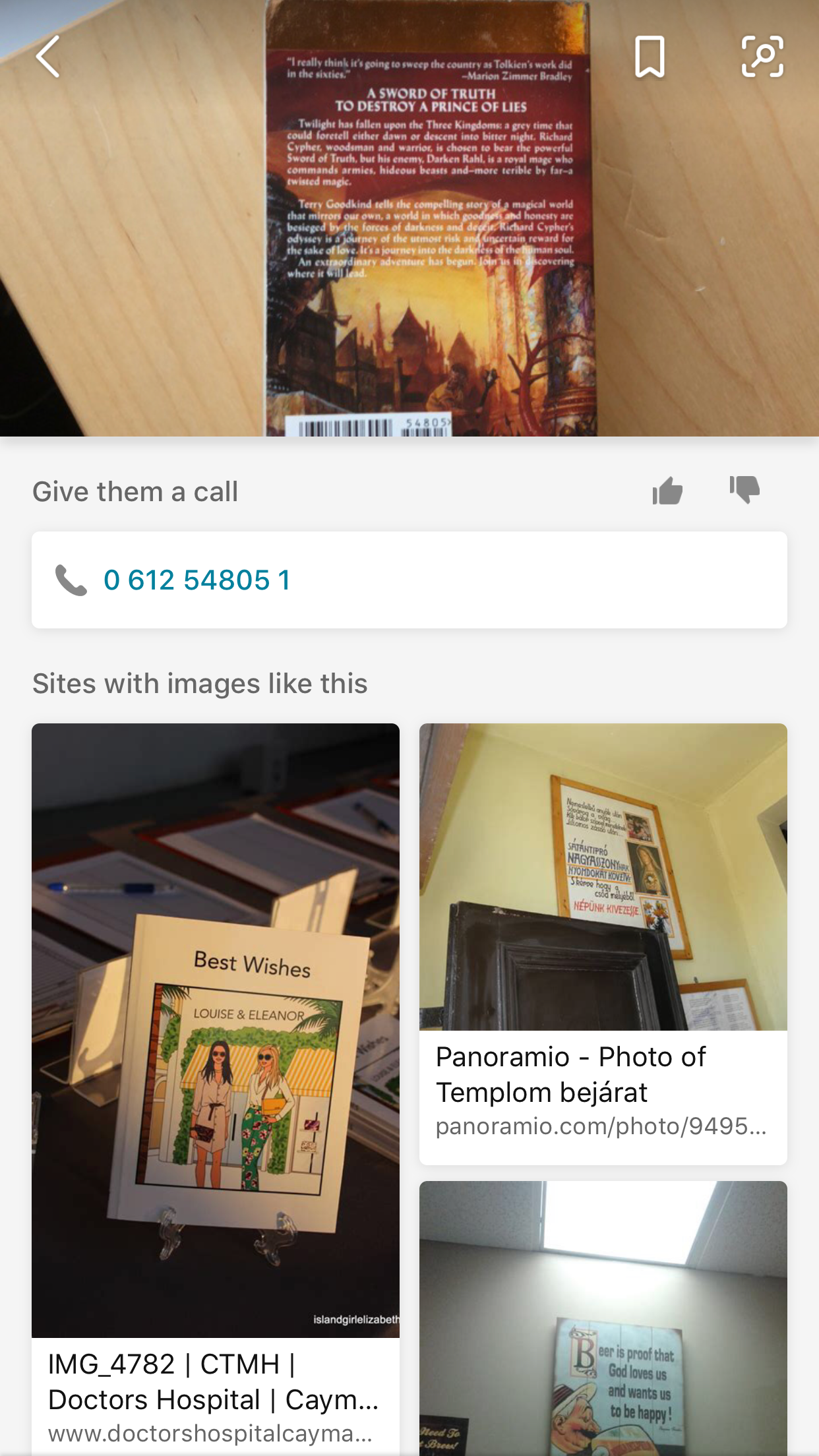 I'm pretty confident in saying that the Bing tool had no idea what this book was, or possibly that it was even a book to begin with.
To round out the category, here's a video game that I was very excited about and have yet to play much of:
Screenshot: David Murphy
Google Lens is pretty good at scanning all kinds of quirky text, I'll give it that.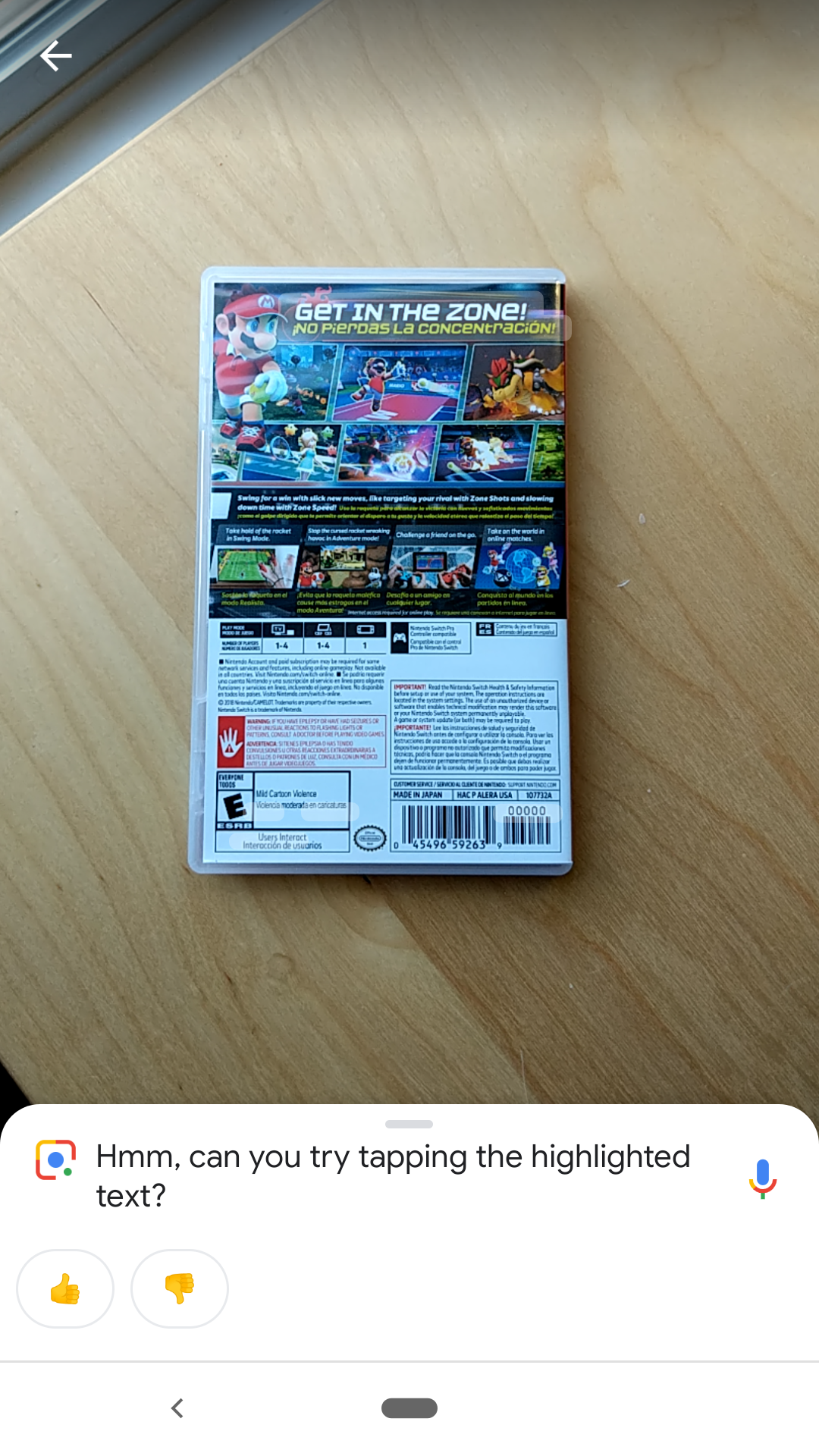 …well, almost all kinds of quirky text. I suspect I might have had better luck if I zoomed in on the back of the game's case, given the text overload.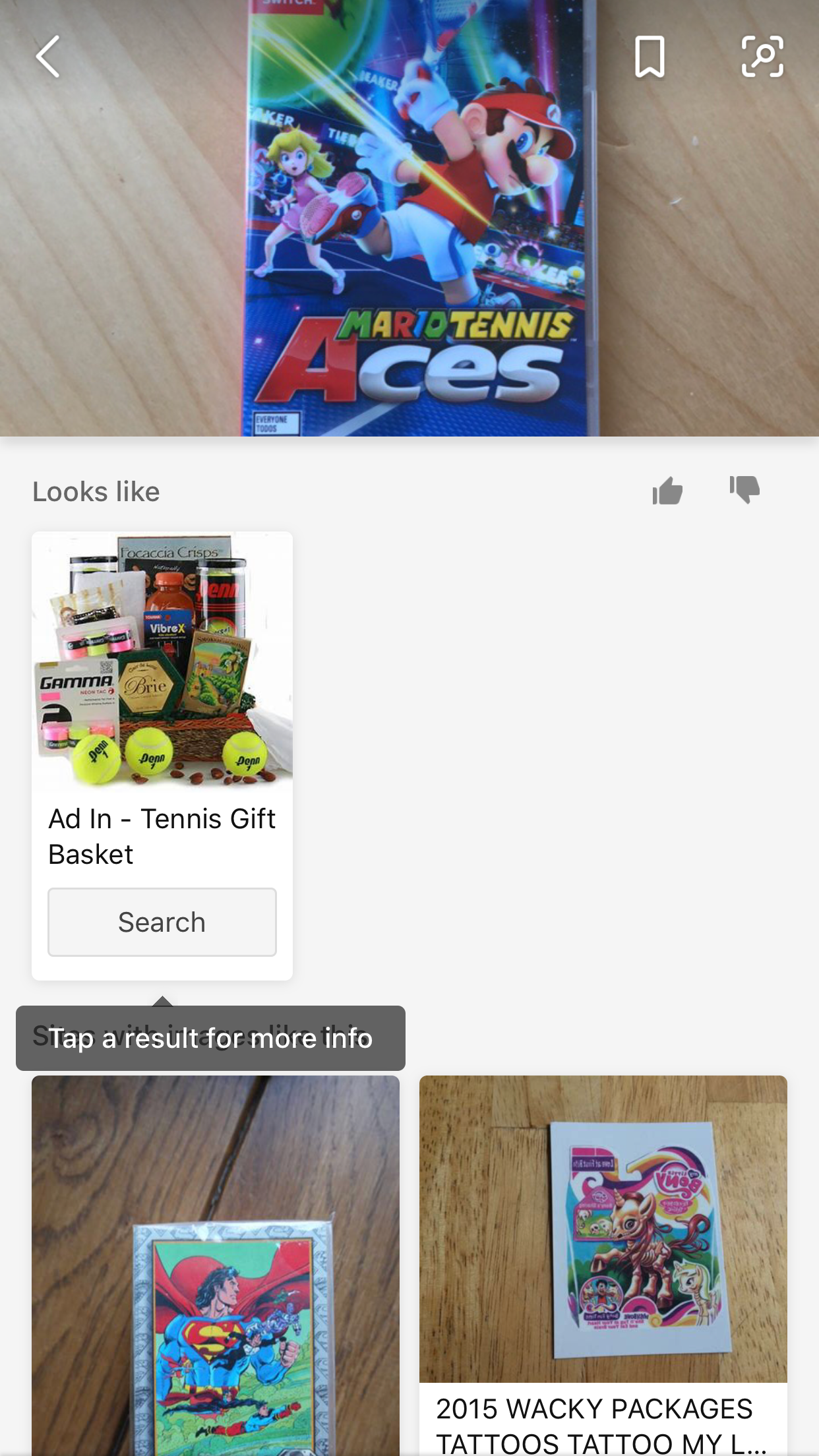 Well, Bing's visual search got the sport right, at least.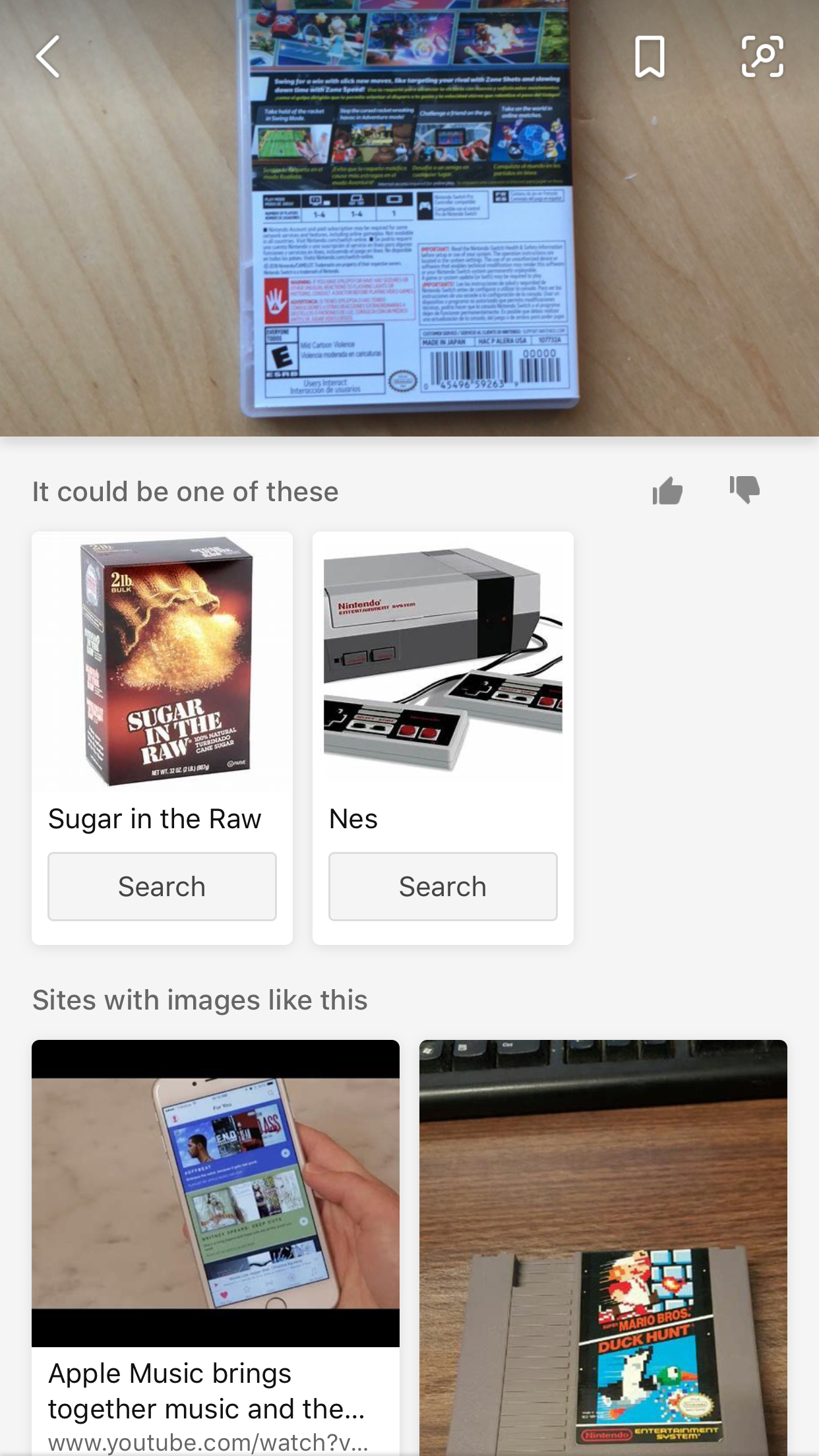 I didn't have high hopes.
Moving on to a more practical use of these camera technologies, here's how each app treated a simple business card. I've blurred out some of the key details in the interests of privacy, but I'll talk about how each app worked in the captions.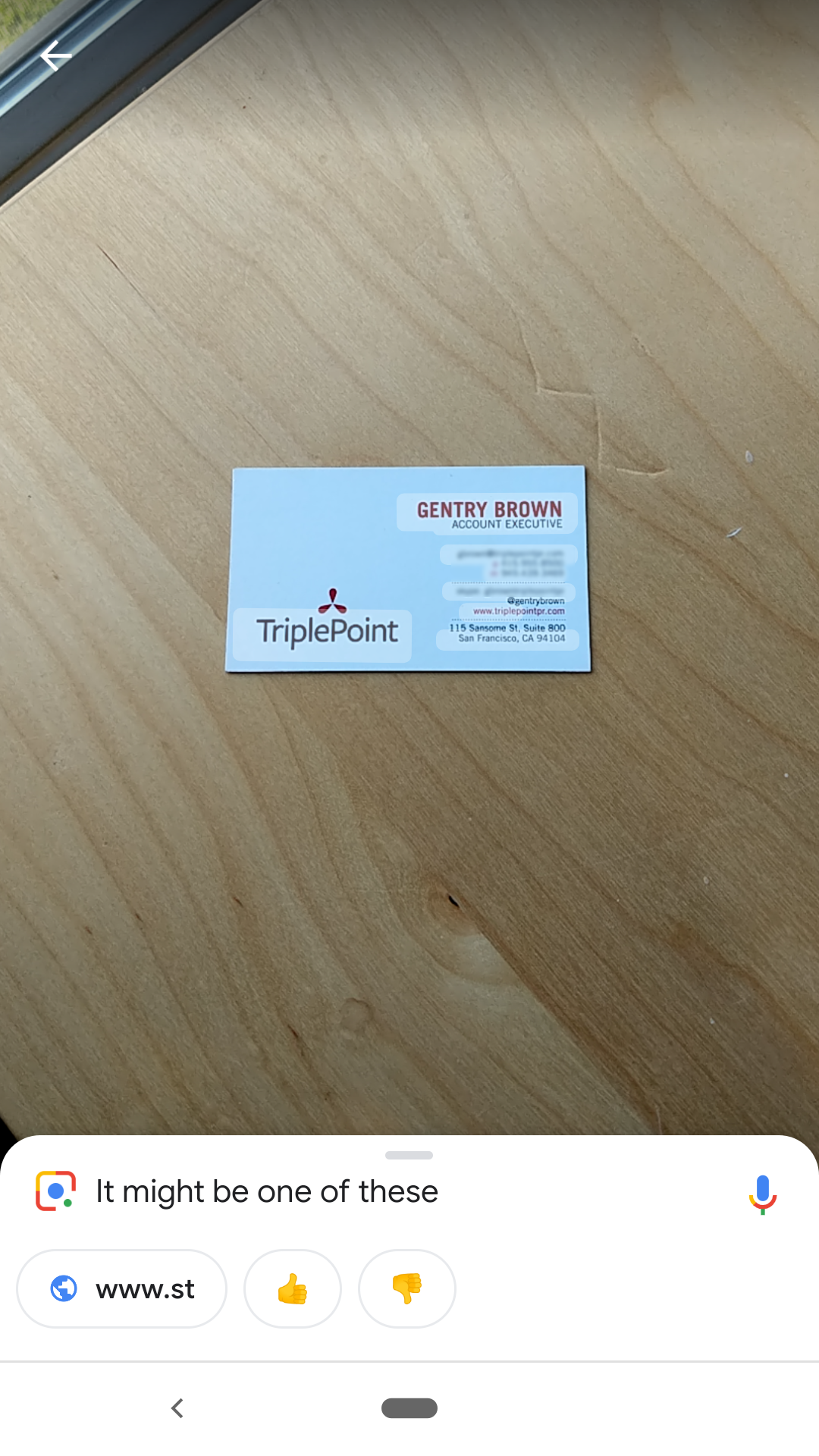 Screenshot: David Murphy
As I mentioned earlier, sometimes you just have to zoom in a bit closer in order for an image-recognition app to do anything. From a distance, Google Lens struggled with the business card.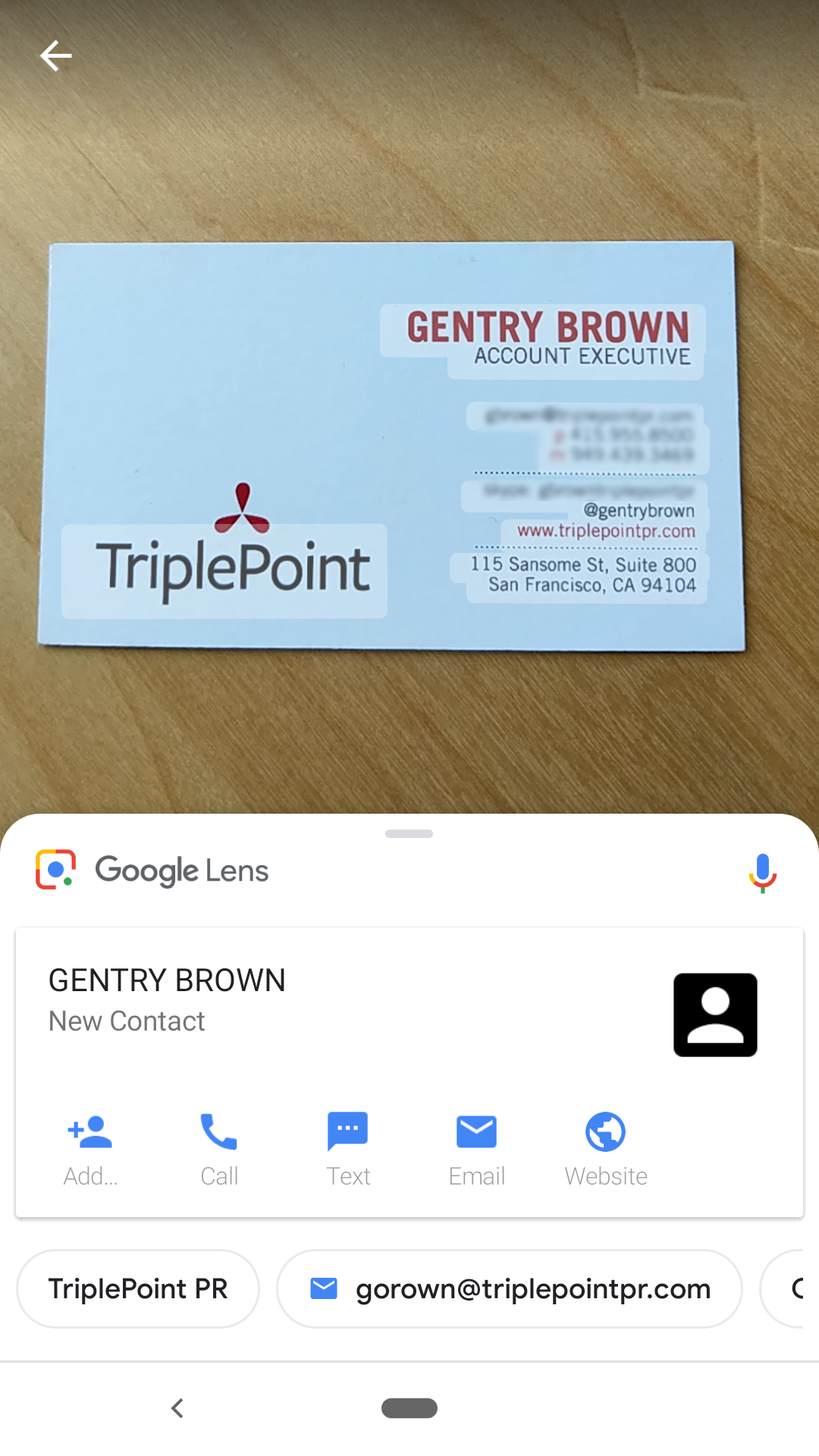 Zooming in, however, made it easy to identify all of the card's key details.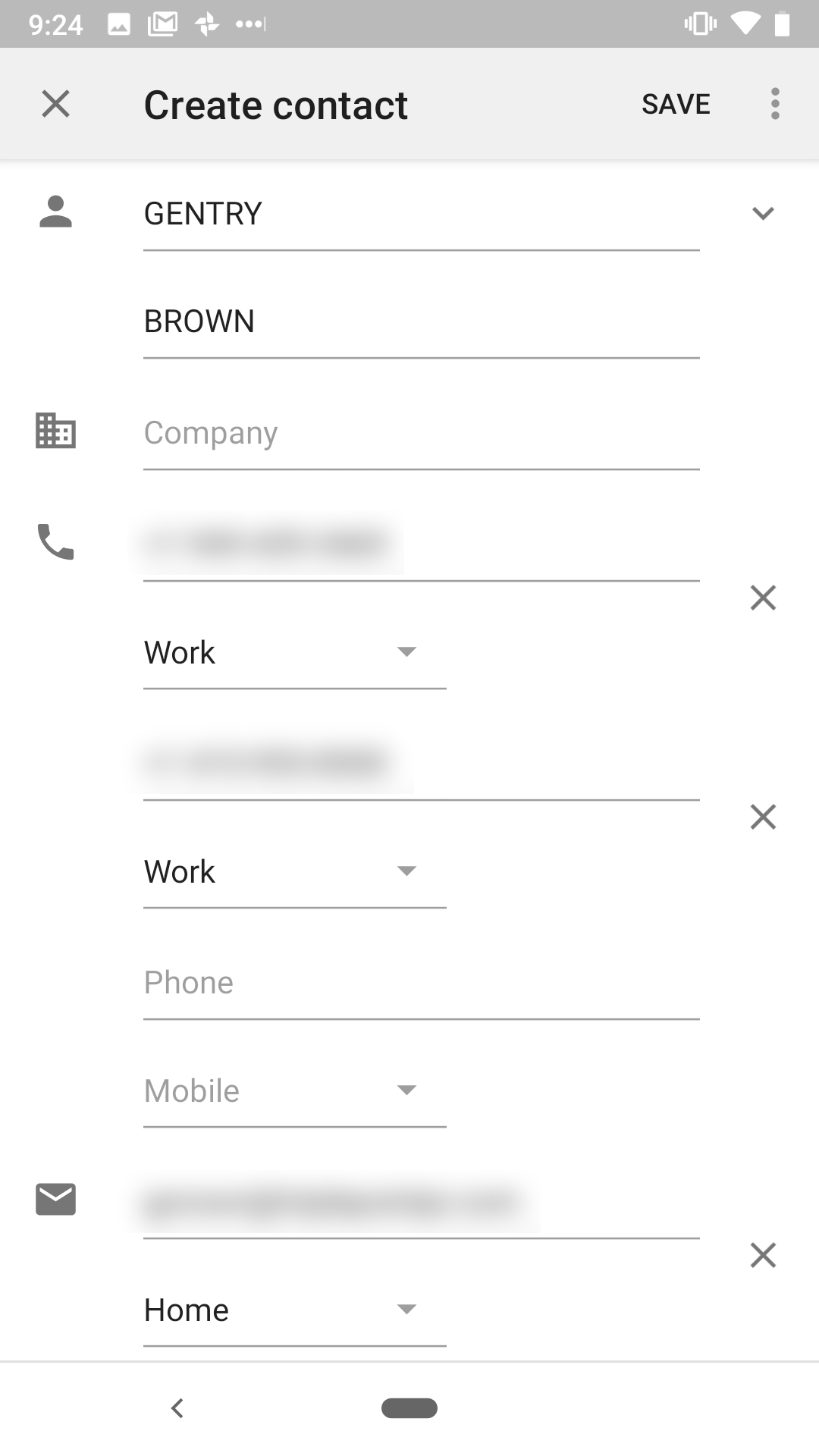 And Google Lens also makes it incredibly easy to add the details from a business card as a new phone contact. Maybe I'll get around to digitising my collection one day…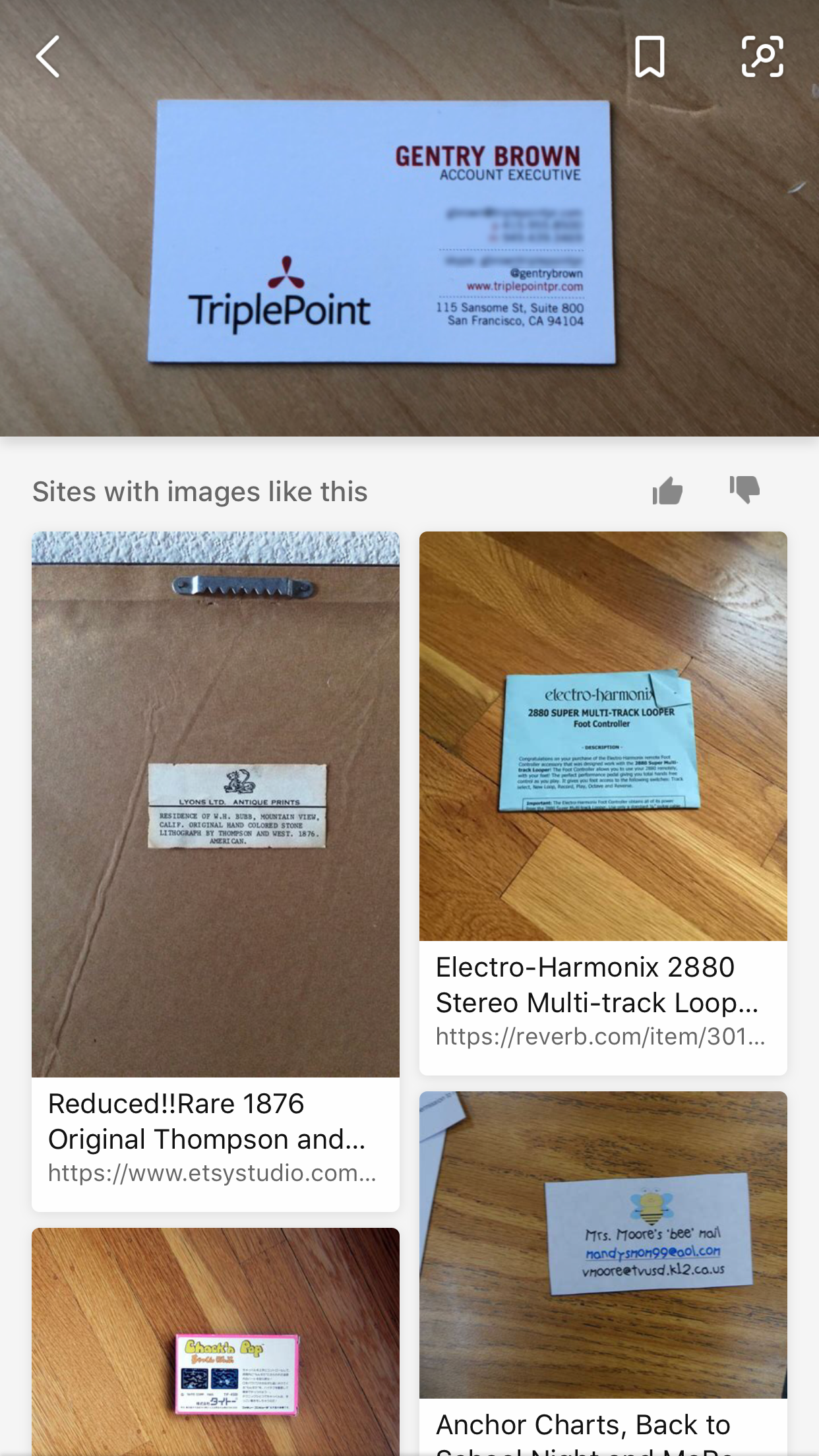 Bing's Visual Search could identify that the object in question was similar to other photos of white rectangular things.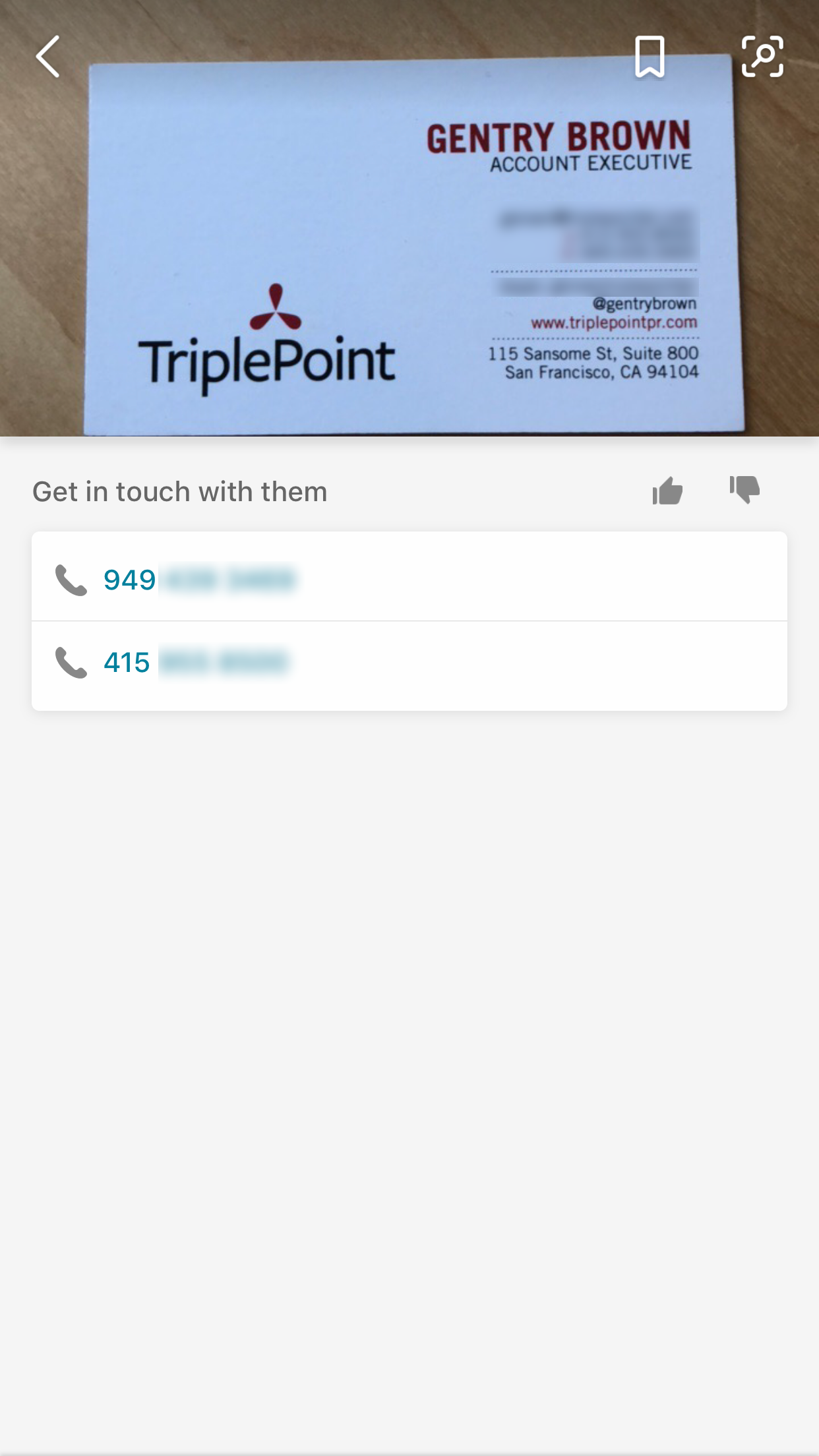 After a few more attempts (and zooming in a little), I could at least use Visual Search to call numbers the Bing app identified on the business card itself.
Round Two: Monuments
Since Lifehacker doesn't give me a travel budget for experiments such as this, and "scanning landmarks and monuments to learn more" is one of each app's key features, I had to improvise. I pulled up photos of monuments and scanned those with each app — the apps can also scan photos you've already taken in your camera roll — to see what, if anything, Google Lens and Bing visual search recognises.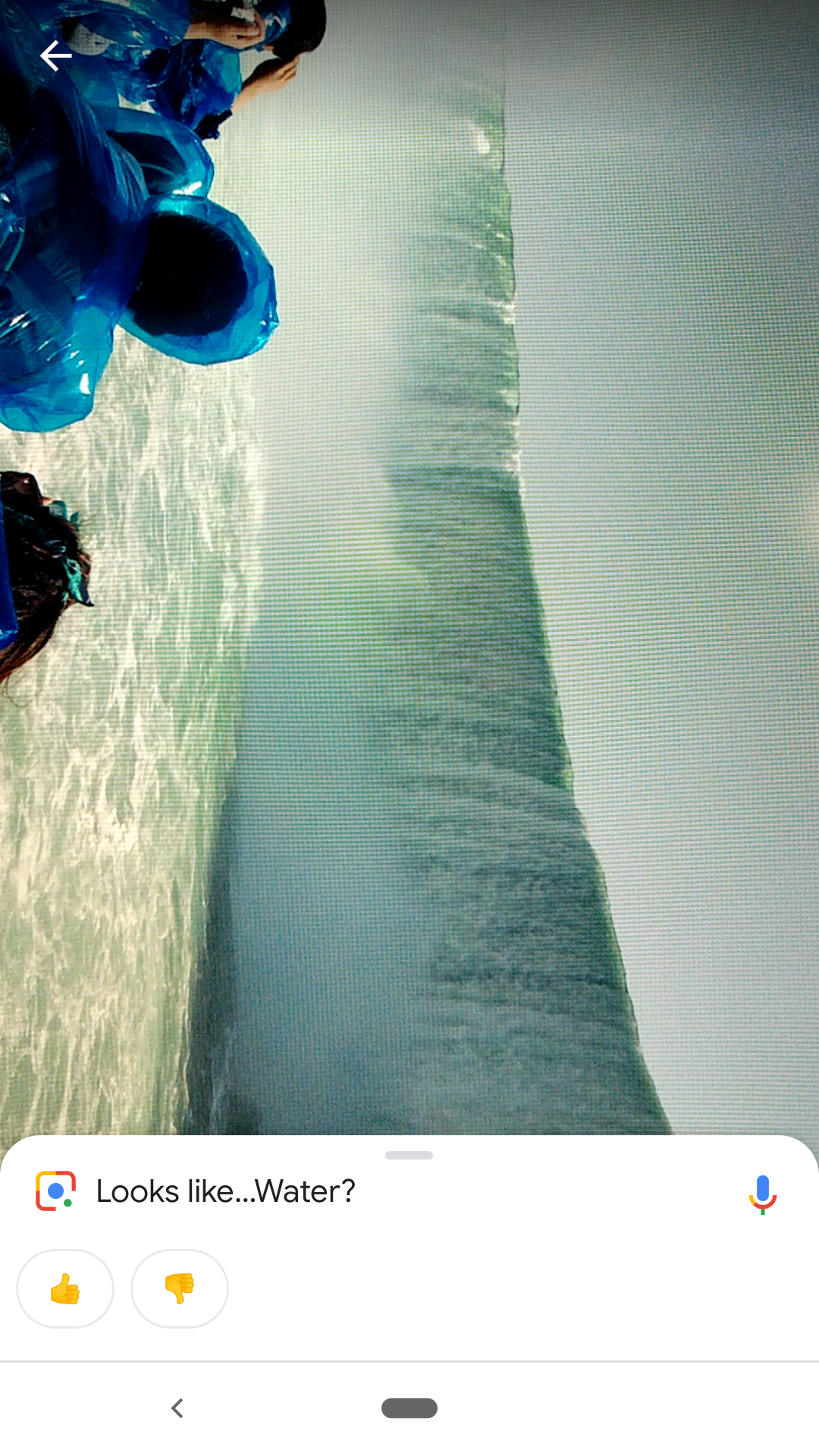 Screenshot: David Murphy
Well, Google Lens got that right, at least. I originally shot the photo in landscape, so maybe a portrait picture of Niagara Falls will work better…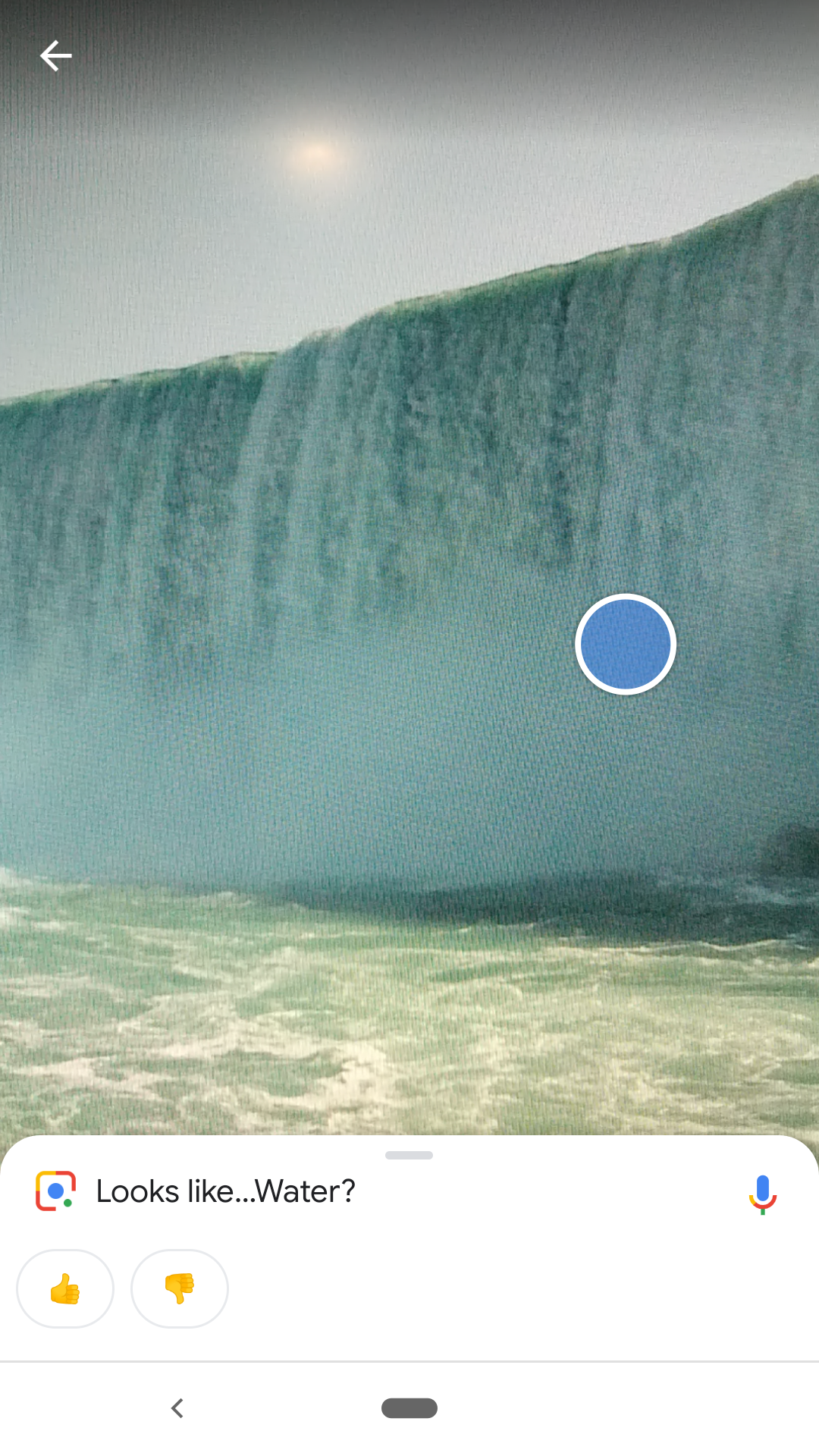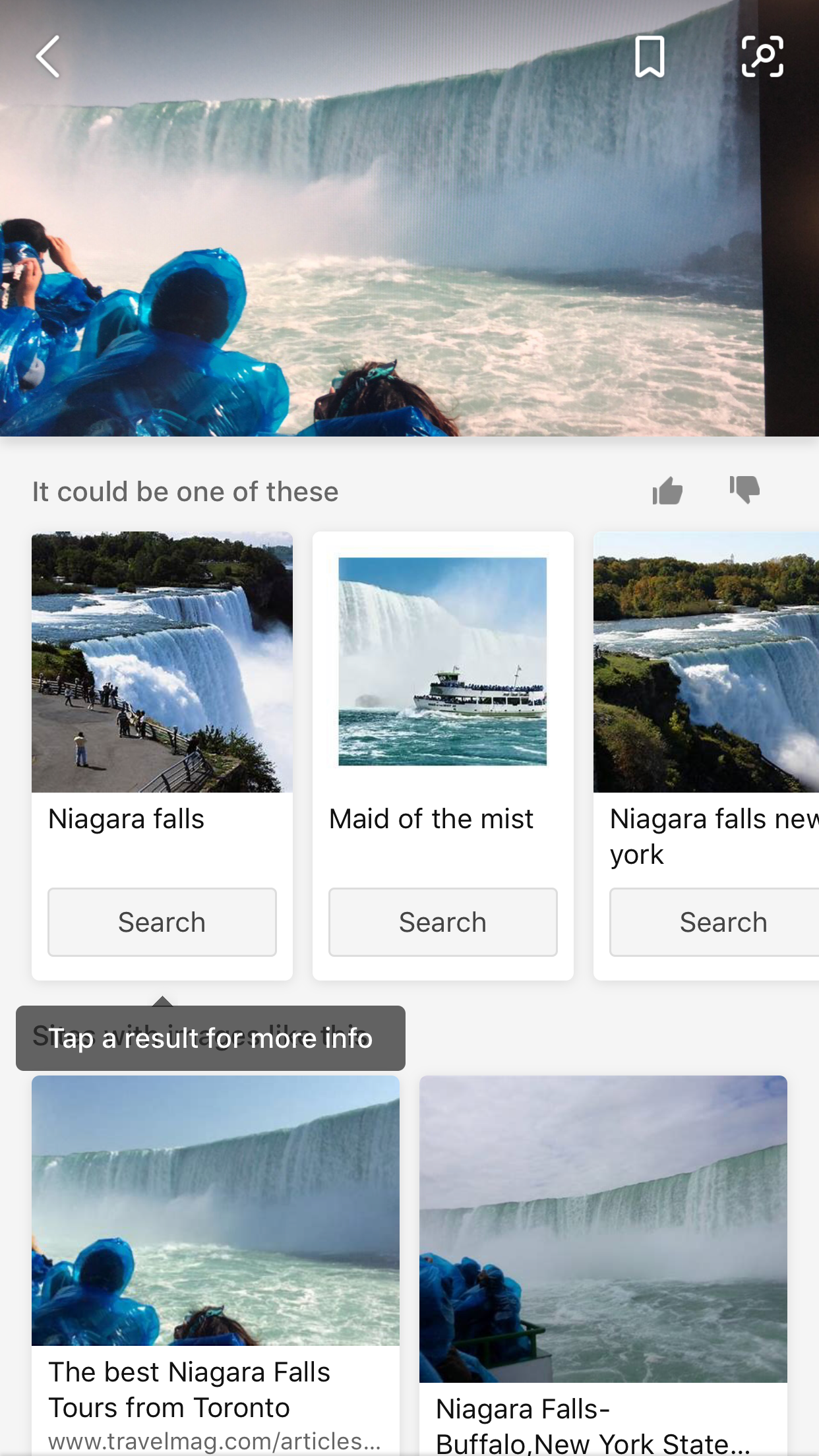 Nailed it, Bing. You are looking at a photo of a photo of a big-arse waterfall in New York (and Canada)
Anyone feel like climbing a giant mountain? I hear the cables aren't too bad: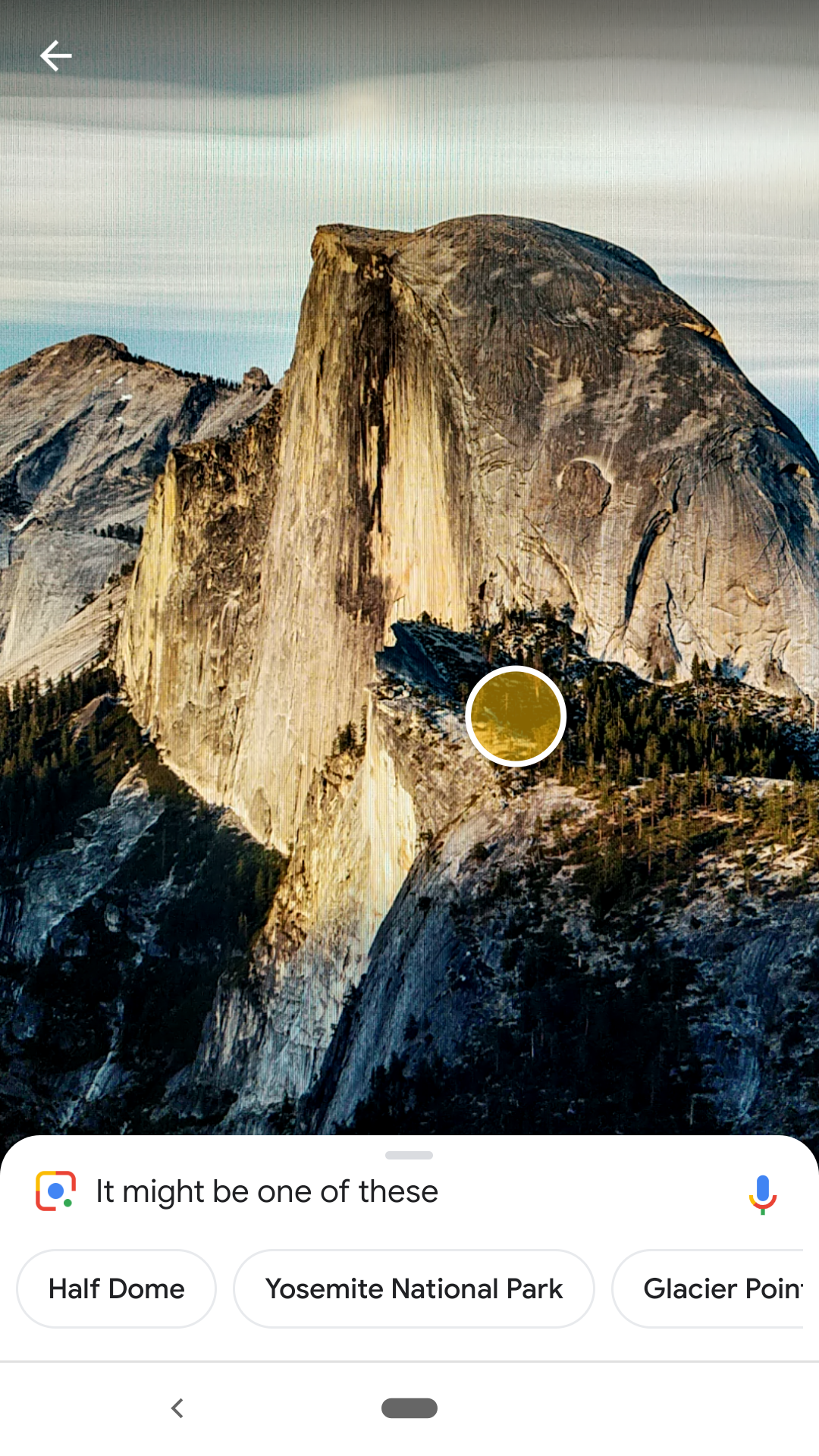 Screenshot: David Murphy
Easy-peasy, Google Lens.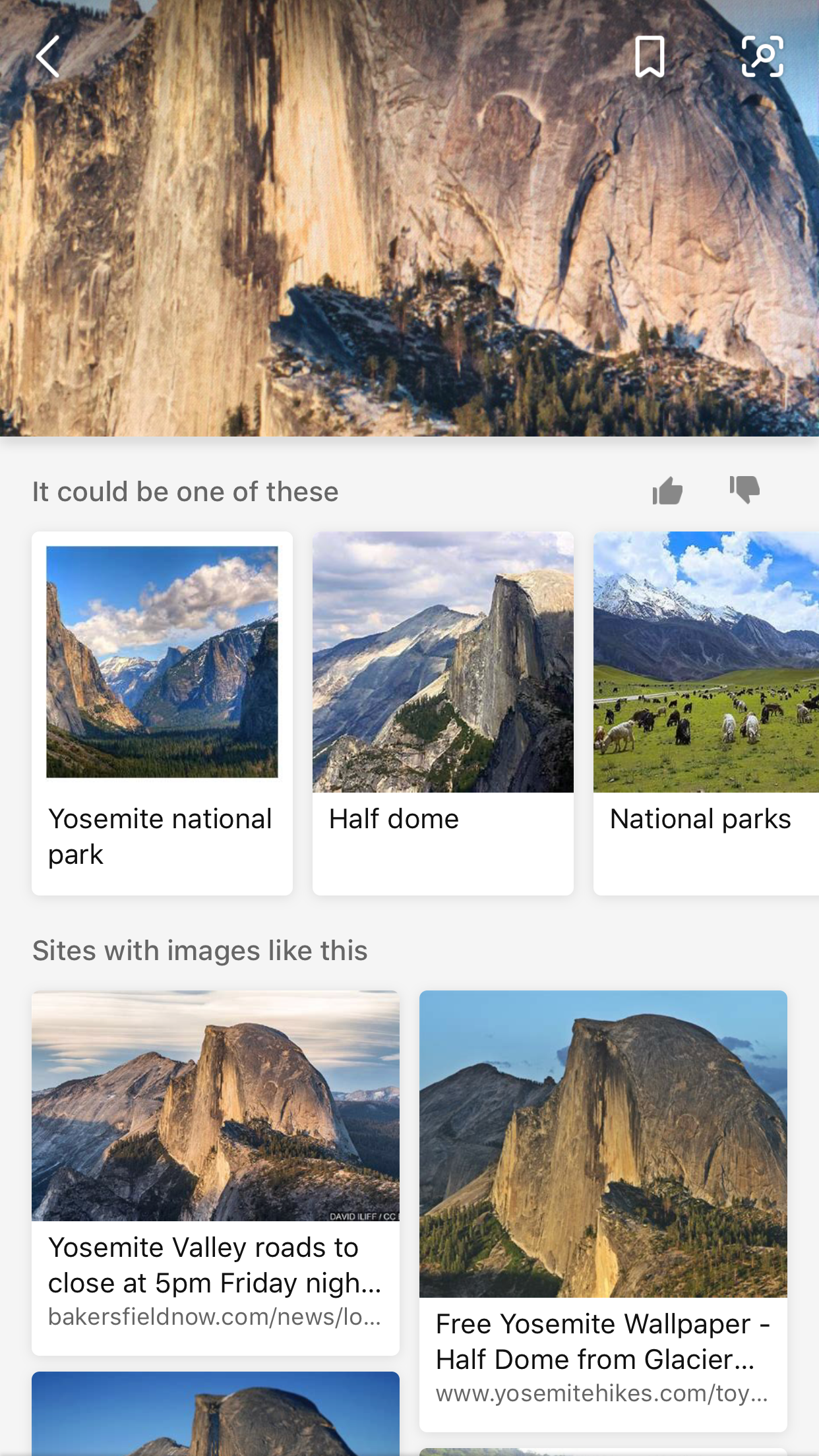 No problems from Bing. This is, indeed, Half Dome.
And, finally, the iconic tourist trap of the San Francisco Bay Area — no, not In-N-Out Burger: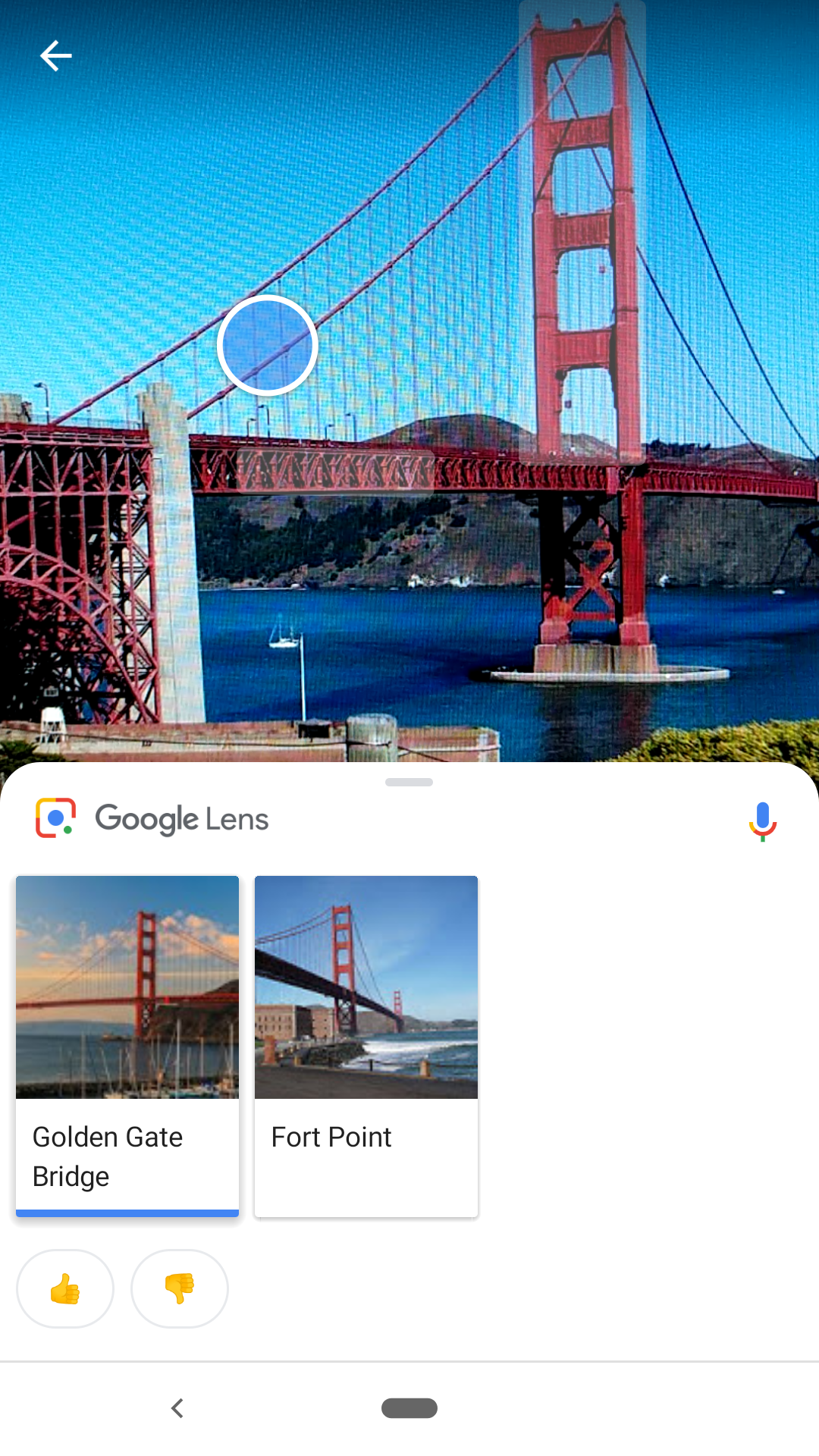 It kind of makes you want to start singing the Full House theme song, doesn't it?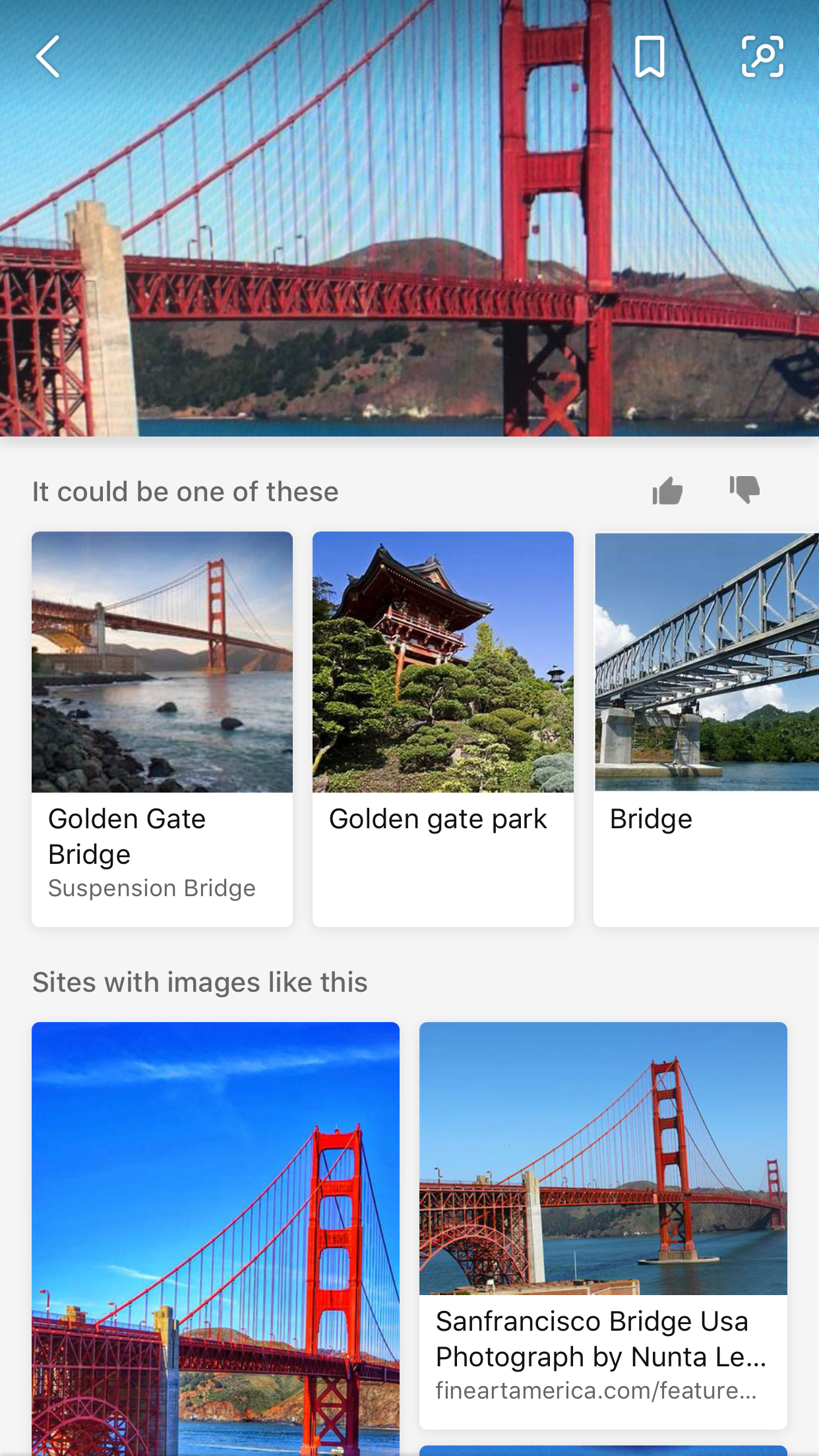 Everywhere you looooook everywhere you goooooo… Bing has no problem identifying giant bridges.
Round Three: Fashion
Both Google Lens and Bing's Visual Search claim to be able to identify clothing you or your friends are wearing and suggest matching items — or the item itself — you can buy. Let's see how well that works with two pieces from the David Murphy collection.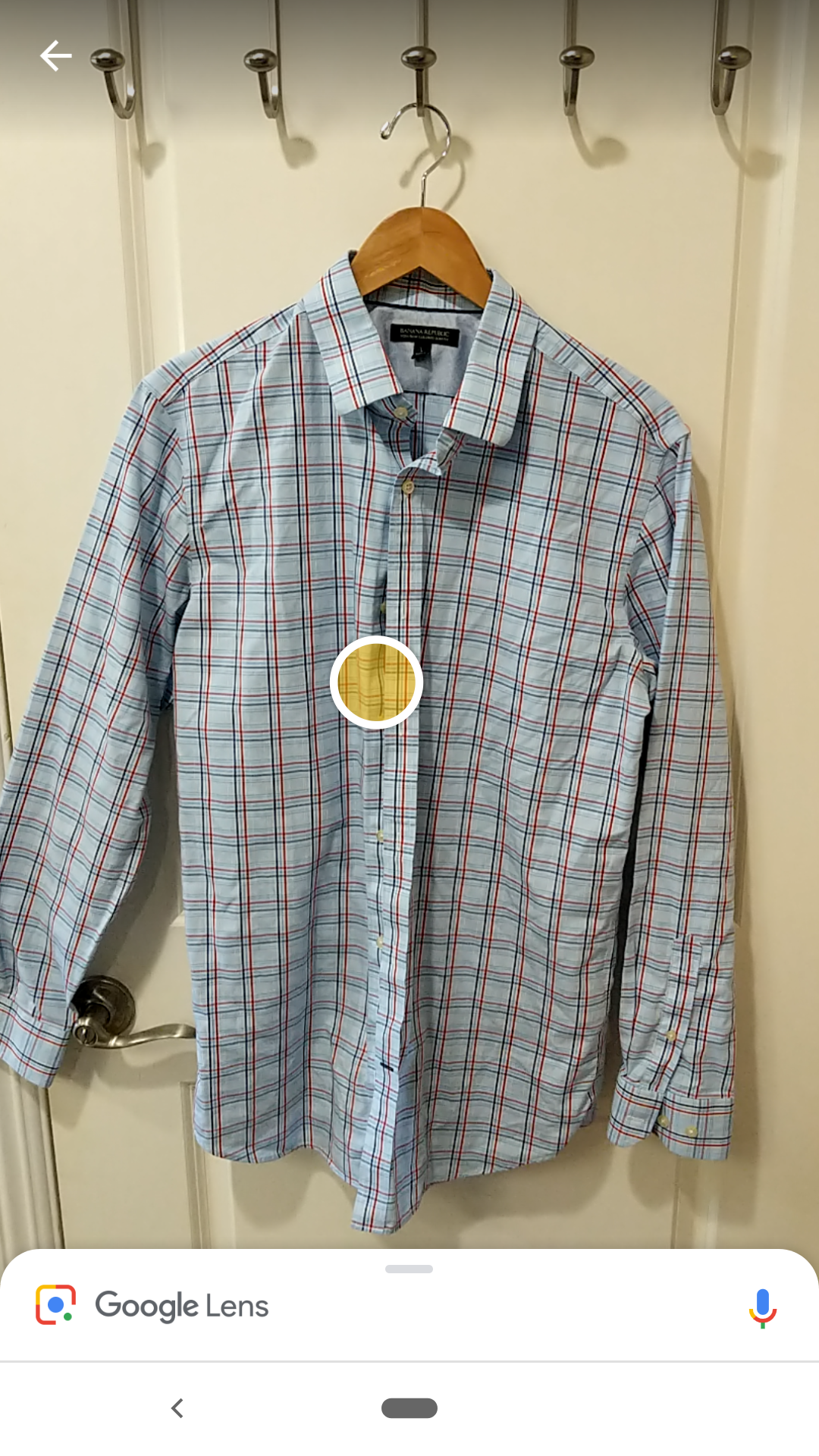 Screenshot: David Murphy
Here's item number one: one of Banana Republic's finest. Yes, I forgot to steam it.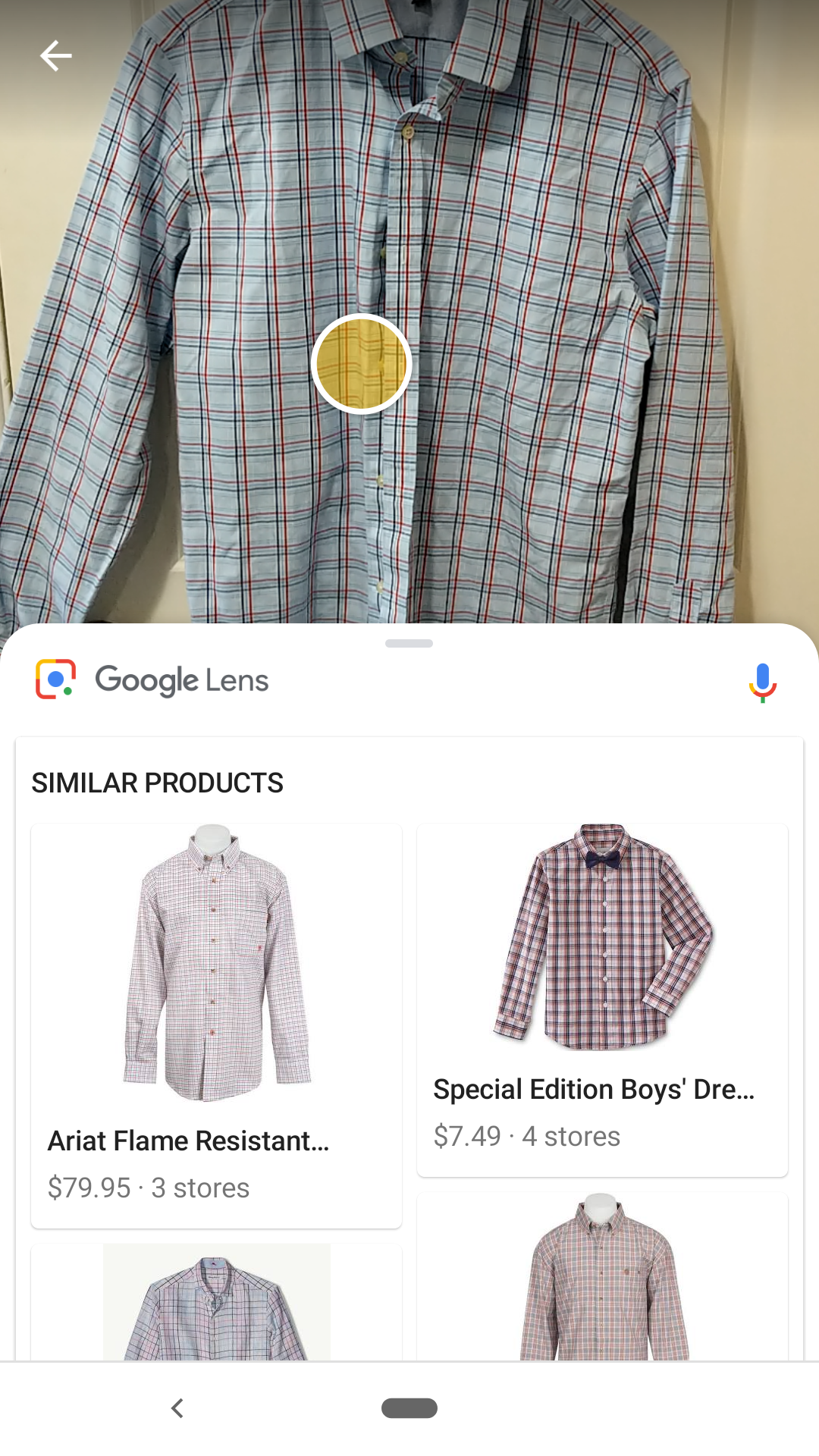 Ah, yes. A… flame resistant shirt. Well, Google Lens did identify other shirts with similar patterns, at least, but I didn't see any Banana Republic listings specifically in the results.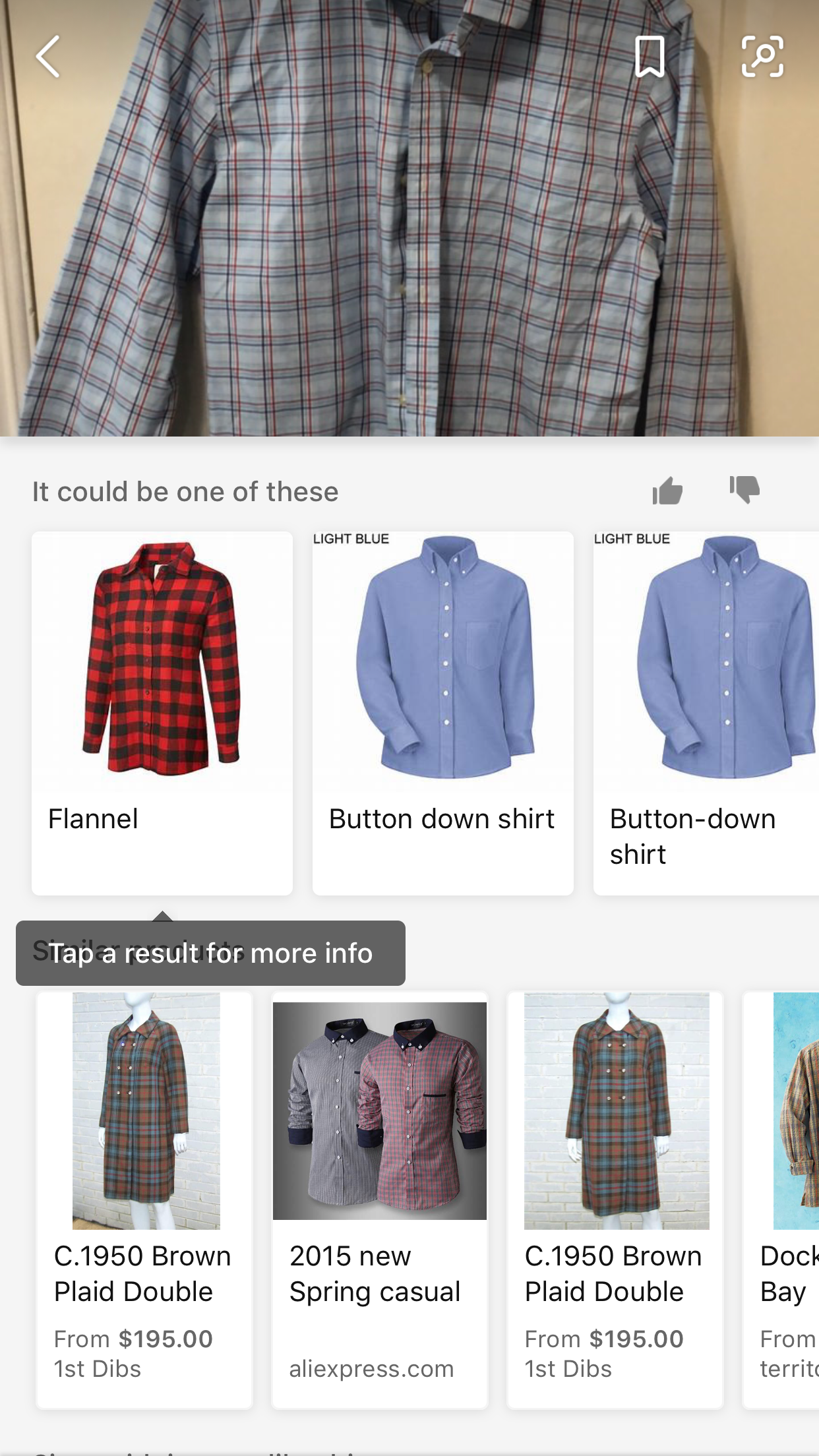 Although Bing Visual Search didn't identify the shirt at first…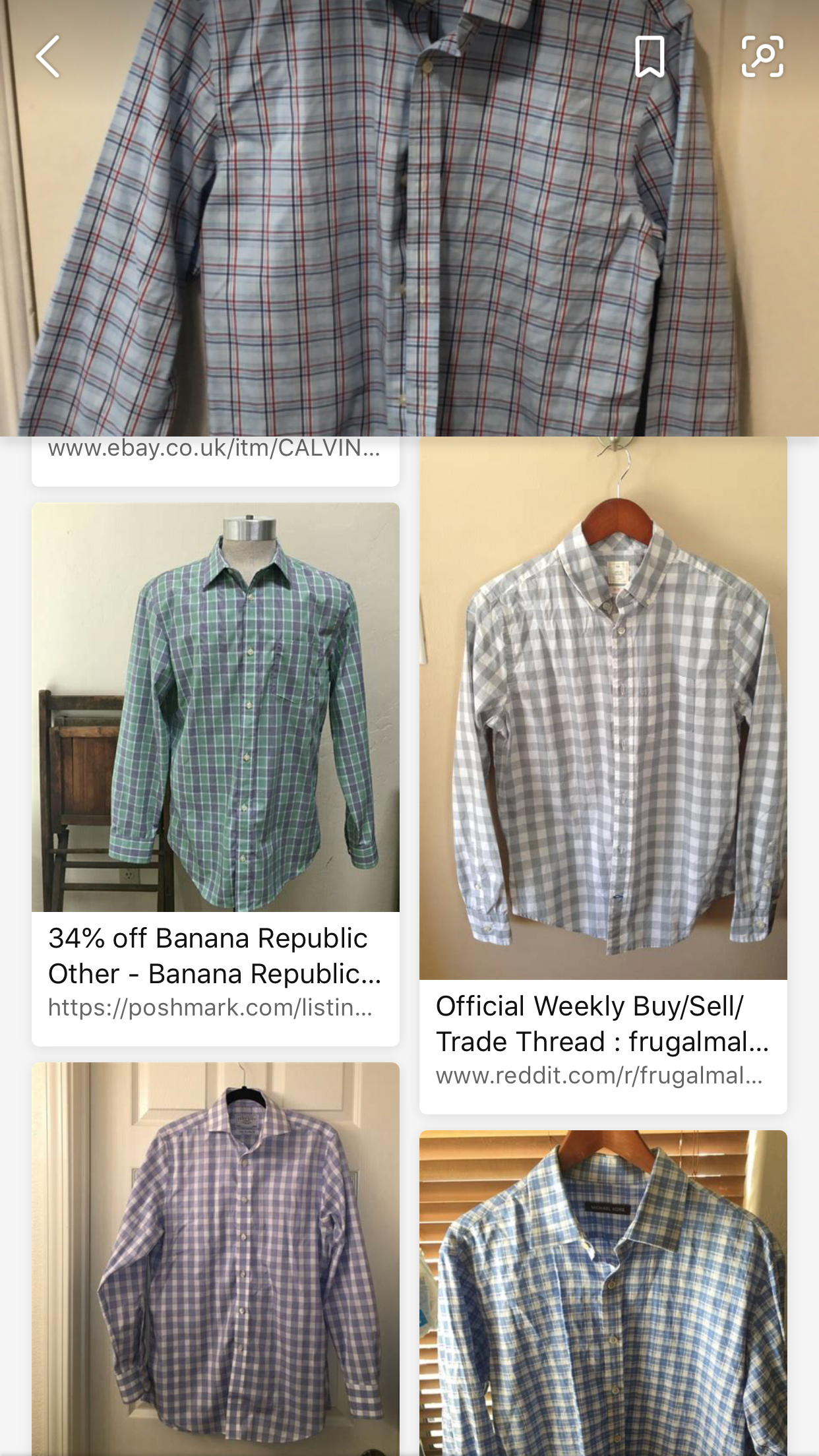 Screenshot: David Murphy
scrolling down a bit did eventually turn up a Banana Republic listing. So, there's that.
All hail Santa, First of His Name.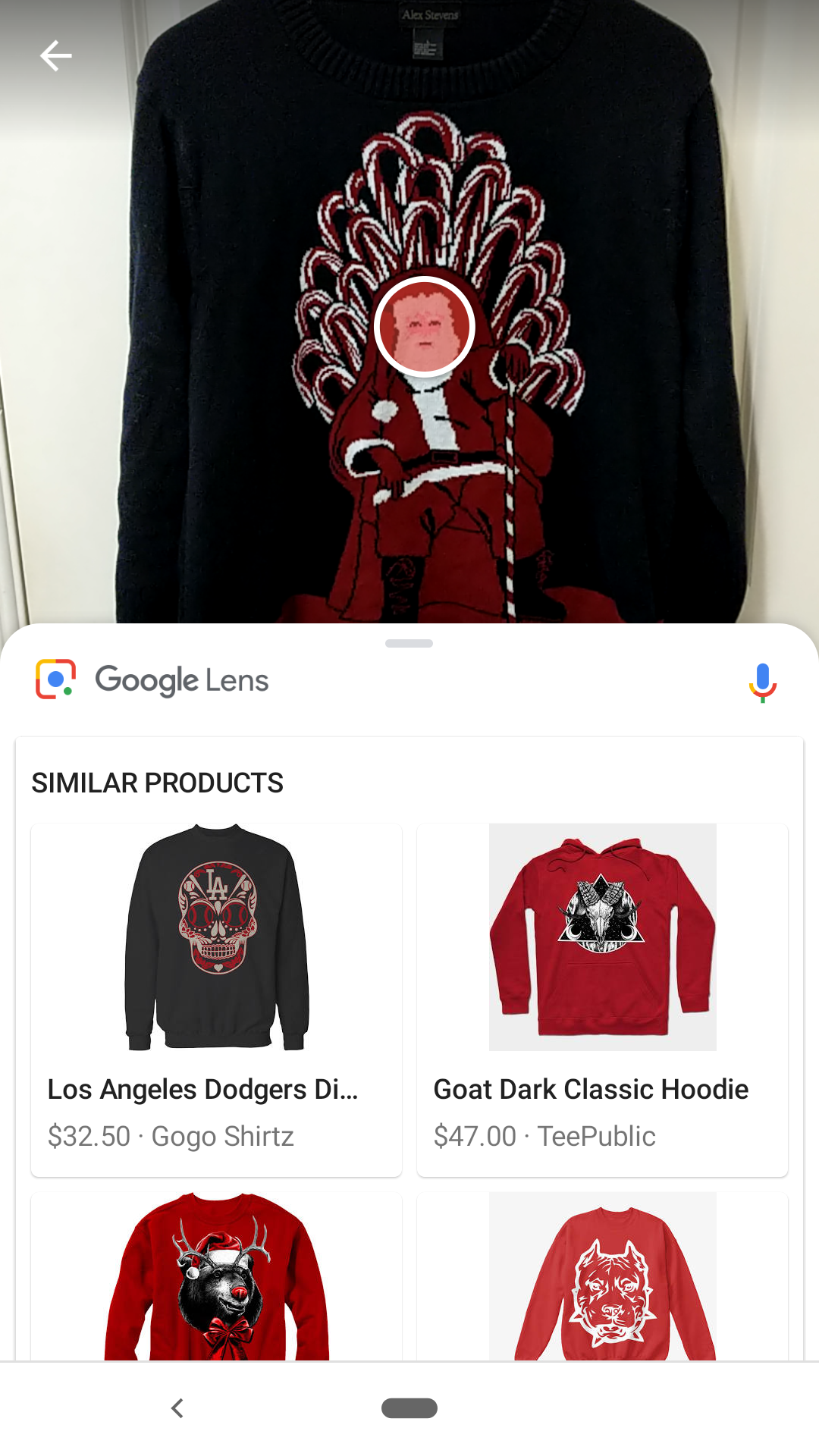 Screenshot: David Murphy
Google Lens had a little trouble with this one, one of the more unique holiday sweaters I own.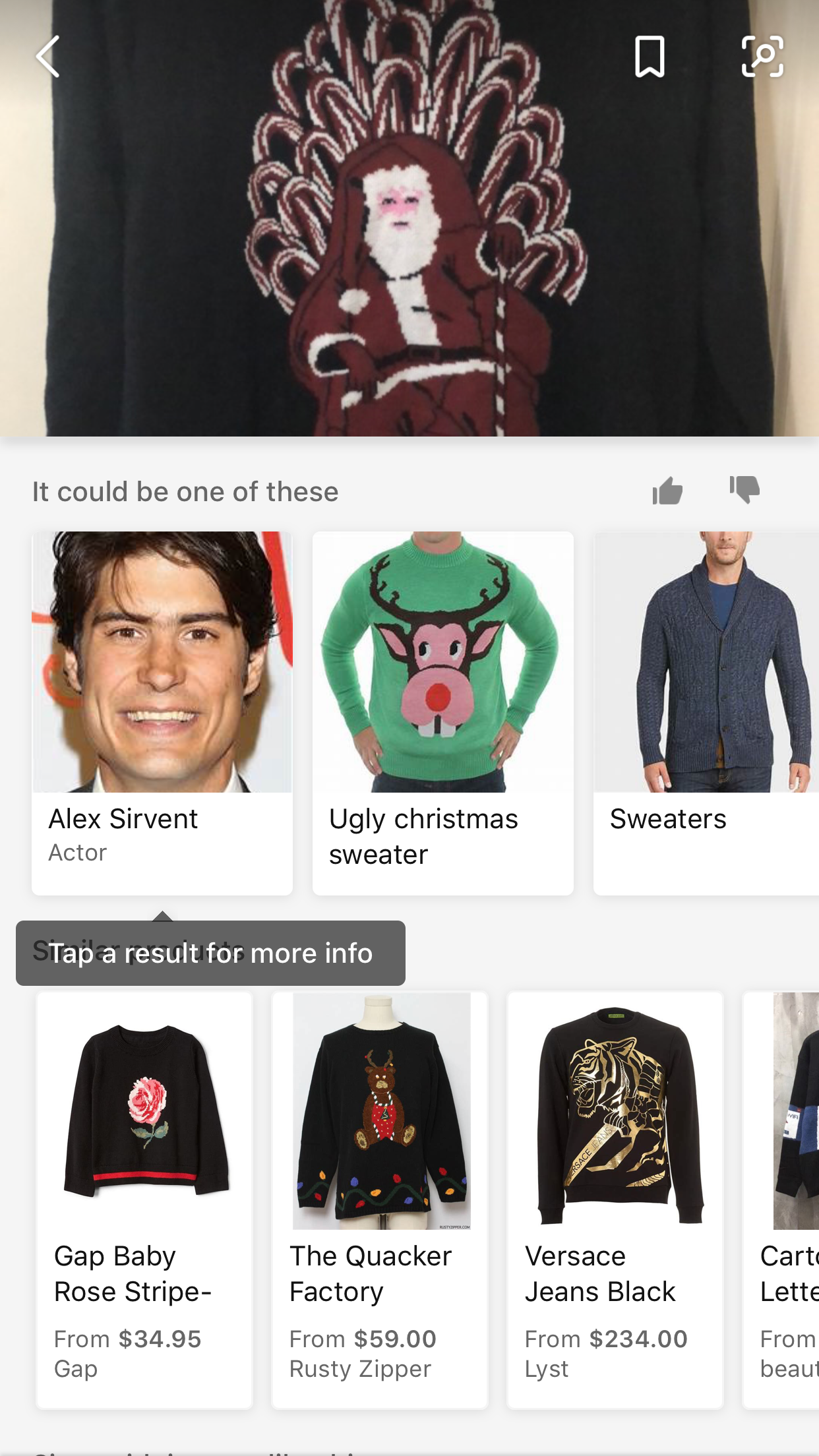 Bing's Visual Search also seemed to struggle at first, but then…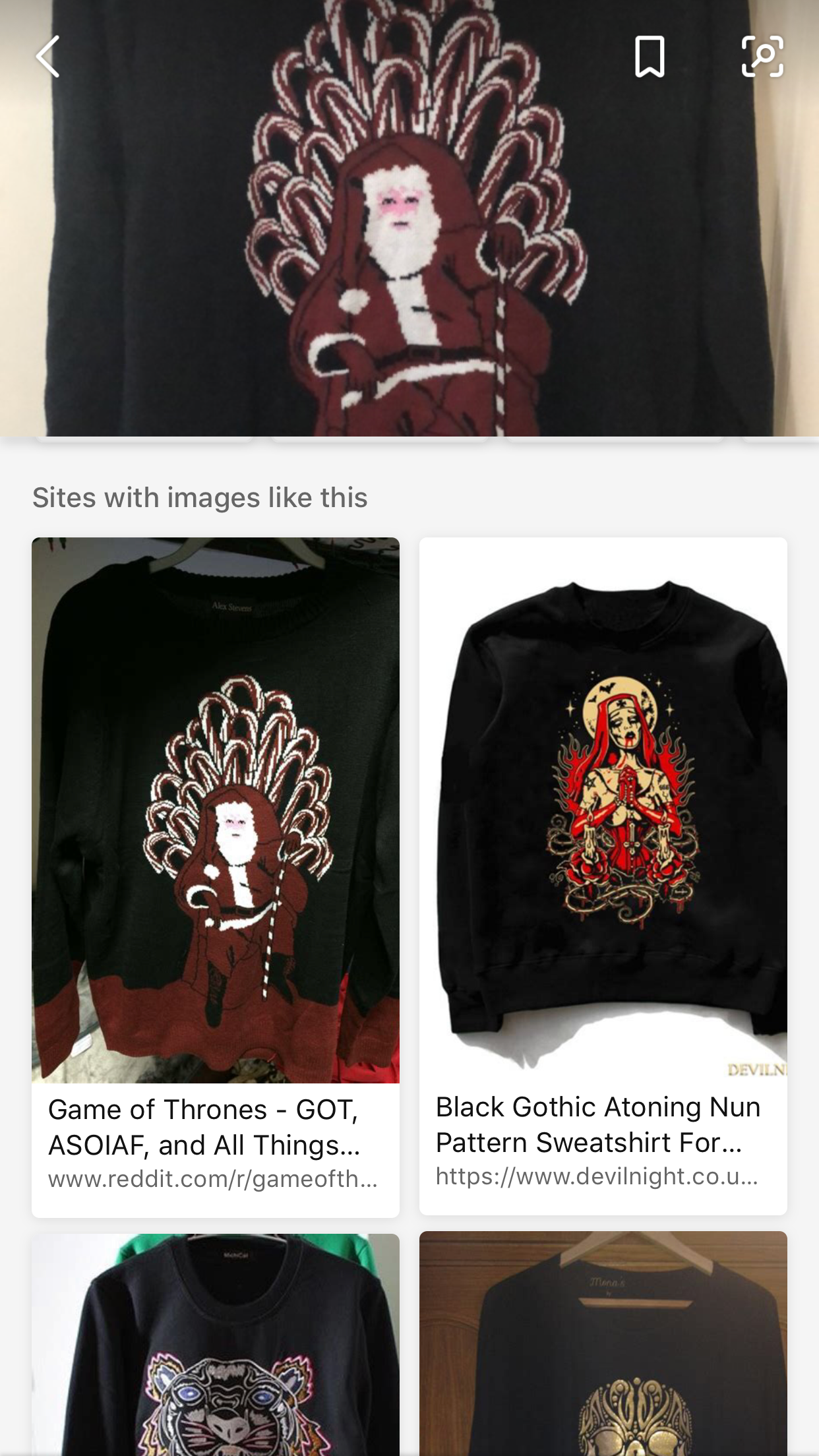 Boom. Here comes House Santa.
The Verdict: Google Lens (Mostly) Gets The Job Done
I generally found that Google Lens was a more useful tool for analysing the contents of whatever's in your camera at any given moment. Though it wasn't perfect — struggling a smidge with landmarks and not being all that interesting with fashion — the app crushes it on text recognition and practicality (especially when scanning contact information).
Bing is good at helping you find images that are similar to the composition of your photo, but it isn't as good as Google Lens at figuring out specific objects, and I think the latter's text-recognition capabilities are what take it over the top.
Though most of us will probably install (or pull up) Google Lens as an afterthought — something to play with on holiday or to impress a friend at a party — it's worth moving from the back of your head to a little more towards the middle.
I doubt I'm going to walk down the street and have Google feed me constant information about what I'm looking at, but the app certainly has its uses. Seeing how accurate it is identifying everyday objects, I might play around with it a little more in my everyday travels to see what else it can do.