Crap! Father's Day is this Sunday and you still haven't gotten anything for your old man. Thankfully, there's still time to snap up a last-minute gift that he will actually love. Most of these suggestions can be purchased from local brick-and-mortar retailers. (We've also included online links if your dad doesn't mind waiting!)
Affordable
Socks 'n' jocks
Wait, hear me out. Most dads (myself included) stubbornly cling to socks and underwear until they unspool around our waists and ankles. Some fresh pairs are therefore always appreciated. Bonds currently has 40% off men's socks and underwear. The same deal is available at Myer and Big W.
It was a stunning realisation and it came to me like a repressed flashback. I must have read the word 'underpants' combined with the word 'shopping' somewhere -- perhaps on Twitter or Facebook -- and like an involuntary reflex I asked myself. when was the last time you bought yourself a pair of underpants.
Read more
[clear]
---
Predator Box Set
If your dad is a blokey bloke who loves musclebound action, it doesn't get much better than the Predator box set. The pack contains three movies: the classic Arnold Schwarzenegger-starring original, the wacky-but-fun Predator 2 and the underrated Predators. You can pick it up from JB Hi-Fi for just $20.99 (save $8.99.)
[clear]
---
Bacon! Bacon! Bacon!
Deliveroo
[clear]
---
Moderate
Game of Thrones Mixed 2 Pack Wine
Wine is a pretty lame and thoughtless Father's Day gift – except when it's Game Of Thrones branded, of course! If your dad is a fan George R R Martin's A Song Of Ice And Fire saga, this is the ultimate Father's Day tipple. Shipped fresh from the Arbor! (Actually, I think it's from California, but whatevs.) You can get this one from Dan Murphy's.
[clear]
---
Detroit: Become Human
from the PlayStation Store for $54.95
[clear]
---
Eric Idle: Always Look on the Bright Side of Life tickets
Veteran comedian Eric Idle is coming to Australia for an intimate conversation about his life and career. The show is set to take place on November 27 at the Seymour Centre, York Theatre in Chippendale, NSW. The perfect Father's Day gift for a Python fanatic. Tickets start at $25 but you'll want to get the Premium $65 version which comes with a signed copy of Idle's book of the same name.
Exxy
Microsoft Surface Go
This week, Microsoft released the 2-in-1 Surface Go laptop. At 10 inches, it's the smallest Surface yet and arguably the best – especially if your dad only needs it for general day-to-day computing. The base model costs $599 and can be picked up from most major electronic retailers in Australia. You can also purchase it direct from Microsoft.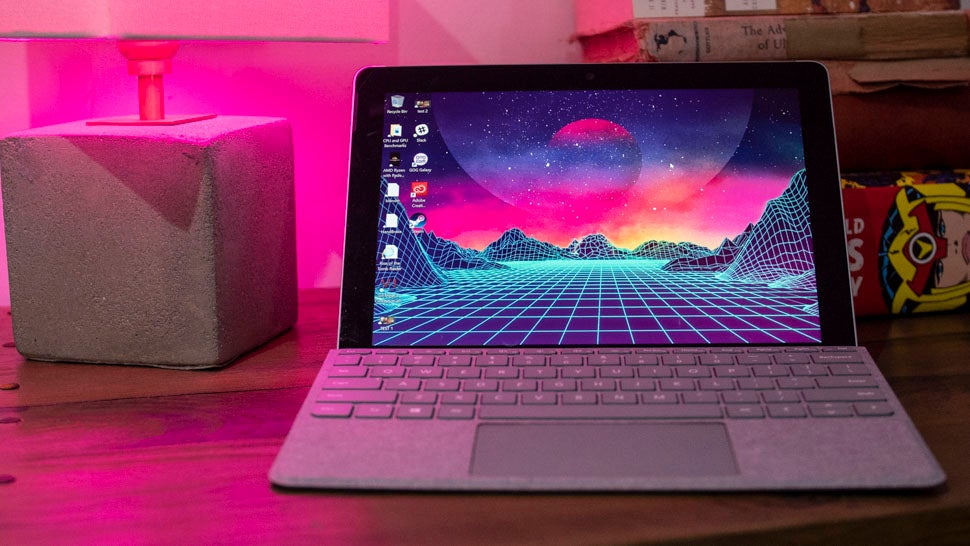 $839 is a lot of money... unless you're talking computers. Any computer you buy for that little is firmly a "budget" PC, as far as the people making them are concerned. They're not impressive, or especially fast, or pretty. They're purely functional - the Ford Fiesta of computers. The sheer mediocrity of the sub-$900 range of laptops is why the new Microsoft Surface Go is so damn special. It's a cheap laptop that's actually nice.
Read more
[clear]
---
A streaming subscription
If you're dad is doggedly sticking to DVDs for his entertainment fix, it's time to hook him up with a streaming subscription. If he's a sports nut, you'll want to go with a Foxtel package which starts at $39 per month. If TV shows and movies are more his bag, Stan and Netflix are both worth considering – they start at $10 and $9.95 per month, respectively.
When Netflix finally flickered to life across screens Australia-wide, everything changed. Suddenly, we had access to movies and TV shows right there on our PCs, tablets and phones. In the intervening years, two competitors have rose to take it on. Stan and Foxtel Now. The battlefield is every couch around Australia, the weapons are Great Content, Aussie Dramas and Sports. What is the best streaming service in Australia and what's right for you?
Read more
[clear]
---
BenQ 4K HDR Home Entertainment Projector
from JB Hi-Fi for $2198
[clear]
---
DJI Mavic 2 Series drones

DJI's Mavic 2 Pro drone includes a Hasselblad camera with a one-inch sensor and goes for $2299. If that's a bit steep, the $1999 Mavic 2 Zoom includes a camera with a 1/2.3-inch sensor with 2X optical zoom and 4X digital zoom. Both are also available from JB Hi-Fi. (Just make sure your dad has boned up on drone flying laws!)
As more affordable options have entered the market in recent years, the number of drone owners in Australia has dramatically increased. </p> <p>But are there any laws or regulations surrounding drone usage? Absolutely, and if you're a drone user it's best to know them so you don't accidentally get fined.
Read more
---
As Lifehacker editors we write about stuff we like and think you'll like too. Lifehacker often has affiliate partnerships, so we may get a share of the revenue from your purchase.