When you're travelling with a larger group, you seem to always be receiving or sending a "Where are you guys?!" text.

Google Maps is a great way to do that sharing, in part because it's something that everyone probably has on their phone already, and it's cross-platform, so folks on iPhone and Android devices can keep track of each other in the same place and with the same amount of ease.
Now Google has added another great feature: The ability to see what your friend's remaining battery life is on their phone.
Google added over 500,000 images to Google Maps yesterday taken by spacecraft, many of which were taken by Cassini, which was launched in space 20 years ago.
Read more
The idea is that if you see Jenny's phone is about to die, then you'll know that her location probably isn't going to be correct (or at least won't update) an hour from now. It can also help you know that Jenny isn't ignoring your texts, and give you a good idea of where she was before her phone bit the dust.
If you've never shared your location with friends through Google Maps, the process is actually pretty simple. To do it, launch Google Maps and then press the hamburger menu on the top left side of the page (those three lines stacked on top of each other). If you don't see the menu on the left side, you may need to tap on the menu to start directions so Google Maps loads your current location.
From there, select "Location sharing" from the drop-down menu. A pop-up will appear asking you how long you'd like to share your location for. Below that you'll see a Contacts button you can press and select whom you'd like to share your location with (press the More button to get access to things such as Messenger and WhatsApp). Select the folks and you need, and you're done.
It's super simple to set up, and now when you look at your friend's location you'll see their battery percentage as well. Check out the screen grab below of my boyfriend tracking my trip through San Francisco's Mission while I was researching this article.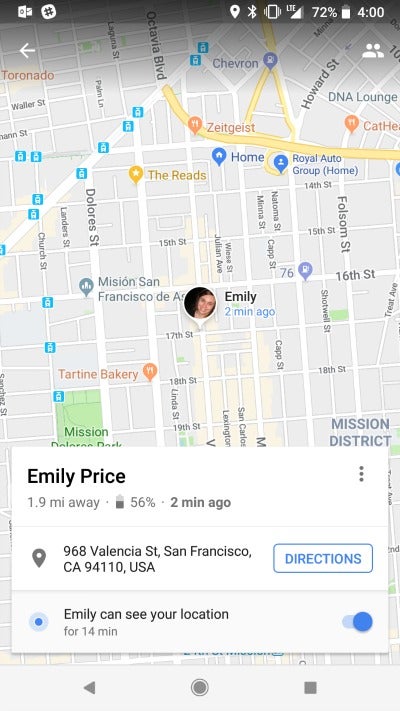 Screenshot: E.Price / Google Maps
Speaking from personal experience, being able to just navigate to your pals rather than having to rely on them to A) having their phone out and B) being smart/sober/aware enough to give you decent directions to their location can be a lifesaver.