Maybe you bought a brand-new phone; maybe your phone just went through a major OS update. Either way, the result is the same: you can't connect it via Bluetooth to your older car anymore, which means you've lost the ability to rock out, enrich yourself with podcasts, or make hands-free calls.
Thankfully, you have a few options to fix this, ranging from "free and might not work" to "expensive and will definitely work". Don't baulk about the potential cost, though; if you don't want to deal with cables, Bluetooth is incredibly convenient when you're driving (when it isn't screwing up).
Check your car's manufacturer for firmware updates
This one's a long shot, but it's possible that your car's system — whatever it uses to make Bluetooth work — has some kind of update that will restore the functionality you no longer have.
First, make sure the device you're using is running the latest version of its operating system (your smartphone, likely). After that, hit up your car manufacturer's website, visit its support pages — or wherever it keeps all the information you need to know about your specific vehicle — and see if there are any options for downloading updates for your vehicle's stereo or entertainment system.
If you're confused, because car manufacturers don't often make this process clear, you could always give your local dealer a call. You might even be able to bring your car in and have them check to see if there are any updates themselves — they might have to perform the update anyway, so it doesn't hurt.
They might tell you that they have to install software updates themselves, even if you can do it yourself for free. Or, as YouTube's "MrDazana" put it: "I was told by my dealer it was going to cost me 160.00 + tax. I told them to f**k off and found it on the web. Enjoy. Very easy to install".
Connect using a different method
If you're lucky, your car stereo has an aux port — 3.5mm jack, just like your favourite pair of old headphones. You're one cheap cable away from plugging in your smartphone (or your smartphone's ugly dongle) and getting all of your music and podcasts over your car's speakers.
If not and your car is old enough, you can always pick up a cheap cassette adaptor with a built-in 3.5mm cable. And if you have a newer vehicle with built-in USB ports, try using those instead. You might be able to get some functionality out of your smartphone even if you can't go the full Android Auto or Apple CarPlay route.
You won't be able to make or receive phone calls over your car stereo if you go the 3.5mm cable route, but at least you'll be able to get your music or podcast. And while your phone calls will blast out of your speakers, too, you'll have to awkwardly hold your device near your face for anyone to hear what you're saying. At that point, you might want to unplug your device and switch to its speakerphone: it's safer, more legal and a lot easier to deal with.
Buy a Bluetooth Adaptor with an FM transmitter
You've probably seen these dorky-looking devices before. Typically, you plug one end into your car's cigarette lighter — or "12V accessory socket", or whatever you want to call it — and you tune it to a specific FM frequency that isn't already being used by a local radio station. You connect your smartphone to the device via Bluetooth, tune your car stereo to the device's FM frequency and everything will work seamlessly via your car stereo: music, phone calls, the works.
In a perfect world, the FM transmitter device you pick up will support multiple Bluetooth pairings — so you and a friend can both control the tunes on your next road trip — and also offer a way to charge your device via USB in case all of your Bluetooth streaming is killing your battery. You might want look for one that also comes with a 3.5mm port, in case any device you're using still needs a wired connection for sound.
Install an adaptor or a new aftermarket stereo
You should be able to unlock Bluetooth functionality in your vehicle by installing an adaptor — useful, if you want to keep your car's current stereo for whatever reason. As I understand it, this only really applies if you didn't have Bluetooth capabilities to begin with. If you did and your smartphone no longer connects, I don't think that adding an adaptor is the right route.
If this issue is really driving you crazy, you might want to splurge and buy an aftermarket head unit for your car. And if you do, you'll likely have a ton of different options to pick from. My advice is to look for newer units above older, cheaper units, because you don't want to buy something that hasn't been updated in three years old and might still give your brand-new smartphone connection issues — just in case.
As well, check for any reviews you can get your hands on, as well as any guides or recommendations from online enthusiast forums like /r/cars, /r/carav, caraudio.com, or diymobileaudio.com, to name a few.
If your car doesn't have room for an awesome new head unit, you can also pick up an amplifier with Bluetooth capabilities. You might even find yourself enjoying better sound quality from your crappy, old stereo, especially if you pick up an amp that gives you more options for fine-tuning equalisers than your stereo's default "treble and bass" adjustments.
You can probably get away with installing a new dashboard head unit yourself — especially after some helpful YouTube instruction, even if it's for a completely different head unit for the exact make and model of your vehicle. As for an amplifier, that's a bit more complex and you might want to pay someone else to do it if you're tentative about your skills.
Ignore your stereo completely
If you just need a way to make calls from your smartphone without holding it near your face, you can always pick up a simple Bluetooth speakerphone that attaches to some part of your car — like your sun visor. Here's one example: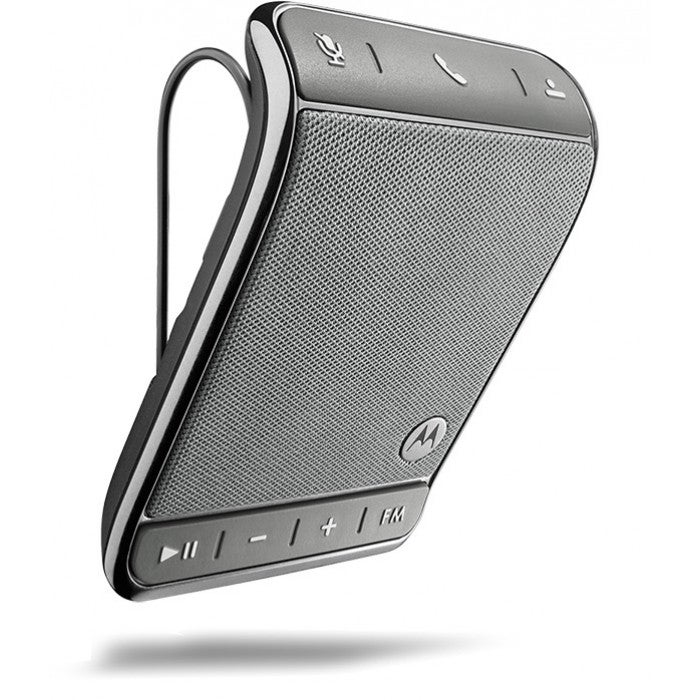 Motorola" loading="lazy" > Photo:
Motorola
A device like this isn't ideal for streaming music from your smartphone, nor will it sound as rich as hearing your friends' voices blasting out of your car's speakers on a call, but it's something — and it's both cheap and easy to set up.