Android: If you've updated to Android 9 Pie, you may have noticed that your smartphone will now automatically turn on your Wi-Fi connection — if you've turned it off — when you're near familiar network with a strong signal. This feature, which debuted in Android Oreo, is now flipped on by default in Android Pie.

On one hand, it's handy: With it on, it's a lot easier to reconnect to a wireless network you've previously signed into — such as your home network or the Wi-Fi at your favourite cafe — after you've turned off your Wi-Fi to conserve battery life while you're on the go.
However, not all users might want this feature triggered by default. If you want to have complete, manual control over when your smartphone attempts to connect to Wi-Fi, for example; or, if you're sick of your smartphone turning Wi-Fi on every time you pass an open network you've previously connected to.
That in mind, here's what you need to know about the new feature, and how to make sure it's turned on or disabled, depending on your preference.
What is 'Turn on Wi-Fi Automatically?'
While the feature was first made available on Google's Pixel and Pixel XL smartphones following the Android 8.0 Oreo update, Android 9 Pie brings it to all devices that support this newest version of the OS.
This "Wi-Fi wakeup" feature works by first using your smartphone to scan for any nearby networks with a strong signal, even when Wi-Fi is turned off. If it finds any that you've previously connected to (and saved to your device), your smartphone will automatically turn its Wi-Fi back on and connect to the network.
The feature is useful for preventing unnecessary data use. For example, let's say you came home and forgot to turn on your phone's Wi-Fi and reconnect to your home network before you began streaming music. If you didn't flip on "Turn on Wi-Fi Automatically", you'd end up using your data until you manually reconnected to your home network.
Of course, some may find this feature unnecessary or even annoying, especially if you find your phone connecting to signals you're passing by at undesired times. Unfortunately, disabling the feature takes a bit more fiddling than simply turning off the Wi-Fi from the drop-down notifications menu, but it's an easy fix once you know where to look.
Enabling and disabling Android Pie's 'Wi-Fi Wakeup'
Whether you're trying to enable or disable the feature, here's how to find it on your device:
Pull up your device's Settings app.
Look for the "Network & Internet" option in the big list of sections. Tap this to bring up another submenu, then tap "Wi-Fi" to bring up settings for your wireless connection:
Screenshot: Brendan Hesse
Tap "Wi-Fi Preferences" located below the list of available networks, and then switch off "Turn on Wi-Fi automatically" to disable the feature.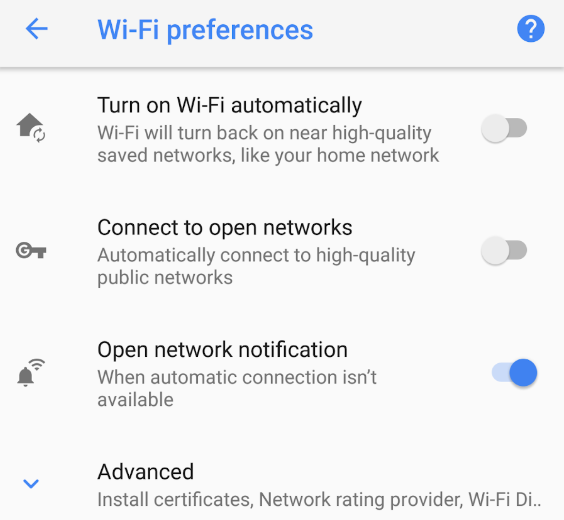 Screenshot: Brendan Hesse
If you're enabling the feature for the first time, you'll also want to make sure that "Wi-Fi Scanning" is enabled on your device. To check this, go back to the initial Settings screen and tap on the "Security & location" section. Then, tap on "Location".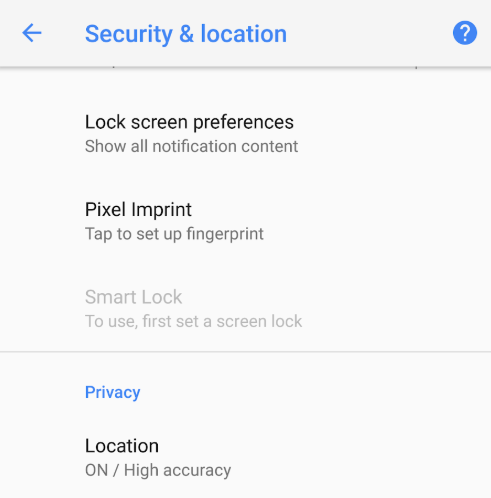 Screenshot: Brendan Hesse
Next, tap on the "Advanced" option, and then "Scanning" option, and then make sure "Wi-Fi scanning" is enabled.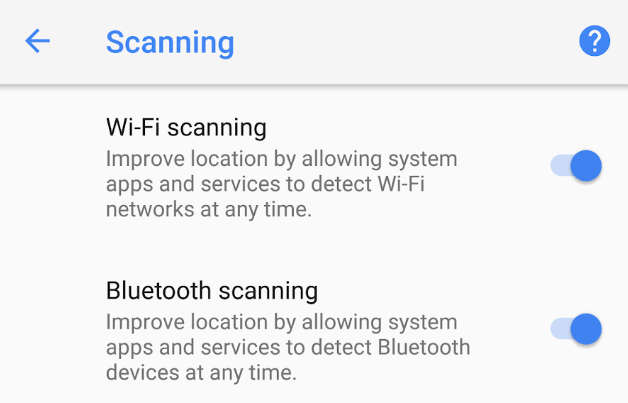 Screenshot: Brendan Hesse