If you're sick of suffering from poor Wi-Fi connections or slow streaming speeds in your house or brick-lined apartment, that one router tucked away in a corner may not be capable of effectively covering your home. In that case, you may need not just a new router, but a new type of router.
To spare yourself the headache of searching (and failing to find) the ideal router location, consider these two easier alternatives: Powerline adapters, which transmit data using the electrical wiring in your home and mesh routers, small wireless routers that share data simultaneously with one another, increasing wireless coverage.
How Powerline Networks Work
Powerline adapters, rather than broadcasting data wirelessly, send it through the electrical wiring in your home, from one powerline adaptor to others on the same network (you'll need at minimum two and they're sold in pairs). The devices, which resemble AC adapters, plug directly into your wall outlets and have one to two Ethernet ports used to directly connect to devices.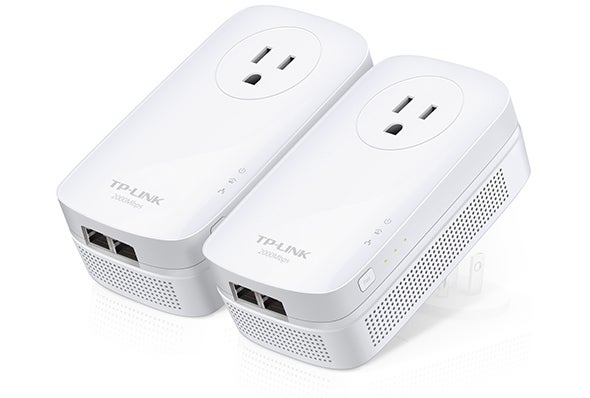 Image credit: TP-Link
To set up your powerline network, you'll need to connect your adaptor either directly to a cable modem or internet-connected Ethernet hub. Some don't feature wireless connectivity, but you can use your powerline adaptor in conjunction with your wireless router by connecting the two via the Ethernet port.
After your first adaptor is connected to the web, plug the other adaptor in the wall outlet where you need it and connect it to your device of choice.
Push-button encryption both syncs multiple powerline adaptors together and protects your data from other people potentially using powerline adapters in the same building. You can connect the powerline router to an Ethernet hub or switch if you want to directly connect to multiple devices like game consoles, televisions, or desktop computers.
Powerline Networking Issues
The distance between powerline adaptors will affect the strength of the connection. If the distance between your devices is too great, your signal may be too weak to be considered reliable. You can always add an extra adaptor or two to boost the signal strength and compensate for a weaker connection due to its transmission over multiple electrical circuits.
Your home's construction is the biggest obstacle when it comes to using powerline networking devices successfully. Since data is being transmitted over your home's electrical wiring, the older your home, the more degraded your connection. Also, some powerline adapters do not feature wireless connectivity, so you can't use them to broadcast Wi-Fi through the rest of your home unless it's connected to a wireless router via an Ethernet cable.
One more thing: your powerline device needs to be directly connected to your wall outlet. Power strips, extension cords and fire-reducing AFCI (Arc Fault Circuit Interrupter) circuit breakers can degrade your powerline connection.
How Mesh Networking Works
Mesh networking devices are more like your current router than a powerline adaptor. A mesh network is comprised of multiple wireless routers designed to share data with one another and expand wireless network coverage when that single router just won't cut it.
Some feature Ethernet ports on every router for directly connecting to devices like Ethernet hubs and computers, while others employ a single primary router paired with smaller routers made for plugging into wall outlets.
To set up a mesh network, you'll need to connect the primary mesh router, responsible for broadcasting your connection to the companion routers, to your modem (keep in mind some mesh network kits will let you use any router as the primary device). From there, you can plug your other mesh routers anywhere throughout your home, passing them off as art pieces on desks, tucking them away in various corners, or placing them in spots where you'd love some more reliable internet connectivity.
After you're all plugged in, you can set up your connection following the manufacturer's instructions.
Mesh network devices usually feature smartphone apps that grant you more control over what goes on in your network. You can monitor devices on the network, impose limits on devices belonging to children, easily allow guests access to your network and even shut the whole thing off through your smartphone.
Mesh Networking Issues
Mesh networks aren't cheap, especially since you need more than one. Since they require multiple, smaller wireless routers, they're usually sold in packs of two or three. Compared to powerline adaptors, which range in price from $100-$200, they're a costly investment and not one everyone should make just to watch Netflix in the can.