As most Galaxy owners probably know, Samsung phones come with their own app store, Galaxy Apps, which includes items such as new fonts and Edge setups for your device as well as other apps and games. It can be a great resource when you want to customise your phone and a great annoyance if you accidentally turn on notifications from the store.

Congratulations, new Samsung Galaxy S9 and/or S9+ owners! Now that you have your brand-new device (or are still refreshing its shipping status every five minutes while waiting for it to arrive), here are some of our favourite tips, tricks and tweaks you can use to get started.
Read more
If you signed up for Galaxy Apps' notifications, you're probably by the bombardment of messages you receive. Thankfully, it's pretty easy to turn them off. As CNET noted this weekend, start by opening up your app drawer and tapping on the Samsung folder, and then select Galaxy Apps.
From there, tap the vertical ellipses icon in the top-right of the screen, tap on Settings, and then tap on Notifications. Make sure the "General notifications" listing is slid to the "off" position, and Galaxy Apps won't bother you any more.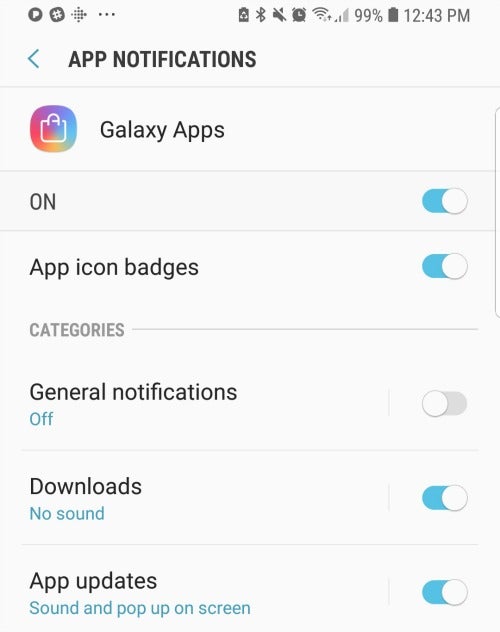 Screenshot: E.Price
If you're being annoyed by notifications on your Samsung phone that aren't from Galaxy Apps, pull up the Settings menu on your phone and select "Notifications". From there, you can toggle off notifications from every app on your phone at once, or you can select individual apps that you want to receive notifications from (or mute).