The XPS 13 9370 makes a strong case for the crown in the $1999-2499 mark.
For almost a full decade, Apple's MacBook and MacBook Air were the head of the pack. They certainly weren't the most cost-affordable, but with a killer touchpad, trackpad, plenty of battery life and a lightweight chassis that made it perfectly portable for university, conferences, and commutes, they were popular for a reason.
But the years passed by. Apple neglected a product that was beloved by many — the official product page is still talking about CPUs that are three generations behind the competition. And with the new generation of thin and light laptops that just arrived in Australia, and the ones to come, it's an uphill battle for Apple.
Computex is always a great place to see the next generation of laptops, since it's the same place where CPU manufacturers (Intel, AMD, ARM, Qualcomm) announce new products of their own. Some of them are funky prototypes, like ASUS's two-in-one Project Precog with a virtual keyboard. Others are the kind of straightforward advancements that everyone wants: gaming laptops approaching the size of notebooks, and notebooks with bezels so small and components so light that it's impossible to shrink them down any further without minimising the keyboard (or screen).
One way to shrink the standard laptop/convertible device down – don't use a normal keyboard at all. Image: Alex Walker (Kotaku)
It's the latter that most interests me right now, since I've hit a wall with a device of my own. That's the Surface Laptop, a device that I've owned for just over a year (specifically the variant with the i5 and 8GB of RAM, which cost me around $2000). As much as I love it, and as much as the Alcantara fabric has held up despite the threat of spills and stains over twelve months, the hardware hasn't gone the distance.
The Surface Pro 5 launched recently and, as expected, it's the best iteration of Microsoft's 2-in-1 devices yet. But it's not the only new tech from Microsoft. They also launched the Surface Laptop, a Pro-looking device aimed at the crowd who would traditionally buy a Macbook Air.
Read more
While I've got desktop PCs at work and home for heavy duty usage, I always make sure I have a backup laptop for a few things. The obvious reason is that you can't cart a tower to a convention or a plane somewhere, and there's always an instance in this job where you'll have to drop everything because something in the world has broken.
Because of that, a lightweight laptop is also pretty important. I won't always be carrying a full backpack, but events like PAX / CES / Gamescom / Computex mean I'll often be carrying a bunch of cables, a hefty power pack, a camera that's at least 1kg or more, a charger for the laptop, and then the laptop itself. It's also handy sometimes to just prop myself up in bed, pop open the laptop, and work through some drafts and emails.
Plenty of people are in the same situation, and it's partly why the Surface Pro has gained so much traction. It's a good amount of power in an incredibly small device, although for some (like myself) the premium, coupled with the lack of a proper keyboard, is one trade-off too much to bear. On top of that, it's taken years for other manufacturers to match the excellence of Apple's keyboard and touchpad, the latter especially.
But those days are well and truly over.
My one major gripe with the XPS 9370: the page up and page down keys are right next to the arrow keys, which aren't particularly large, making it all too easy to switch tabs or accidentally flick up and down a web page.
The general keyboard quality, however, is great (but not as good as the maglev keyboard in the XPS 15 models). Travel distance isn't as shallow as the MacBooks or the Huawei Matebooks. And on the plus side, the white woven glass fibre interior (available with the Rose Gold version) is miles better at dealing with your greasy fingers than the black iteration. It'll cost you a little extra, however.
The webcam is weirdly positioned, and only does 720p, but that's not a dealbreaker for most people.
A microSD card reader, headphone jack and mini-DisplayPort are all nice to have.
If the Surface line had already damaged Apple's position in the $1500-2500 space, then the rest of this year is going to be brutal. I've been mucking around with the baseline version of the XPS 13 9370, which is Dell's offering to students and those who want a light laptop minus the 2-in-1 factor.
The 9370 hit the market about a month ago, although it was starting from a good place: the XPS 13 line has always been a strong performer, pairing good battery life with a quality screen, keyboard and touchpad for a decent offering.
Specs-wise, this year's model has gone all-in adoption on USB-C: the 9370 comes with three USB-C ports (two of which are Thunderbolt 3), as well as a micro-SD slot, 3.5mm headphone jack and mini-DisplayPort. You only get the one USB-C to USB-A adaptor in the box, although given how almost every device has switched over to USB-C these days, you might as well start stocking dongles now.
But the big bonus: it's bloody light. You're looking at 1.21kg for either the baseline 1080p model or the higher specced versions with the 4K touchscreen. You are trading off a bit of battery for the privilege though: running a 4K screen means you'll only get about eight hours runtime on the i7 variant of the 9370. You'll get more battery life out of the 1080p model, but you can't get a 9370 model with 16GB RAM, the 1080p screen, and a 512GB SSD.
That's OK, though. Because there's plenty of options.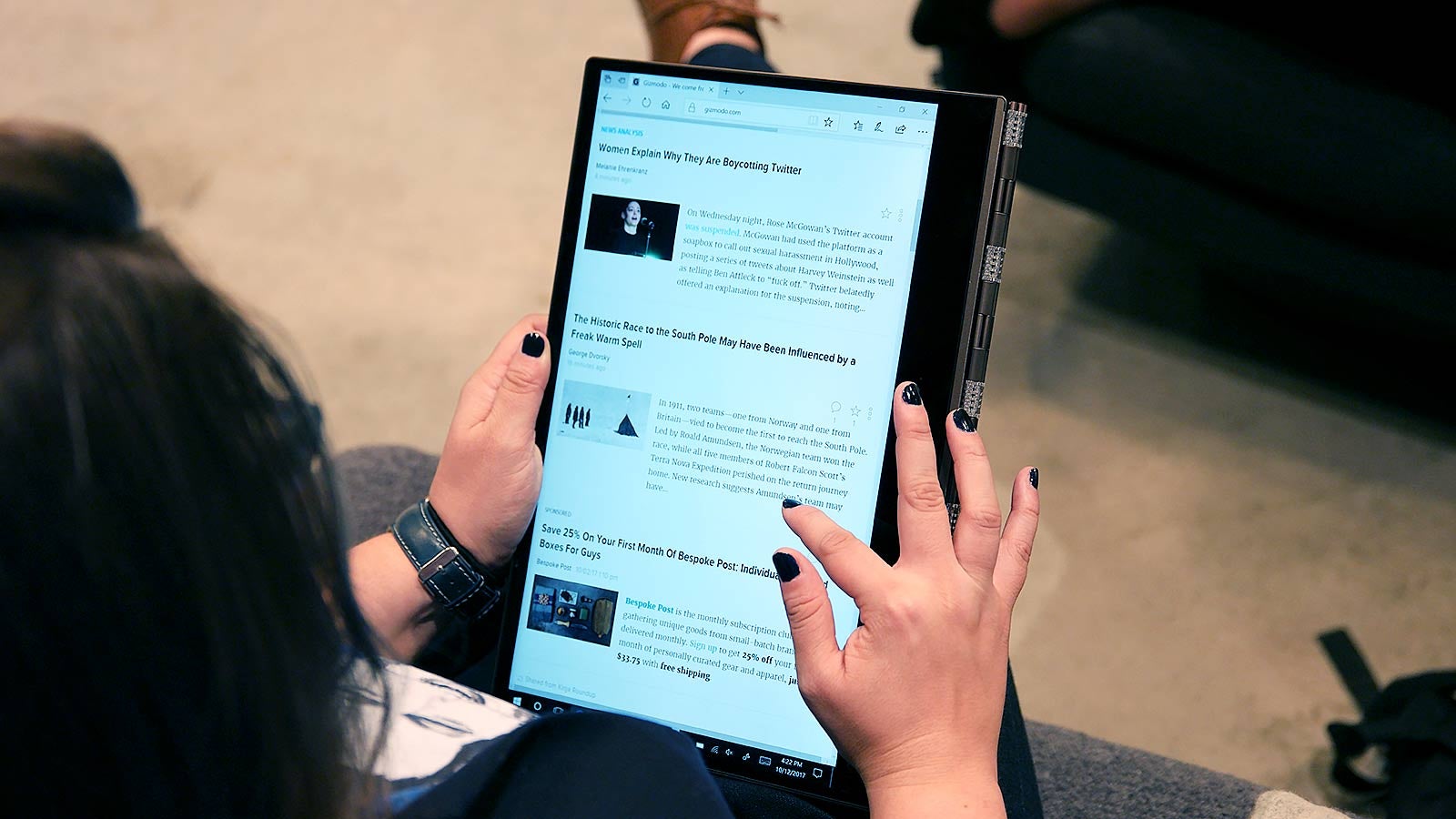 The Lenovo Yoga 920 doubles quite well as a reading device, and the Yoga 730 is priced pretty well in Australia too. Image: Gizmodo
Say, for instance, you want the versatility of a 2-in-1. The Lenovo Yoga 730 gets you a 2-in-1 with an i5-8250U and 16GB RAM, as well as a 1080p IPS touchscreen. If you want a straightforward laptop, the Razer Blade Stealth ships with an i7-8550U and 16GB RAM as standard.
It's not available locally – not yet, at least. If portability is a key factor, but you still want a proper keyboard, ASUS's ZenBook S UX391 starts at 1kg. You're still getting a choice between the same i5 and i7 CPUs available in other laptops (the i5-8250U or i7-8550U, that is), and a mix between 1080p/4K screens, 8GB/16GB RAM, and a minimum of 256GB storage.
You'll play more if you want HP's alternative to all this, but their adherence to standard USB ports and optional discrete NVIDIA GPUs might be just what you need. The HP Envy 13 and Spectre have cracking designs as well, although you pay extra there for the nicer styling. And not mentioned amongst all of this is Huawei's impressive Matebook X Pro, which is the closest you can get to a MacBook Pro with Windows (without actually installing Windows on a MacBook Pro).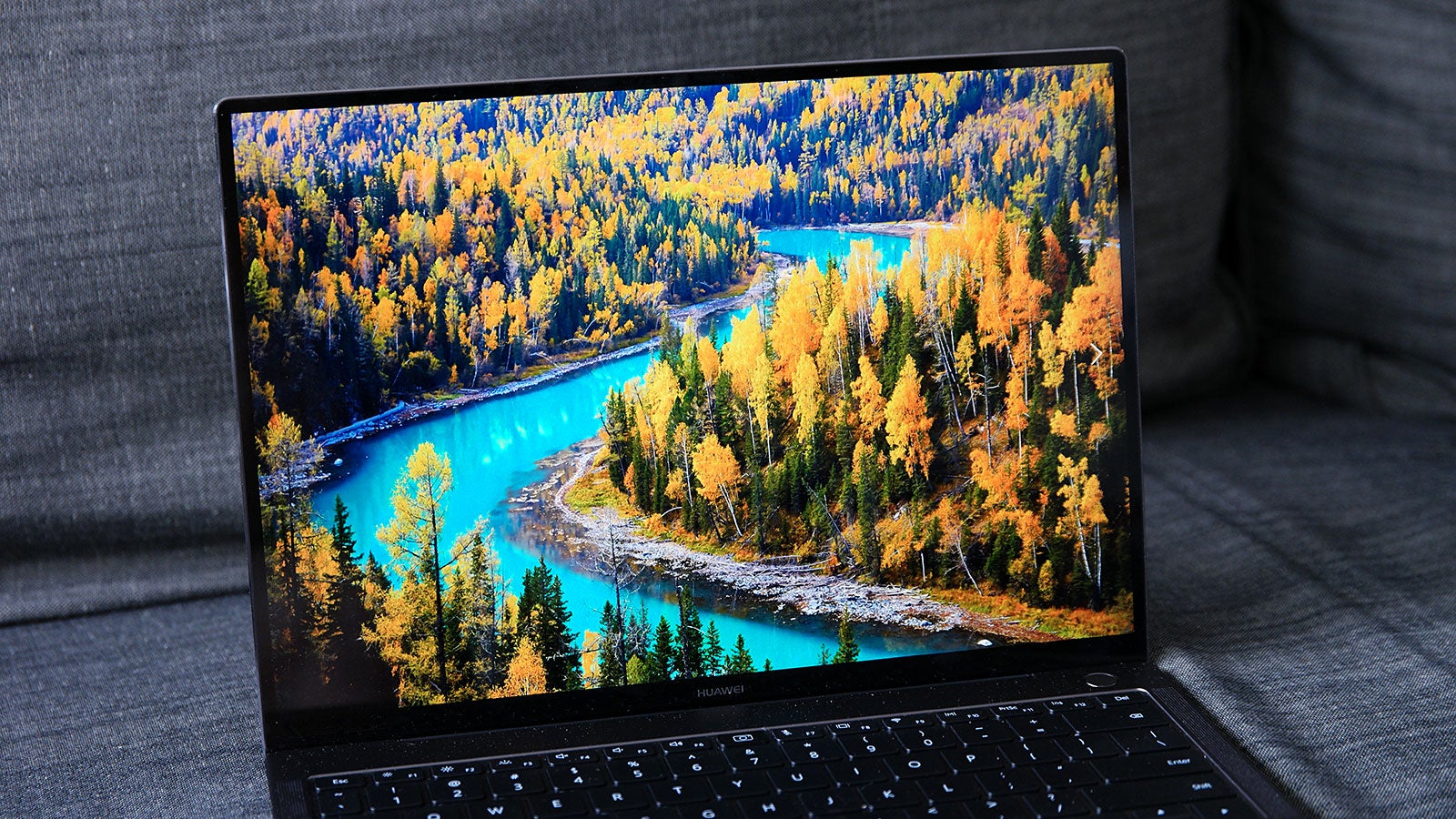 The Huawei Matebook X Pro's 3000 x 2000 touchscreen display really is lovely.
Windows laptops, though, have always been better value for money than the Apple range as far as hardware has concerned. The user experience just wasn't up to scratch, especially if your budget was $2000 or less.
But that concern has vanished. Touchpads and keyboards have improved substantially across the board. There's plenty of quality displays, whether you're looking for something suitable for Adobe work or not.
Apple's ceded that ground, to the point where you'd have to willingly want to be in the Apple ecosystem to justify the price. It's not even an argument as far as the MacBook Air is concerned, but that's what happens when you don't update your hardware for three generations.
Buying a MacBook today means you have to willingly want, if not need, to be within the Apple ecosystem. The advantage in build quality, battery life and styling has just about vanished, and what manufacturer you go with depends on what parts you need the most. If anything, it's Microsoft who gets to charge the premium – and by the time Apple get around to actually refreshing the MacBook line, it might be too late.
What $2000 can buy, one year on. Image: Alex Walker (Kotaku)