Microsoft's big Windows update – not a "spring" update but the more boringly named "Windows 10 April 2018" update – has arrived today for eager Windows users who manually trigger the update for their desktops and laptops.

Photo: Christopher Pearce (Getty Images)
Once you've installed it, assuming you're not waiting until May 8 for Microsoft to start rolling out the update to your system, there are a lot of new features to play around with. Instead of wasting hours trying to figure out what Microsoft has changed, here's a quick overview of everything worth knowing about in the Windows 10 April 2018 update – and how to find it.
---
Near Share: Like AirDrop for Windows
While we'll still never have a great way to drag-and-drop files from a MacBook to a Windows system – not unless you use a third-party service such as Dropbox or Google Drive – Microsoft is finally adding Near Share, its own AirDrop-like setup to Windows desktops and laptops.
This feature arrives by default once you install the big Windows 10 update, so you'll want to click on the Start button, type in "nearby", and select the "Change shared experience settings" option. Flip Nearby sharing to "On", and decide whether you only want to send and receive content from devices you own (tied to your Microsoft account, of course) or any nearby devices.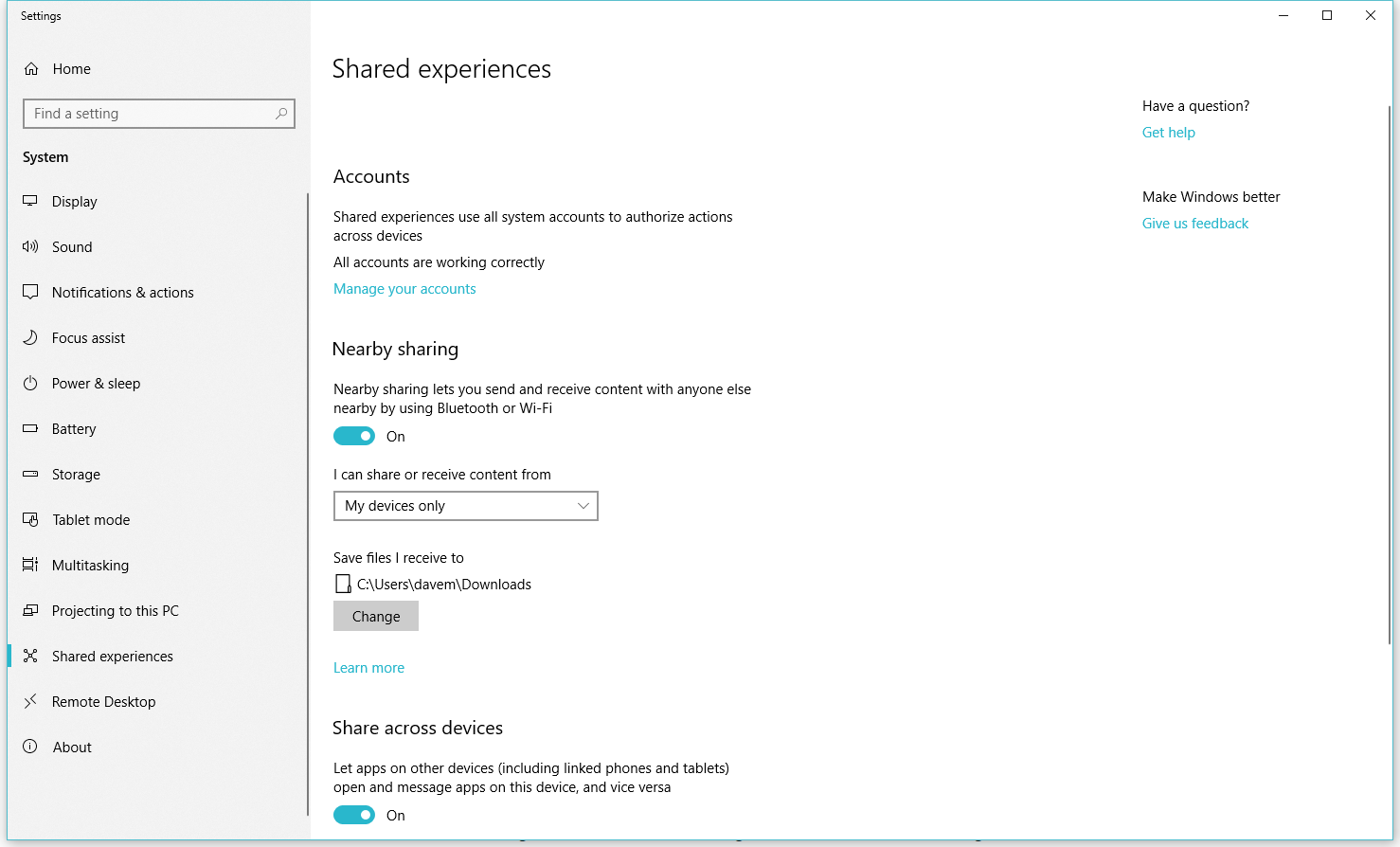 Screenshot: David Murphy
From there, you can right-click on files and select the "Share" option within File Explorer to send them to other nearby devices. You can also use the Share button within an app, such as Microsoft Edge, for example.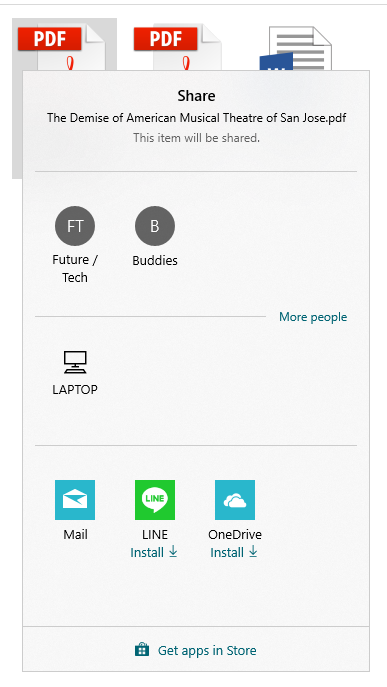 Screenshot: David Murphy
---
Focus Assist: Turn Off Distractions
Windows 10 loves to drop those little "check me out" messages in the lower-right corner. And if you've tied your online accounts to the operating system's native apps, such as Mail, that "ding look at me" sound and pop-up box is probably starting to drive you a bit batty. With Focus Assist, you can flip off Windows' more attention-grabbing notifications when you need to work.
To activate it, click on the Start button, type in "focus", and select the "Focus assist settings" option. In the window that appears, you'll be able to turn on Focus Assist – either to block all notifications (except for alarms) or to only allow Windows to show you notifications from a specific list of apps, people or linked (non-iOS) smartphones.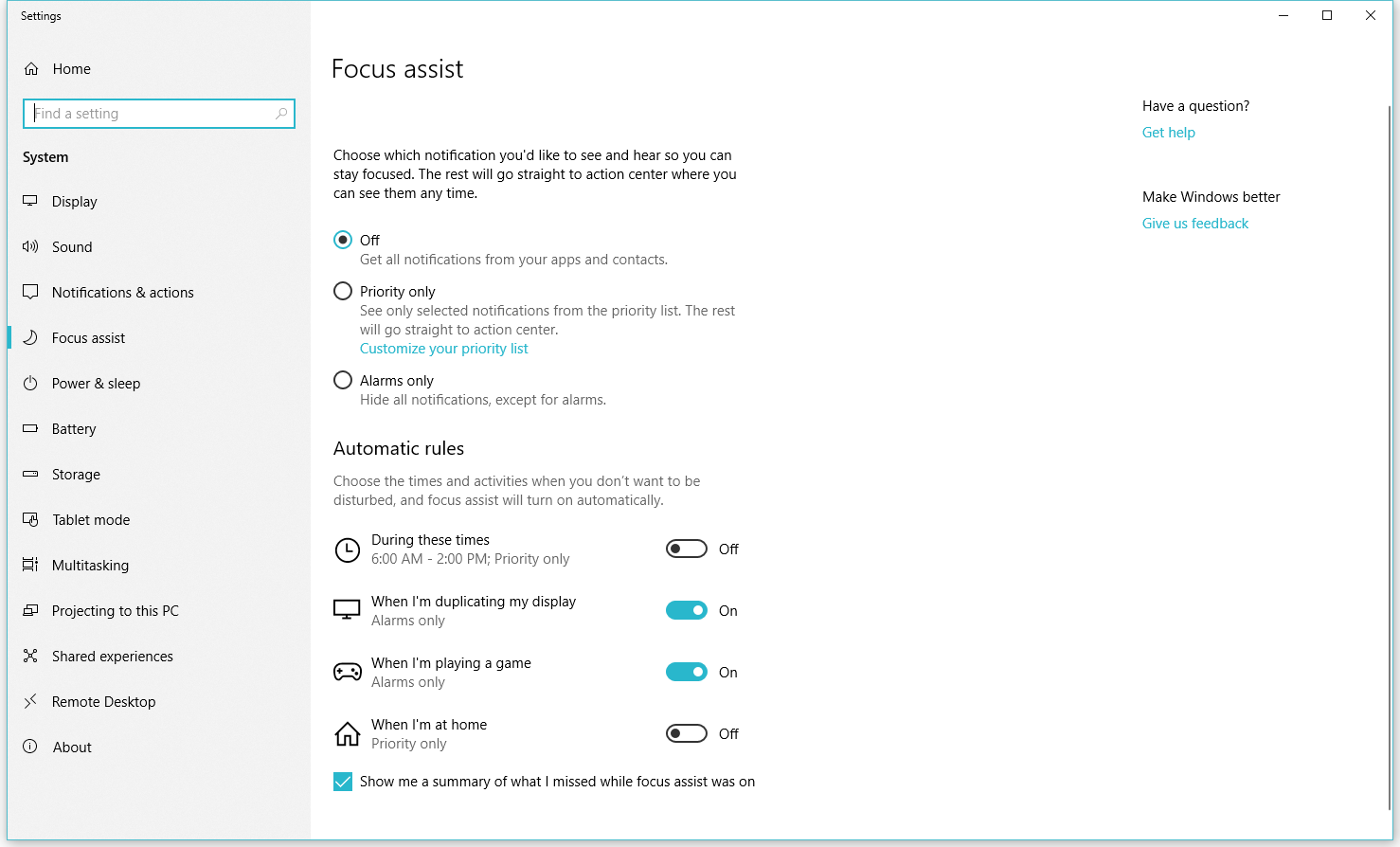 Screenshot: David Murphy
You can also choose to automatically turn on Focus Assist during certain times of the day or certain activities you're doing, which can help ensure that notifications don't disrupt your important work presentation (or Overwatch match).
---
Timeline: Track Your Stuff From the Past 30 Days
Microsoft has now given Windows 10 a digital Time Stone, allowing you to see what you've been up to over the past 30 days – with a few caveats.
If you're heavily bought into Microsoft's ecosystem, Timeline is a useful way to pull up things you previously worked on: Documents or spreadsheets on your desktop or a website you were looking at using Edge on your smartphone, for example. Hit the Windows logo key+Tab (or the Task View button in your taskbar, to the right of Cortana's search box), and up pops your timeline. You'll see things you worked on, organised by day, and you can click any item to immediately jump to that file or website.
The problem? I'm a little confused as to how Windows picks what items get to your timeline. Similarly, it appears that Timeline only supports Microsoft's own apps.
For example, Timeline isn't going to show you some Steam game you played 25 days ago, that one you tried out for a few minutes and swore to play again (but forgot the name of it). You aren't going to be able to find that interesting website you were reading in Chrome yesterday before you had to close your browser and run out. That huge layered Photoshop image you were working on last week? Hope you remembered where you saved it.
If you use a ton of Microsoft apps, your timeline might look a little something like this: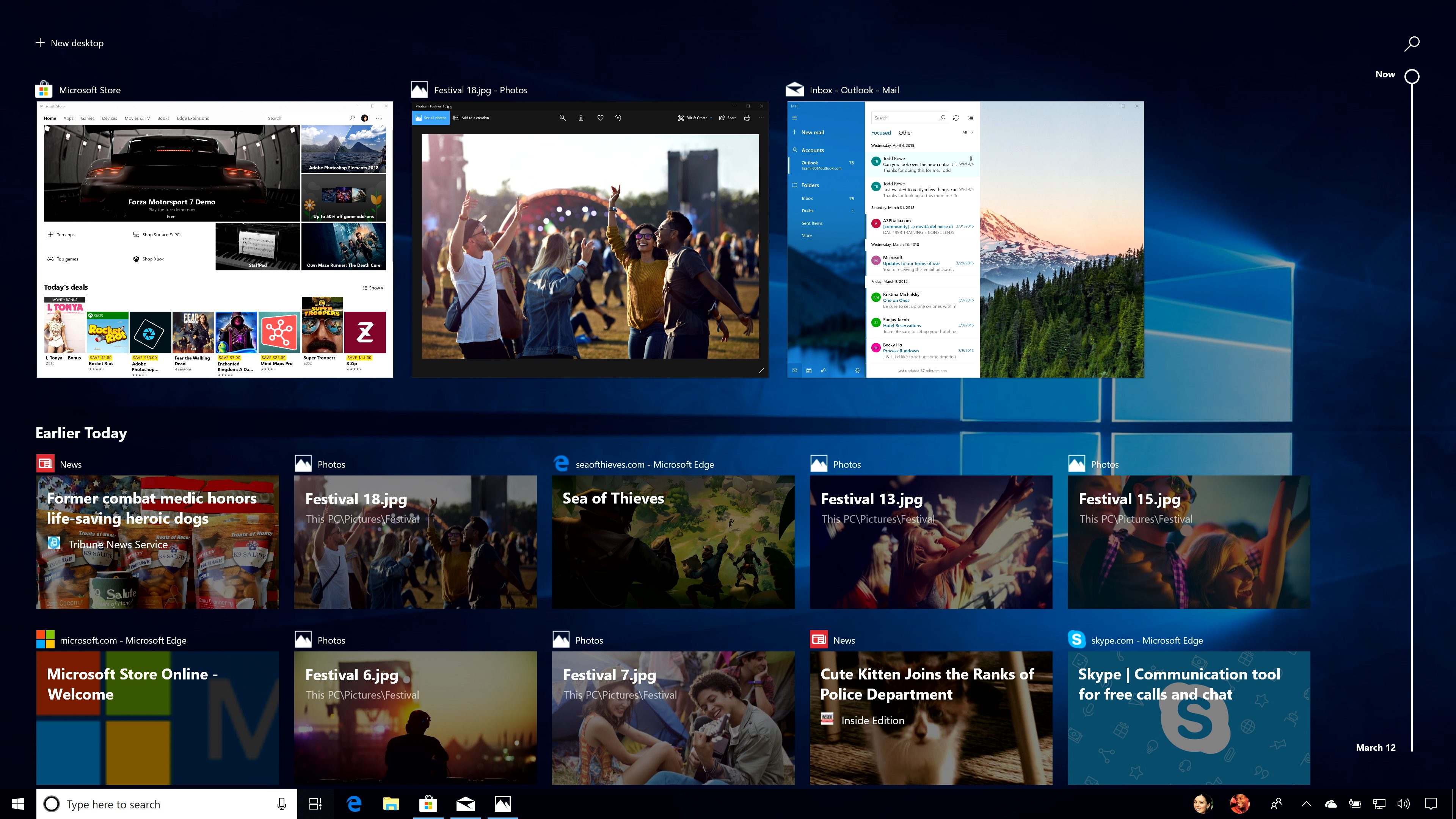 Screenshot: Microsoft
If you're like me, and you have a variety of different apps you use to accomplish tasks on your PC, your timeline might look a little… sparser: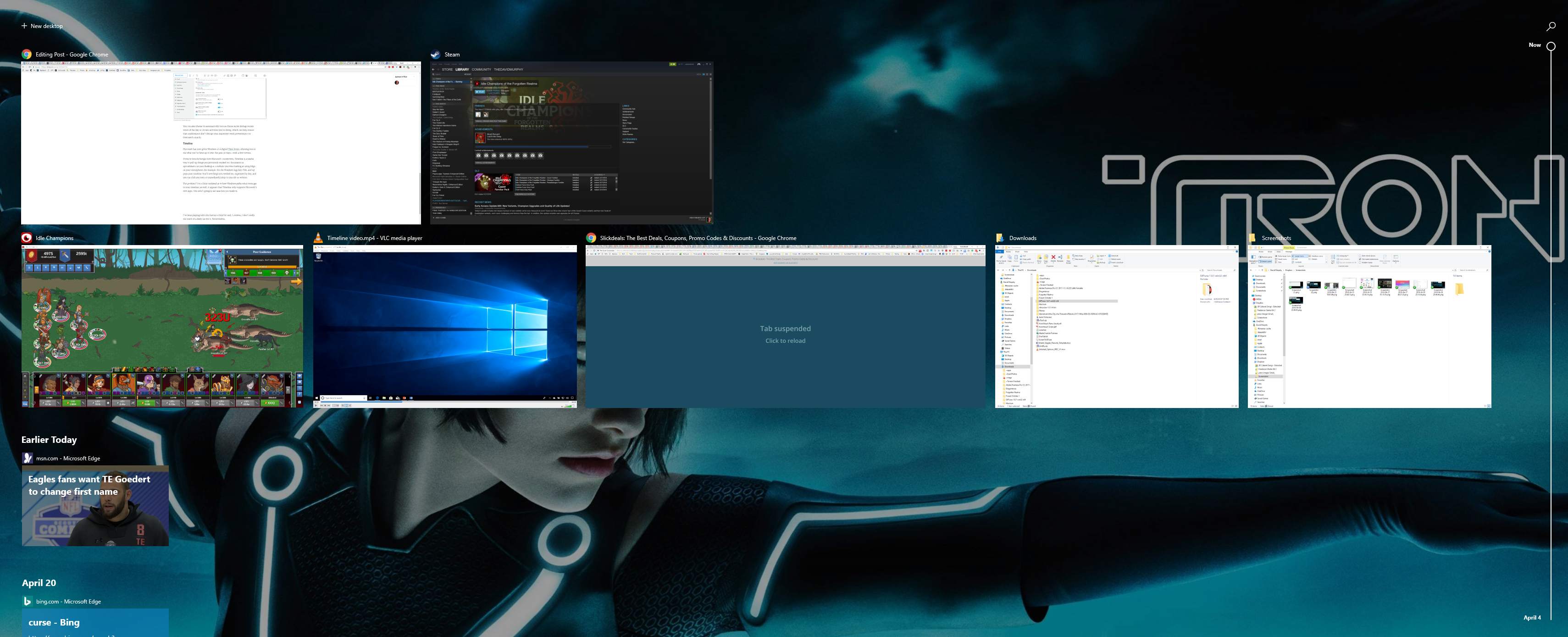 While I applaud Microsoft's attempts with Timeline, I can only hope that the company expands its functionality in the future to include all things you do on the Windows operating system – if that's even technologically possible. Otherwise, it's a fun improvement for Task View, but one that isn't all that useful unless you're playing in Microsoft's walled garden.
---
Microsoft Edge: Finally, Tab Muting
For the few of you that use Windows' built-in web browser, Microsoft's update adds a number of critical improvements to Edge, bringing it closer to parity with Google's Chrome and Mozilla's Firefox. These include:
Tab Muting
Just click the audio icon to mute and unmute tabs with stupid autoplay videos that don't mute by default.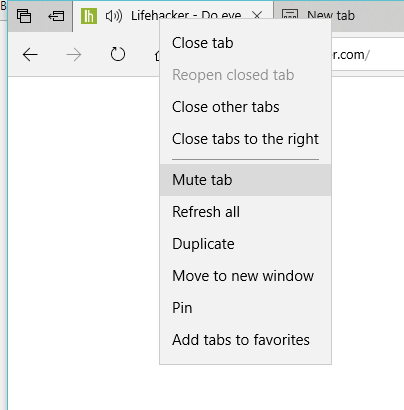 Screenshot: David Murphy
Clutter-Free Printing
If you're tired of websites looking like crap when you go to make hard copies (or archive PDFs) of their content, Edge's new clutter-free printing option, found in the print dialogue box, can greatly pretty up your page.
Full-Screen Reading
Yes, F11 actually does something now.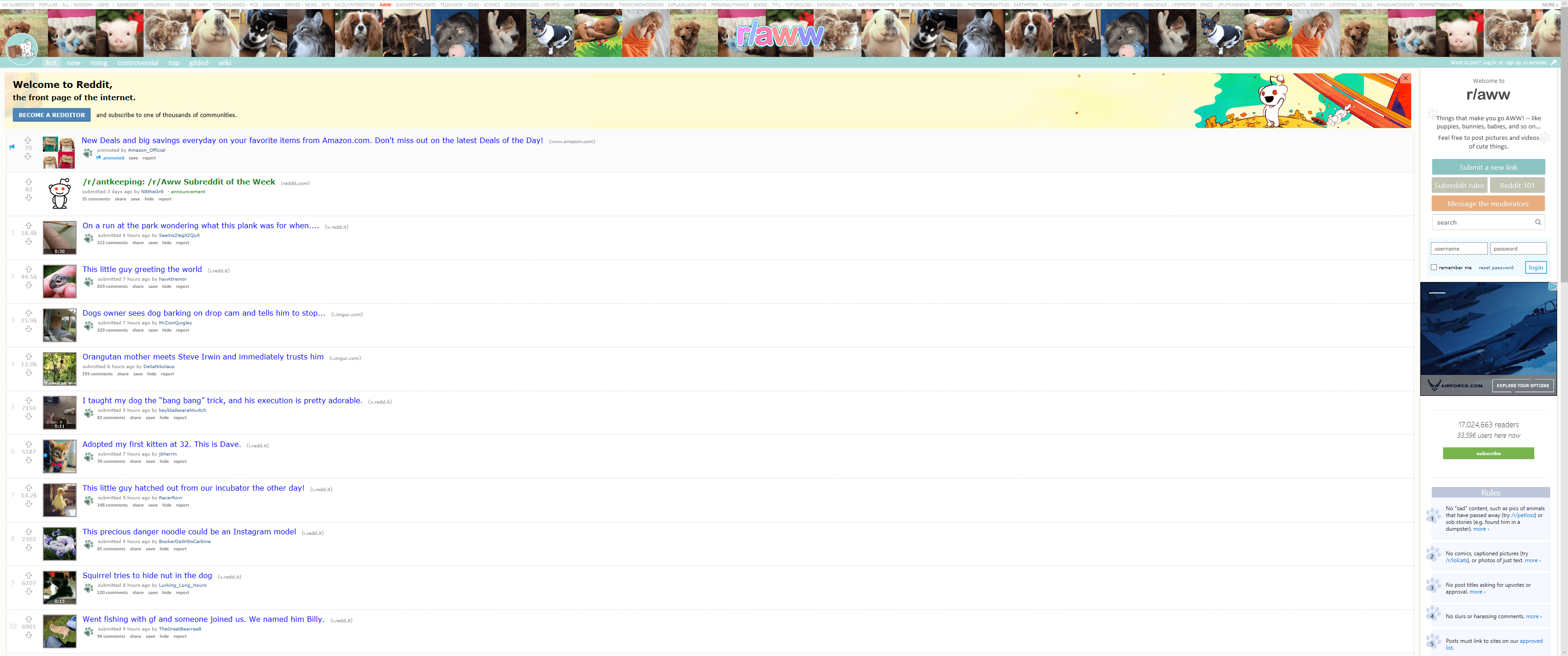 Screenshot: David Murphy
Autofill for Credit Cards
Even though you might be a little apprehensive about entering your credit card details into a web browser, Edge now allows you to do just that. And when you're shopping at an online site that supports autofill, you'll be able to input your credit card information, address and other key details without having to type everything in manually.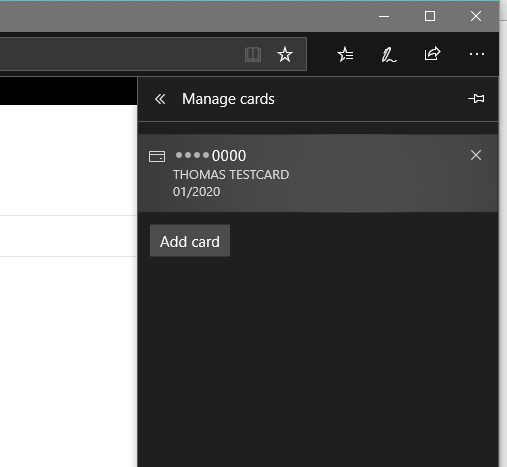 Screenshot: David Murphy
---
Tinier Tweaks
There are a bunch of smaller tweaks and updates arriving as part of Microsoft's Windows 10 April 2018. Though they aren't huge on their own, they're still worth knowing about. Our favourites include:
Use Cortana to Control Spotify
Not only does Cortana support a number of new smart home devices, but if you ask Microsoft's virtual assistant to, say, "play some chill music on Spotify", you'll get walked through the process of pairing Cortana to the music service to unlock new voice controls.
Game Bar
Hit the Windows key+G when you're gaming and you'll see Microsoft's new redesign for its Game Bar. Start a video recording of your race, save a highlight video of that awesome goal you just scored, or kick off a broadcast so you can show all your friends how terrible you are at Hearthstone. The Game Bar also (finally) supports a dark theme, which you can flip on from its Settings menu.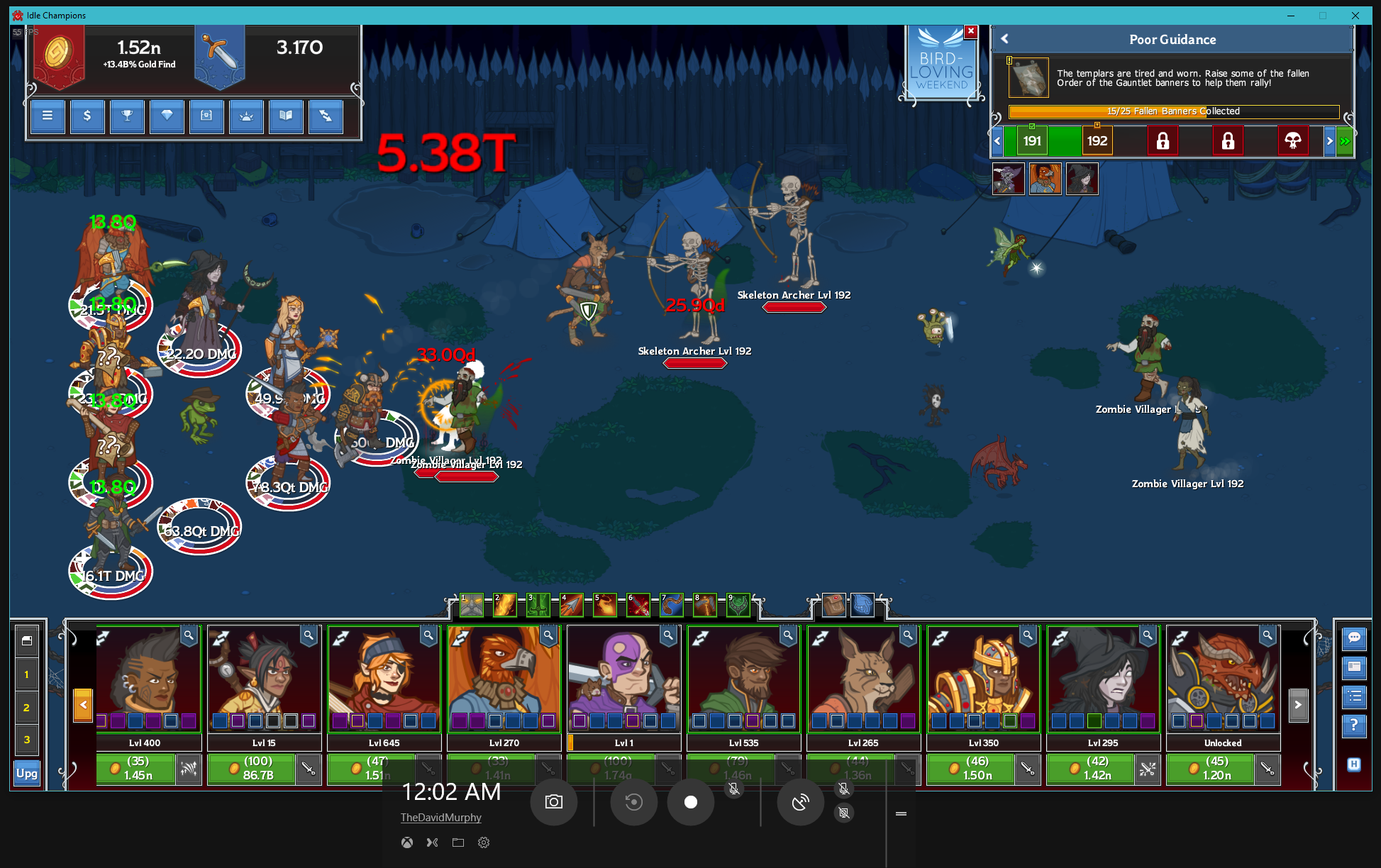 Screenshot: David Murphy
Windows HD Colour
Windows 10 now supports even more HDR-compatible displays, and you can use a new calibration tool to ensure you're getting as beautiful an image as possible. (I'm not fancy enough to have an HDR monitor, alas, so no screenshots just yet.)
Local Account Password Recovery
This one's a biggie. If you didn't create (or authenticate into Windows) with a Microsoft account, you used a local account. And if you forgot the password to your local account, you were screwed. Now, thanks to Microsoft's big update, you can set three security questions that can save your bacon if you're having trouble with (what you thought was) your regular password.
Enhanced Privacy
You can now view the diagnostics data Microsoft has collected about your system from the Diagnostics & Feedback menu in Windows' Privacy settings. (Type "privacy" after hitting the Start button to find it.) You can elect to send Microsoft "basic" or "full" data, and Windows spells out the differences between the two; view the aforementioned diagnostic data; and delete it all just with the click of your mouse.
Screenshot: David Murphy
Granular Graphics Controls
Pull up Windows' Settings screen, then click on System and Display. Scroll down and click on the Graphics Settings option. You'll now go to a screen where you'll be able to tell Windows whether it should use your integrated graphics or your souped-up discrete graphics card for specific apps and games.
While you should probably just let Windows manage this itself, the fine-tuning can help you save some battery life (and heat) if you're playing a less-intensive game that doesn't need discrete graphics for great gameplay.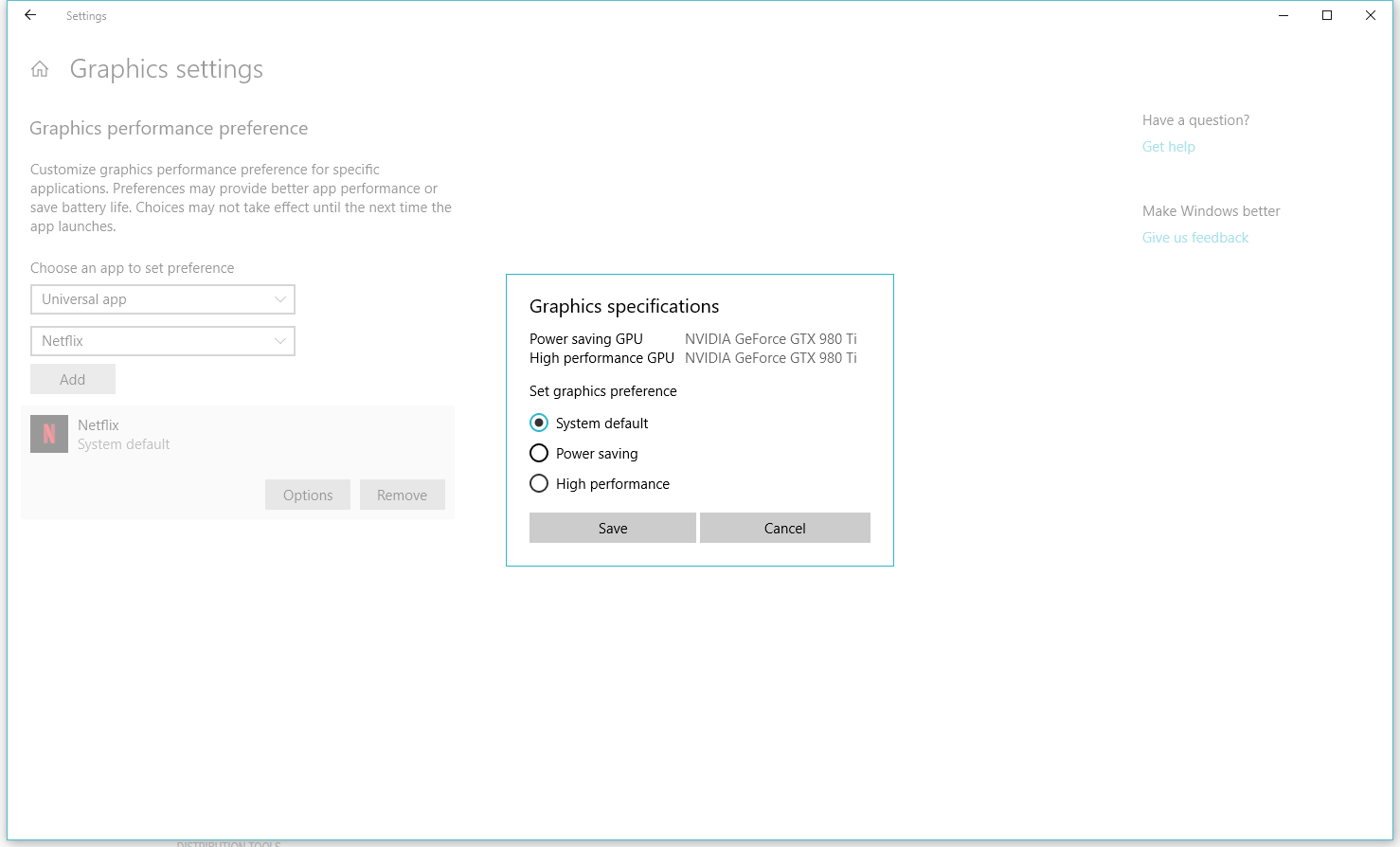 Screenshot: David Murphy
Pin More People
You can now pin up to 10 contacts to the lower-right corner of Windows taskbar. Clicking on their name makes it easy to fire off a quick email, view their extended contact information, or see what upcoming events you have together.
Screenshot: David Murphy
Autocorrect and Text Suggestions
Click the Start button, type in "typing", and pull up Windows' Typing settings options. Scroll down a little and you'll see two new options: Text suggestions and autocorrections for anything you type on a hardware keyboard. I find the latter more helpful than the former, as it's a little clunky to move your hands from keyboard to mouse just to input a text suggestion – unless you're using a touchscreen device, which feels a bit more natural.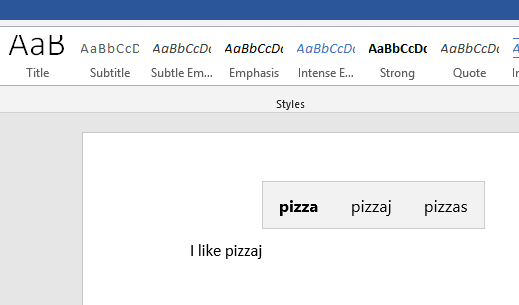 Screenshot: David Murphy
Fixing Blurry Apps
If you're in the awkward position of having a high-resolution monitor that's physically small, Windows might be triggering scaling, by default, to allow you to see your icons and text without squinting. You can check to see if Windows is using scaling for your monitor by clicking your Start button, typing "display", and selecting the "Change display settings" option. From there, scroll down until you see "Scale and layout".
If you click on Advanced scaling settings, you'll see a new option to "Fix scaling for apps". When Windows uses scaling, your native operating system apps and elements tend to look all right, but third-party apps (such as Steam or Battle.net, for example) can look anywhere from fuzzy to blurry. Flick this switch, and Windows will attempt to make all off your apps look a little better when it's using scaling.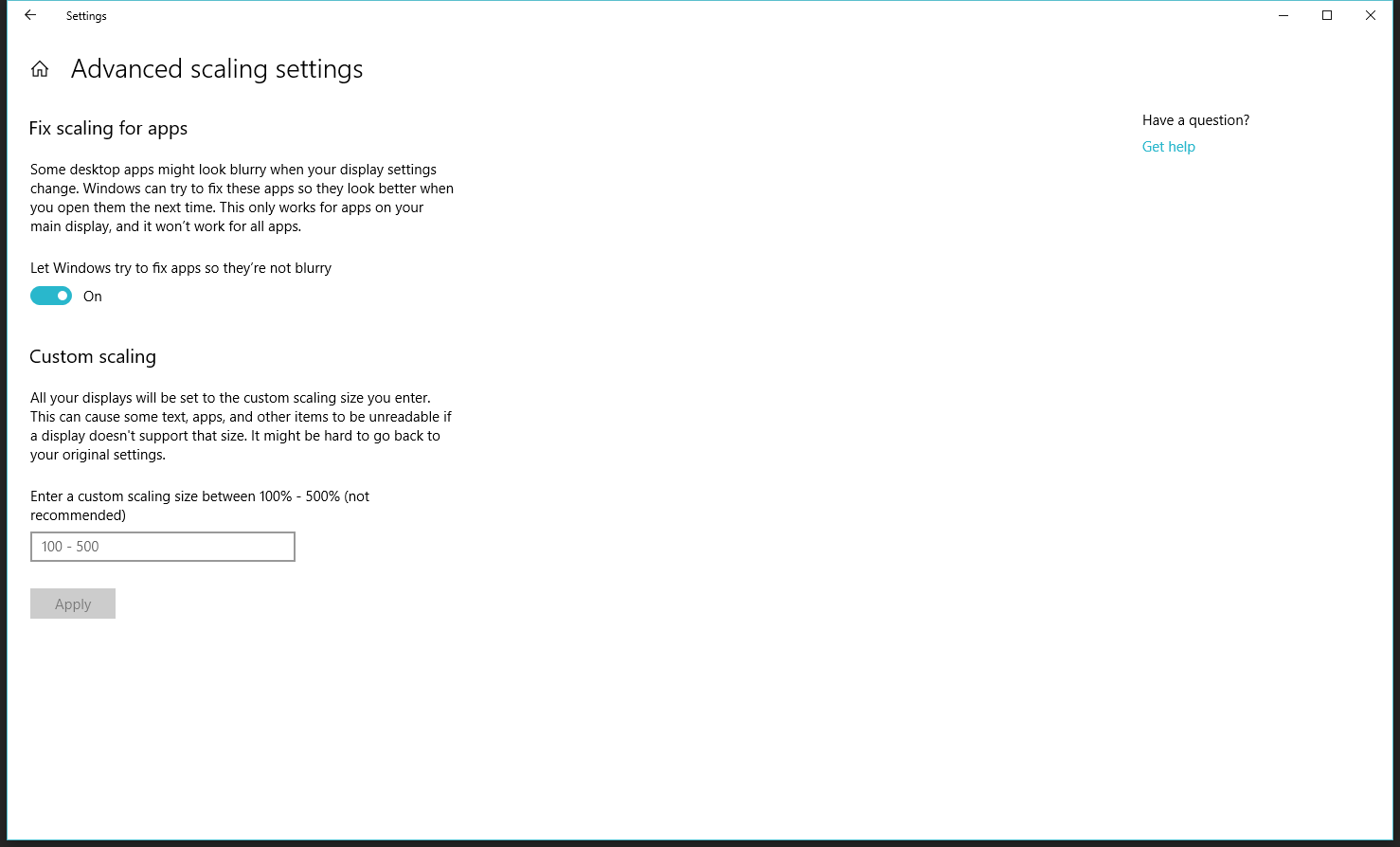 Screenshot: David Murphy
Fine-Tuning Your Sound
The Windows 10 April 2018 update allows you to set volume levels on a per-app basis and decide which of your connected speakers or headphones specific apps should use. So, if you like to game on your headphones but blast your Spotify to your desktop speakers, you won't have to switch back and forth between the two in Windows' sound settings.
To access Windows 10's new "App volume and device preferences" screen, click on the Start button, type "settings", pull up the Settings app (which should be the first result), and click on Sound in the left sidebar. Scroll to the very bottom of the window to find App volume and device preferences.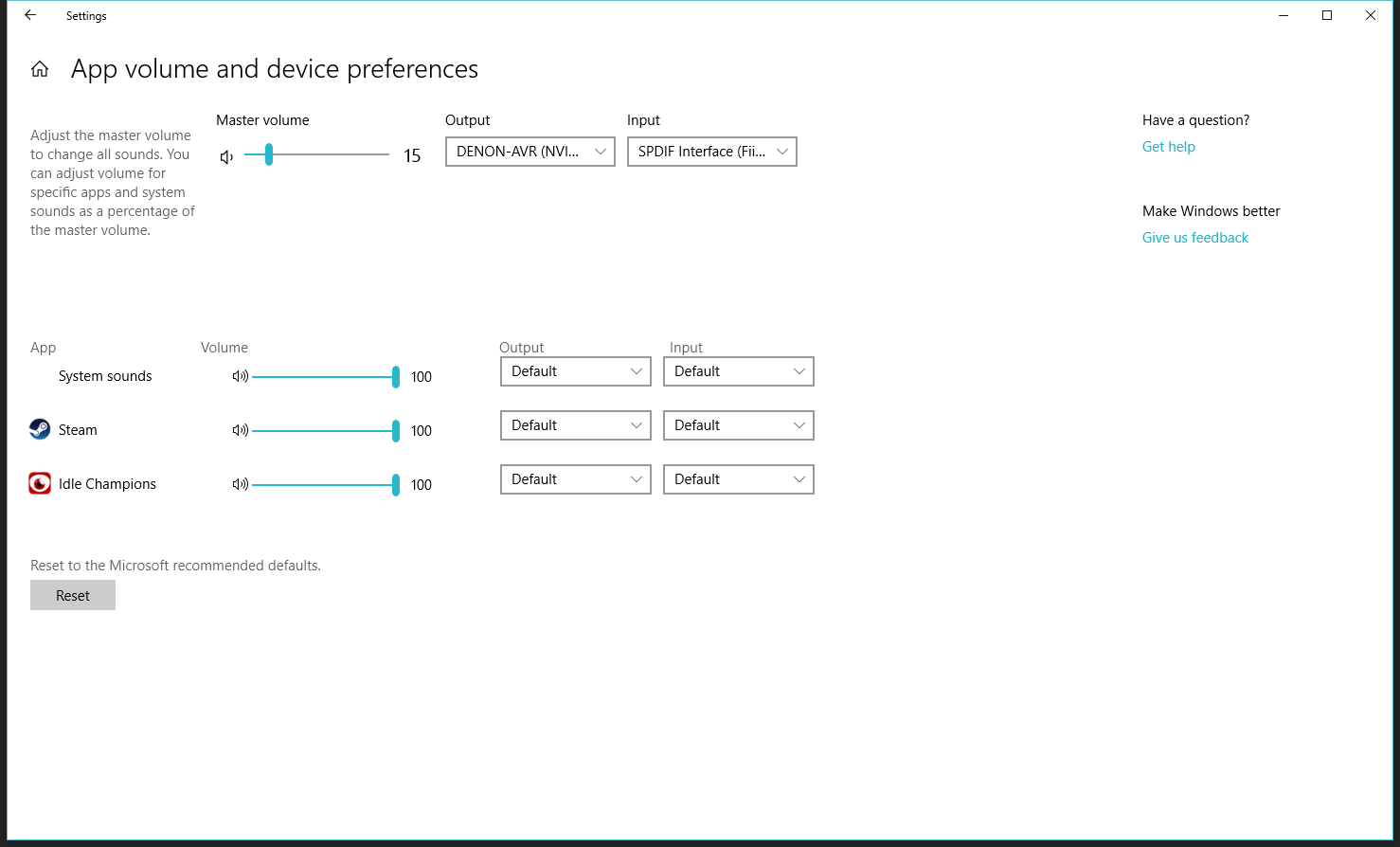 Screenshot: David Murphy
More cleaning in Disk Cleanup
Windows 10 now supports a number of new categories in its Disk Cleanup utility, including "Windows Upgrade Log Files", "DirectX Shader Cache" and "Delivery Optimization Files". When I pulled up the updated Disk Cleanup app to test it out, I ended up clearing out an additional gigabyte on my primary drive thanks to these new options. Every little bit helps!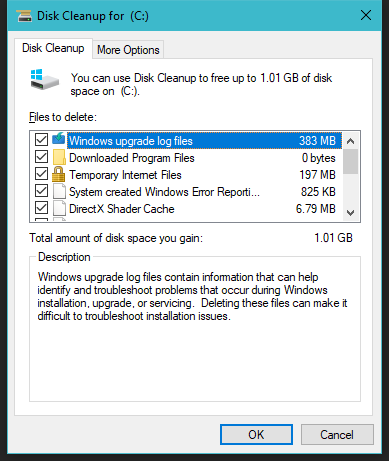 Screenshot: David Murphy
Policing your data usage
If you happen to have some arbitrary cap from your ISP on the amount of data you're allowed to use per month before you're billed outrageous fees, Windows can attempt to help you stay under this limit. Click the Start button, type in "data usage", and select "Data usage overview". Here, you'll be able to see just how much you've been downloading and uploading on a per-connection or per-app basis, and you can now set monthly data limits (and restrict background downloading) to avoid a big ISP bill.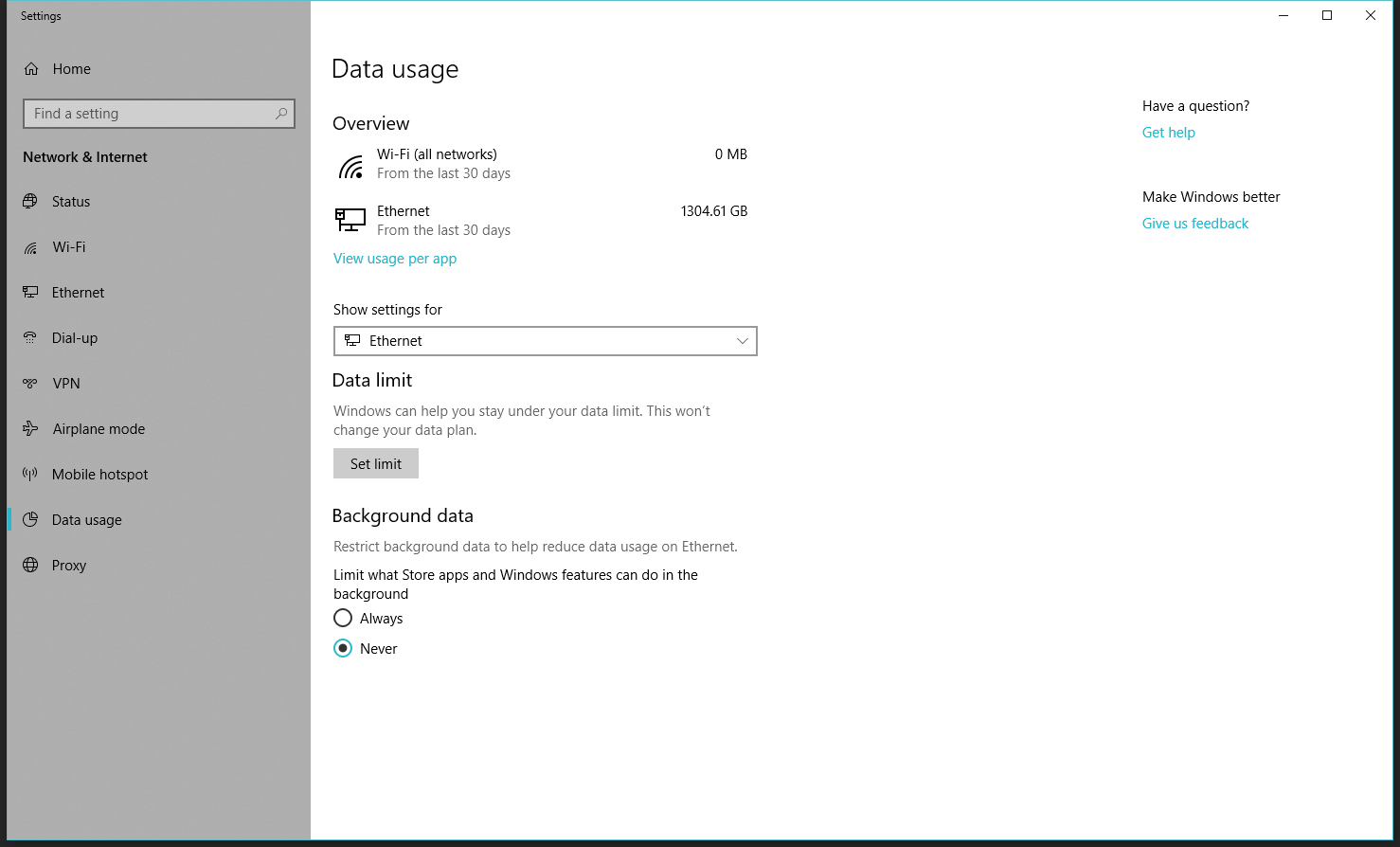 Screenshot: David Murphy
Fonts, fonts and more fonts!
You can now download fonts directly from the Windows Store. Pull up the Microsoft Store app, type "fonts" into the search box, click on the blue "Explore new fonts" button, and go wild. Some fonts are free; some fonts cost money. Fonts are fun, right?