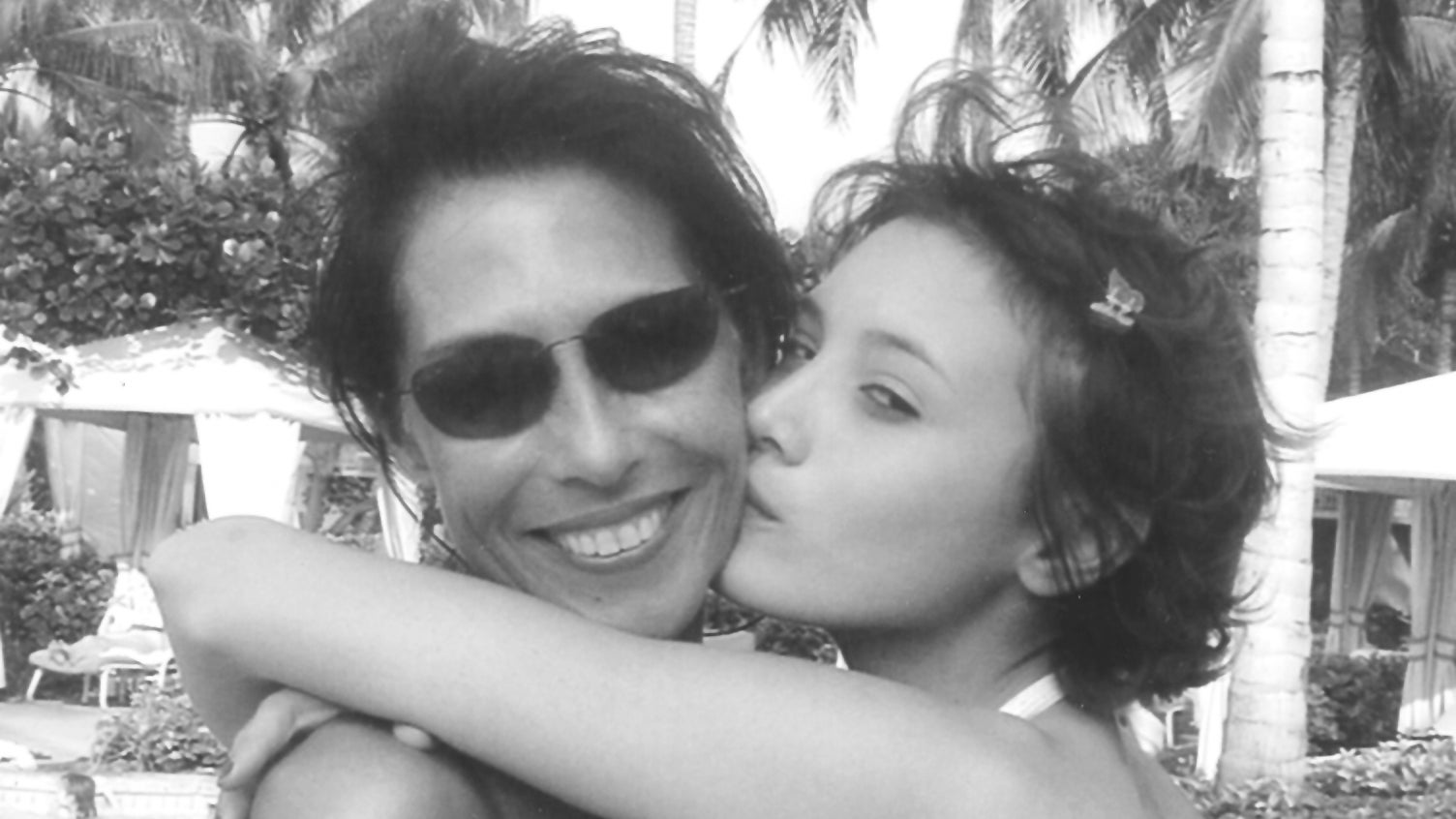 Sue Matthews' world was shaken when daughter Taylor was diagnosed with cancer at the age of 11. For the next five years, the family of five would be caught in a whirlwind of treatment plans, surgeries, biopsy results and medical terms they couldn't pronounce. Yet while so much was uncertain, Matthews discovered that their day-to-day experience was still in their control.
Sue and Taylor Matthews.
In her new book Paint Your Hair Blue: A Celebration of Life with Hope for Tomorrow in the Face of Pediatric Cancer, which she wrote with her sister Andrea Cohane, Matthews details how her Taylor continued living her life as a kid - not a "cancer kid" - until she passed away at age 16.
Matthews, who is now the president of the Taylor Matthews Foundation, a nonprofit that raises awareness and funding for pediatric cancer research, spoke with me about how parents can cope - and even find the good - as they face their child's life-threatening illness.
Learn to Compartmentalise Your Fear
Matthews says the reason she was able to find so many moments of joy during the most harrowing time of her life was because she learned to compartmentalise — in her mind, there were specific times to grieve and to celebrate. "Since [cancer] scans are three months apart, I told myself we were going to live life to the fullest for two and a half months, and then, you know, be very nervous," she says. "By compartmentalising your fear, you're able to be more present on the good days." She never wanted to let Taylor see her fall apart, so she made the shower her place to cry. "That's how I got a lot of my anger and sadness out," she says.
Reframe the Situation
To make things less scary for her daughter, Matthews would reframe whatever treatment and surgery she was facing. "I would say, 'You're not going for chemo today — you're going to kill cancer. Think of it as Pac-Man. Pac-Man is going to eat up the cancer cells.' Taylor would open her eyes and smile. We'd go in for her chemo, and that would be it. We'd be like, 'OK, now we're a step closer to getting rid of it.'" After every round of chemo, they'd celebrate at a hibachi restaurant that Taylor loved and Matthews hated. "That became a little ritual," she says.
Life was crazy — their days and nights mixed together and they never knew what was coming next. "But that was part of the fun of it," Matthews said. Sometimes, when they brought the whole family to sleep at the hospital, it would feel like one big slumber party.
Let People In
When Taylor wasn't around, Matthews would turn to those she knew she could unload on — the first would be her sister, Andrea. "When I called her and told her that Taylor had relapsed, she screamed, "NO! It can't be!" I'll never forget that. She was my soul mate, my sister, 100 per cent of the time." Matthews says she and her husband had other support, too — friends and neighbours pitched in by delivering dinners to her other two kids and making sure they were taken care of. When Taylor started getting mouth sores, someone brought a blender to the hospital. "My community really stepped up," she says.
Take Away Your Child's Guilt
Months after Taylor was diagnosed, she gave Matthews a birthday card that read, "Mummy, I'm so sorry that we're in the hospital and you're not able to celebrate your birthday." The moment Matthews read it, she told her daughter, "Never say that again. Never say you're sorry for me. All I want to do is be with you. All I want to do is be your mummy and I'm so privileged to be your mummy." So many kids who are sick have a tremendous amount of guilt, Matthews says. They think they're ruining people's lives and that everyone would be better off without them. Even as she was camped for days on hospital chairs, Matthews would remind Taylor that this was where she wanted to be — together, with her.
Fight to Give Your Kid a Normal Life
Even when everything was uncertain, Taylor never missed an important event — her Sweet 16 birthday party, holidays, the SATs and driver's ed. Matthews made sure she lived as normal of a life as possible. After one surgery, Taylor was determined to go home for Halloween, her favourite holiday. She weaned herself off pain meds and had her tubes taken out. But doctors insisted she couldn't leave because she needed to be on oxygen. Matthews wouldn't take that answer, telling doctors, "Wait a minute. Is oxygen the only thing keeping her here?" When they told her it was, she said, "Well, then order me a portable oxygen tank and teach me how to administer it." The next day, an oxygen tank showed up at their home, just in time for Halloween. Sometimes, the hospital staff would get frustrated when Matthews fought orders, and would call her "Dr. Matthews." "I'd say, 'I'm sorry. I know I'm not a doctor. But I am giving my daughter a life.'"
Rebuild In a Way That Makes Sense
After Taylor died, Matthews was thrown back into the world, which was incredibly hard. "I couldn't take it," she says. "People were coming up to me and asking what my other child's SAT scores were. I was like, are you kidding me? Parents were talking about nonsense, complaining that their kids can't drive or do this or that. So I lost friends on purpose. I had to cut out anything that was toxic. And to this day, I still have to cut out anything that's toxic."
She says Taylor's life has helped her focus on what matters and live with more intention. "Somebody said to me, 'Would it have been better if she was never born because then you wouldn't have this sadness to carry throughout your life?' I was like, 'I can't even believe you asked that question.' I had 16 beautiful years with my daughter. I was blessed every day she was here."