A few years ago, most if not all of my friends were single. On any given weeknight, I'd meet with one or five of them for a drink and we'd swap stories about bad dates, bad sex, and bad crushes who refused to give us the time of day.
I'm still (incredibly) single (call me!), but most of my former bad date-having compatriots are in serious relationships. On the rare occasions we do get together, we're more likely to discuss engagement rings and couples' trips than unsolicited Tinder dick pics, even though I'm far more familiar with the latter.
It's hard not to feel left out when everyone else is paired off and I am increasingly reluctant to share tales of my current romantic pitfalls with the friends who no longer suffer alongside me, lest they pity or laugh at me when they go home to supportive partners.
I feel like I'm the last un-wifed holdout, but it turns out there are a lot of me out there. In 2016, over two million households in Australia were maintained by single men and women, according to census data, making up 24.4 per cent of households across the country. Over seven million identified as single, accounting for 41 per cent of the population.
Still, though single people have power in numbers, it's frustrating when your friends have partners and families and you have a lot of nights alone with Netflix's streaming selection. Here are some ways to cope.
We're all looking for different things on first dates, especially those arranged via dating apps rather than through a wise village matchmaker. Maybe you're just trying to hook up. Maybe you want true love. Maybe you want something in between — like a sex friend, who will feed your cats while you're on holiday.
Read more
Don't feel bad for feeling bad
When my last single uni friend got into a relationship, I was happy for her, but also bummed I'd lost my partner in crime. This, it turns out, is totally normal, and not a sign that you're jealous and bitter. It's easy (and OK!) to be envious of your coupled-up friends, especially if you're sick of fruitless first dates and constantly having to puzzle out Westworld episodes on your own.
"Being single on a prolonged basis is a real form of grief," says Dr. Vinita Mehta, a clinical psychologist in Washington, DC. "The pain that's being felt is real and valid. The life that you're anticipating hasn't come to pass yet."
And when you're left to suffer through it without single buddies to commiserate with you, it's even worse, especially when you feel like you're getting left behind. "Whenever our friends all do something and we don't, we feel left out," says Deborah Carr, a professor of sociology at Boston University.
Plus, when your friends couple off, you don't get to spend as much time with them. This leaves you with a lot of time to ponder your potential future of solitude. "So there's also some loneliness, some change of routine. You no longer have bar night with your friends on a particular night of the week if they're spending more time with their spouse or partner," Carr says. "You're lonely, feeling left behind, and feeling that your life has changed."
Do make time to see your coupled-up buddies
You may have trouble finding time to hang out with your friends in relationships. Adult obligations make it hard enough to see your single pals as frequently as you might like, but when you have to compete with a partner (or, worse, kids) it's almost impossible.
So says Bella DePaulo, author of Singled Out: How Singles Are Stereotyped, Stigmatised, and Ignored, and Still Live Happily Ever After. "Single people too often get ditched by their coupled friends," DePaulo writes in an email. "Research shows that when couples move in together or get married, they become more insular. That includes spending less time with friends."
The more time you spend isolated from your friends in relationships, the more left out you'll feel. Carr suggests planning at least one group outing well in advance. "Even if it's a dinner two months out, get it on the calendar and make sure that everybody commits to it, so you have something to look forward to," Carr says. Plus, as she points out, one social engagement usually begets more. "After you're done, you're like, 'We had so much fun, let's do it again.' And you put another on the calendar," she says.
Everyone does not have more friends than you, even though, as a study at UBC Vancouver indicated, plenty of people believe their friends all have more friends. Everyone is not going to parties you're not invited to, meeting a wide array of people across all backgrounds and slices of life, who come together in a rich tapestry of social circles that rivals the opening titles of Sesame Street.
Read more
Try new things on your own
When your friends start saving their free time for their partners, it's a lot harder to find a plus-one for activities you used to do together, like taking classes, going to the movies, or wingman-ing at parties. You might be tempted to stay home if you can't find a date or buddy, but actually, this is a great opportunity to explore things you really want to do without having to babysit someone else.
"I was a single person in Cooking Club that was either all couples (or, for a while, had one other single person) for a decade," DePaulo writes. "And I often go to events in which everyone else is coupled." Though at first you might feel self-conscious, say, dining out by yourself, or doing other two-person activities on your own, once you build up enough confidence to fly solo, you start to stop fearing being alone.
"In fact, I feel proud of myself for going wherever I want, whenever I want, without being deterred by whether I will be the only single person," DePaulo says. Plus, you get to decide where to go, what to do, and (most importantly) when you leave.
Tell your friends how you feel
Pride might stop you from letting your friends know you sense you're being left behind, but really, there's nothing wrong with verbalizing it to them. "When we are the last person in a friend group to remain single, it's kind of like everybody in the family isn't there anymore," Mehta says. "When you're the only one who's different, it makes you feel like you don't belong. You're not a part of the family."
This is particularly true when your friends are getting married, Mehta notes, and she suggests that single friends discuss how they feel about the changing dynamics with their engaged pals before any official ceremony takes place. "The idea is to be able to realise the people who are getting married are also adjusting to the way the family is changing," she says.
Friends should express that they're still important to each other, and reassure each other they hope they can still maintain their close friendship, while acknowledging it is naturally going to change. "You have to accept there isn't going to be the same kind of availability there once was, and understand you're going to be parts of different families," Mehta says.
If you're looking for a quick and dirty exit to a romantic entanglement with someone you're not too likely to run into again, ghosting can seem like a tempting, blissfully simple option. But then, one day, you find yourself on the opposite end of the ghosting equation, lovelorn and wondering why people can't just treat each other like goddamn human beings for once!!!
Read more
But don't put up with smug couples
One of my least favourite things about being the only single person in a sea of couples is having to discuss my dating life with them. It's depressing enough to suffer through awkward dates and disappointing rejections without later reliving them in the company of people presently spared from that specific drudgery.
And if you do find yourself fielding dreaded questions about your romantic activities while at a dinner table full of married folk, it's OK to (nicely) tell them to shut up. "You can draw boundaries over where it is you don't feel comfortable," Mehta says. "You can say, 'I don't really feel comfortable talking about that, I'd really like the conversation to stop where it is.'"
And if you happen to be one half of a smug couple, don't pry, and don't try to put positive spins on bad or dumb dates. I hate when coupled people do this. It feeds the misguided theory that single people are single because they aren't open enough or don't try hard enough, but sometimes a date is bad or dumb or not a good fit, and you should trust your instincts if that's the case!
Most of all, definitely don't set your friends up with random single people you've picked off the street. "They should have something in common, whether a professional interest or sense of humour," Carr says of set-ups. "Make sure there's some criteria on which they're a match, other than that they're just simply breathing and walking upright while being single."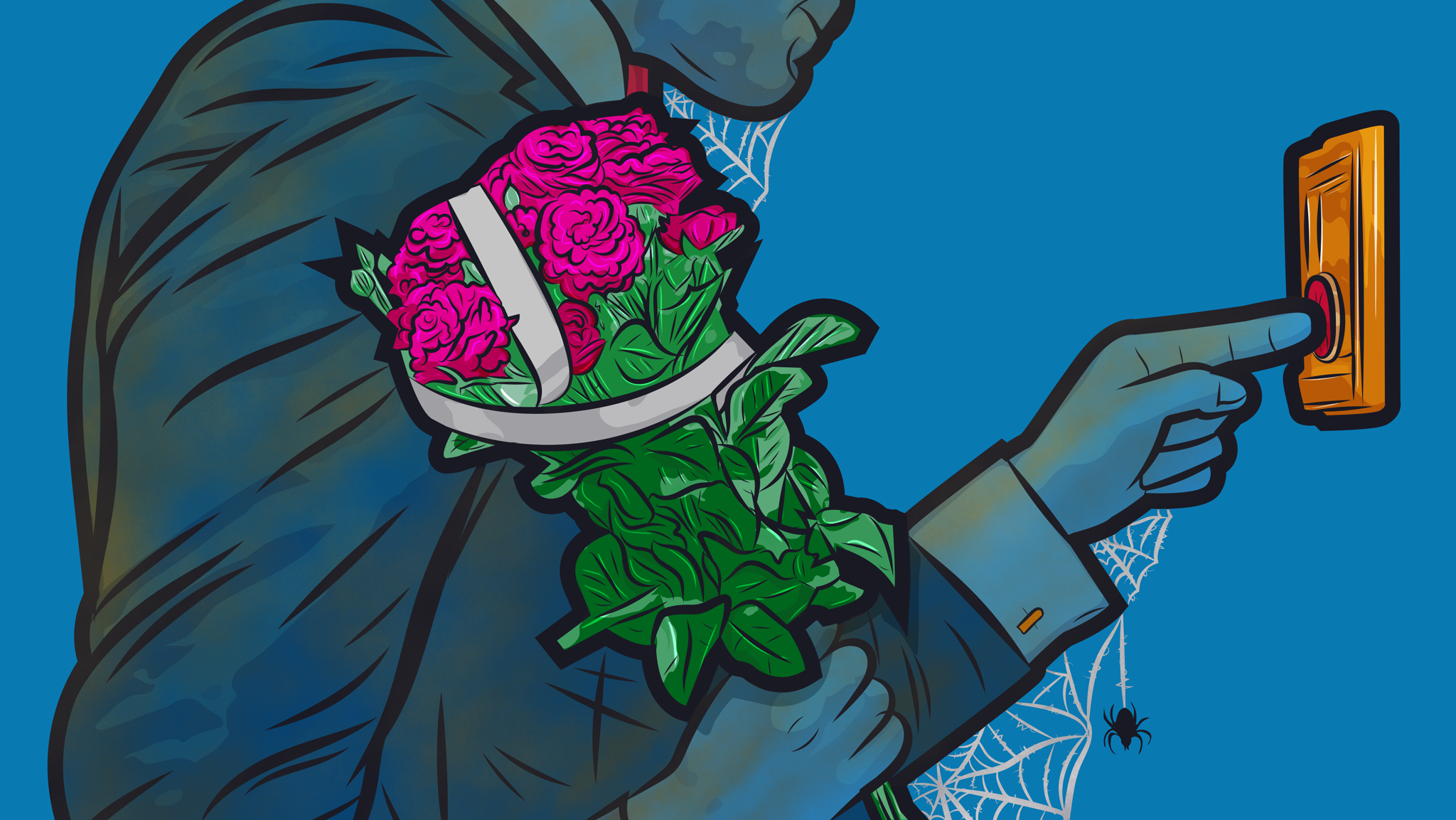 Following three years of more or less accidental celibacy, I made a vow to go on two dates a week, every week. I'm not a psychologist, but at this point, I am pretty much an expert on first dates. And (not to brag) but I usually get asked out again.
Read more
Don't take it personally, and don't settle just to fit in
The fear of attending all your friends' weddings sans a plus-one might send you on a right-swiping spree, but there's no need to panic. The fact is, there are plenty of perfectly dateable single people out there who haven't found a match.
There are also plenty of couples out there who are miserable. "Whenever you are tempted to scold yourself for being single for a bad reason (for example, you are insecure, or you have 'issues'), ask yourself if you know of any married people who are insecure or who have issues. (The answer is yes)," DePaulo writes.
In fact, DePaulo points out, it's better to be single than coupled up with the wrong person. "[Y]ou can also feel proud of yourself for not rushing into any old relationship just to be in a relationship. That's a bad idea, and it is especially bad for single people who are living great single lives," she says.
If you've been on the dating scene for what feels like forever and you're starting to feel frustrated and disillusioned with it all, it might be time to take a step back and do a little re-calibrating. We project how we feel to others; people can sense your negative outlook from a mile away, which ruins any chance of things working out. It seems counter-intuitive, but the more you act like things are never going to work out, the longer you'll probably be alone.
Read more
Carr concurs. "Not all people who are married are happily married. And some people make choices that aren't good for them, or they settle simply because they want someone," she says. "Those who are still single should revel in the fact that they have been selective up to date, and they should continue to do that."
After all, when you're single, there's always the chance that Michael B. Jordan will walk into the bar you're at and sweep you off your feet. But if you're in an unsatisfying partnership, even if you do meet MBJ, you can't run off with him to Vegas, sorry!
Know that if you want it, your time will (probably) come
A fun thing about all your friends coupling up and ditching you last minute to go ring-shopping is that you have lots of free time to start wondering why you're the only person you know who can't find a successful relationship. Probably, though, you're fine. "…we're led to believe the world is a meritocracy. That good things come to those who deserve them," Carr says. "We often beat ourselves up and try to figure out what's wrong about us that's making us still be alone when, in fact, it's nothing."
Dating is all about compatibility and timing, and waiting for those two factors to gel together just right can be downright exhausting. But if you're a single person who'd rather not be, the good news is, the numbers are on your side. "About 90 per cent of people today will marry," Carr says. "It differs a little bit by gender, race and ethnicity, but most people will eventually end up in a partnership if they want one. So, those who are still single shouldn't view themselves as permanently single, but that they're just not yet in a partnership."
You have got problems, I have advice. This advice isn't sugar-coated - in fact, it's sugar-free, and may even be a little bitter. Welcome to Tough Love.
Read more
In the meantime, it's worth taking stock of what you've gleaned from periods of prolonged singleness. "Find if there's some meaning to be drawn from it," Mehta says. For instance, "'I may not have wanted to be single for this long, but because I've been single, I've been able to explore certain parts of myself. Because I was single I met this new friend, or I've been able to travel to this place I otherwise wouldn't be able to travel to,'" Mehta says.
And if you don't want to pair up, that's fine, too
Some folks like their solitude so much, they aren't in any rush to invite another person in. "Some people love being single and they love spending time alone and maybe also living alone," DePaulo writes. "I'm one of those people. If you are, too, you have nothing to fear. You will savour your solitude and you will not need any instructions for how to do that."
In the end, there are a lot of benefits to being single — your time is your own, for one thing, and you don't need to compromise on any major life decisions to please a partner. Most importantly, you don't have to share a room with someone who snores. Good sleep will help you combat a lifetime of smug couple dinner party third degree, after all.