I am an absolute fool for a good charcuterie board, and enjoy all of their offerings, from the super-hard salumi to the spreadable and whipped liver mousse. But there is something special about a terrine which, at its best, is a harmonious amalgamation of flavours, textures and (of course) meats.
Photo: Claire Lower
A terrine is somewhere in between patê and meatloaf. Beyond various animal organs and sausages, a terrine usually contains eggs, cream, brandy, a whole bunch of wonderful seasonings, and even nuts or dried fruit. After being mixed or layered together, the loaf is cooked in a moist cooking environment, then chilled, sliced, and spread on really good bread.
As with anything that you want to keep moist and infuse with flavour, the terrine seemed like a mighty fine sous vide candidate. You can honestly cook any terrine you want this way, but I went with a fairly rustic and simple chicken and pork (based on this recipe from Epicurious), studded with cubes of ham and shelled pistachios. To make it you will need:
2 tablespoons duck fat (you can also use butter)
1 onion, diced fine
4 cloves garlic
1 tablespoon fresh thyme
1 bay leaf
1 tablespoon kosher salt
1/2 teaspoon fresh pepper
1/2 teaspoon ground allspice
1/4 teaspoon fresh nutmeg
1/2 cup heavy cream
2 eggs
3 tablespoons brandy
225g cleaned chicken livers
450g fatty ground pork (20 per cent is good)
225g chicken sausage meat (whatever flavour you prefer)
225g ham, cut into 1cm cubes
12 slices of bacon
Melt the fat in a pan over medium heat, then sauté the onions with the bay leaf until they're nice and soft, add the garlic and the thyme, and cook for another minute or so, until everything is nice and fragrant. Transfer the mixture to a bowl sat down in an ice bath to chill.
Once that's reached around room temperature, add the remaining seasonings, the cream, the brandy and the eggs.
Look at those double yolkers!
Look at those double yolkers!
Give everything a stir to combine, and set the bowl aside. (You can take it out of the ice bath now.) Pulse the chicken livers in the food processor until they're coarsely chopped, then add the liver, ground pork and sausage to the egg and cream mixture. Mix that up with your hands real good, then fold in the pistachios and ham cubes.
Line four little disposable loaf pans with three strips of bacon each, fill them up with your meat mixture, then fold the bacon over the top of the mixture.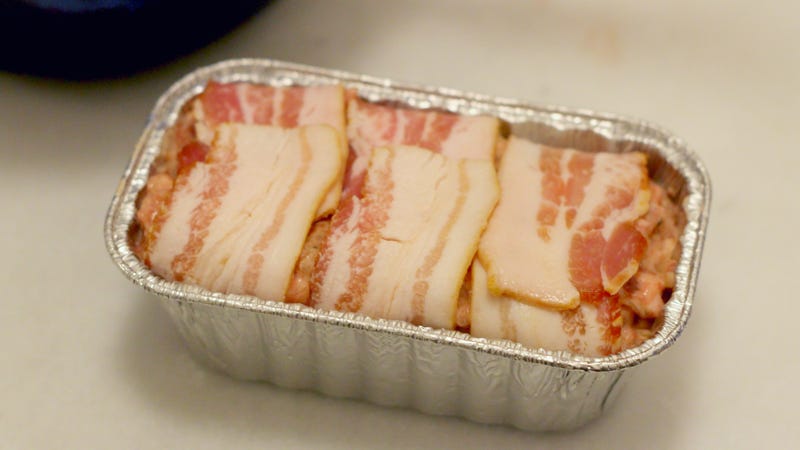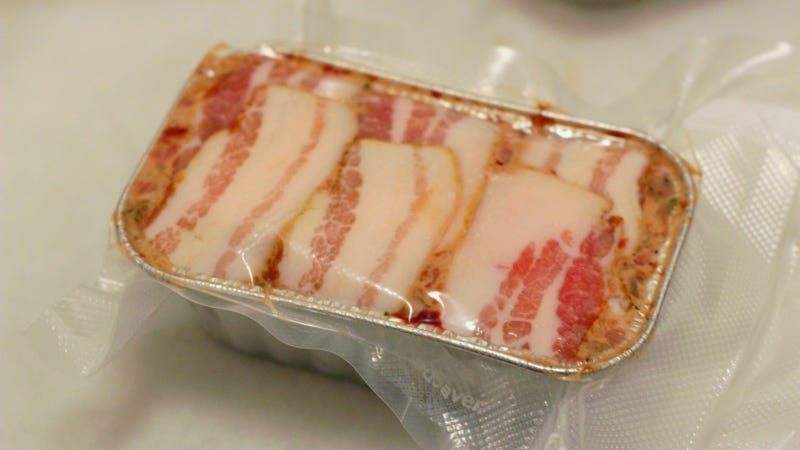 Seal the loaf pans in vacuum bags – this will help the loaf keep its shape – then place them in a 68C bath for three hours. There's no need to let them sit beforehand for the flavours to meld, as the ones I let hang out in the fridge overnight didn't taste any different than the ones I cooked straight away.
Once they're done cooking, chill them down in an ice bath and then transfer to them to the fridge for at least eight hours. When they're cold and firm, pop them out of their tins. There will be a little meat goop in the bag and some collagen type stuff hanging out on the loaf. Just wipe or rinse that off with cold water and dry it with paper towels.
Slice into your beautiful meat sculpture, and spread it on some good bread. Put a little stone ground mustard on there if you wish, but it isn't necessary; it's plenty good without it.
Serve as an appetiser, as part of a charcuterie plate, or just enjoy one for dinner with some crusty bread and sour pickles.