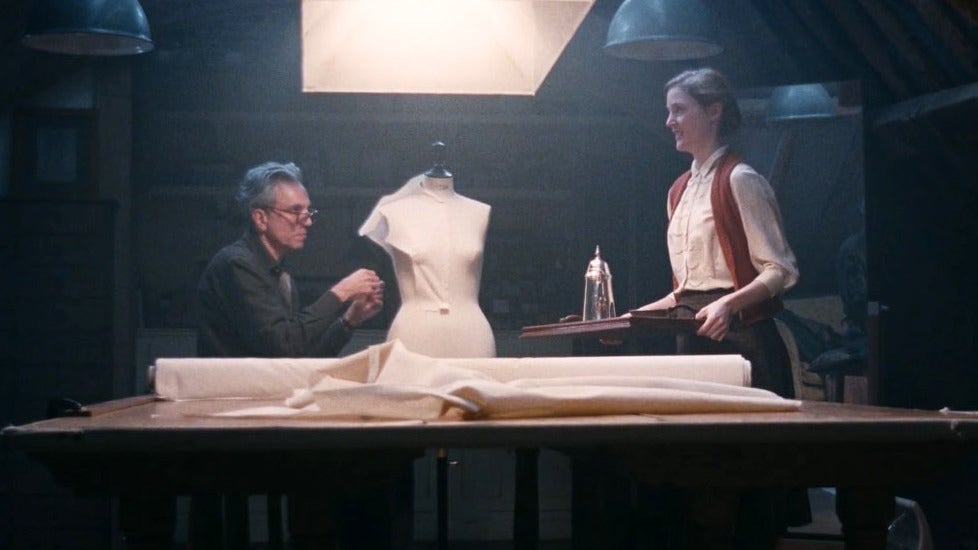 "Women almost never become art monsters because art monsters only concern themselves with art, never mundane things," writes Jenny Offill in her novel Dept of Speculation. "Nabokov didn't even fold his own umbrella. Vera licked his stamps for him." Women, instead, are forced to "balance" work and life.
"The tea is leaving, but the interruption is staying right here with me." (Phantom Thread)
This sexist societal norm also does no favours for the men involved. Podcaster Jocelyn Glei regularly asks her guests for the key ingredient in work-life balance, and artist and writer Austin Kleon recently noticed the gender disparity in the answers. Men took the balance for granted, while women often didn't believe it even exists - and they don't really distinguish between "work" and "life".
Kleon researched the work habits of several successful female artists, who would paint or write with the kids in the room, running around, playing literally underfoot. Artists interviewed by Judy Chicago made their work "in between" all the necessary housework and parenting. Meanwhile, successful male artists often wall themselves off, setting up precise rituals to "get into the zone" before they can do one bit of work. Documentarian Eleanor Coppola remembers her husband Francis setting down to work:
I went to see Francis in his working room, and he had his pencils all laid out, and his espresso there, and there was this whole little ritual of getting into yourself and into your work. There was no time [for women] for the ritual of getting into your work! You just snapped into that taking 10 minutes and making 3 lines on your drawing.
It isn't wrong to make a separate space for yourself. It isn't wrong to have a finicky creative process and rituals and boundaries. What is wrong is mistaking that process for a nobility of purpose. If you fetishise your inattention to daily life, you risk valuing it above your actual life, which leads to justifying neglect or even abuse of those around you. This fetishisation is a major factor in why our culture excused abusive powerful men for so long; it was seen as the "price of genius", as if these men couldn't possibly create good art and be good human beings.
But Kleon also finds men who have rejected this idea of the closed-off, compartmentalised artist, who integrate work and life, often with a lot of conscious effort. Tom Waits, Wendell Berry and James Kochalka all value the interplay of life and work, and try to build it into their process.
This approach is a privileged one: Many of us wish we could integrate our lives and work this much, or even care enough about our work to want a balance. But as so many workers take our work home with us, we need to learn the same lessons. The "always-on workplace" shouldn't take us away from our lives, but fit into them. We should work without isolation, skip the rituals, and "take that 10 minutes".
The best thing ever written about "work-life balance" [Austin Kleon]