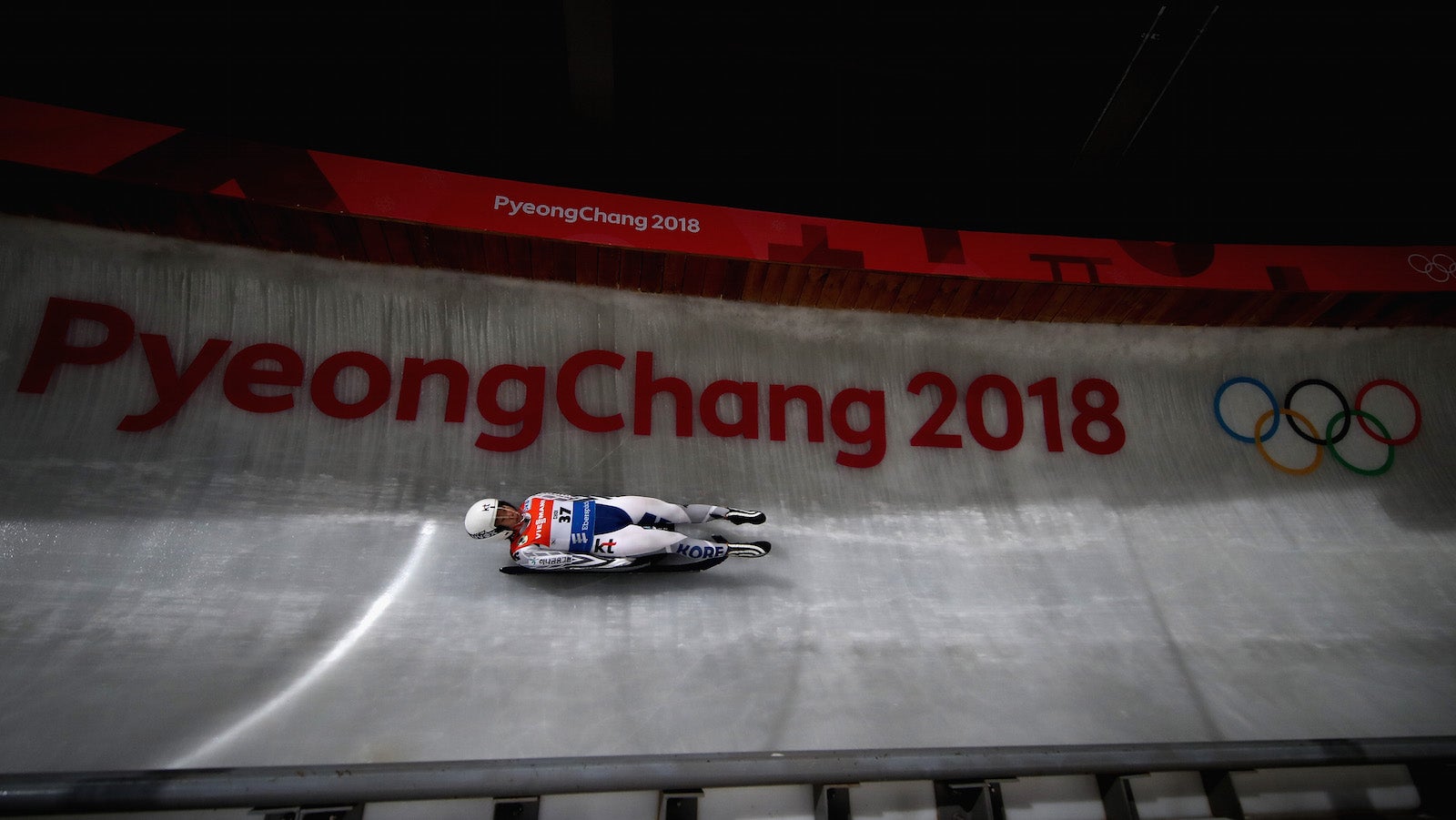 The luge has flown by quickly at PyeongChang with the men's singles already finished. Tuesday and Wednesday will reveal the women's singles and doubles winners, and Thursday is the team relay. So in preparation, what the heck is luge?
Image via Getty.
How is it scored?
It is pretty much what it looks like: sledding as fast as you possibly can. Fansided explains that in the singles competitions, each rider gets four runs over two days. That seems like plenty of time when you're going 129km/h! Their times on every ride are added together, and the person with the fastest cumulative run is the winner. Men start from further up the shoot, travelling .84 miles, while women start at .75 miles.
It's the same for doubles, when a couple crams themselves on the sled, but they only get two runs on one day.
Relays are more complicated. The team is composed of men's singles, women's singles, and doubles. They all start at .75 miles on the chute, and as they pass the finish line the sled presses a touchpad that sends off the next round. Whichever team takes the least time to all cross the finish line wins. (Somewhat ominously, one rule states that "the rider has to be in contact with the sled" as they're crossing the finish line. You definitely don't want to fall off a sled going this fast.) The Team Relay has only been an event since 2010. Maybe folks were tired of travelling to the Olympics and being done in literal seconds?
How are they doing this?
It's not just sledding. Going so fast requires not only a perfectly calibrated Olympic chute, it demands some special equipment and special skills. Riders start off sitting up and pushing themselves with hands that have special ice piercing spikes, according to the New York Times. Then they have to navigate using extremely powerful calf muscles. It may look like they're lying there hanging on for dear life, but it's actually a very precise skill. And dangerous if things go wrong - Nodar Kumaritashvili of Georgia was killed during a training run in 2010 when his sled flew off the track.
Who we rooting for?
At the moment, it looks like Germany's Natalie Geisenberger is poised to win the Gold medal for women's singles. The thing about luge, though, is that no matter who is ahead, it really only takes a couple seconds to make a huge difference.
Check out the rest of the event schedule here, and tune in tonight to see if Germany sweeps women's singles.