Image credit: Pixabay
In order to be classified as a "craft beer," The Brewer's Association requires the brewery making it to be small, independent, and traditional. That means that while some breweries owned by companies like Anheuser-Busch might call themselves "craft" they aren't. If you don't pay close attention, it can be hard to tell the "big" beer from the small guys when you're at the bottle shop. Now there's an app for that.
"Independent" means that less than 25% of the brewery is owned or controlled by a beverage alcohol member that is not a craft brewer. "Traditional" means that beers are made using traditional brewing ingredients and fermentation (malt beverages like Smirnoff Ice don't count).
While you can probably tell that things like Corona, and Heineken aren't craft, neither are beers made by so-called craft breweries. Many "independent" brands are actually owned by the big players or or holding firms as part of their "High End" portfolios.
If you want to buy craft and you're not sure what you're looking at, the app Craft Check can help. With it, you just type in the name of a brewery or scan a package, and then the app will let you know whether what you're looking at is craft or not.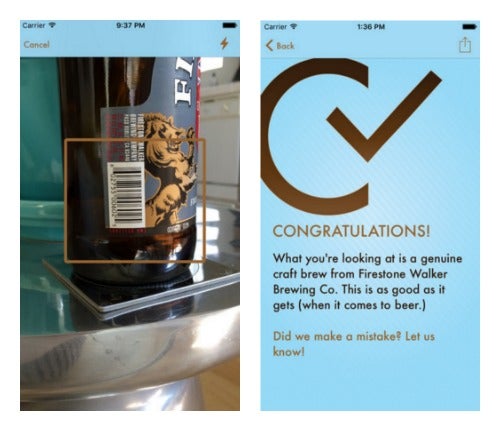 Image credit: Craft Check
It can be great if you're at a bar or store and come across something new, and want to make sure you know where your dollars are going before you buy.