Everyone does things to make themselves feel better about their appearance, but guys, using a hat to hide your bald spot is a bad idea. You're not fooling anyone.
Photo by Ryan Hyde.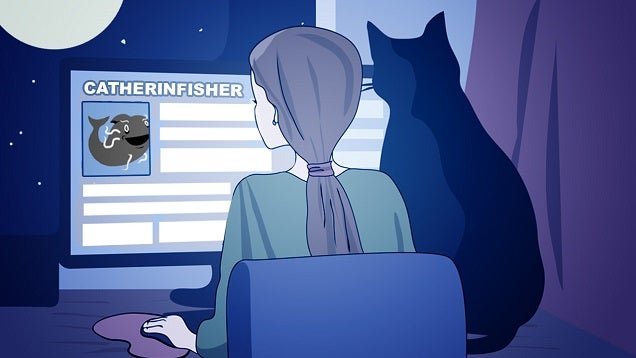 Online dating can be fun and exciting, but it can also be a playground for identity thieves, hackers and other nasty people. Here are the tell-tale signs of a catfish -- or someone online who's pretending to be someone they are not -- and how best to approach the people you meet online that seem a little fishy.
Read more
"Hatfishing", as Jason Chen at The Cut explains, is similar to "catfishing", except it's when a guy always wears a hat in all of his online dating photos to hide the fact that he's balding. It could be a guy wearing a baseball cap and a suit, a guy wearing a beanie inside during a hot summer, or a guy who wears the same flat cap every day and claims to be "bringing caps back". Then, when these men go out on dates, the shiny truth is revealed. Or worse, the ridiculous ruse is laughably continued in hopes their date will never ask them to remove their hat for the rest of their lives.
Now, it's understandable why guys do this. Dating profile photos do matter — a lot. It's the first thing people see. People will read your profile or whatever, but they're mainly looking for someone they're attracted to at first glance, which is understandable. So, balding guys feel they can increase their odds by hiding that unfortunate fact about themselves. If you can just land that first date you can win them over with your personality and other attractive qualities, right? I mean, it's not really a lie so much as it's hiding the truth, right? Right?!
But the problem with this approach isn't the lie of omission — a lot of people lie about stupid things on dating sites — it's the way it comes across. It makes you seem overly self-conscious, insecure and timid, which isn't a good look on anybody. People respond to confidence, so you're better off owning what you've got. Your scalp situation may not be ideal in your mind, but you can still look good when you lose your hair. In fact, some people look better without it once they embrace their baldness.
Whether you're shaving your head bald or you have no choice in the matter, the way you dress can help take the focus off your dome.
Read more
People can usually tell if you're "hatfishing" anyway. As Chen puts it, "Anyone who's keeping his hat on in a setting that can't be remotely categorized as 'active' should be considered suspect." If you're always wearing a hat, people are going to start wondering what you've got underneath it. And the longer you wait to reveal it, the more the other party will feel like you were trying to deceive them. After all, if your dates go well, the hat will have to come off eventually. What then?