With a heated global political climate and the threat of nuclear war seeming to loom over our heads, it's hard not to be stressed right now. But you don't have to sit there and stare at your news feed in agony.

Photos by Alex Antropov and Conal Gallagher.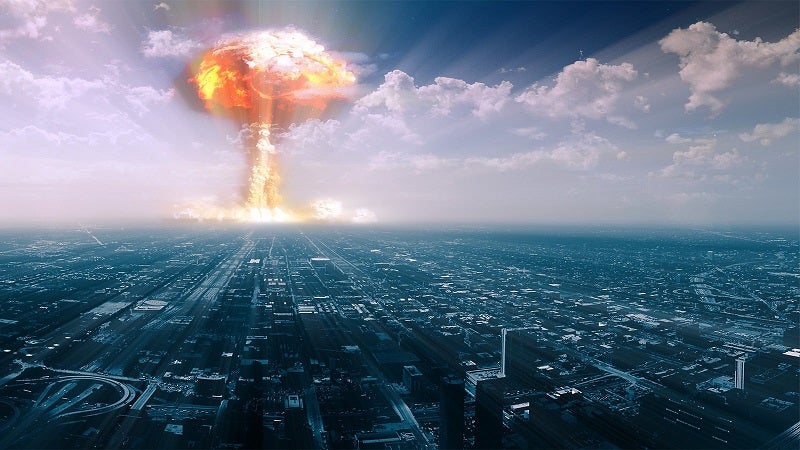 This is advice I hope you never need but should know anyway. A nuclear attack is everybody's worst nightmare, and the immediate aftermath is just as bad, if not worse, than the explosion itself. Here's what you should do if you survive the initial blast.
Read more
Fear of nuclear war, or some sort of apocalypse in general, is nothing new. People have lived with it for years since the second World War and long before. But self care is paramount during times like these, as is avoiding the deep hooks of mass hysteria. Studies show that fears like this increase the risk of common mental disorders in younger minds, and it's probably not good for anyone else, yet the slightest bit of effort can help you keep a healthy perspective on everything that's going on.
Therapist Michael J. Salas at Vantage Point Counseling Services offers a few things you can do the moment anxiety strikes. Ask yourself:
If the event were to happen in the future, how would worrying about it now help?
What evidence do you have that the a catastrophic event is going to happen?
What is the difference between cautious, fearful and worried? How do define each of this? Which would you most want to feel?
What is the information that is being presented and how valid is the resource delivering the information?
It may seem silly to ask yourself these questions, but it really is important to consider these things. Worrying about abstract fears such as this rarely offers any benefits, being cautious is different than being fearful — don't let it get the best of you — and the evidence and information you have regarding eminent nuclear war probably comes from some talking heads on the news.
We all deal with anxiety in some form day to day. But anxiety can be a much stronger, more fearsome force for many people -- one that never goes away. What is anxiety exactly, and what's going on in your mind (and your body) when anxiety strikes? How do you cope when it takes hold?
Read more
But what can you do to fight off this feeling of nervous terror in the long term? I spoke with Jeffrey DeGroat, PhD, LP, a clinical psychologist in Birmingham, Michigan, to find out.
For starters, you need to understand why this type of stress and anxiety has such an impact on you in the first place. DeGroat explains that this type of stress becomes magnified because you're spending too much time and energy focusing on something you can do nothing about. You desire control but you can't have it. You don't run any nation's nuclear arms program, you don't have the ability to manipulate the cosmos and stop an asteroid, and you can't tell a super volcano to chill. Plain and simple, you're afraid of the unknown, and it's nothing out of the ordinary. Try to let go of the things you can't control.
Last week, I experienced a panic attack for the first time. The scariest part, though, was that I was hopelessly lost for what to do. If you ever find yourself in a similar situation, here are some tips for dealing with a panic attack in the moment, preparing for them in the future, and helping others in their time of need.
Read more
Of course, just "letting go" of a particular worry is easier said than done, and DeGroat has two concrete suggestions that might help. The first is to take action:
If you are overwhelmed by the current political climate, you might find relief by becoming politically involved. For instance, look into various political or social movements that you agree with and find ways to become involved. You might attend local events, or participate in online communities to express your opinion, as well as help encourage political and social change.
You might not be saving the world from destruction in the process, but that isn't the point. You're focusing on what you can do, and giving your mind some relief in knowing that you've done your part in trying to make things better. Sometimes that's enough to help you sleep at night. The next best thing you can do is find solace in distractions:
If you are not comfortable becoming involved in social and political movements, I would recommend you focus upon distracting yourself from the current political climate. Investing your time and energy in activities which you find rewarding can be a great way of taking your mind off of environmental stressors over which you have no control.
Take a trip to the great outdoors and reconnect with nature, gather your friends for a weekly game night, spend time with family doing things you love, and for the love of all that is holy, stop reading the damn news every five seconds. It also helps to create a safe "no-nuclear war" zone, where there's a moratorium on end of the world talk. And, it may be tough, but cut yourself some slack and remember that it's OK to be afraid every once in a while. Sometimes we exacerbate our stress when we criticise ourselves for feeling that way in the first place.
Doing your best to stay up with current events can often feel like drowning in a torrent of never ending bad news. With information coming at you in every direction, it's easy to get burned out. Compassion and solidarity are important, but being an informed citizen doesn't mean you always have to go down with the ship.
Read more
Lastly, DeGroat notes that you're not alone in the experience of this anxiety. Don't be afraid to seek comfort in others who feel the same way. Stay connected with the people you care about, and reach out to those who give you support. It's OK to be afraid, but it's OK to ask for help, too. At the very least, remember that instances like this do have a positive impact — even if it's hard to see. Increased nuclear threat brings more attention to it, and that includes more attention given to education, preparation, and prevention for the future. Fear like this does have its upsides.