You have problems, I have advice. This advice isn't sugar-coated — in fact, it's sugar-free, and may even be a little bitter. Welcome to Tough Love.

Photo by Richard.
This week we have a man who's in a relationship, but also isn't. Confused? So is he!
You have problems, I have advice. This advice isn't sugar-coated -- in fact, it's sugar-free, and may even be a little bitter. Welcome to Tough Love.
Read more
Keep in mind, I'm not a therapist or any other kind of health professional — just a guy who's willing to tell it like it is. I simply want to give you the tools you need to enrich your damn lives. If for whatever reason you don't like my advice, feel free to file a formal complaint here. Now then, let's get on with it.
Hello Sir Patrick Allan,

There's this girl. We have been friends for a long time. We talk everyday. We go out to dinners, movies, hold hands, kiss and so on — everything you'd expect from a typical relationship. Thing is, we have no official title. She doesn't want an "official label", and for the most part I agree. We've both been through the nastiness that is an "official" relationship. By leaving the titles behind, we enjoy the good aspects of a relationship and not the bad — ideally. After about six and half years of what she and her friend calls a "flirtationship", something's gotta' give.

Lately, we've been arguing A LOT. And it's always about the same shit. I have a history of alcoholism, drugs and womanising — all previous to meeting this girl, of course — and I have two DUI's on my record. It's not the best past, especially for a girl like this. She's a good girl. In high school, she was the one carrying loads of books and studying while I was the one whistling at the hot teacher or putting Icy Hot on toilet seats. But I've come a long way and I thank her for a good chunk of that. I don't drink any more, or smoke, or go further than glancing at pretty women. I recently graduated university, got a decent job, and live on my own. Yet despite the changes, we can't seem to stop arguing. She has a lot of guy friends and any time she tells me she's going to dinner with "a friend", I spew something nasty like, "Where are you guys going?" or, "Is he someone I know?" Then she'll get defensive and angry. I don't think she's doing someone else, and one of our rules is to let the other person know if we ever do, but she hasn't said. Still, when we fight, she'll use it against me, saying something like, "If there is someone else, you can't say anything because we don't have a title and you've lied to me and hid stuff…" and so on.

We got into a similar argument again. I was buying a new car and the sale took about six hours, so I didn't call her when I said I'd call her back. She got really mad and didn't talk to me all day while she was out with her friends. That didn't sit well with me, so I sent some angry texts then went out with my old friends I used to drink and smoke with. But I didn't drink. I didn't smoke. In fact, I was a designated driver. I missed her and couldn't stop thinking about it, BUT I didn't do anything stupid. We talked that night and I told her I was out with the boys and was miserable. She got so pissed at me, scolding me about going out with people I got in trouble with in the past. This fight brought up a shit load of things that apparently weren't settled between us — like how I'd lie to her about smoking when I was in the process of quitting.

I can tell she isn't happy. Man, I don't know what to do. I'm trying to be a better person, and I think I'm making progress. She needs to realise that I love her and that my old lifestyle is non-existent when she's around. Maybe she's afraid I'll revert back since I went out that night? I just needed someone around me when it felt like she abandoned me. The last fight, she said if we fight about this again, she'll leave what we have for good. Expert advice needed from an expert. Reading your advice articles leads me to seeking your awe-inspiring greatness (this is my first time).

Thanks for everything, sincerely,

Lost-n-Confused
Hey Lost-n-Confused,
Whoa, whoa, whoa, whoa! Hold up… I love this "Sir Patrick Allan" thing you've got going here. Fantastic. Anyway, enough about me, let's work this out. *turns chair around*
You two decided to avoid "official labels" in an attempt to make things easier for yourselves, but I think it's actually making things more difficult. You guys both have one foot in and one foot out, and that's always going to be a problem, especially whenever you have a disagreement. The instant something bad happens you have this easy out of "Well, we're not in a relationship, so you can't say blah blah blah…" It's like you're playing a game with someone and as soon as they start to lose they decide they were never actually playing.
You're a couple in love. Naturally, you're going to fight once in a while. However, being frustrated or angry with your partner doesn't have to be destructive. You just need to know how to approach the argument.
Read more
Now, don't misunderstand me here. I'm not saying the label itself is that important. You don't need to announce to the world that you are "offish bf and gf", or even decide that's what you are. And I'm not saying you two need to be monogamous, or get married, or do whatever it is self-righteous people say is morally sound. I'm saying that you both need to define your relationship in a way that you both feel comfortable. What's OK? What's not? What bothers each of you? This weird "we're in a relationship but we're not" thing is only going to complicate things further because neither of you have laid out what you want, and it's clear you're not entirely comfortable with your arrangement. Also, it's possible her perspective on this "flirtationship" is very different than yours. Maybe you're a bit more into it than she is?
So what do you want? It seems you're both well beyond "friends with benefits", so talk about this stuff! If you both want different things, or you're not willing to compromise on these issues at play, this relationship will never get easier. You say your aim is to enjoy the good of a relationship without the bad, but that isn't how it works bud. You don't get the good without the bad. Frankly, your situation seems to be filled with far more "nastiness" than an "official" relationship. There's no trust, no compassion and no understanding.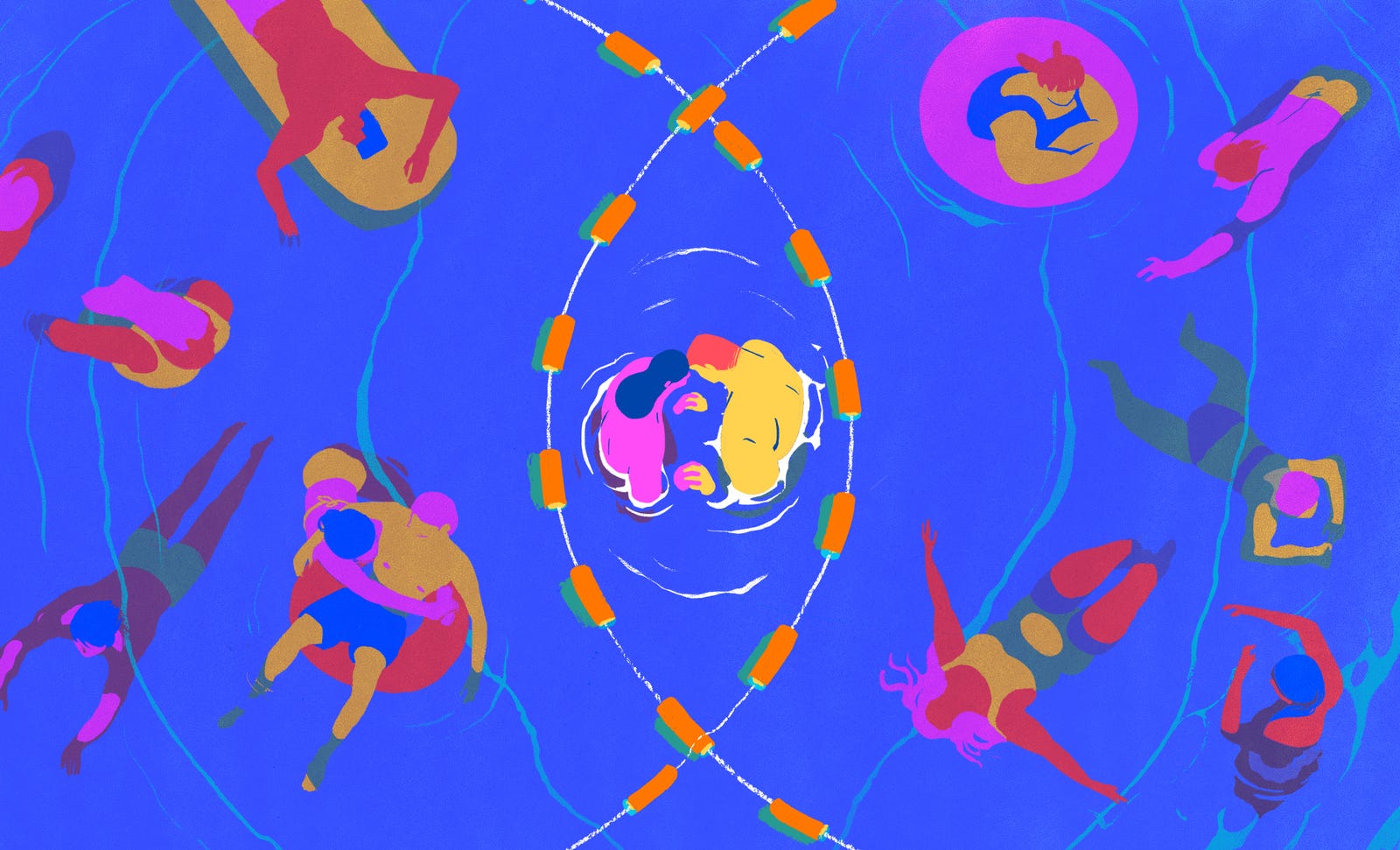 I was falling in love with the woman with whom I was having a transatlantic fling when she told me about her expectations for our burgeoning relationship. Specifically, Annie wanted our relationship to be an open one, meaning that we would each have the option to see other people. I, on the other hand, wanted to have my dream girl all to myself forever and was slightly nauseated by what she was proposing.
Read more
But there's another problem here that I think is just as big as your amorphous blob of a relationship: She won't let go of your past. Lost-n-Confused, you are making progress in becoming a better person. You got sober, you got a university degree, you got a good job, and you bought your first brand new car! I mean, I don't know what you're like in person, but on paper it seems you've turned things around and held to it. It isn't OK for her to be drudging up the past every time you guys get in an argument. Yes, you did those things, but you've worked hard to change. She needs to let you be this new, better version of you. That said, you can't fault her for being concerned when you hang around the wrong crowds. And if your behaviour starts to resemble your old doggin', druggin' ways, that's cause for her to say something too. But using your past as a weapon against you every time you two disagree is not cool at all.
It sounds like you care about this girl, Lost-n-Confused, but it's important you know she isn't the only thing keeping you in line. You made those changes and you can keep on the straight and narrow without her. Who knows? Maybe there's someone else out there that will appreciate your journey a bit more. But before you make any decisions, sit down with this girl and evaluate what you have here. Take it seriously and throw your hat in the ring. It's time to put up or shut up.
---
It seems like people are always looking for love, but single life can be pretty great. You're independent, you don't have to compromise and you get used to doing things 100 per cent your way. Of course, when you finally meet the right person, this can make it difficult to adjust to being in a relationship. Difficult but not impossible.
Read more
Quickies
Because I just don't have the time or patience for all of you…
Perfect Husband asks:
I love my wife though not very beautiful but I love u. I I don't and can't image myself f….king another more beautiful lady. Each time we make l…. E she just the best she just humm. Y don't see I other laddie that way,.
Huh? OK, so I left this one unedited — not just for your enjoyment, but mainly because I have no idea what Perfect Husband is saying. Let's break this one down line-by-line together. Here we go:
I love my wife though not very beautiful but I love u.
You love your wife, but she's not very beautiful. Got it. But you love me… I'm flattered, but no thanks.
I I don't and can't image myself f….king another more beautiful lady.
You don't imagine yourself having sex with another "more attractive" woman while you're with your wife. In fact, you can't. OK, sounds fine so far. You must really love her and find her attractive even if she's not considered conventionally beautiful by other people's standards.
Each time we make l…. E she just the best she just humm.
Every time you make love, she rocks your world. She just hums… which I'm guessing is a good thing? It sounds positive. Unless you mean actual humming. That could be distracting. Maybe play some loud music while you bang?
Y don't see I other laddie that way,.
I'm assuming you mean "lady" here, not "laddie", because that's a whole different situation. Basically, you're asking me why you're not attracted to other women who aren't your wife? I'm not seeing the problem here, PH. Uh, I guess you love your wife and have happened upon domestic bliss. Sounds horrible.
---
That's it for this week! I probably won't make you feel all warm and fuzzy inside, but sometimes what you need is some tough love. 'Til next time, figure things out for yourself.