Bed bugs are some of the most horrifying pests out there. They suck your blood, spread from place to place easily and are tough to kill. But do you know what they actually look like? Turns out, most people don't.
Photo by British Pest Control Association.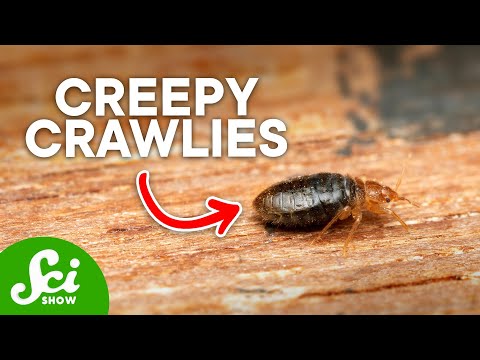 They're tiny, resilient and they want to suck your blood. Bed bugs are a serious issue that isn't going away any time soon. Here's what you need to know about the microscopic monsters.
Read more
A recent study, published in the journal American Entomologist, surveyed over 2000 travellers with a "64‐item questionnaire, of which 15 questions pertained directly to traveller awareness, experience and attitudes toward bed bugs". Most participants said they considered the threat of bed bugs when they stayed in hotels and many said they worried about them on some level.
But when asked to identify a bed bug based on its shape (their most telling feature), over two-thirds of the people surveyed couldn't do it. The bed bug was part of a silhouette lineup that also featured an ant, a termite, a louse and a tick. See if you can spot the bed bug here:
Image via American Entomologist.
Image via
American Entomologist
.
If you said number four, you're right! That's the bed bug. According to the EPA, other identifying factors include:
They are about the size of an apple seed (5-7 mm)
They are long and brown with a flat, oval-shaped body (if not fed recently)
But are balloon-like, reddish-brown and more elongated (if fed recently)
They look like a "true bug", meaning they have a beak with three segments, antenna that have four parts, wings that are not used for flying and short, golden-coloured hairs.
And they smell. It's a "musty-sweetish" odour produced through glands on the lower side of the body.
Why is it important to know how to spot them? For one, knowing the difference between an ant and a bed bug can keep you from getting your blood sucked, which tends to ruin a trip. Also, spotting them will help you avoid taking some unwanted guests home. Those little guys can hitchhike anywhere. But knowing how to identify bed bugs is also good for the places you stay.
False reports can cost proprietors a ton of money because they have to send in professional pest control services in to investigate. And many people leave harsh reviews for hotels where they think they saw bed bugs, even if that's not actually true. According to the researchers' data, online reviews and reports that mention bed bugs cause most travellers to choose a different hotel.
So, when you stay at a hotel, by all means, do a thorough check of the room, especially the bedding and area around the bed; keep your luggage and clothing off of the floor and bed; and consider packing empty trash bags in your luggage to keep your stuff in during your stay.
And if you do see something, at least make sure you actually know what bed bugs look like before you go screaming down the hall.
Bedbugs are a menace, and learning how to search your hotel room for them before you collapse into bed is critical to avoid taking them home with you. This video shows you best way to do just that, and to make sure you get a good night's rest away from home.
Read more