Had enough of Google meddling in your affairs? Rather impressed by what Microsoft is doing with Outlook on the web? A little bit spooked by how much data Mountain View has on you? Whatever your reasons for splitting up with Google, here's how to make sure it's a clean and uncomplicated break.
Image: Google/Pixabay/Gizmodo
Get Your Data Out

Google Takeout is simple and easy to use. Image: Screenshot
To give Google some credit, it makes it easy to get your data out — you can even find everything you need in one place. The service you're after is called Google Takeout. Follow that link, and you'll be asked to sign in with your Google credentials, and then to pick the services you want to download data from.
Almost all things Google are listed here, from your videos in YouTube to your browsing history in Chrome. The tool allows you to retrieve data even from lesser-known Google services, such as Google Groups and Google Fit. The only exception that we could spot is Google Play Music. Download your MP3s separately using the desktop Music Manager.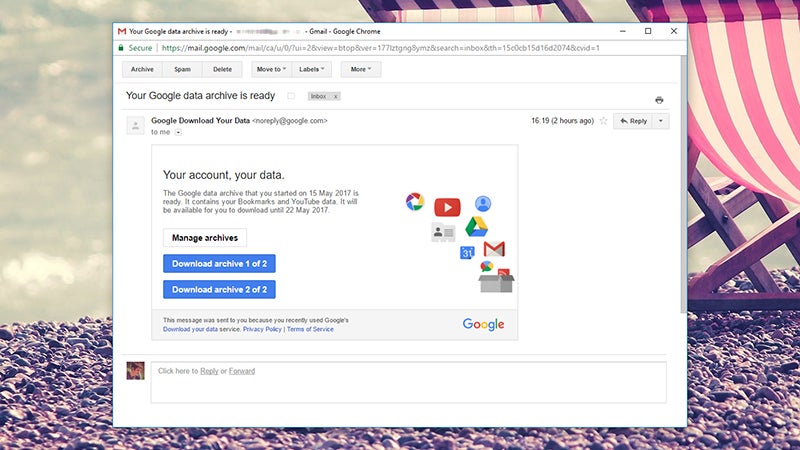 You get an email when your download is ready. Image: Screenshot
Once you've chosen the archive format and delivery method, then click Create archive. Google will send you an email when the archive is ready to download (if you've chosen to download it), and you can then unpack the files on your computer at your leisure.
Archive formats might take a little tinkering to be readable on the other end. Gmail messages, for example, are saved in the .mbox format, which can be imported into Thunderbird, Apple Mail, and various other clients. If the client or service you're switching to doesn't support .mbox files, use POP to download all your Gmail messages instead. Enable it in Gmail settings, then follow Google's instructions to set up your email app of choice.
In another example, YouTube videos, reappear in the format you uploaded them in, together with an HTML file holding the attached comments. Bookmarks from Chrome are exported in an HTML file too, so you can easily open them up and store them in whatever web browser you decide to switch to.
We would of course recommend double-checking all of your archives before actually getting rid of your Google account, just to make sure all the important stuff is successfully exported and saved.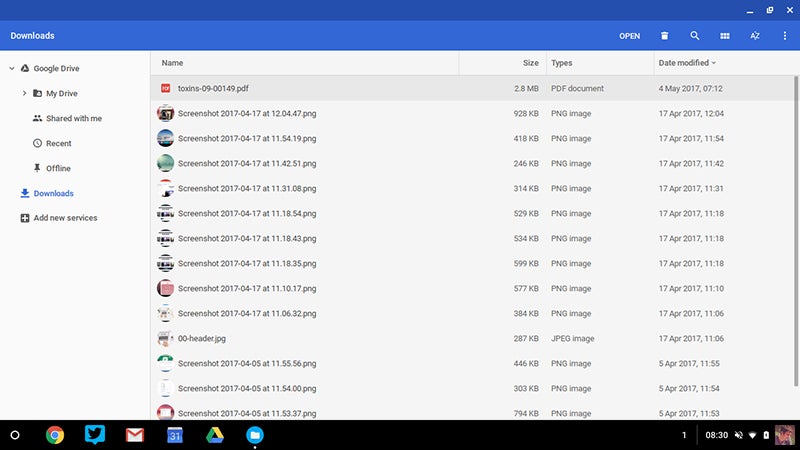 Chrome OS users, do you know where your files are? Image: Screenshot
If you're a heavy Google Drive user you can deploy the desktop clients to sync everything to your Windows or macOS computer as an alternative to using Takeout, though the advantage of using Google's official export service is that it will convert all your Docs, Sheets, and Slides on the web to other formats (like Word documents or PDFs).
Should there be a Chromebook somewhere in you mix of gadgets, don't forget to have a look at the local download folder on the actual laptop to make sure there are no files there that you can't live without. Once your Google account is gone, you're going to get booted from all Google services that need a login, including Chrome OS.
Remember to take good care of your data while it's being transferred somewhere new — you don't want your entire digital existence to get wiped if your laptop gets stolen or lost while you're switching from Google services to the alternatives.
Delete Your Google Account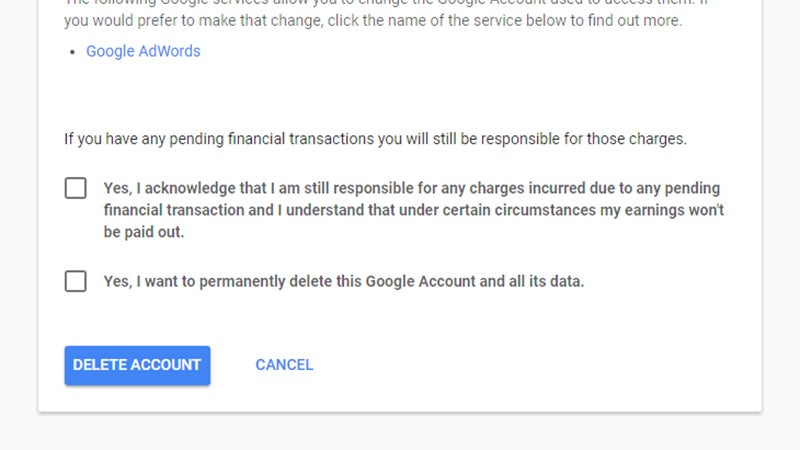 So long, Google. Image: Screenshot
Google's reach spans many, many services and apps, but fortunately for us, deleting your account can sever ties with all of them in one quick blow. You don't have to dig through them all separately, deleting as you go. In fact, getting rid of your Google account and everything in it is surprisingly easy.
Start at your Google account page, click Delete your account or services, then choose Delete Google Account and Data. (Some services, like Gmail and YouTube, can be erased separately if you want to keep your main account.). From there you'll be presented with a review of all the data that's going to go, some tick boxes to check to acknowledge that you are of sound mind and really do want to delete your account, and you can then click Delete Account to wipe everything Google holds on you.
Google has more on the process here. Note that you'll lose everything you've ever bought from Google Play, from apps to movies, and you'll also lose your Gmail username, which you can't use again. Google says you've got 2-3 weeks to change your mind if you want to recover your account, and you'll be asked to answer some security questions to verify your identity before Google finally pulls the plug.
Find Some Alternatives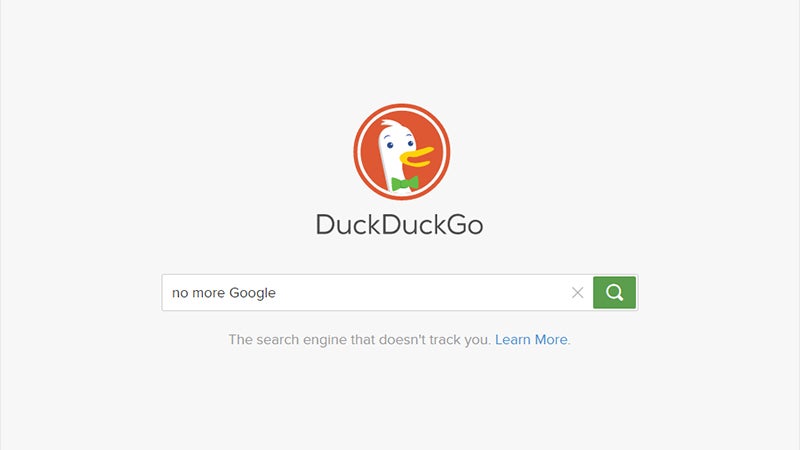 DuckDuckGo searches the web but doesn't track you. Image: Screenshot
Once you've successfully extricated yourself and your data from Google's clutches, your next step is finding new tools for your all your email, search, photo storage, and video-watching needs. There's more choice out there than you might think.
For search, where Google makes its money, the obvious big-name alternative is Bing from Microsoft, but the ultra-clean, ultra-private DuckDuckGo is absolutely worth a look as well. If you're no longer going to use Gmail, then you can switch Microsoft's Outlook, Apple's iCloud, or even Yahoo Mail.
Apple's email option is ad-free, and of course, simple to use if you're going to switch to iPhone as your mobile phone of choice. iPhone life is pretty much unavoidable if you want to cut the Google cord. While you can use an Android phone without a Google account, you won't be able to download any new apps until you sign in, which limits your options somewhat.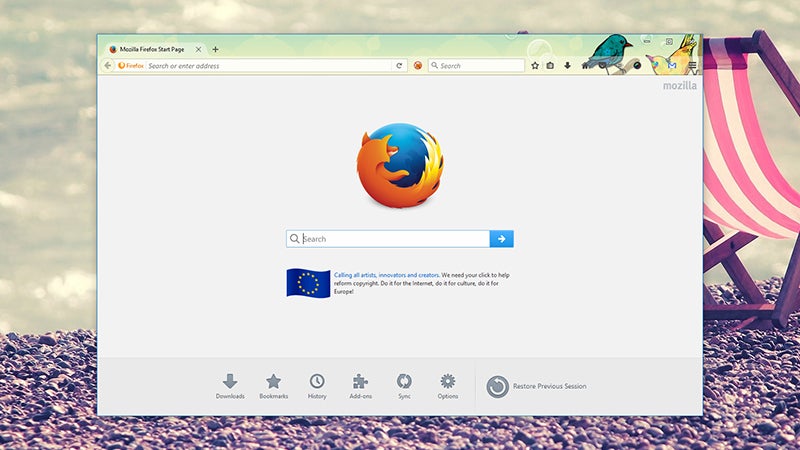 Firefox is a good choice if you're ditching Chrome. Image: Screenshot
As for desktop apps, ditching Google Chrome is easy enough: Firefox and Opera are excellent alternatives, and even Apple Safari and Microsoft Edge have their upsides.
For your mapping needs you can switch to products from Apple or Microsoft, or give the consistently impressive Here Maps a go.
Your photos and videos will of course be very important to you, and we've previously written a full guide to switching from Google Photos to Apple Photos. If you're not running into the open arms of Apple for your photo management needs, Flickr is still worth considering, and Microsoft's OneDrive will do the basics as well.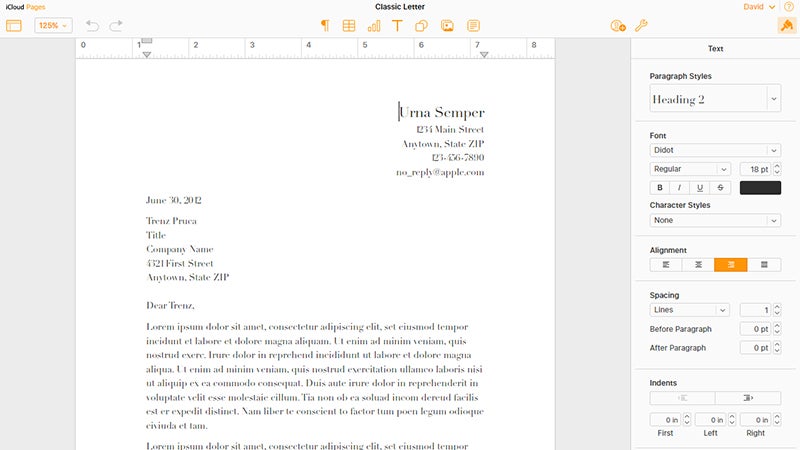 Apple and Microsoft have online productivity apps you can switch to. Image: Screenshot
Microsoft can also help you out if you're heavily invested in Google's online office suite: Basic versions of Excel, PowerPoint, and Word are available online, as are Apple's productivity programs. Of the independent services, Zoho is probably the best option, though it's focused on businesses rather than on individuals.
While we can't give you detailed step-by-step guides for getting your ex-Google data into all these products, in most cases it's pretty straightforward, and you should now have a good idea where to start in each area.